Peanut Butter Falcon….
Photo credit: Misc.
"Zack is a really, really good friend of mine," director Tyler Nilson told Hollywood on the Potomac at a reception at Sfoglina restaurant in downtown Washington, DC prior to a screening of  Peanut Butter Falcon at Landmark's E Street Cinema hosted by the Motion Picture Association of America (MPAA) and Middleburg Film Festival. "We've been friends for eight years and he wanted to be an actor. He had studied acting in high school and teaches acting at The Jewish Community Center (JCC) in Florida. We just knew that there wasn't going to be an opportunity for a feature film starring a guy with Down Syndrome, so I wanted to be of service to my best friend and to write a story with him – so we sat down and just wrote the story."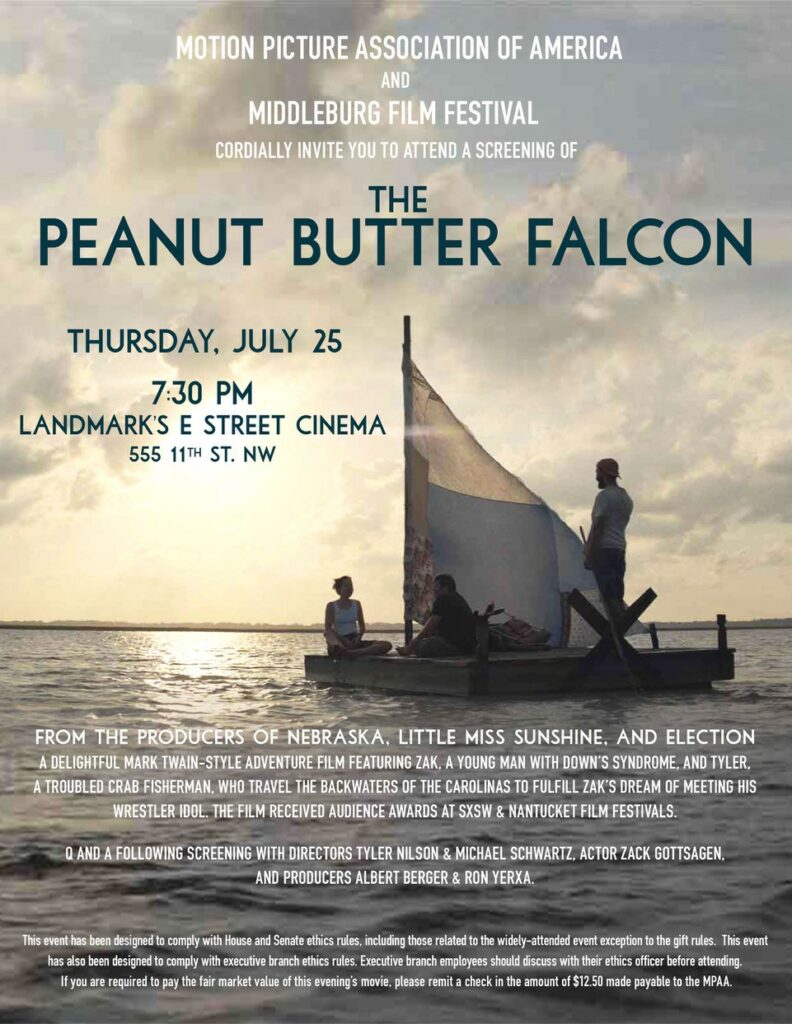 Synopsis: "The Peanut Butter Falcon is an adventure story set in the world of a modern Mark Twain that begins when Zak (Zack Gottsagen), a young man with Down Syndrome runs away from a nursing home where he lives to chase his dream of becoming a professional wrestler and attending the wrestling school of The Salt Water Redneck.Through circumstances beyond their control Tyler (Shia LaBeouf), a small time outlaw on the run becomes Zak's unlikely coach and ally. Together they wind through deltas, elude capture, drink whisky, find God, catch fish, and convince Eleanor (Dakota Johnson), a kind nursing home employee with a story of her own to join them on their journey." Courtesy of Production

"And the truth is, it's just different," Nilson added. "It's not more difficult or less difficult than working with any normal actor. So you just adjust because he walks a bit slower than me. So in the script in the movie, you'll see that we added a whole thing about, 'Don't slow me down, don't slow me down.' Zack just walks at a different pace. So that was like one of those things where you just adjust. We wrote for him, so we knew the pace going in, but he's a dream. He's a great guy and a wonderful actor and I'm really just excited that you guys are gonna get to see his performance. I think he does something really special on the screen."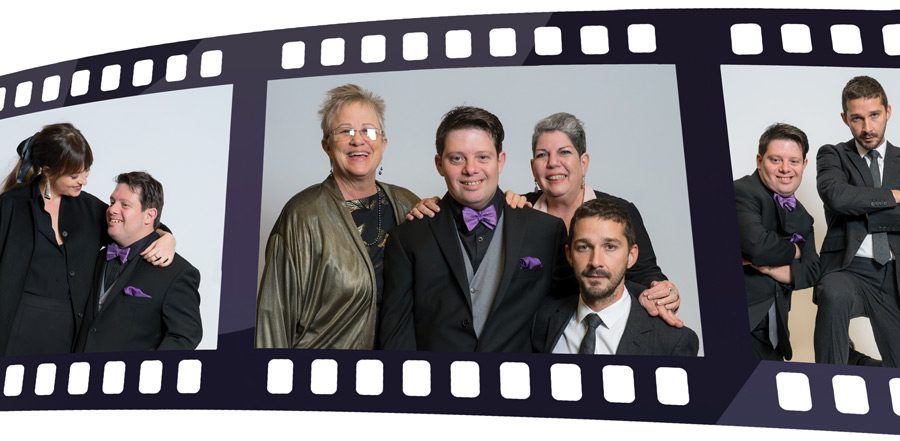 Photo courtesy of Global Down Syndrome Foundation: Featured: Dakota Johnson, Zack Gottsagen, and his mothers, Shelley and Trish, and Shia LaBeouf   Photos: Jared Wilson
We also spoke with his mother Shelley. "It's very, very exciting," she told us on how she felt being the mother of a star and going to the openings. "It's watching his dream come true. This is what he wanted in his life and he's wanted this since he was three years old. He told me he's going to be an actor and it's amazing, it's unbelievable. He loves it. I'm shy."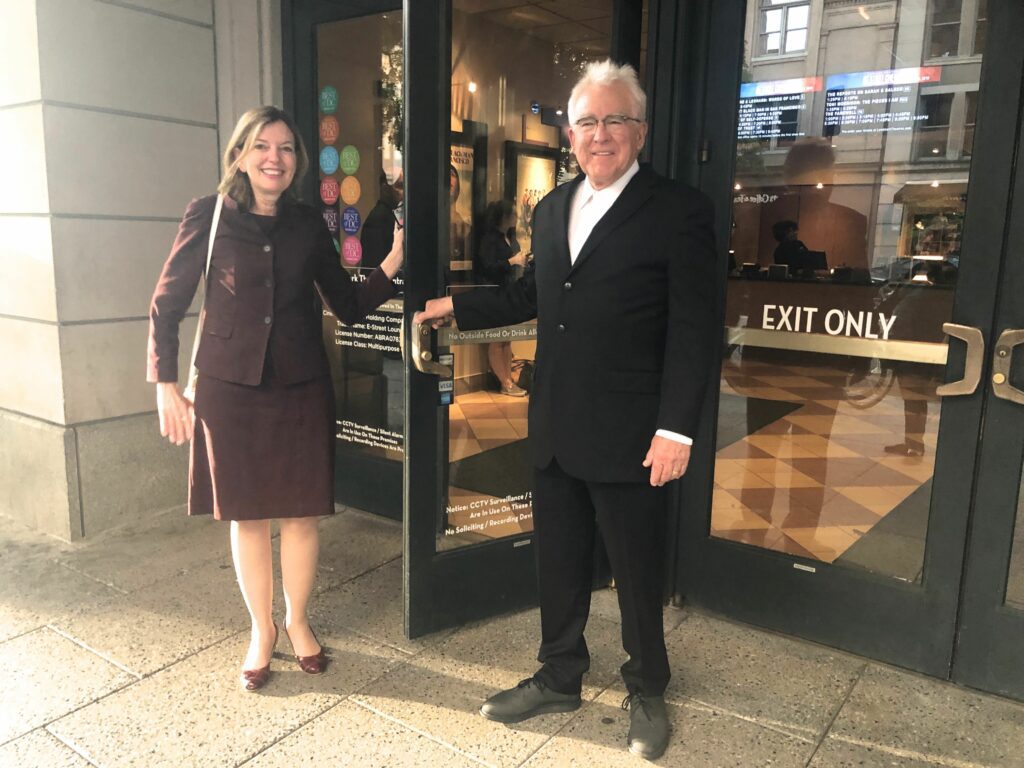 Marie Royce and Ron Yerxa at the E Street Cinema   Photo credit: Janet Donovan
"It's great for us to partner with the Motion Picture Association on a variety of screenings," said Susan Koch about The Middleburg Film Festival prior to introducing the producers. "This film is not only great, but it's produced by two of the most talented people in the movie industry. We have a very personal relationship with these two gentlemen. We opened the very first Middleburg Film Festival in 2013 with Nebraska and Bruce Dern and it was all because of Albert Berger and Ron Yerxa. They have been our champions and loyal friends since we've screened their films: Low Down, Louder than Bombs, Juliet, Naked, What They Had. And so tonight is the Peanut Butter Falcon. I think you probably are familiar with some of their other films: Little Miss Sunshine, Luncheon, Cold Mountain, Ruby Sparks. We could go on and on. We just feel so happy to have them back here with us and to be able to showcase and present another one of their films. It's my privilege to introduce Albert Berger and Ron Yerxa."
"As a lot of you probably know, Albert and I have a longstanding connection and really strong feelings about The Middleburg Film Festival. We were there the first year. We're both on the advisory board. We premiered Nebraska and others there," said Yerxa. "It's so rich with information, seminars, film, discussion, community and when you've been in the business as long as we have and gone to a lot of film festivals, it's really great to be at a festival where people are really loving film, wanting to talk about it, where there's the highest quality kind of seminars and special presentations of music. Each year is really unbelievable in what Sheila (Johnson) and Susan put together. I think everyone knows that, but that's why Albert and I are here. We feel strongly that The Middleburg Film Festival is a youth experience and really a great one. It's just the right size and the right sense of community and really the perfect festival."
Dakota Johnson    Photo courtesy of Celebmafia
"Now a couple of words about our involvement with this film, which we're so proud to be part of," said Albert. "Years ago, maybe four or five years ago, a friend of ours sent us this script and said, 'You've got to read this.' And we read the script and we thought it was just great. But we thought, okay, there's two first time writer directors, who are both here tonight: Tyler Nilson and Michael Schwartz. When you're working with first time directors, you don't quite know what you're in for and also Zach Gottsagen, who's the star of our movie.  We wonder, you know, what is he going to be like in this movie; we'd never seen his work before. And so we're thinking about it. We love the script, but we didn't quite know what we were in for and amazingly, they were several steps ahead of us. They had created what's known as a proof of concept, where they actually film maybe ten seconds of like every scene in the movie. And we thought, 'Oh my God, these guys really know what they're doing.' They had the locations picked out and most of all we saw that Zach could carry this movie, so we lept in and I just have to say it was an incredible experience making this movie. It was really a work of love led by Mike and Tyler. And I remember one moment in particular. The tide was going down and we needed to scramble out to shoot a scene. I think it probably took an hour or so to get to this place on little boats; everywhere you had to take boats. And you know, I thought, I am absolutely too old for this. And everybody ran out to do the low tide scene. And I remember Mike and Tyler were leading the charge and Zack up to his neck in the waves and Shia LaBoeuf running around with a rifle, which was used in the movie. And then the high tide came in and everybody was scrambling to keep the equipment over their heads and there was actually sharks in the water. If you watch closely in the scene, you'll see the shark going around. And I thought on the one hand, I'm way too old for this, but on the other hand, this is exhilarating and this is why it's all worthwhile. And we couldn't be prouder. This was a long, rough ride but we're very, very happy to be here to share it with you tonight."
The Q and A was conducted by local celebrity movie reviewer Arch Campbell. "The Peanut Butter Falcon" is now in Theaters.