Let's Get on with It!
Photo credit: Courtesy of ABC

September 9th was a good day for Tamron Hall. It seems like yesterday that NBC announced on February 1, 2017 that it was her last day as an anchor on both networks. "Tamron is an exceptional journalist. We valued and enjoyed her work at Today and MSNBC and hoped that she would decide to stay. We are disappointed that she has chosen to leave, but we wish her all the best."
Tamron responded at the time: "The last 10 years have been beyond anything I could have imagined, and I'm grateful. I'm also very excited about the next chapter. To all my great colleagues, I will miss you and I will be rooting for you." And what a new chapter it is!

Tamron got married and had a baby boy with her producer husband Steven Greener at 48 and launched her own syndicated daytime talk show "Tamron Hall" with all of the enthusiasm and energy you would expect from her – this time with ABC at the helm.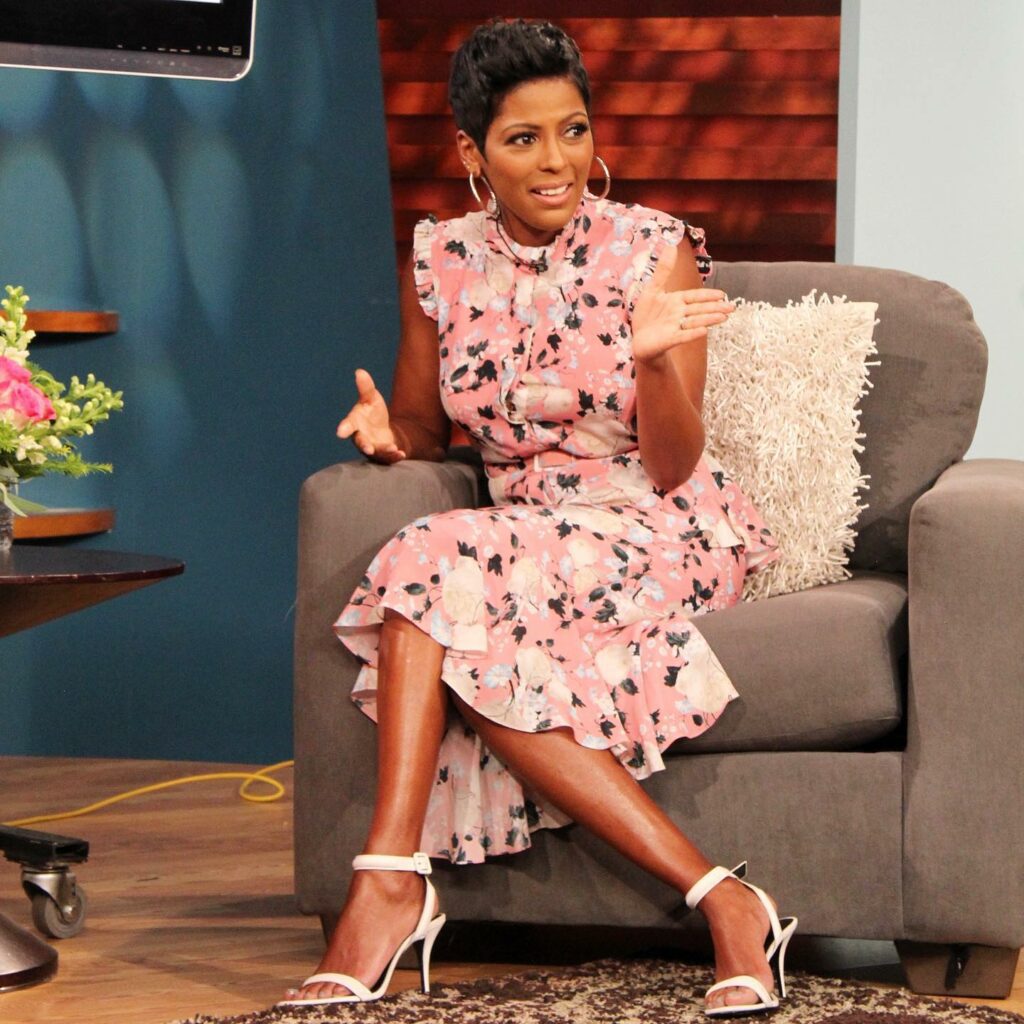 Hollywood on the Potomac was part of a jointly held conference call when she openly discussed her childhood, marriage, the joys of parenthood, the excitement of a new show, and all of the criticism of an interracial marriage, (a white son, a black mother), IVF, late motherhood, Harvey Weinstein (which gave her pause because she only knew him for about three months – like a commercial break), her sister's murder from apparent domestic violence. Nothing was off the table, a prelude to knowing where her show was headed: "We all have a story to tell, so let's get on with it, so let's talk about it."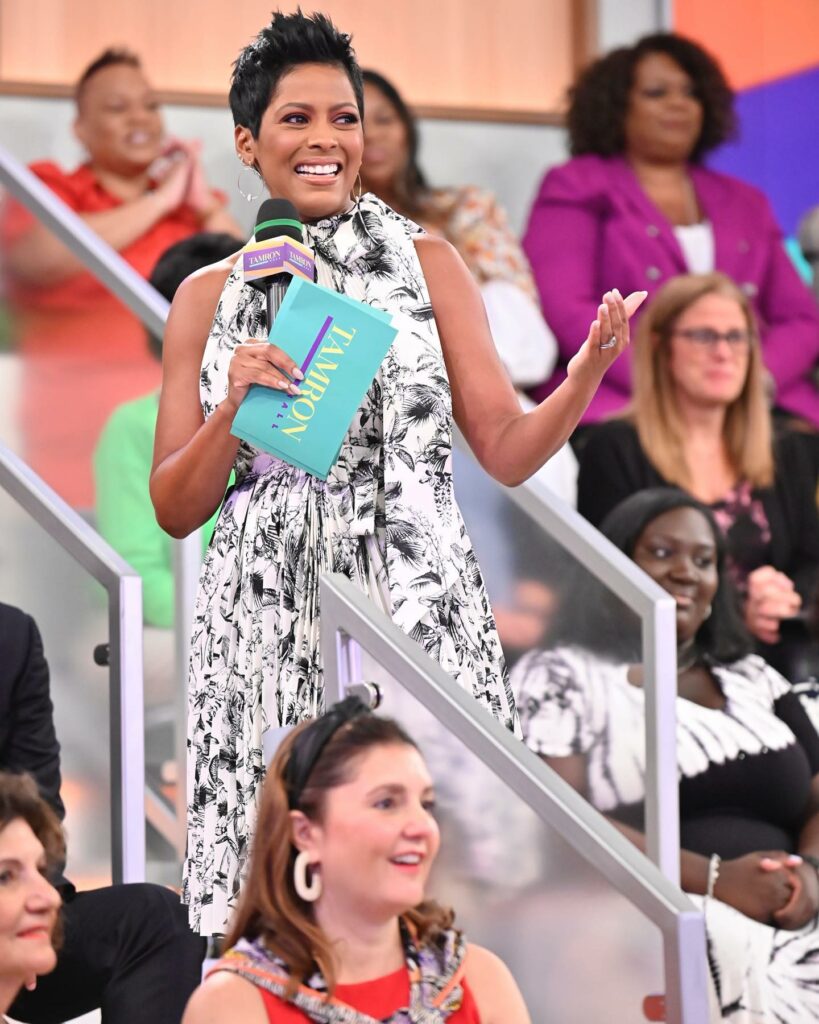 The theme song of the show is "Shine" by Fantasia.  "She has been an inspiration and a friend to me for many years from the first time I saw her on American Idol to the time I saw her perform and move the crowd at The Apollo, I knew I wanted to partner with her in some way. I didn't know then that it would be for the theme song for my daytime talk show, but I knew we were destined to do something together. She embodies what it means to be a woman – she is loving and giving to others, and she shines."

One of the most difficult conversations for Hall is the murder of her sister Renate from apparent domestic violence. In 2004 Hall's sister, who had previously suffered domestic violence, was murdered. She partially blames herself for her sister's death because she feels there were many signals of domestic abuse at the time, but she didn't do anything to intervene.  This is not unusual in domestic violence cases where the victims themselves often hide their circumstances even from those closest to them; perhaps even more so with those closest to them. "I felt guilty for so long. They deserve my honesty," she told Hollywood on the Potomac at the 22nd Annual Knock Out Abuse Against Women Gala in Washington, DC.  "You cannot ask people to be honest and then you stand there holding in a secret that could free your guilt, free your family of hiding something and most important, save a life."  The subject is so important, the interview is re-posted below.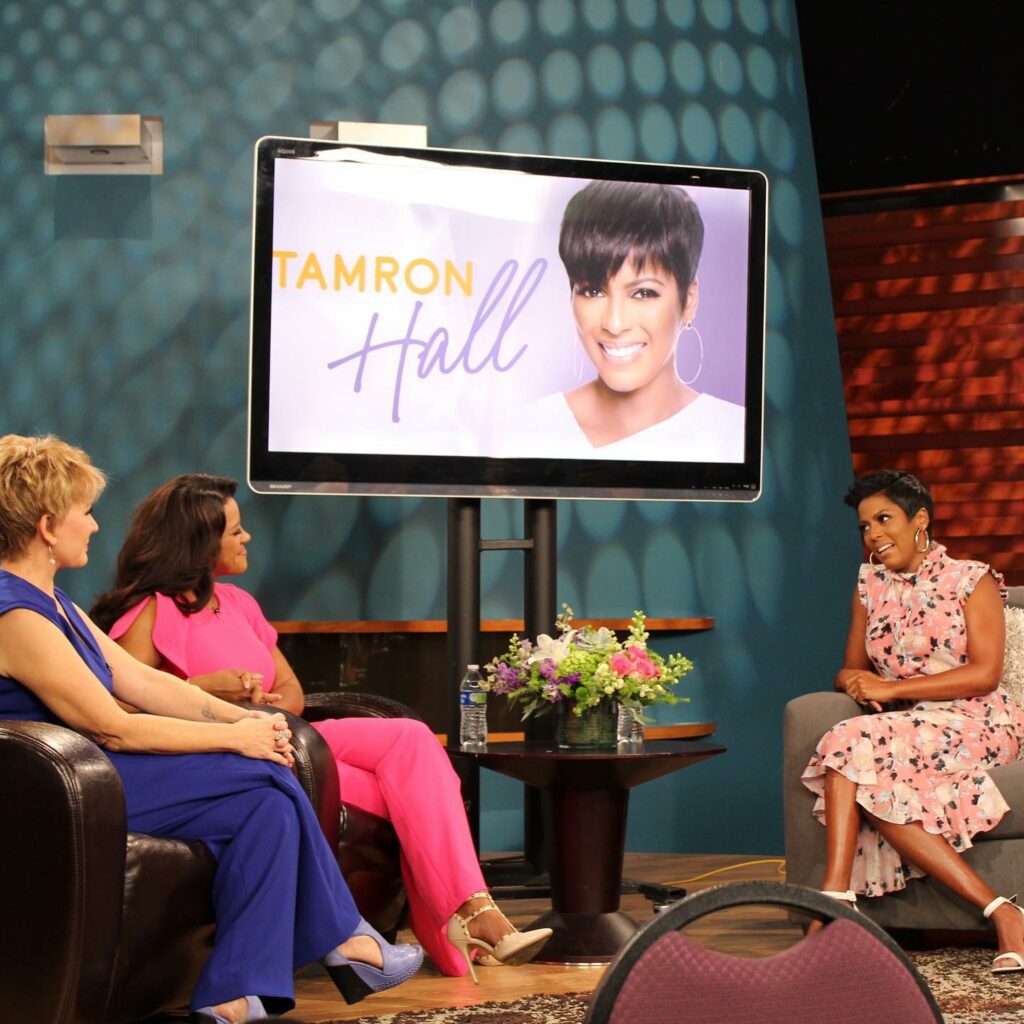 "Tamron Hall" will broadcast from New York City and will feature a dynamic mix of live and taped shows. From the deeply moving to the purely fun, the nationally syndicated show will be a daily destination for all things topical and a platform for viewers to connect with the people who are shaping our world through meaningful, engaging and entertaining conversations. As a new mom, a newlywed and a new force in Daytime, proving you can accomplish anything at any age, Tamron Hall brings a refreshing, relatable, unpredictable and unstoppable voice to television.  For times and channels go to www.TamronHallShow.com and follow the show on social media @TamronHallShow.
Tamron Hall sat down with Hollywood on the Potomac at the Knock Out Abuse Gala and talked about her personal experience with domestic abuse and why she has gone public with her story:
Let's Talk About it!