Country Music!
Photo credit: © Cable Risdon WETA

"Good evening country music fans," said president and CEO of WETA Sharon Percy Rockefeller at the premiere screening of Country Music by filmmaker Ken Burns at George Washington's Lisner Auditorium. "Tonight we celebrate a new master work from Ken Burns, our great friend and collaborator for more than 30 years. Ken's fascinating, new eight part film country music is epic. I mean epic in scope full of colorful characters and riveting tales that premiered on Sunday, September 15th PBS stations nationwide. Ken is aptly called America's storyteller with enormous artistry and integrity. He illuminates our national character and identity while inspiring us to learn more about our shared history and past. WETA is incredibly crowd proud to bring Ken's films to the American people. Country Music is our 28th production with Ken."

"The music is fabulous for millions of Americans," she added. "The iconic songs are the sound track of life itself this evening. I'm so pleased that we'll be hearing from country music's Kathy Mattea. I came to understand that country music in West Virginia and everywhere comes from the heart. It is built on hard work, on hope and on relationships. These words describe Ken's films as well. Projects like Country Music can only materialize with many, many partners working together over many, many years.The group that supports Ken's projects is dedicated to educating Americans about their history through documentary films."
"We at PBS are committed to sharing stories that deepen understanding and encourage conversation," said PBS COO Jonathan Barzilay, "and nobody, nobody tells those stories better than Ken Burns. He has produced some of the most iconic important films of our time and now he's done it again with Country Music. This is an epic project drawing on over 100 interviews, over 700 hours of archival footage. The  film is not only filled with song, it is also filled with surprises."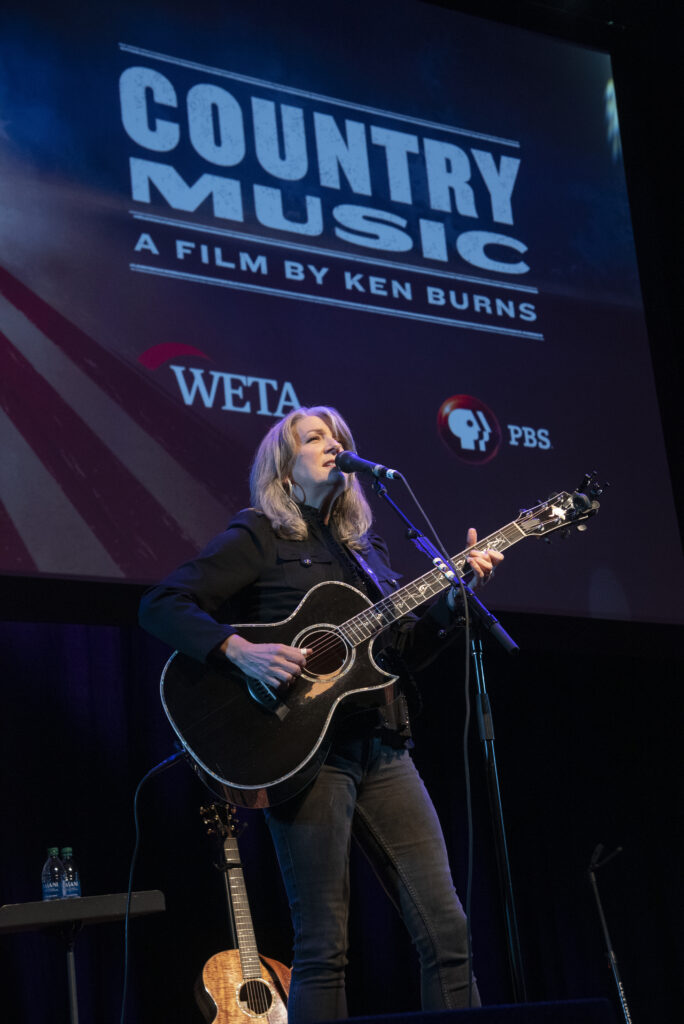 Kathy Mattea
"It has been CPB's (Corporation for Public Broadcasting) honor and mission to support the work of this great storyteller and historian," said Pat Harrison, CEO of CPB. "They've spent most of this past year on a bus touring the United States and attending so many of these public media events from the birthplace of country music and Bristol and Tennessee and Texas, and Oklahoma and the Central Valley of California. And I want to tell you that in each town, they have been so welcome because at a time when there is great divisiveness – through Ken's films, we are reminded that our greatness is truly tied to our goodness and the amazing power of the mix. Please welcome public media's all native son, Ken Burns."
"Hello Toledo," Burns joked. "Hang on, Washington. Sorry. Sorry. No, we're so happy to be home. We're so happy to be back here with you all. It has been my home since 1982. On behalf of Dayton Duncan, the writer and co-producer, and on behalf of Julie Dunfey, co-producer, I'd like to thank you all for attending this screening. You know, you could be at a debate."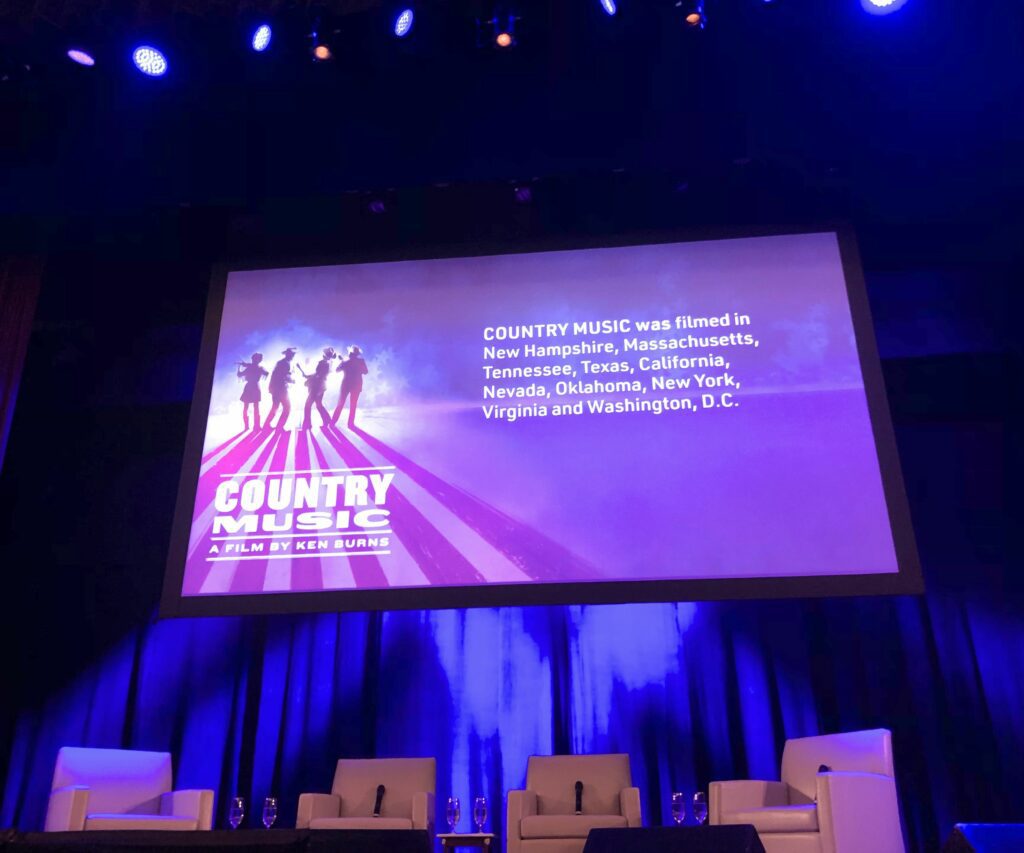 Photo credit: Janet Donovan
"This [series] was a surprise from beginning to end. I knew in my gut it would be a lot of good stories but I had no idea how profound and how powerful those stories would be for me and that it would raise important questions and themes that we dealt with in many, many other films.  I just wasn't really prepared for how they manifested here. But more than anything else, it's dealing with extraordinary emotion and that was something that I thought I knew something about. I always considered myself an emotional archeologist as an interested or not as interested in excavating the dry dates and facts and events of the past as I am coming to terms with some emotional archeology that would bind all of those dates together. And that's not nostalgia or sentimentality, it's something higher. I just was not prepared for the level of emotion in this film.  What we learned right off the bat is that country music is not one thing. Commerce and convenience has categorized it in [prison]. It was always a mixture of things as is everything good in America, like an alloy much stronger because of all the diverse routes that go to make it up and when we get to a position in our times when someone tells you that the extraction of the one thing, the pure American thing, is what's needed, you have weakened that alloy and you have made it brittle."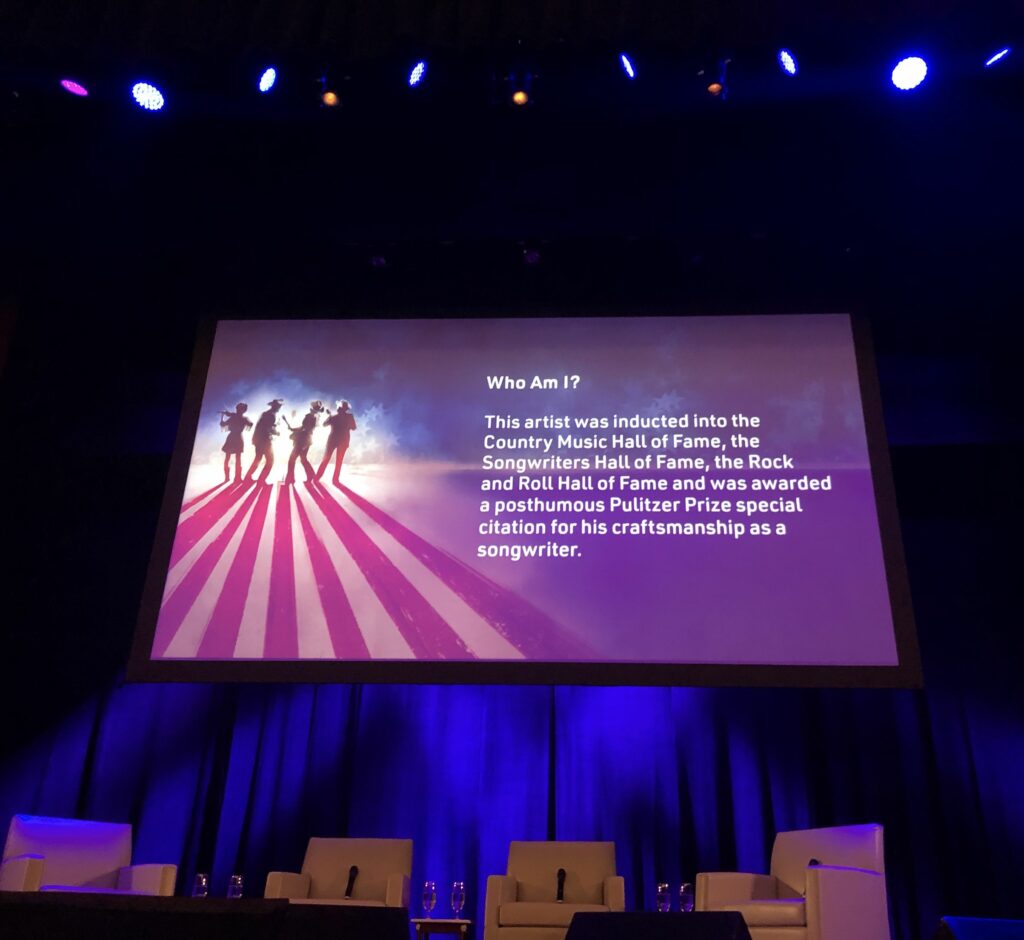 Photo credit: Janet Donovan
Burns went on to explain that it took eight and a half years, a hundred thousand photographs that they sifted through, 175 hours of interviews and a thousand hours of footage.
"Unlike in any other musical form I've ever come across, nearly everyone was dedicated to understanding who their ancestors were, who their granddaddys and grandmamas were, and who their parents were and who their cousins are. And it's a wonderful, wonderful family. More than anything, working on country music over these last many years has reminded us with regard to the US that there's no doubt there's only us. Everything in our binary dialectic cultures suggests that everything has to be divided into an opposing thing. It's not true. There's only us. Then we have a future.  Okay, that's my debate speech. I'm throwing my hat in the ring. There aren't enough democrats."
"In country music, it's like this: Don't get too big for your britches. Don't forget where you came from." And they don't.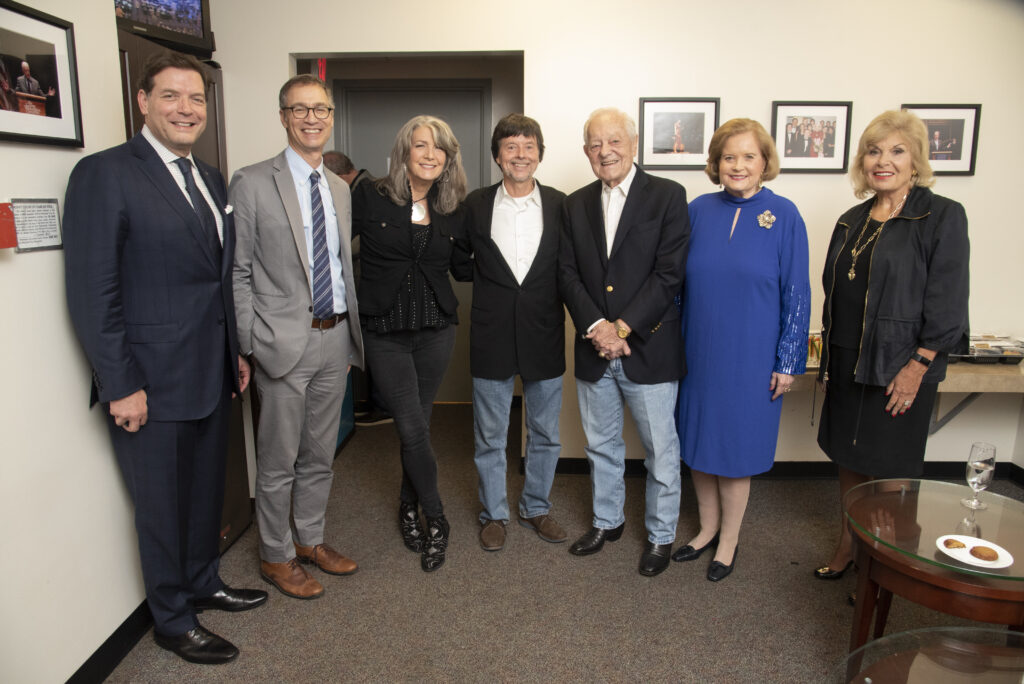 The Players: Larry Di Rita from Bank of America; Jonathan Barzilay, Chief Operating Officer of PBS; Kathy Mattea; Ken Burns; moderator Bob Schieffer; WETA President and CEO Sharon Percy Rockefeller; and CPB President and CEO Patricia de Stacy Harrison
The screening was followed by a Q and A moderated by Bob Schieffer.
"What are you going to say about Ken Burns that hasn't already been said? I just want to say a couple of things. I think he is the finest documentarian of our time. They just don't do it better. I'll say something else. I think one day we're going to look back and say you are probably the most influential historian of our time."
"I guess my first question to you is did you produce this documentary or did this documentary [produce you]?"
"Well, I think it's exactly that," responded Burns. "People always say, how do you choose your topics? And the glib instant answer out of my mouth is they choose me. But every once in a while something comes before you and it just knocks you over."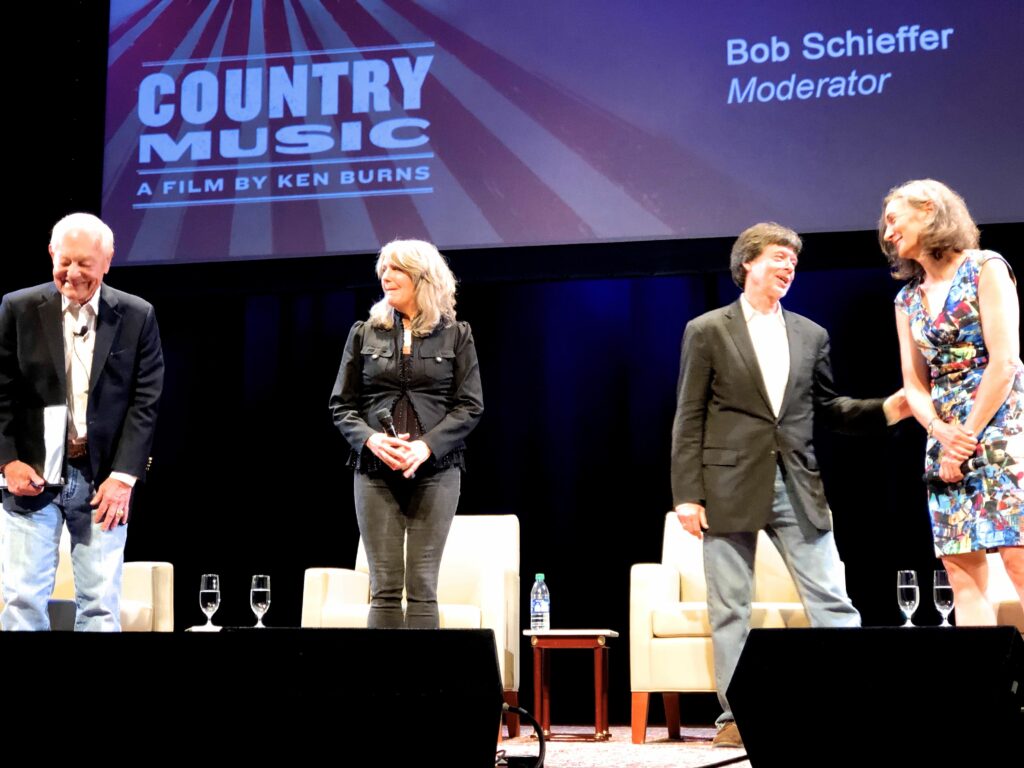 Bob Schieffer, Kathy Mattea, Ken Burns, Julie Dunfey  Photo credit: Janet Donovan

They went on to talk about this relationship between country music people and their fans. "People who couldn't have a conversation about something could sing with each other about it. So this tradition of connection started long before it ever got commercialized and it just stayed with it. It's also the fact that the stories are so close to the bone you could just see them saying to themselves, I know how he felt."
Producer Julie Dunfey on Burns: "My favorite story, and I have many, but my favorite is actually, believe it or not, Ken and I made a film about the artist Thomas Hart Benton, which is the mural, the last painting of Thomas Hart Benton that opens this film. So back in 1986, 87, Ken and I made film and my phone rang at six, six 15 one morning and I answered it. It was Ken and it was clear he had been up waiting to call at a civilized time. He said, 'I've been thinking and thinking about how are we going to film the murals in Jefferson City. I think we need to hire a crane.' And he was just so excited and that's in fact what we did.  You get a call at six 15 in the morning cause he's been up since three waiting to call because he's had a great idea."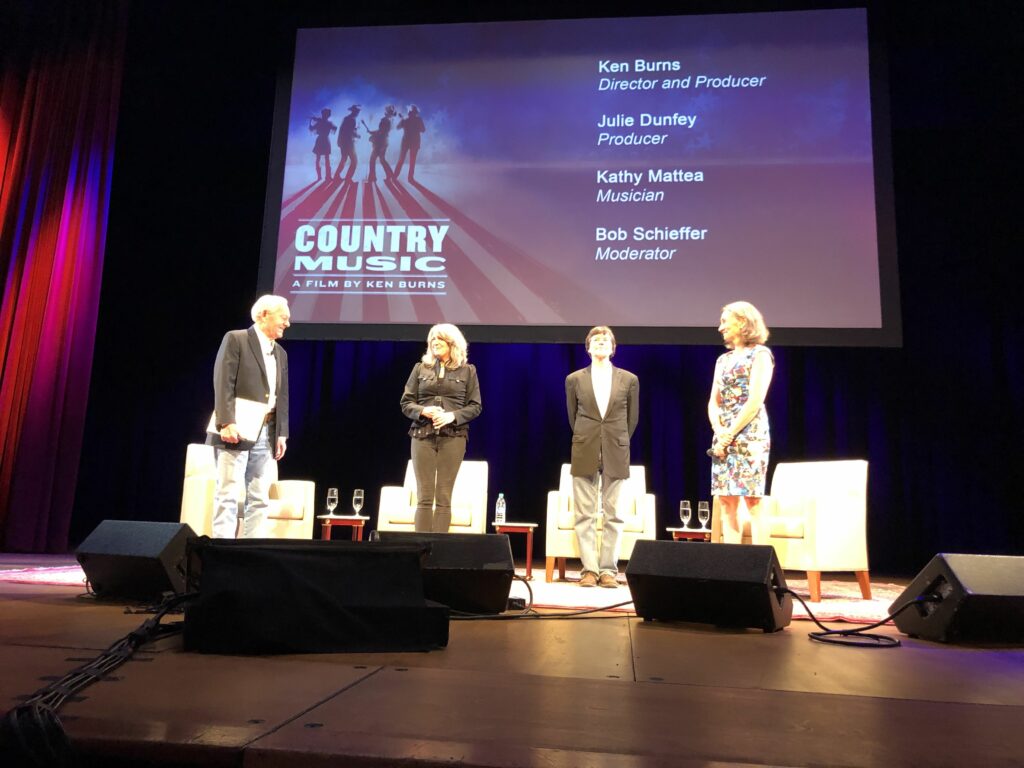 Photo credit: Janet Donovan
"How do you get a handle on all of this when you're doing these shows?"
"You know, we have a very specific process and we trust the process. Our writer Dayton Duncan likes to say that we don't go in to this with a preconceived notion of what the story is. You know, we've done some research, we've got some ideas, but we like to discover it as it comes to us and let us tell us what it needs to be and then that is something we share with you. So we actually do the interviews before Dayton writes the script. So the first couple of years we did 101 interviews. And while that's happening we start deploying people to collect still photographs. I think somebody said earlier over 100,000 still photographs, 30,000 wound up in that database for the editors to access 3,400 wound up in the film are from New Hampshire. So we say it's like maple syrup to 45 gallons of SAP for one gallon of Maple Syrup. So all of that is going on simultaneously. But once we have a script we do what's called a blind assembly. It's essentially a radio show and it's twice as long as the final show will be. But that's when all the collaboration really begins because Dayton wants us to know everything we are going to be leaving out."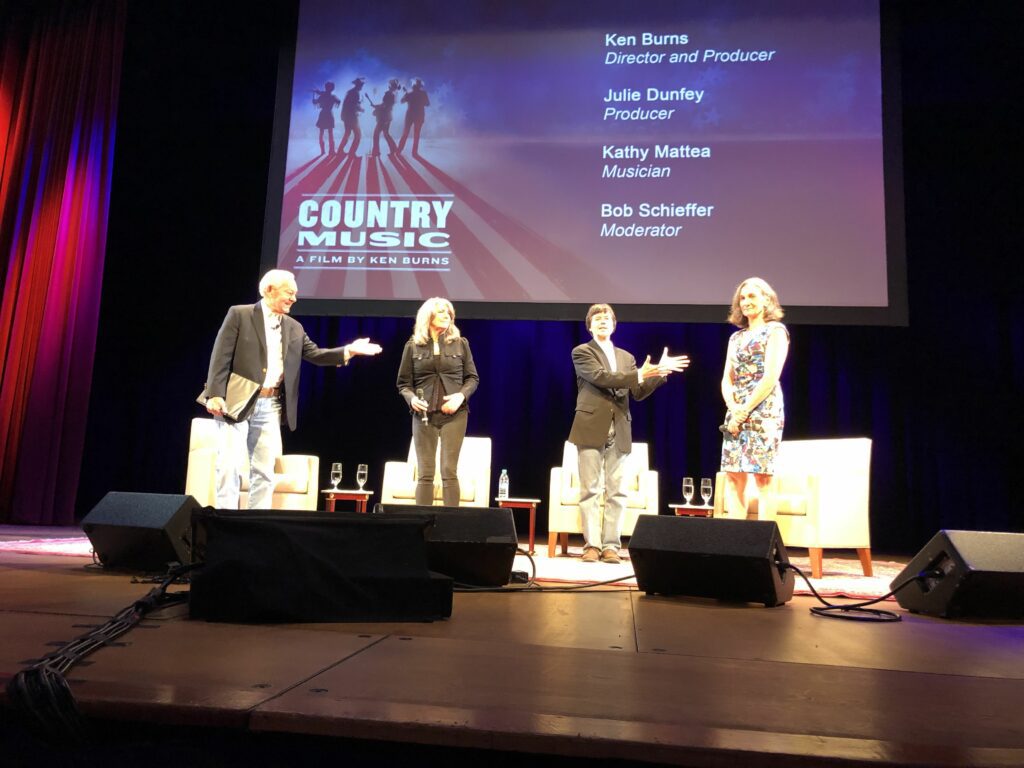 Photo credit: Janet Donovan
"We just sit and listen to it for hours and hours and start cutting it down," Burns concluded, "and essentially we do that for two and a half years. Every six to eight weeks, the entire team assembles, watches the whole thing and then the editors of that particular episode and the producers sit down and we talk about what to take out. So it's a years long process. We never stop researching, we never stop learning as we go. It's a process we trust now."
WOW! The series is brilliant. Take particular notice of the segment with Loretta Lynn. She will surprise you.  Not telling, but hope you notice her subtle political activism.