Gov. Hall of Fame!
by guest contributor Courtney Bublé
Photo credit: Kristoffer Tripplaar
Luminaries in public service both past and present were feted on Sept. 19 at the Government Hall of Fame black tie gala at the Washington National Cathedral, hosted by Government Executive Media Group. CBS News Chief Washington Correspondent Major Garrett was the master of ceremonies for the celebration, attended by roughly 450 people to honor recipients of two new awards programs launched by Government Executive. Presenters for the awards included: Commerce Secretary Wilbur Ross; Office of Management and Budget Deputy Director for Management Margaret Weichert; National Institutes of Health Director Dr. Francis Collins; and Rep. Tom Malinowski, D-N.J.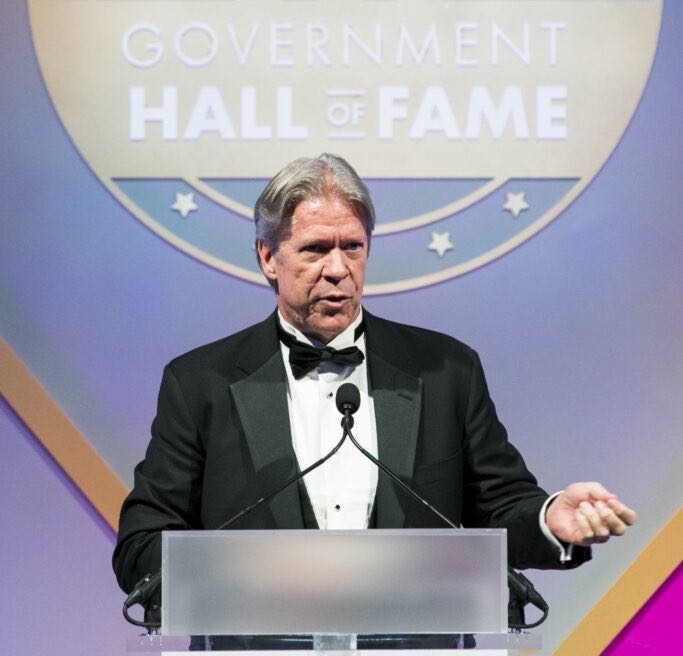 Major Garrett
One of the new programs is the Government Hall of Fame which will annually "enshrine the best of the best" of those who have shown "unparalleled dedication to public service," said Tom Shoop, Executive Vice President and Editor-in-Chief of Government Executive Media Group. The inaugural class of 20 includes members both living and deceased selected by a committee led by Shoop and Tim Clark, Government Executive Editor-at-Large.
The inaugural class of the Government Hall of Fame included inspiring public figures such as the Apollo 11 astronauts; Clara Barton; former Secretary of State Colin Powell; long-time civil servant Dwight Ink; former Office of Personnel Management Director Constance Berry Newman; former Health and Human Services Secretary and Rep. Donna Shalala, D-Fla.; former NASA mathematician Katherine Johnson, and more. Washington VIP's such as Secretary Wilbur Ross, U.S. Secretary of Commerce; Rep. Tom Malinowski, D-NJ; Kay Coles James, President of The Heritage Foundation and former Director of OPM; and others joined the gala to induct their colleagues into the Government Hall of Fame.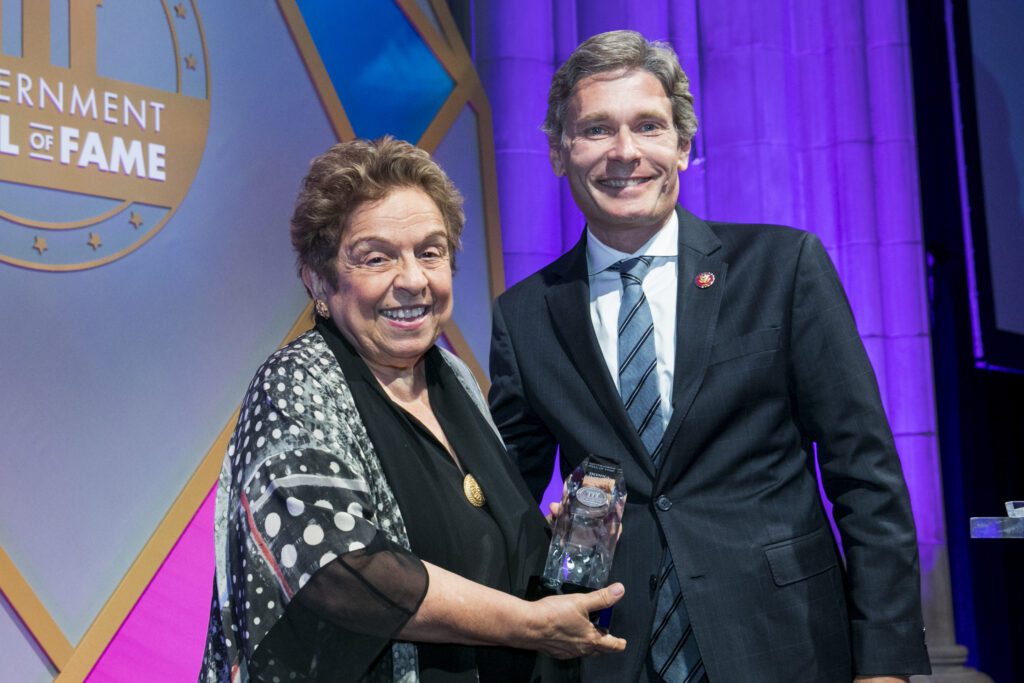 Rep. Donna Shslala and Rep. Tom Malinowshi
Recipients and award presenters reflected on the rewards of public service over the years. Upon accepting her award, Shalala noted that she had the "opportunity to work with thousands of extraordinary public servants," so she "want[ed] to honor them tonight." Michael Moore, accepting the award on behalf of his grandmother, former NASA mathematician Katherine Johnson, remembered her telling him, "You are no better than anyone else. And no one is any better than you."
Although he could not be in attendance, Apollo 11 astronaut Buzz Aldrin, sent a letter that was read by Capt. Randy Cruz, senior adviser to the NASA administrator. Aldrin wrote that he was "humbled by the initiative, effort, high honor, and presentation in this venue" for the gala, noting the "space window" containing a piece of moon rock from the Apollo 11 mission on the south side of the cathedral.  "To all those here today, I regret that I cannot physically be with you, but I am with you in spirit and am grateful for all those who give and will in the future give to this great country, through all kinds of government service," Aldrin wrote. "With a full heart, onward and outward!"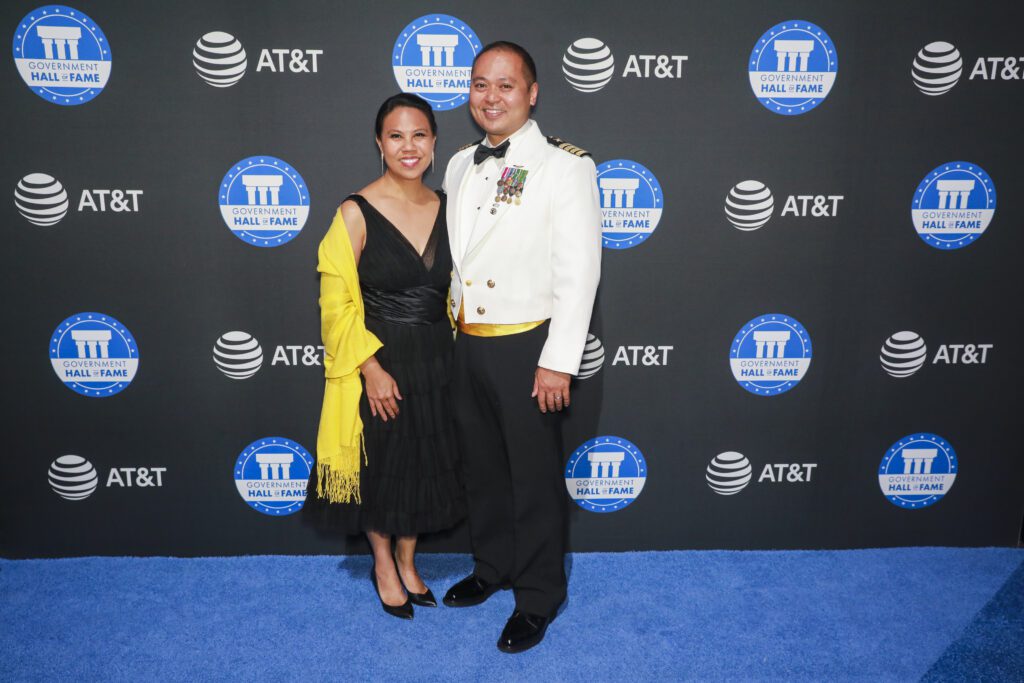 Captain Randy Cruz (R)
The gala also celebrated the 15 winners of the Theodore Roosevelt Government Leadership Awards, which will annually honor an all-star team of "distinguished federal managers and executives and industry leaders for outstanding achievement in delivering on government's promise," wrote Shoop.
These awards, known as the Teddies, recognize public servants in six categories: visionaries, directors, pathfinders, defenders, masters and partners. Margaret Weichert, Deputy Director for Management at OMB, called federal employees "one of our greatest assets in government" while introducing two of the honorees. Other prominent public figures including Dana Deasy, Chief Information Officer for the Department of Defense; Chris Milligan, Counselor for U.S. Agency for International Development; Suzette Kent, Federal Chief Information Officer for OMB; and more attended the gala to present the Teddies awards to honorees.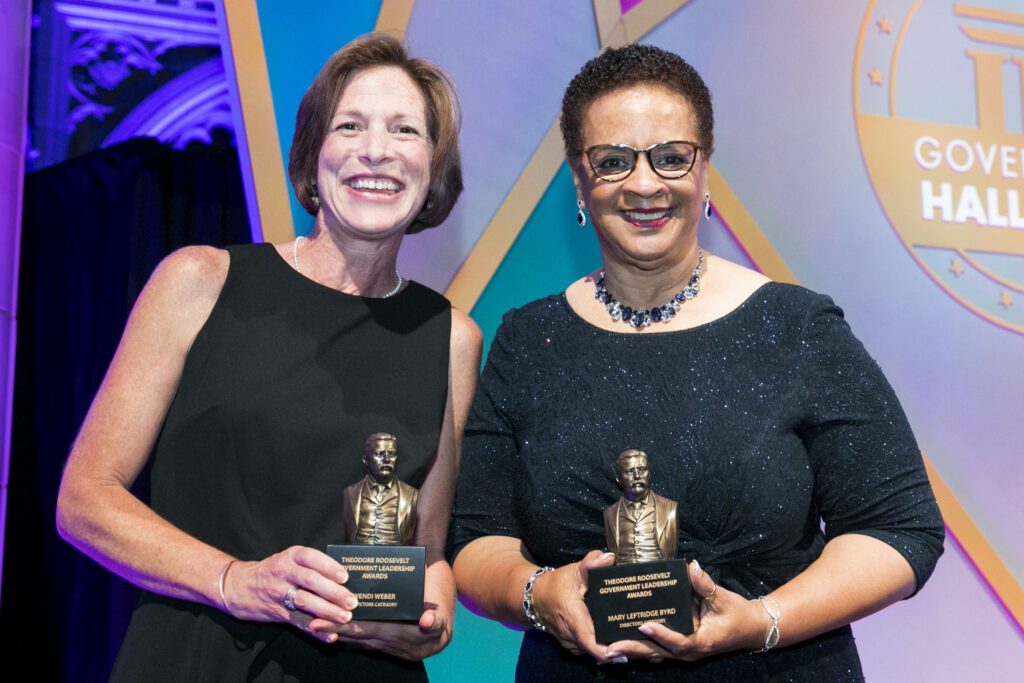 Honorees in the Directors category: Wendi Weber And Mary Leftridge Byrd
Teddy award winners included: Nitin Naik, Chief Technology Officer at the Census Bureau; Mia Jordan, rural development Assistant Chief Information Officer at the Agriculture Department; and Darren Lytle, Senior Engineer at the Environmental Protection Agency.
While presenting the masters category award, National Science Foundation Director Dr. France Córdova said, "This is an inspirational evening that reinforces my pride in being a public servant."
Guests also attended an after-party at Barcelona Wine Bar in Cathedral Heights. In addition to honoring the winners, attendees celebrated the 50th anniversary of Government Executive, which started as a print magazine in 1969 for high-ranking government officials and now is a digital platform with four publications: Government Executive, Nextgov, Defense One and Route Fifty. "We're just getting started," said Shoop. "We look forward to adding more members to the Hall of Fame from all eras and honoring future all-star teams of Teddy award winners."