Bon Appetit!
Photo credit: ©France in the US

"Tonight we celebrate the 4th edition of The Michelin Guide for Washington DC," said H.E. The Ambassador of France Philippe Étienne.  "As you most certainly know, the Guide Michelin is more than a restaurant guide: It's an institution. The first guide for France was printed in 1900. The first one dedicated to the United States came out in 2005 and the first whole guide in the Washington DC area in 2016. Each year, the announcement of who's getting a Michelin star or two or three receives as much publicity as another prize. For the French and for many Americans as well, fine food is not about simply eating: It's about quality of life, culture and pleasure. We all joined together in celebrating chefs who can bring joy through good meals, who can surprise us and who can guide us to new experiences. Chefs and Ambassadors have a lot in common with the materials we are given. 'Give me a good chef and I shall give you good treaties.' It's true."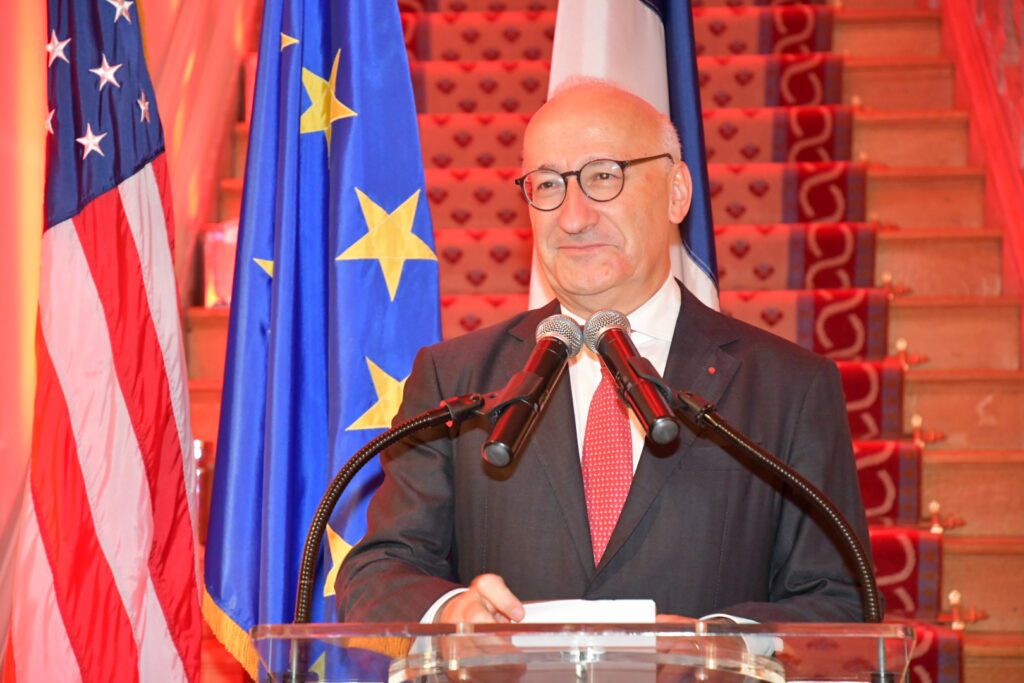 H.E. Ambassador Philippe Étienne
"The restaurants featured in The Michelin Guide exemplify the passion for the culinary arts that is infused in the restaurants, food, decor, service," said Joanie Martin, Chief Administrative Officer for Michelin North America. "In other words, it's a passion for creating an exceptional culinary experience, commitment to quality, innovation and consistency that we celebrate with the star designations and The Michelin Guide. This has made the red guide one of the most highly regarded sources of travel information in the world. It's also the same passion and values exemplified in the Michelin brand. People are often surprised to hear that The Michelin Guide is the same as the tire company. And I'll say in my role, I spend a lot of time talking about tires. So I've been really, really appreciative to be here this evening eating this wonderful food. Celebrating food goes to the heart of the purpose of our company. Michelin travel guides are in fact a product of Michelin's long time commitment to improve mobility and founding Michelin brothers Edward and Andre introduced The Michelin Guide because they wanted to give the first automobile owners a reason to drive more. The more people drove, the more tires they would need. These days, we would call that very clever marketing."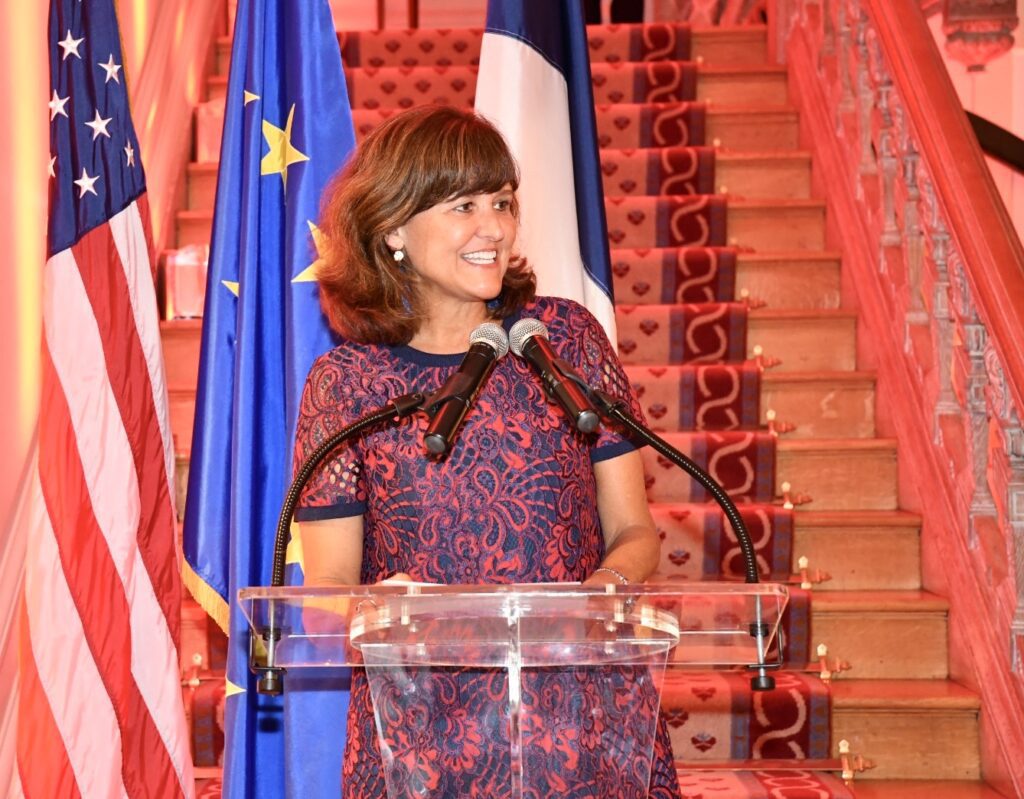 Joanie Martin
The Award-winning Chefs were invited to the staircase where they received their awards. Winners here. DC's only three star restaurant went to The Inn at Little Washington, Chef Patrick O'Connell. Just over 100 restaurants worldwide currently have the three star recognition.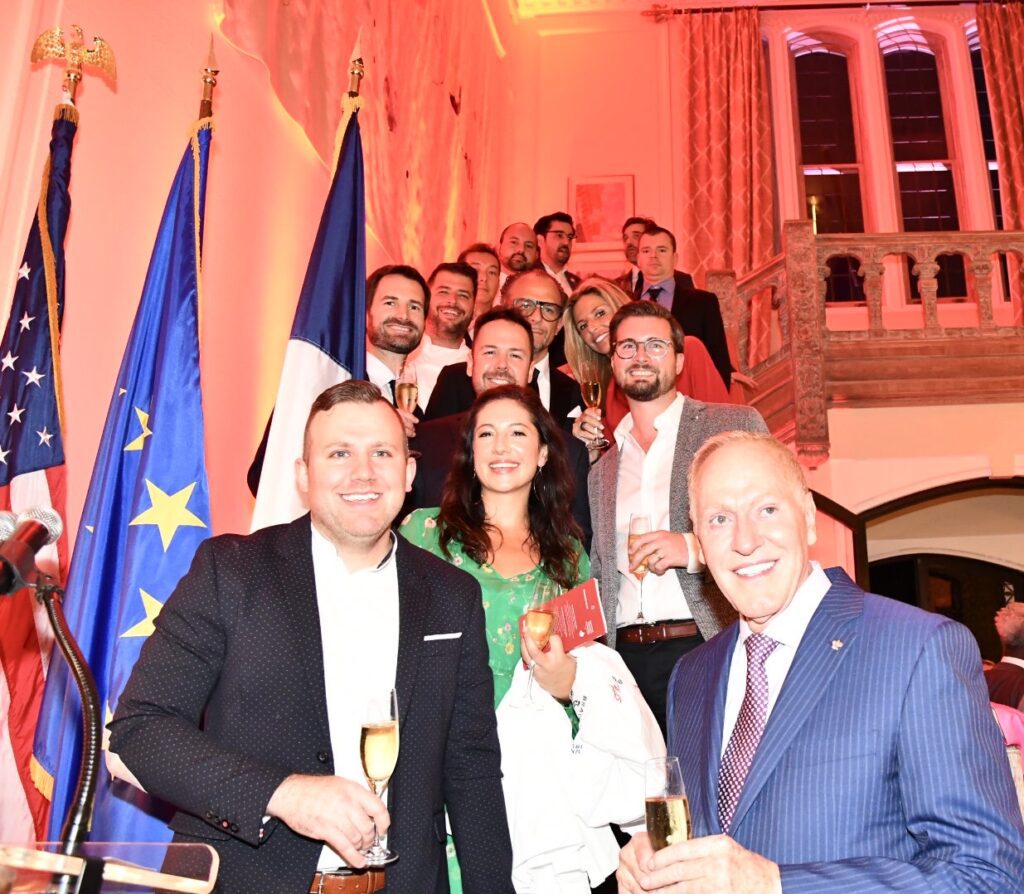 Chef Patrick O'Connell (R)
"It's exciting to have our city recognized on the international culinary stage by the world's most trusted authority on gastronomy," said Chef O'Connell. "Collectively, we have a lot to celebrate tonight. The DC area now boasts some of the most exciting and diverse places to eat in the United States along with a discerning clientele, many of whom are here tonight. They challenge us to do our best night after night. We owe a huge debt of gratitude to our guests who support us year after year, and of course to our wonderful teams for their dedication and hard work. No chef could ever receive an acknowledgement like this without the talents of a dedicated team supporting all of you. To your teams, to our guests, to Michelin and to both big and Little Washington."