The Dole Foundation!
by senior contributor Brendan Kownacki
Photo credit: Brendan Kownacki
"Anything I've done on this issue pales in comparison to literally every single service member, every caregiver, every veteran, every military spouse and child I have ever met," said former First Lady Michelle Obama at the second annual "Heroes and History Makers" Gala for Elizabeth Dole Foundation. Mrs. Obama spoke about her advocacy on behalf of military service members and their families at the patriotic evening which celebrated caregivers in the veteran community. Dubbed the "hidden heroes" for their efforts behind the scenes to support those who have served our country, this group of critical people were being cheered at every turn as the backbone of the military and veteran system. "I'm not really doing much compared to them. Yeah, I'm giving speeches, but I'm not managing a household all alone while my loved one is serving overseas," she said. Mrs. Obama was the inaugural recipient of the Tom Hanks Caregiver Champion Award for her longstanding dedication to military families under her "Joining Forces" initiative in the White House. The legendary actor, for whom the award is named, was on hand in DC to present the Award.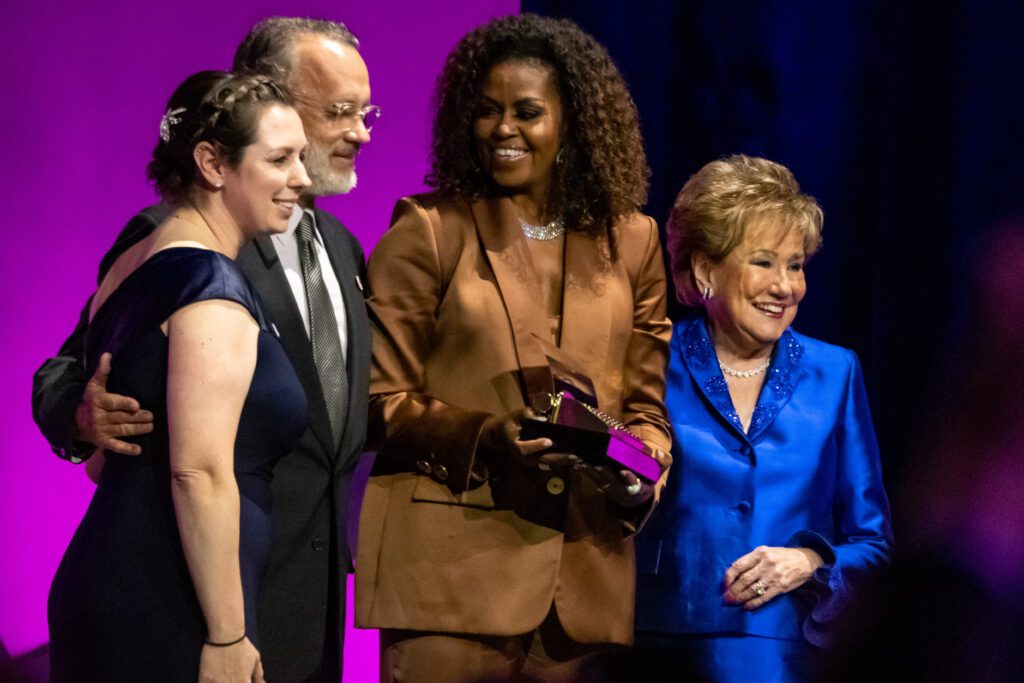 Caregiver (L) Tom Hanks, former First Lady Michelle Obama, Elizabeth Dole
"It's hard to imagine that while we are sitting here in this ballroom tonight, that just 5 years ago barely a soul knew about our military care givers. Even the caregivers themselves, you folks who are here tonight, they didn't know they were caregivers. They thought they were just the loved ones and family members of veterans who needed them every waking moment of their lives. They were just going on about their difficult days. Were there others out there like them?" asked Hanks who became a champion for military families after linking up with Elizabeth Dole, realizing that these caregivers are our friends and neighbors and community members who are all around us. After telling numerous military stories on film throughout his career and as an avid history buff, Hanks understands the role of families and caregivers in the military community and when Mrs. Dole reached out for support of her mission to help these important figures, the Academy Award winning actor was hooked. Hanks described that once Mrs. Dole "sounded the alarm" in the name of caregivers and trying to give them a support system, that he knew he would be wherever she needed him, and that luckily someone else was listening too…First Lady Michelle Obama, and from there, the help from others has just kept growing. Mrs. Obama wanted to help and began to organize support from 1600 Pennsylvania Ave and beyond.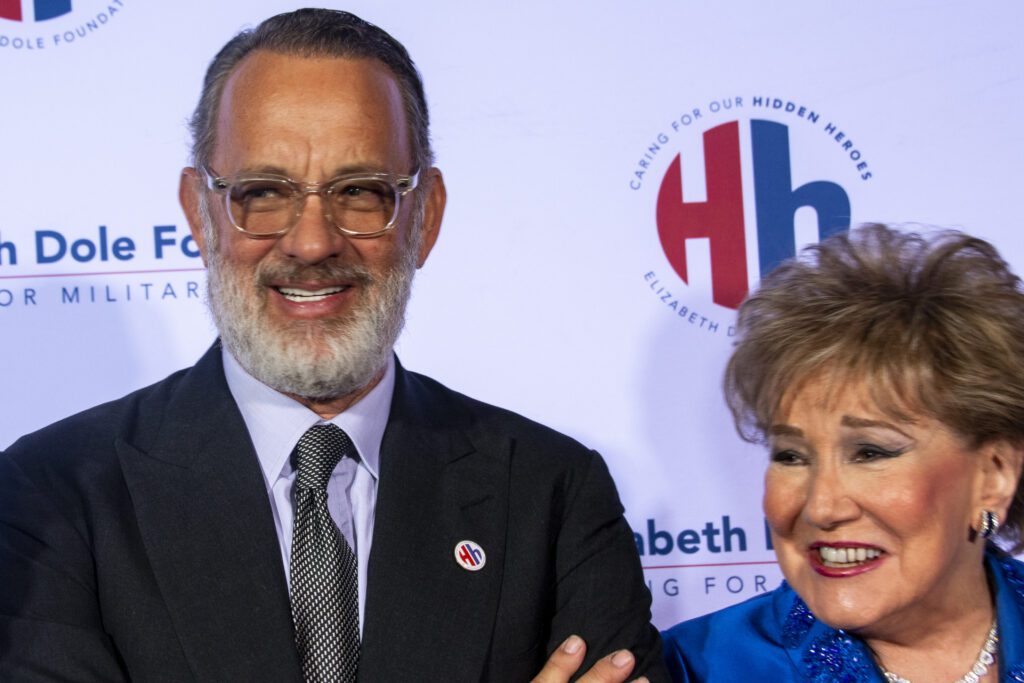 The gala was hosted again by The Today Show's Savannah Guthrie and honored Senator Patty Murray and Congressman Phil Roe for their support as Congressional champions for the military community. Mrs. Dole described her own experience with her husband and encountering other veteran caregivers and knowing she had to do something to make a difference. "We provide hope to millions of Americans who set aside their lives, both the lives they knew and had always imagined for themselves, to care for a loved one who pledged to defend our freedom and protect our nation" said Senator Dole about the driving mission of her foundation. "The need for our work is critical. The need for our work is urgent," she said, referring to the more than 5 million people who act as caregivers for military service members and veterans.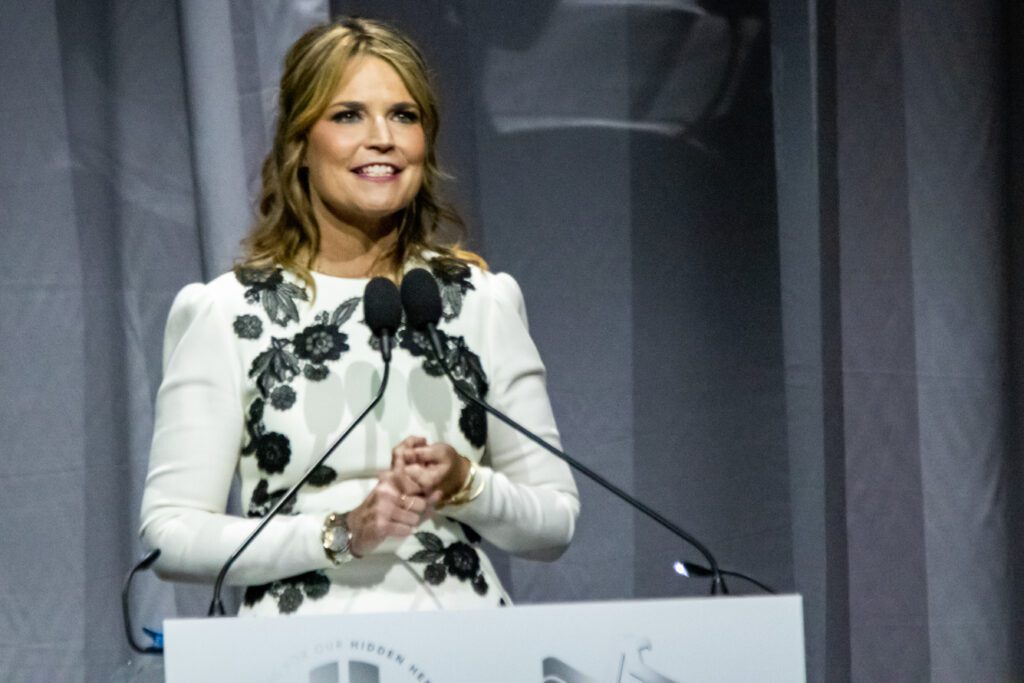 Savannah Guthrie
This was a truly "Washington" room with a diverse mix of people from the military world, policy worlds and business communities uniting for a good cause. Mrs. Dole mentioned while speaking with the press that the foundation had reached out to all of the 2020 primary candidates to try and make sure this was going to be a top priority for our political future. Mr. Hanks echoed that this was not a topic that will "go away with a victory party or a 'thank you for your service' or some applause during a baseball game," and that reminder is why we need to bolster an attitude of caring for our military members AND their families. Among those gathered was Linda Hope, daughter of the famed entertainer and USO champion Bob Hope. Linda recounted the way her father entertained so many soldiers and their families through the years and pledged a $1 Million dollar donation to the Dole Foundation and its work. Mrs. Dole told Hollywood on the Potomac that this will include new research to look at the impact of how military children are effected by the service of their parents and how they might end up in a caregiver role in some form.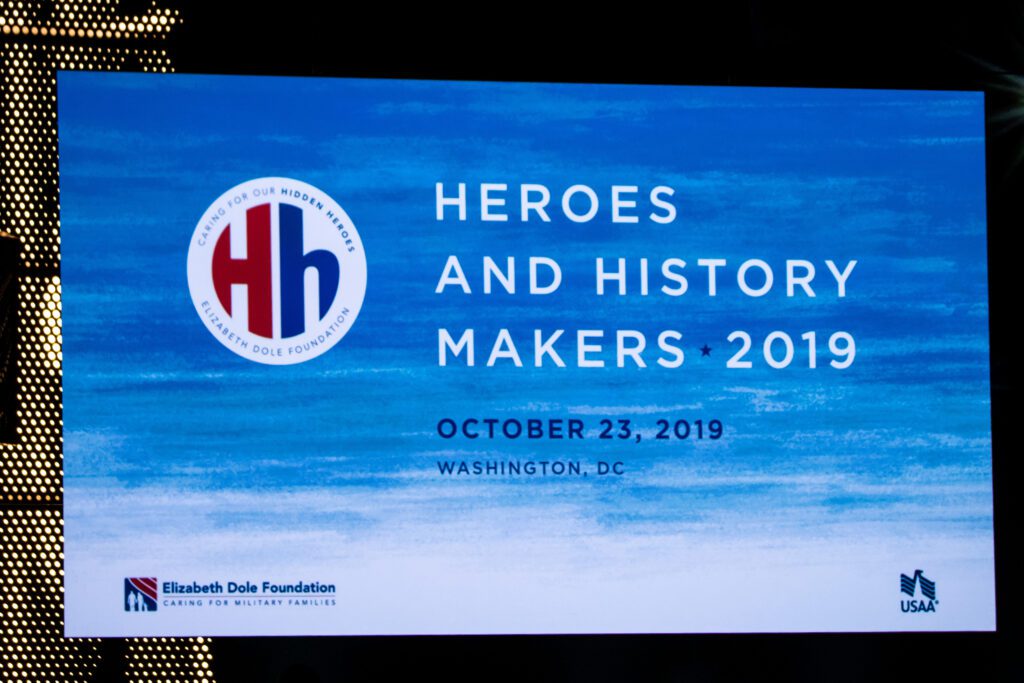 "In those moments, through that unparalleled reserve of grace and strength that these families would come to accept, that the old normal was gone forever, but that there is so much opportunity still ahead," said Mrs Obama. "That's why I am so in awe of each and every caregiver I have met…and all of my work, I've tried to do is to show you that I see you. And my husband sees you. And millions of Americans see you. Senator Dole sees you. We know what you're going through, we know you're unsung heroes, and we care."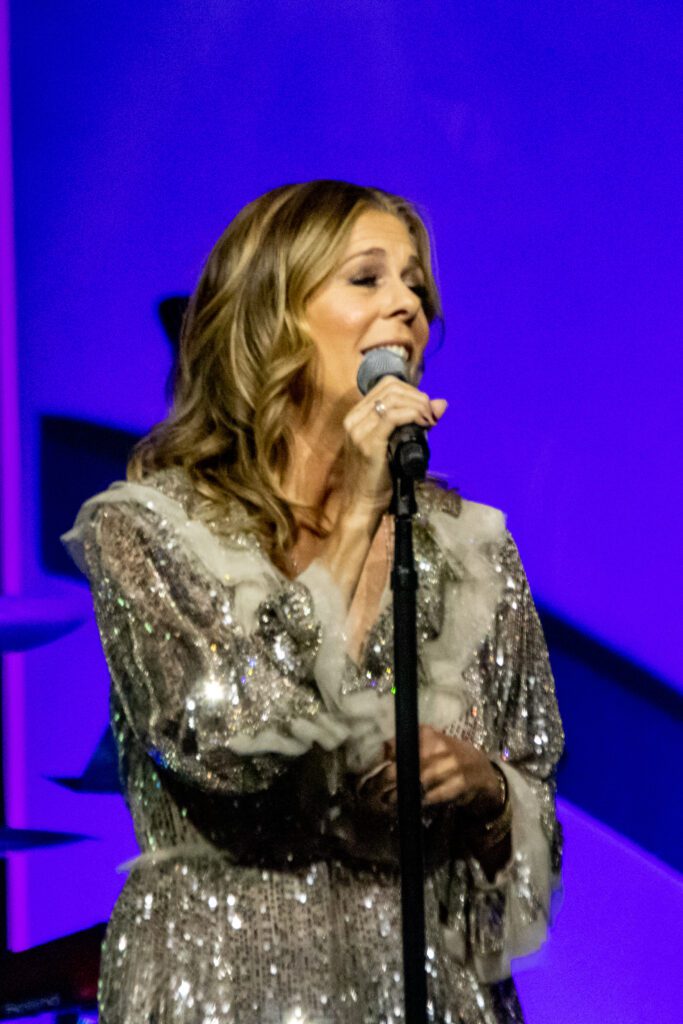 Rita Wilson
With much of Washington glued to their TVs watching the Nationals in the World Series (Savannah did provide score updates) the evening was a bold demonstration to the way that this military community comes together to support their own people and the country at large. The evening concluded with an uplifting performance from Rita Wilson, who has proved that her presence as a musician matches her wit and wisdom as an actress. Politics might divide DC often, but a night like this is a good reminder of how issues can unite people from all sides of the aisle for the good of the world.