The Hoffa Wars!
HollywoodOn Productions: Janet Donovan & Brendan Kownacki
"I was writing about Hoffa and the Teamsters about eight months before Hoffa disappeared on July 30th, 1975. So when it was announced that Hoffa disappeared, I hit the ground running," best-selling author of "The Hoffa Wars" told Hollywood on the Potomac during an exclusive sit down interview. "So here we are 44 years later and I'm still looking for him." We sat down to talk about updates to the disappearance of Jimmy Hoffa as the new Netflix drama "The Irishman" is poised to be widely released. As an expert, Moldea has been following the case for over 4 decades and casts serious doubt and cynicism to the accuracy of the historical drama based on his own interactions with the main character and other characters in the film.

Book synopsis: "The Hoffa Wars is the story of Jimmy Hoffa and his domination of the Teamsters Union, the nation's largest and most important labor union. It is a history of power and the wars fought among the Teamster leadership, and how these wars led to the murder of Hoffa, the corrupt, charismatic union boss." Google Books
 Moldea was 28 years old when his book became a national best-seller.
Memorable quotes from our interview:
"I've had a gun rammed down my throat. I've been in at least a half a dozen fights, really nasty fights. There was a time when I could take care of myself in situations like this, but I'm much older now and I don't quite move as quickly as I once did; so I try to avoid those situations. I try to use my head now when back then I was pretty crazy. I was prepared to do anything."
"I got a call from a teamster official who had been cooperating with me in the South. He told me that he was present at a meeting where a contract was placed out on me and the contract was for $1,500. And when I thought about this, you know, I was more insulted by the price. I was more horrified about that than that there was a contract out on me." 
Robert De Niro and Dan Moldea at the authors dinner in DC
"De Niro had bought the rights to a book called I Heard You Paint Houses by Charles Brand in 2007 about the life and times of a guy named Frank Sheeran who was an alleged hit man who had claimed in this book that he had murdered Jimmy Hoffa among other murders that he claimed to commit that he did not commit. Eric Shawn of Fox News was responsible for supercharging I Heard You Paint Houses after Eric personally received a false confession from Frank Sheeran—and then it was Eric who started the ball rolling to get the book into Robert De Niro's hands. Eric has been at the epicenter of the Hoffa investigations since 2004 when we first met.  So, after fifteen years of friendship and our common interest in the Hoffa case—even though we disagreed about Sheeran—it was a blessing that Eric and I teamed up last July, trying to solve the mystery of the whereabouts of Hoffa's remains.  Also, he no longer believes that Sheeran killed Hoffa."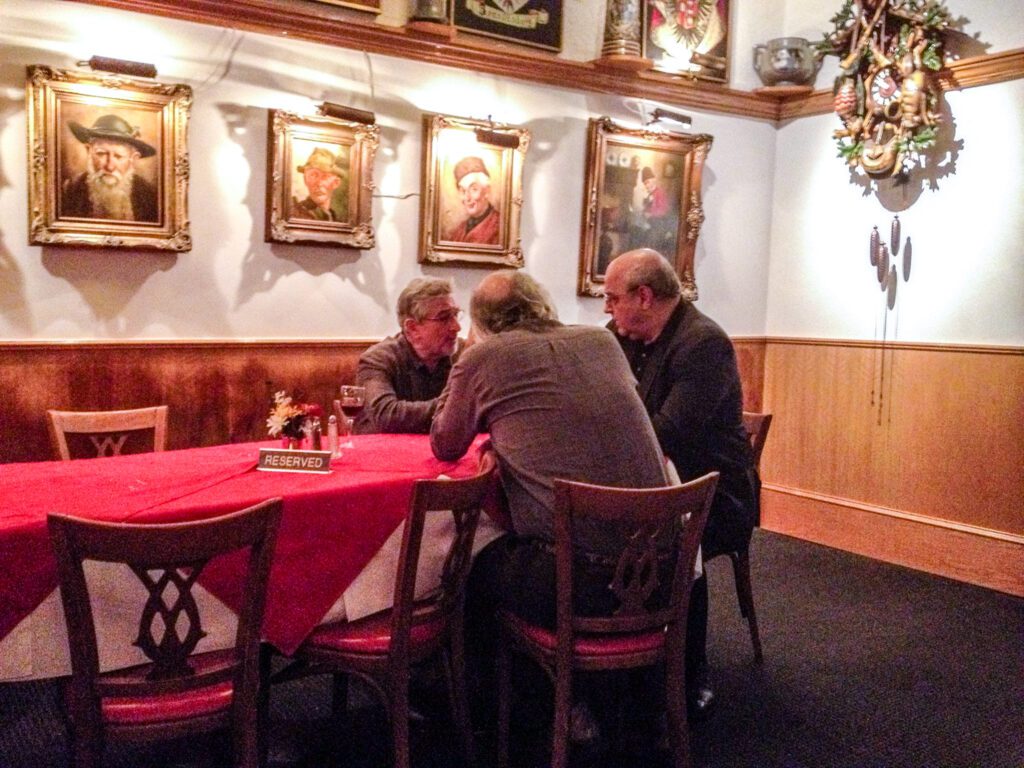 De Niro and Moldea duke it out at The Old Europe in Northwest Washington, DC
"I've hosted an authors dinner here in Washington twice a year – first Tuesday of June, first Tuesday of December – for 30 years and De Niro came. He could not have been nicer. It was terrific. He posed for a thousand pictures that night. He was such a good sport, but we sort of peeled off when we sat at this table. He talks the way he talks to people in the movies. When he started giving me this noise about this is the book that solves a Jimmy Hoffa disappearance, I got very aggressive with him and he took offense. There was a very harsh language between us and in the end we did not part as friends to say the least, but I like and respect the guy."
"If this film helps to bring the issue of Hoffa back into the public consciousness after 44 years, then people are going to start looking for him. I'm being very pragmatic here at what I say. I'm picking my battles very carefully and I don't want to battle with Scorsese, De Niro, Pacino, Harvey Keitel, Ray Romano and Steve Zaillian who wrote the screenplay and won an Oscar for Schindler's List. That is not a fight I want because I'm going to get creamed if I engage in that fight. So my position is I love the movie because  a) it is putting Jimmy Hoffa back on the radar screen and b} it's putting me back in the game and it's allowing me to strut my stuff for everything that I've been doing on trying to solve this murder over the past 44 years."
"It was a walk down memory lane because when I went to see the film, I accepted it for what it was. It was fiction. It was about the life and times of a pathological liar who claimed to have committed murders that he did not commit for the cynical purpose of trying to make money at the end of his life. So going into it with that understanding, I enjoyed the three and a half hours of the movie. I recommend people go to the theater while it's still available on the big screen or wait until it goes on Netflix on November 27th and see it. I think the world should see it. But once again, I don't think that the world is going to come to a national debate as to whether Sal Briguglio or Frank Sheeran killed Jimmy Hoffa."