PBS-Politico Debate Hub!
Photo credit: Janet Donovan
"Our job in my view, the job of The NewsHour, is to report – period – and as appropriate to provide analysis to invite others on the program to express opinion," said PBS anchor and managing editor Judy Woodruff at the annual Corporation for Public Broadcasting dinner where she was the guest of honor at the The Carnegie Institute Science building in Washington, DC.  "In the end, it is up to our viewers and our readers and our followers to make up their own minds, not for us to tell them what to think. That makes us a little like dinosaurs in the current very opinionated news environment, but we believe that many Americans want exactly that. In fact, we have seen our audience grow and we think it's because many Americans do want straight news. They want straight reporting. Not everybody wants opinion."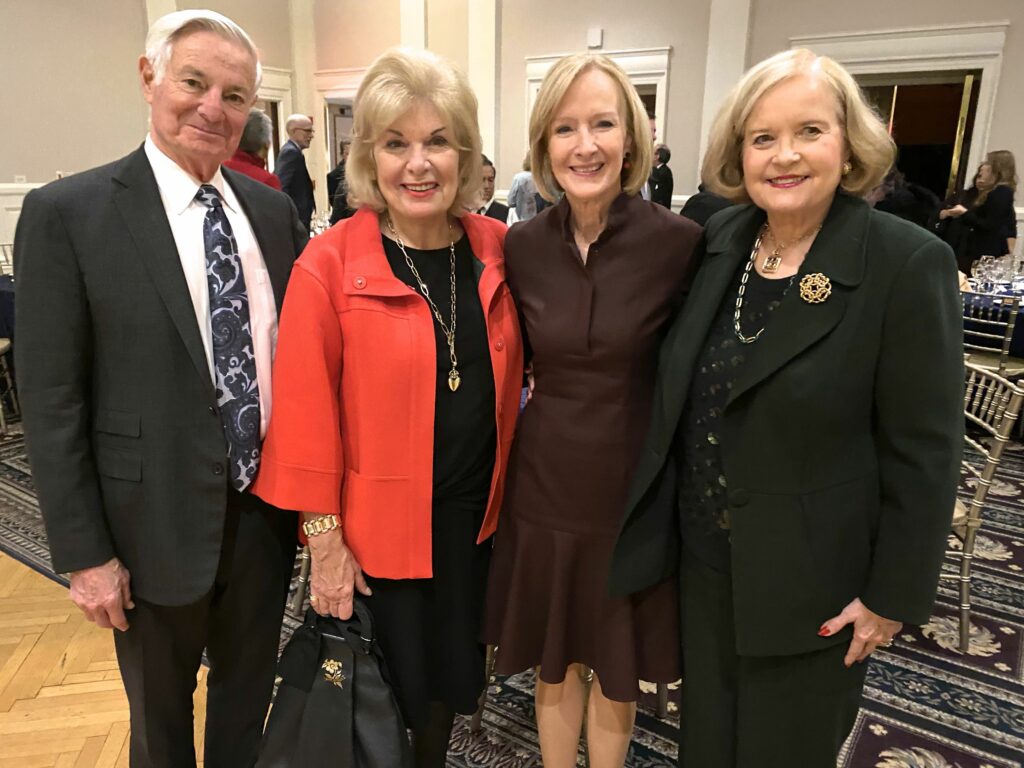 Bruce Remer, Pat Harrison, Judy Woodruff and Sharon Rockefeller
"What sets us apart from our friends in commercial radio and television is that we are committed to covering the entire country to covering issues that are not the hot story of the day," Woodruff added. "We pledge every day to hold up a mirror to our communities, our state, our nation, and the world and to make sure they are not forgotten and we pledge to try to cover every day, every week, every year, year in and year out. It's what motivates me. It's what makes me so proud to work at The NewsHour with a great team. In the end, we all know we don't have a strong democracy unless people are informed. It's as simple and challenging as that."
Woodruff will be taking that pledge to the sixth and final Democratic primary debate of 2019 to be held at Loyola Marymount University in Los Angeles co-hosted by PBS NewsHour and POLITICO at 8 p.m. ET on Thursday, Dec. 19.  Seven candidates—Joe Biden, Pete Buttigieg, Amy Klobuchar, Bernie Sanders, Tom Steyer, Elizabeth Warren, and Andrew Yang— have qualified for the debate. "All seven have threatened to skip the event while campus workers are locked in a labor dispute. The Democratic National Committee said it expects all parties involved in the dispute to "promptly" return to the negotiating table. Until then, all candidates have pledged to not cross the picket line." ABC News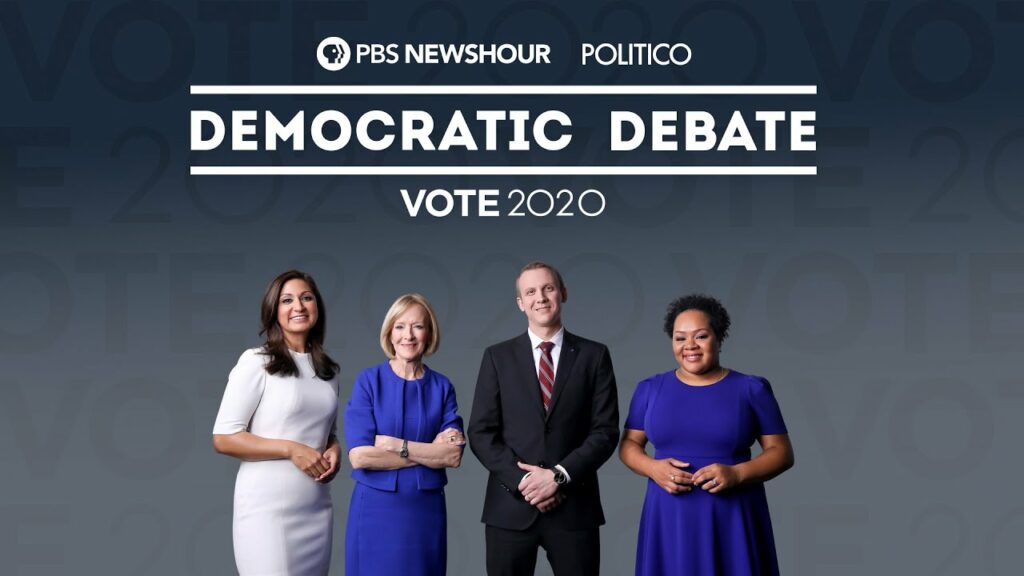 Photo credit: Courtesy of PBS
"I'm very excited and honored to be moderating along with two of my amazing colleagues," she emphasized.  "along with journalists from Politico. A lot of work has gone into planning for what will be a three hour production. Why on PBS and simulcast on CNN? Truly it gives us a bigger audience,  a global audience. You add it all up in the millions, but I'm not nervous at all. I'm cool as a cucumber. Of course, we might not have chosen to hold this debate on Thursday, December 19th because that may well be the day or the night that the House of Representatives holds its impeachment. We were already thinking about this. We've already been talking about whether if that happens, do we have some kind of split screen? What do we do? Believe me, we'll have it covered. We'll do it, if it happens. It's not the most ideal scenario, but if we expect the unexpected, we will be prepared."

"The whole point at these debates is to illuminate who these candidates are and what they believe are there differences among them. We know they all don't like Donald Trump. I mean, that's a given. But how are they different not just on the issues, but how is their approach to governing. This is the campaign that has seen as many as 29 major candidates running for the democratic nomination. And we've interviewed, by the way, almost every one of them on The NewsHour, but after 14 dropped out at different moments, that number is now down to only 15 candidates for prep. So this has kept The NewsHour political team jumping – talk about no sleep. They have done exhaustive research on every candidates' position, record statements, speeches. Right now it's only six. It could be up to eight by the 19th, but as of today, it's six."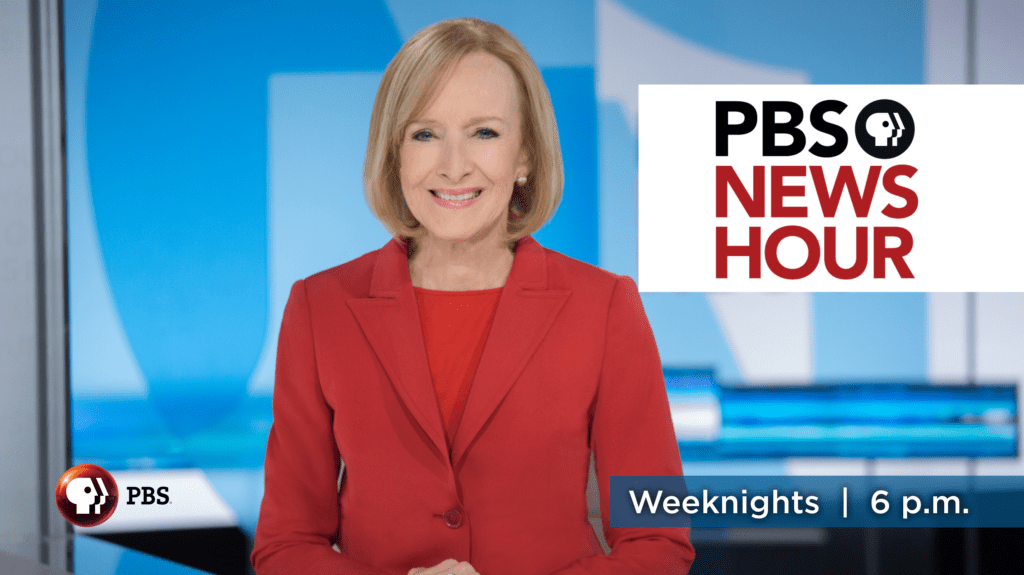 Photo credit: Courtesy of PBS
On the impeachment of Donald J. Trump: "We've interviewed key players – Democrats, Republicans. We're trying to understand not only the facts of the story but the role politics is playing and also of course the historical context and to appreciate what the founding fathers intended when they put impeachment in the constitution. How does what is going on right now compare to the Clinton impeachment, compare to the Nixon impeachment process, even the impeachment of president Andrew Johnson in 1868?  We do take our role seriously to inform, to educate the American people about the sobering responsibility that Congress has undertaken that could result in the removal of a president from office. Of course, we don't expect that to happen because of the political divisions in a Republican controlled Senate which will fall well short of the two thirds vote required to convict."
"In the meantime, we will witness a historic debate in the house. We'll be covering that and then another historic event most likely in January for the trial in the Senate presided over by the Chief Justice John Roberts. It doesn't get any more serious or sober in the work that we do and we plan to continue to give it our very best effort because we owe that to the American people. We believe we have to keep our eyes wide open to see all of this because the world has shrunk and what our neighbor does increasingly affects us just as what we do affects them. And by the way, we are painfully aware of how much the American news media has cut back on coverage of local news, which is why we value our partners at PBS stations around the country – public radio outlets around the country – because they increasingly are part of the eyes and ears we count on as we try to understand the full picture of what is going on in America, what's happening in communities, in big cities and rural areas that yes, affect us all.  And that is quite frankly, his relentless criticism of the press accusing most of the mainstream news media of reporting fake news or lies. And even since shortly after he took office calling us enemies of the American people. Most of us have thick skin. We didn't go into journalism to win a popularity contest, but we are not about making up the news. We're not about fabricating stories. I'm not an enemy of the American people, neither are any of my colleagues at TheNews Hour, nor the reporters I know very well.  On the contrary, I love this country. I am so proud to be an American and I am so grateful to live in the United States of America where the founding fathers made freedom of the press, one of the central tenants, the first amendment in our constitution."
The above comments by Ms. Woodruff have been edited for brevity purposes.