Barbara Bush Foundation!
Photo credit: Janet Donovan

"We share Mrs. Bush's belief that: 'The home is the child's first school' and 'the parent is the child's first teacher,' and these organizations exemplify the critical and complementary role of communities in stewarding a lifelong dedication for learning and growing," said Barbara Bush Foundation President and CEO British A. Robinson at The Pearl Literacy Awards Ceremony at The Kennedy Center in Washington, DC. "We are honored to recognize them today and look forward to watching them continue to change lives through literacy for many years to come."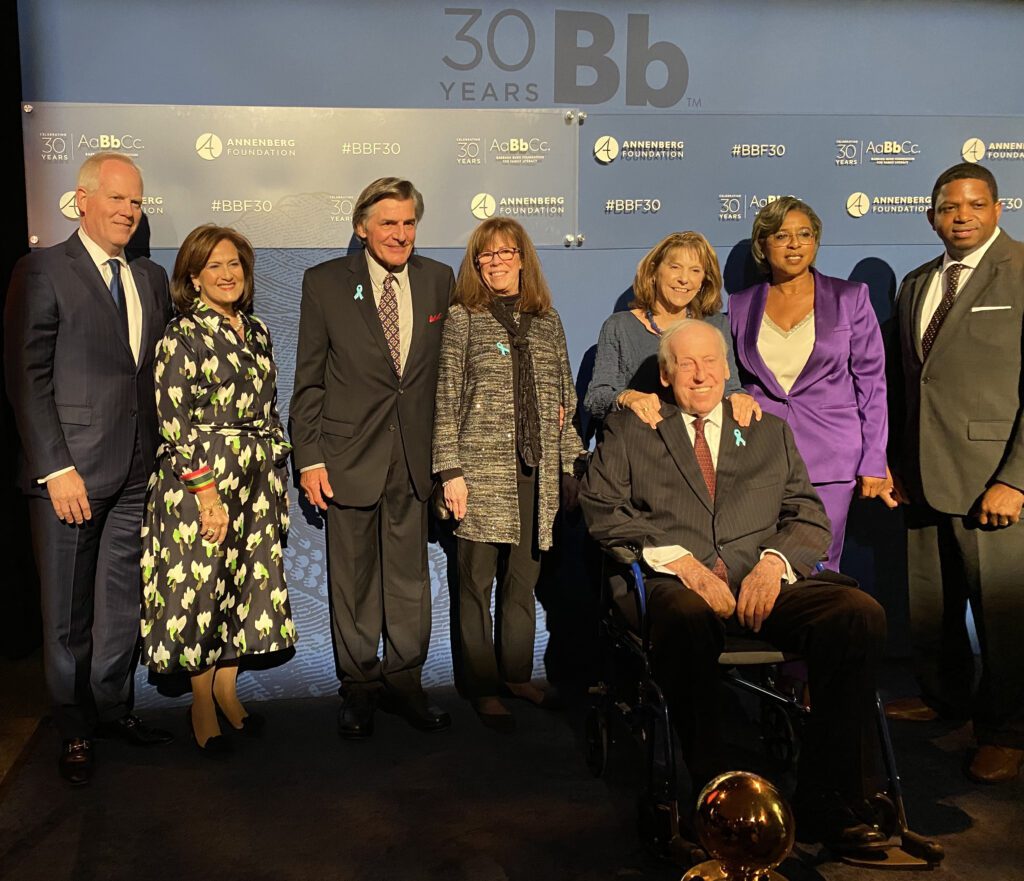 Co-Chairs Tim and Anita McBride (left) with awardees & prominent guests
The Foundation's marquee event, the National Celebration of Reading, featured a lineup of best-selling and award-winning guest authors, including Jon Meacham, Jean Case, Jesse J. Holland, Eric Motley, Susan Orlean and Delia Owens—with other very special guests. The Foundation's Celebration of Reading events, held throughout the nation, have historically served to raise awareness of our country's adult literacy crisis, raise funds in support of the Foundation's work and celebrate the life-changing power of literacy. Ms. Wallis Annenberg served as Presenting Underwriter of this year's special National Celebration of Reading, which commemorated the 30th anniversary of the Foundation while continuing those traditions of past events.
"I am so honored to be part of the Barbara Bush Foundation family," awardee Jesse Holland told Hollywood on the Potomac. "My family has been educators in the deep South going back at least three or four generations. My mother was my seventh grade [teacher], so I really believe in literacy. I come from a family that preaches literacy. So these types of events I am always honored to be asked to be part of because if you can't read, it's overwhelming." "When you read the statistics about how many people are illiterate, how does that happen," we asked.  "If you have mandate mandatory education, just because you're required to be a school doesn't mean you're required to learn. Teachers try their best. Learning isn't just something that happens.  It really does take a village and sometimes teachers are working alone and trying to get literacy to where it should be. As long as we keep trying, we'll get there."  Holland is the author of: The Invisibles: The Untold Story of African American Slavery Inside The White House.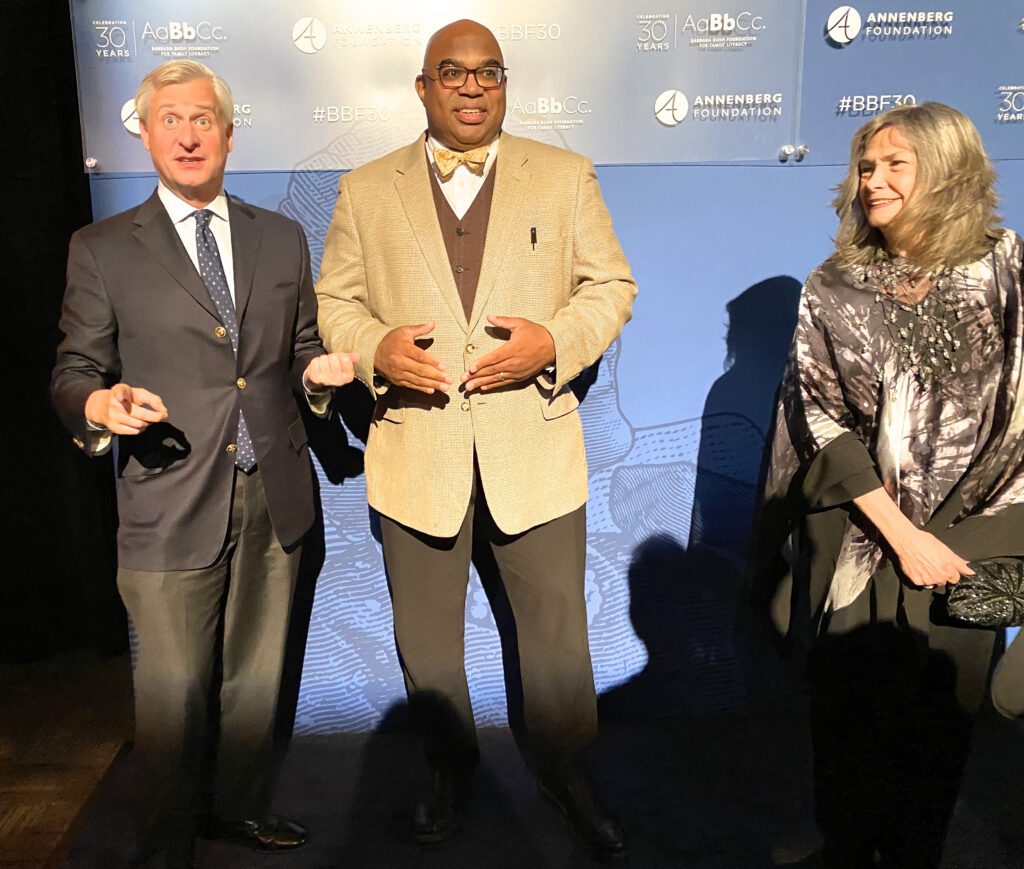 Jon Meacham, Jesse Holland, Delia Owens

We asked Anita McBride, co-chair with husband Tim of the National Celebration of Reading. "This year's celebration reminds us of the impact Barbara Bush had—both during and after her time as First Lady—to catalyze action around an important public policy issue and, ultimately, shape the nation's focus on literacy. We are proud to play a role in honoring Mrs. Bush's work and look forward to continuing her legacy."  We asked Anita the same question: "How does that happen that you can pass to another grade without having done your work?" "Well," said McBride. "I think that this is one of the issues that they're going to discuss tomorrow at the literacy summit. This area of adult illiteracy was something Barbara Bush really worried about and cared about which is why she went into prisons to read to inmates and encourage people to help educate those who have already as adults been marginalized in society. What are the systems and the protocols in place to reverse that? You know, it's shocking. It's shocking and it is in a developing country. I think that we know particularly in a lot of our urban cities and areas where schools are so overcrowded and the attention is not there that perhaps the resources are not there or enough staff counseling on things that can help reverse those statistics."

Marvin and Margaret Bush
To Marvin Bush the same question: Q: "So the things that are really astonishing are when you read the statistics. How is it in this country that you go from grade to grade and come out not being able to read?"  A:" It's an abomination, terrible that teachers and school systems let kids go from one grade to the next one like that," he told us. "That really is a sad thing and my mom recognized that early on and spent the better part of her adult life trying to fight against that, that epidemic that you can't pass from one grade to the other without learning how to read."
"I think she chose literacy because she needed a platform cause to make it her own when she became first lady and to have a bully pulpit. If you can't read it at age appropriate level my mother understood that you can't possibly realize your fullest God given potential," Neil Bush, whom we have interacted for many years with Points of Light Foundation established by his father, told Hollywood on the Potomac.  "Reading is so foundational. It's such a foundational skill for success in life. So she embraced that notion. She personally kind of leaned into adult literacy, family literacy. But now we do all kinds of things all the way from, you know, birth through adults. My mom's going to live because she was a passionate inspiration around literacy or critical skill needed for success in life. In Texas where I live the kids are administered tests when they enter kindergarten, they're administered tests in third grade and throughout high school. Sadly we did a study down there and there's a crisis in literacy covering all age groups and too many kids failed the third grade reading test. If you can't read at the third grade reading level, then you can't read or learn in fourth grade through high school and it accounts for so much of the dropouts. Having said that, poverty is one of the leading kind of indicators and the lack of access to books, the lack of access to hearing words, you know, kids entering kindergarten that are raised in poverty or just kind of stuck behind the eight ball. And there are remedies. And so, we're using moms' inspiration to try to mobilize an army of volunteers to work with organizations that do great work in helping kids from the very earliest of ages and to helping their moms understand the importance of reading. And it is really critical, not only for the human development for vital cities, but for the rehabilitation of cities."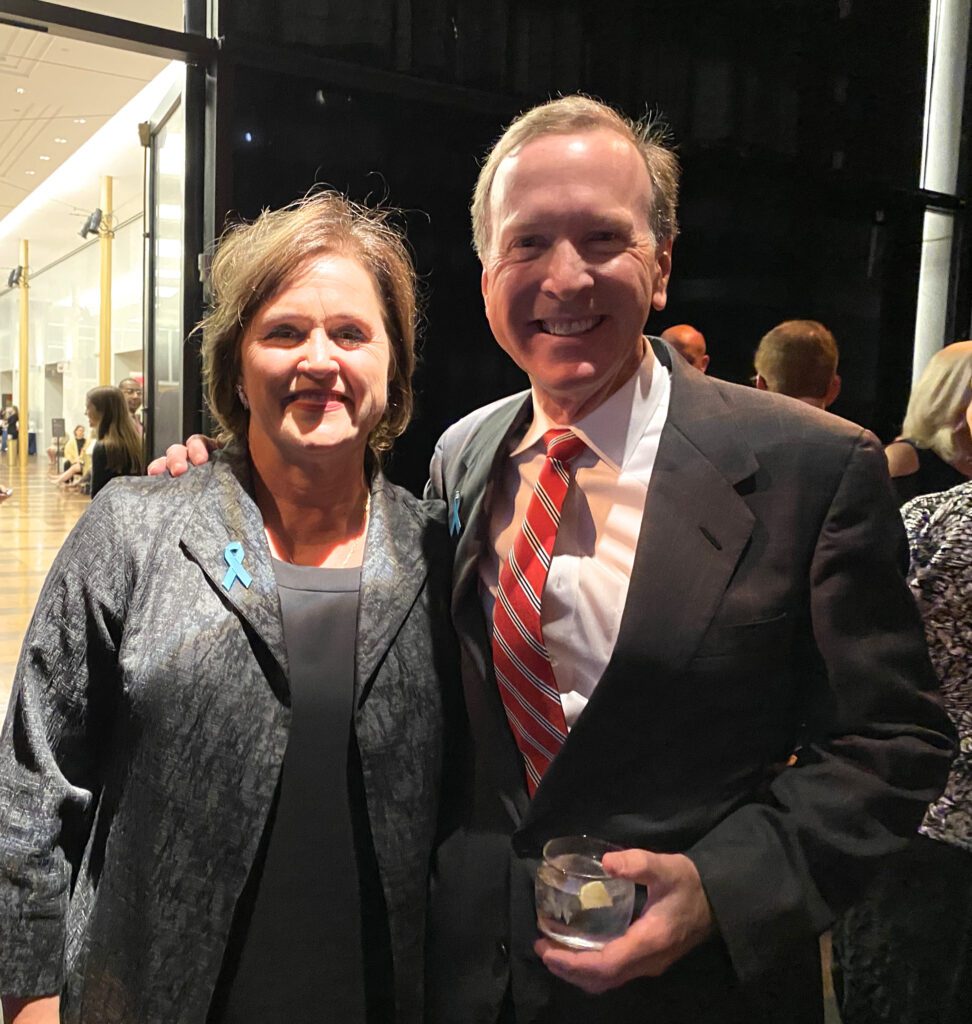 Doro and Neil Bush
Doro Bush on stage:  "She needed a cause. She used to run everyday in Memorial Park and she made a list of all the things going on in our country that worried her at one of the common trends of all of these issues was that one in five Americans are functionally illiterate. If you can't read, you can't read a medicine bottle, can't read a ballad. You can't fill out a job application. You can't read the nutrition label. You can't have a complete life. Mom's goal for the Barbara Bush foundation was to make sure that every American could read. That is one of the more important things this country could do to make us a better, stronger, happier America. My mom was a champion for family, but my mom is no longer here. So now it's up to us to carry it forward into the future."
First Lady Laura Bush     Photo credit: "The Barbara Bush Foundation for Family Literacy"

Laura Bush on stage after repeating a story of a little boy who couldn't read or write and she wondered what happened to him.  "And so my challenge to you tonight is the same challenge I've given to myself all these years to never forget that boy, to never forget that one friendly smile, one reading lesson, one touch, one check written, or one busy hour given over to someone who needs you. These are the things that can make all the difference in the world. As President George H. W. Bush and Barbara Bush had taught us, all we have is now the choices we make now will shape the world for the next generation. And that's why the Barbara Bush foundation's commitment to family literacy is so important. So thank you for your generosity. Thank you for supporting the Barbara Bush foundation and for continuing to support it for the next 30 years."
CEO British Robinson thanked sponsors and Deborah Rutter, President of The Kennedy Center, and was followed by authors, other Bush descendants and family friends prior to bringing Tim McGraw on stage. YES!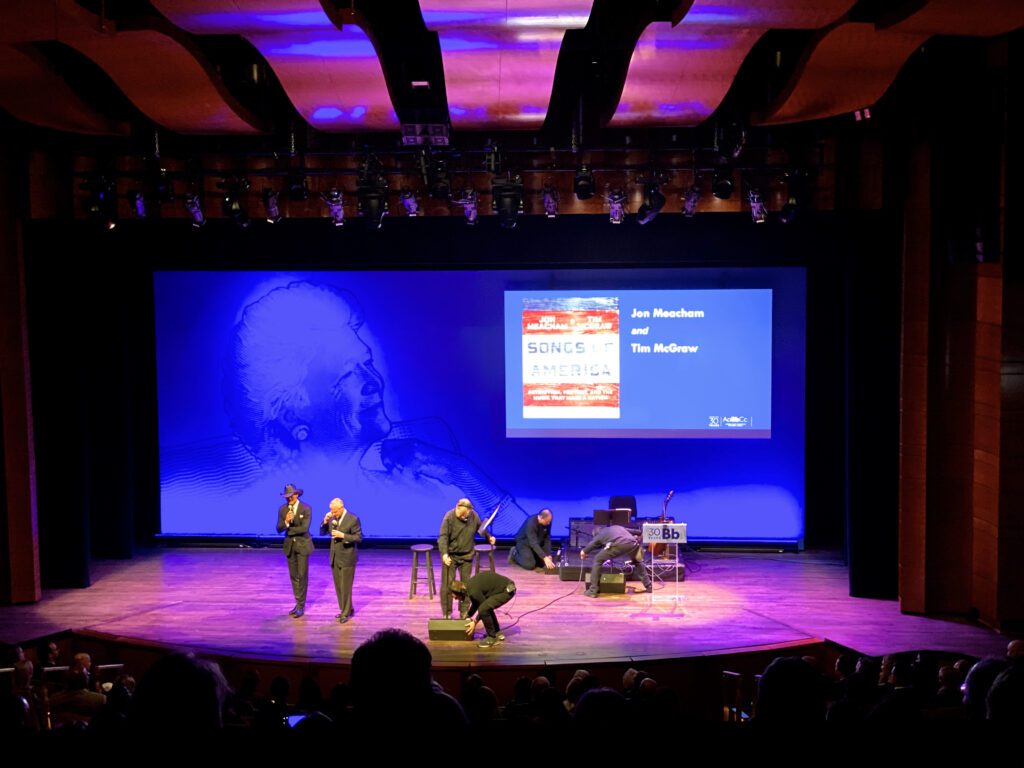 Tim McGraw
"Tonight we're celebrating the beauty of words, the wonder of words, and most of all the power of words to change lives and save lives. My mother believed in this power with her whole heart that she believed passionately that literacy is about much more than just ciphering words on a page. It's about ending cycles of poverty that get passed from generation to generation. It's about empowering entire families and communities to reach their fullest potential. It's about giving every adult the ability to navigate the world and its opportunities with dignity."  Doro Bush