All that Jazz!
by guest contributor Myra MacPherson
Photo credit: Geoff Chesman, ImageLink

The vast ballroom at The Russian Federation rocked with the shouts and applause of a Russian and American audience as they gave a standing ovation to one of the world's acclaimed jazz artists Igor Butman and his hard-charging 16 piece jazz band. A leading proponent of  "Diplomacy Without Words," Butman has for decades tirelessly fostered cross-cultural communication between the United States and Russia through the language of music and the deeply democratic art-form of jazz. This stop in America's most politicized city, was part of a tour of five other United States cities and marks the twentieth anniversary of Butman's acclaimed Moscow Jazz Orchestra, a 16-piece powerhouse ensemble described by DownBeat Magazine as "an outfit of virtuosos." The Carmel Institute hosted the "Evening of Jazz Diplomacy" at the Embassy in Washington, DC.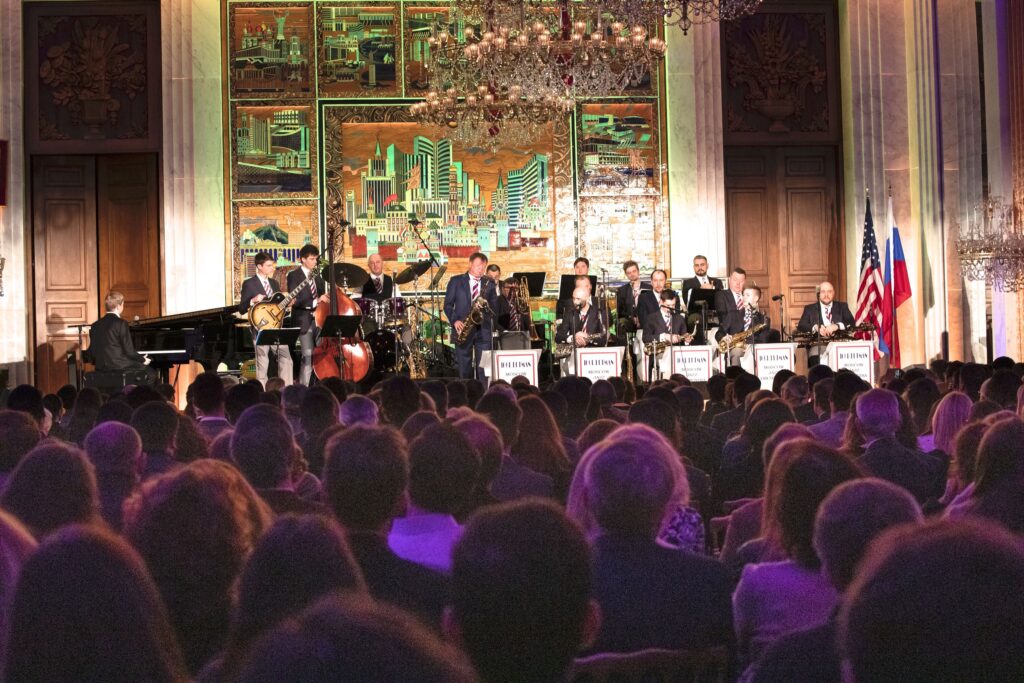 Igor Butman and the band
Butman is recognized as an equal to such Jazz greats as Dave Brubeck, Chick Corea, Lionel Hampton, Grover Washington, Jr. and Wynton Marsalis, with whom he has performed.  Still, this spectacular jazz event was shadowed by a definite time of tension, with lingering allegations that the Russians hacked United States political campaigns and with the expected Senate Republican acquittal of President Trump's impeachment just hours away.
Before he went on stage, the affable Butman—who holds dual citizenship in Russia and the United States—said of the impeachment. "I REALLY don't understand what's going on in this situation. Some people love him. Some people hate him. I don't understand why they like him. I don't understand why they don't like him. I just don't know, but I don't have time for that. I have one comment. I don't think it is right when artists like an actor who I really love, Robert Di Niro, goes on TV and says, 'f*k Trump.' I mean what is this? Fifty percent of the Americans who voted for him? Does that mean you don't like that half of America?''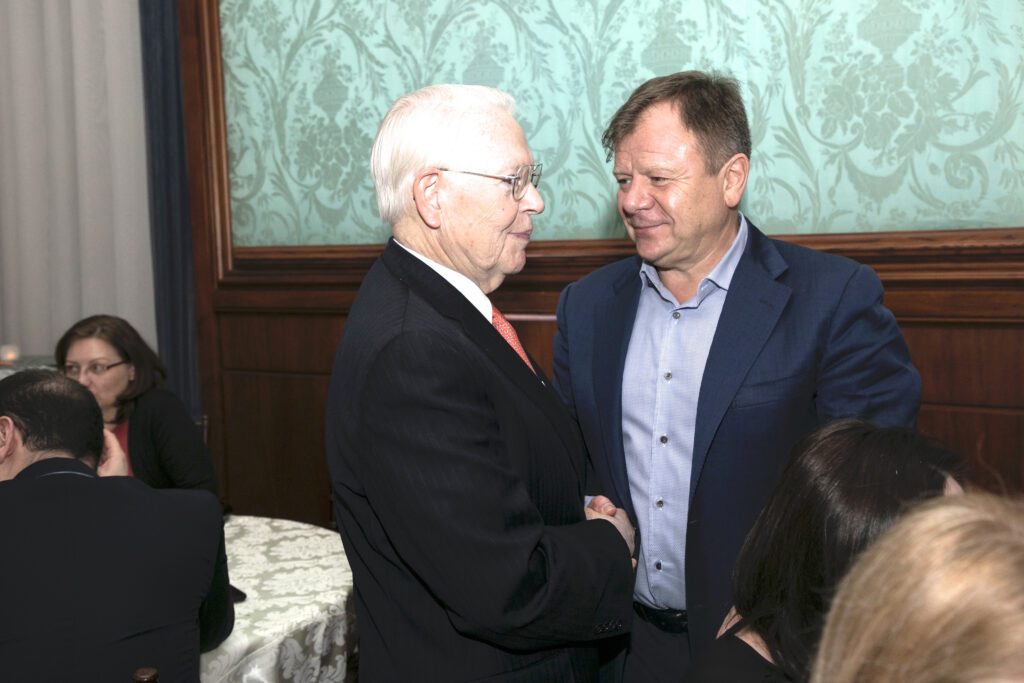 Amb. James Collins and Igor Butman
Butman pivoted to his friendship with Bill Clinton. "I like him. You know why?" Butman smiles, "Because he likes me." Ever since Butman played for Clinton and Putin in Russia in 2003, the former President and amateur sax player has called Butman. "my favorite living sax player." When Clinton mentioned this during a New York symposium on jazz, Wynton Marsalis said, "That's a coincidence. Igor Butman was in my house till 2 a.m. last night. We were drinking vodka." "Why didn't you call me?" rejoined Mr. Clinton. "I like it better than you do."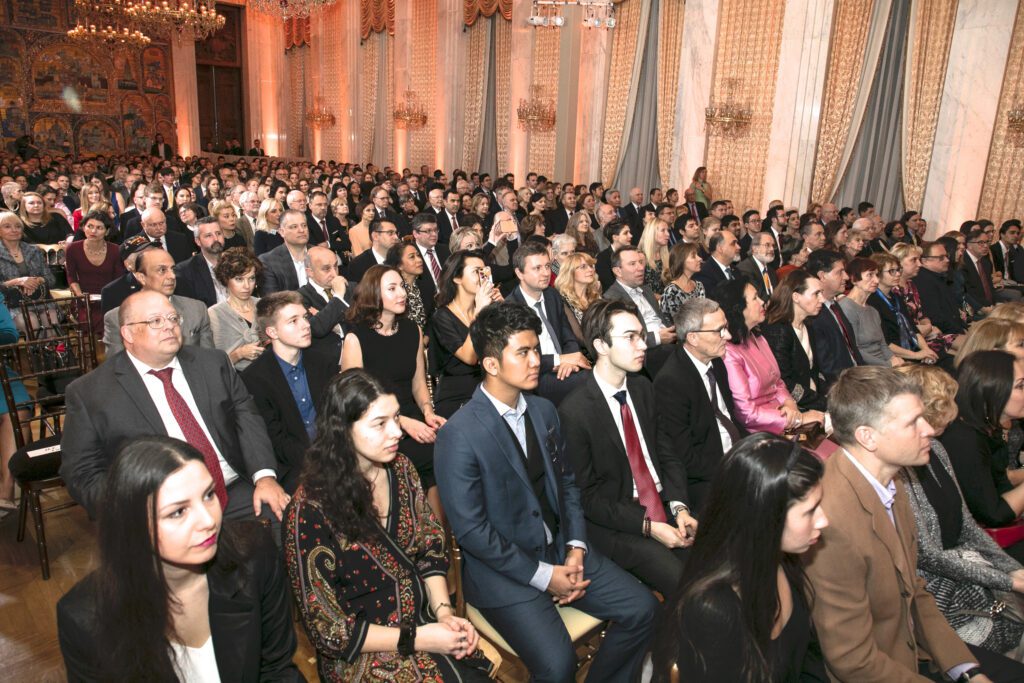 Butman, however, has faced criticism back in Russia from dissident jazz artists for his close ties with the Putin regime -– he is a member of the Russian Federation elite high council and joined other Russian arts and cultural figures in signing an open letter of support for Russia's controversial military intervention in Ukraine and the Annexation of Crimea. In addition to wide-spread international condemnation, these actions created a widely publicized split in the Russian and Ukraine jazz festival community, with Ukrainian protestors forming a separate festival. Butman on the other hand performed at the original Russian jazz festival in the Crimea — which he was instrumental in starting years ago. He stated that he had refused to comply with a U.S. State Department letter asking him not to attend this jazz festival as the Crimean peninsula was (and still is) under US and European sanctions.
Today, despite his supporting Russia's military actions, Butman sighs at the "terrible situation in the Ukraine. It's terrible what's going on. I hate this whole situation with the Ukraine. I really love the Ukraine. I love its people. It may take a long time, but I hope we will find a solution. Our history, our relationship goes back for centuries. Maybe the artists can help to cool down the heads of politicians who just don't see any compromise."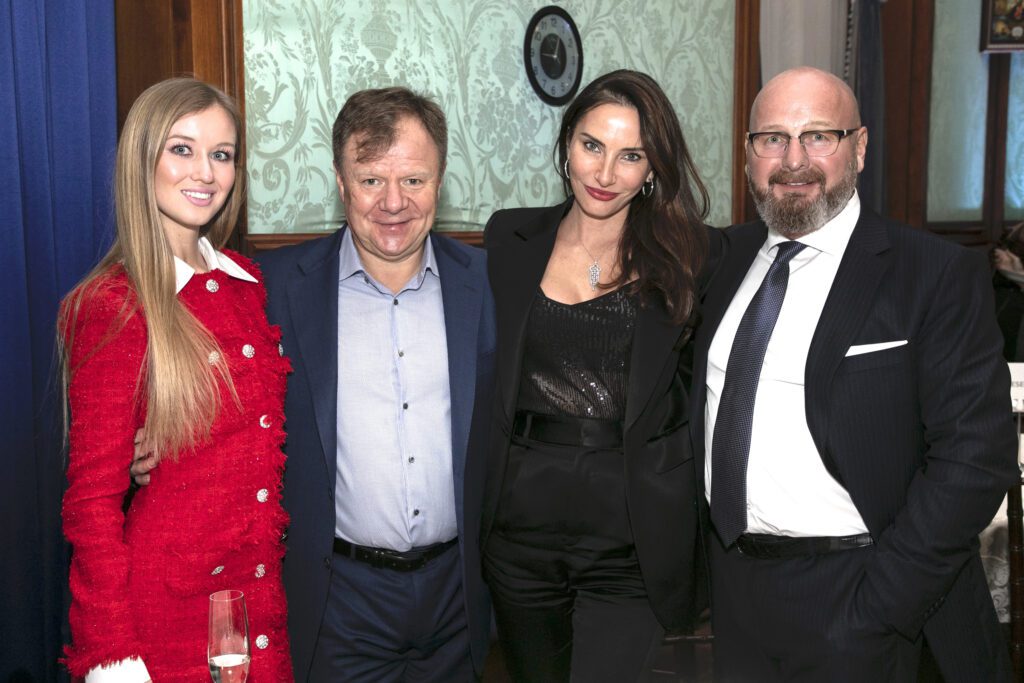 Igor Butman and guests
With that, Butman waded into the question of balancing his life as an artist with his political beliefs. "I'm in politics to further music, which I love; for it to be heard by more people. I can make more music festivals, have more students learn about jazz. That is the only political agenda of mine. That's why I am a United Russian party member. When I joined, (in 2008) the first thing I did was to gather other musicians together to talk about the problems; what do we need from the government, what do we need from sponsors, how do we get financing? So now we have an Academy of Jazz. So now we have more jazz festivals, more jazz culture. That is my political agenda."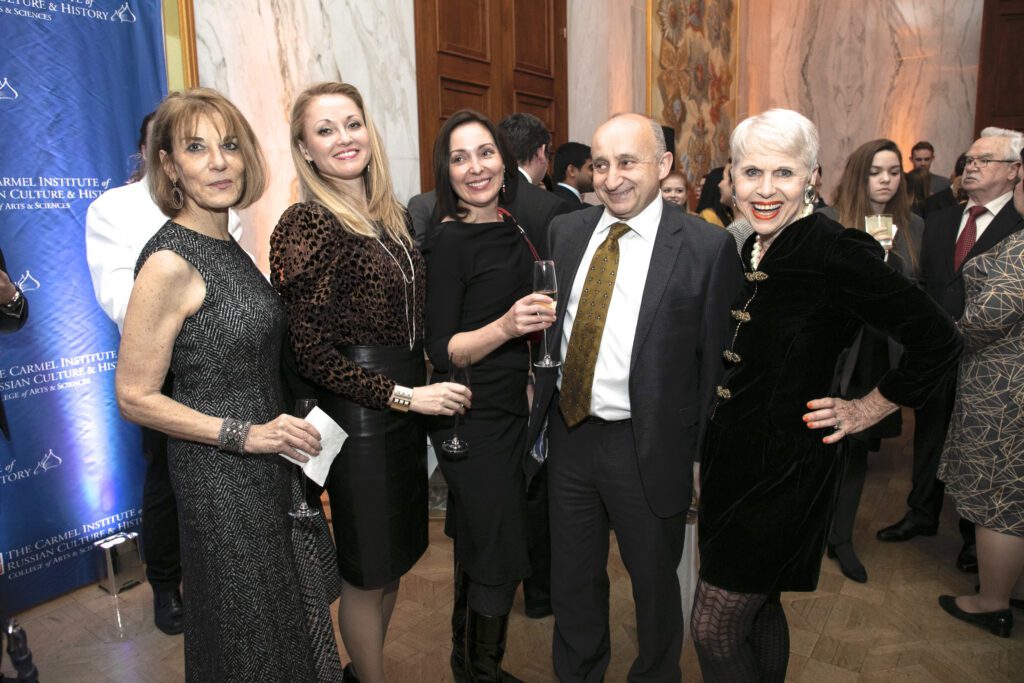 Gina Steinway, Elena Muehlenbeck, Irene Didisky, Mark Farr, Jan DuPlain
Butman shows a high level of pragmatism when he says why he joined Putin's Russian party. "It is the winning party in Russia. So why should I support a party that does not win?" he laughs. "Why waste my time? Because of my political weight, so to speak, a lot of high ranking people know and respect me for my art.'' Butman was thus able to launch his successful Jazz Across Borders in 2017, the first jazz conference in the history of Russia which became annual.
Born in 1961, Butman says that as a youth, "I was not very good with Communism. I wanted to defect or immigrate (he did immigrate in 1987 at age 25). I saw that music [freedom] was not going to happen. But at the same time, I was a patron. I lived there. I was very proud of my history. I also loved America, especially from the movies, then music and then jazz." His love of jazz was sustained by Voice of America nightly radio jazz hour hosted by Willis Conover. As jazz was frequently banned in the Cold War Soviet Union, Conover's broadcasts are widely credited for keeping interest in jazz alive there. "I loved Conover and listened every night."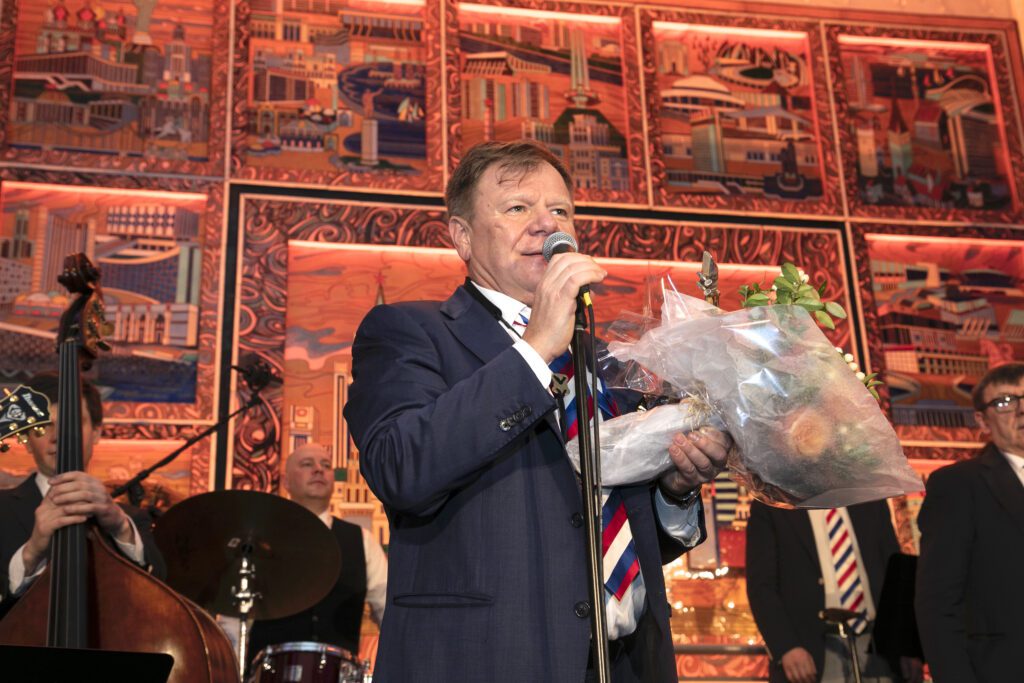 Igor Butman
After the interview, Butman went out to perform brilliantly and to lead his super charged youthful band in music that was often different than those of the 1940's big bands–although Butman paid tribute to Benny Goodman and showcased a rendition that featured a recognizable Moonglow. However, the influence of his legendary friend, born the same year, Wynton Marsalis, is recognizable in Butman's cool jazz riffs. And his original compositions at times featured a Latin beat. He featured a young outstanding pianist and vocalist and others in this precision-like band. But it was Butman's virtuoso showmanship that often lifted the night of music to a high level, moving from mellow to the high wail of a saxophone insistent on being heard. For the night, at least, it was indeed Diplomacy Without Words.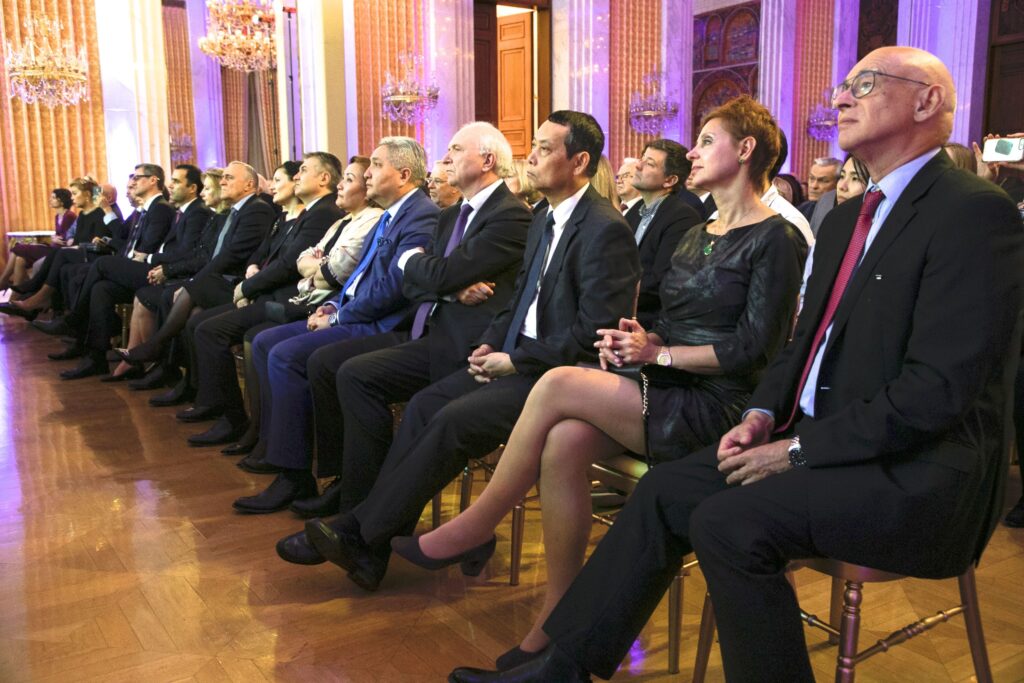 "Ambassador Row"
"Tonight's event celebrates the strength of cultural diplomacy by showcasing outstanding humanitarian and world-renowned jazz legend Igor Butman and his superb Moscow Jazz Orchestra. These musicians continue to encourage greater cultural understanding, dialogue, and mutual respect around the world through their exquisite and powerful performances. While jazz was born in America, it is a genre that transcends borders—and has long been embraced by Russian artists and audiences. By continuing to emphasize the importance of common cultural bonds—such as our nations' mutual love of jazz—I believe that events like this one make a valuable investment toward a more peaceful future."  Susan E. Carmel, Founder and Advisory Committee Chair, Carmel Institute of Russian Culture and History at American University.
Dr. Eric Lohr and Mr. Artur Lyukmanov, Deputy Chief of Mission, Russian Embassy
In his remarks, Eric Lohr, the Susan E. Carmel Chair of Russian History and Culture, and Director of the Carmel Institute for Russian Culture and History, added, "The Carmel Institute is pleased to bring college students from the Washington area together to hear Igor Butman, one of the world's greatest saxophonists and tireless supporter of aspiring young jazz musicians both in Russia and in the United States. His dynamic performances and initiatives to bring Russian and American performers together have helped to strengthen the common cultural bonds that our countries share."
Jazz great Igor Butman emphasized this point when he said, "I think that music is in line with the policy of creativity and love, compromise, reconciliation and understanding! We, people of different cultures, share the same future, same joys and sorrows. And it is through music that we can brighten up our emotional experiences. We, as musicians, have one goal – we must unite people. Artists should play and perform so that people of different nationalities, religions, and political views overcome their egos and mythical contradictions, and musicians are expected to accelerate this moment, and to help people become happy."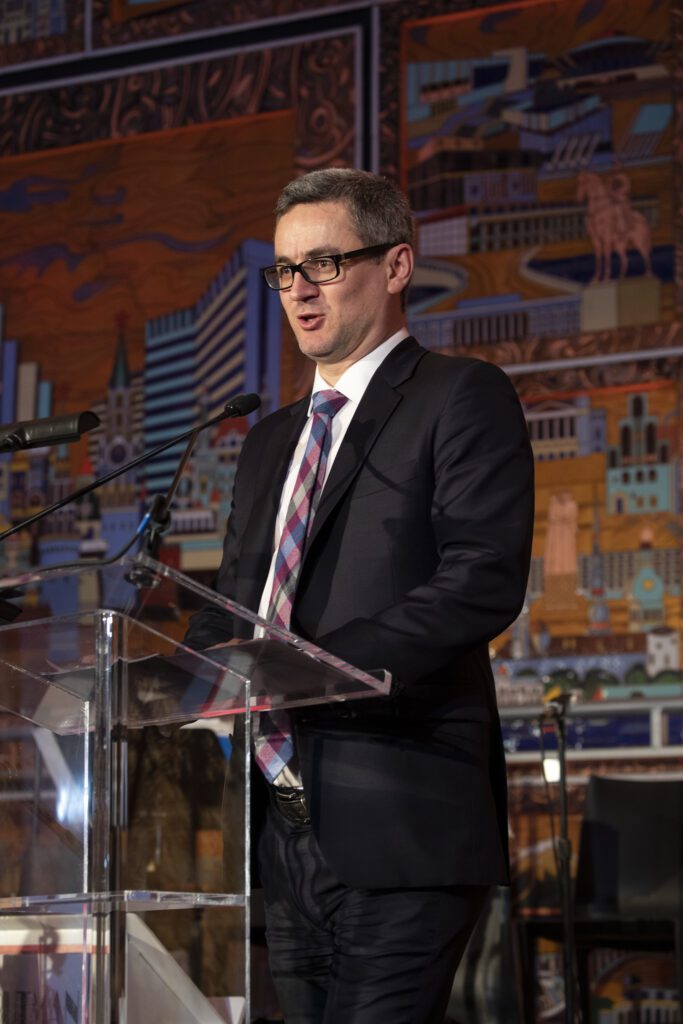 Artur Lyukmanov
The Ambassador of the Russian Federation to the United States Anatoly I. Antonov sent the following message to the audience in honor of the occasion: "It is always an honor for our Embassy to host concerts by Russia's greatest jazz musicians – Igor Butman and the Moscow Jazz Orchestra. Their masterful and creative performance of musical pieces from around the world proves that jazz has no nationality; it is a universal language uniting artists and audiences, a bright example of cultural diplomacy."