"Bridgital Nation"
Photo credit: Ben Droz
"I think digital education is the most important thing we need to do," co-author Natatajan Chandrasekaran told Hollywood on the Potomac at a book party in his honor at the home of Juleanna Glover and Christopher Reiter in the Kalorama section of Washington, DC.  "We need to train our kids in digital across [all sections] of society to ensure that everybody gets a basic digital education."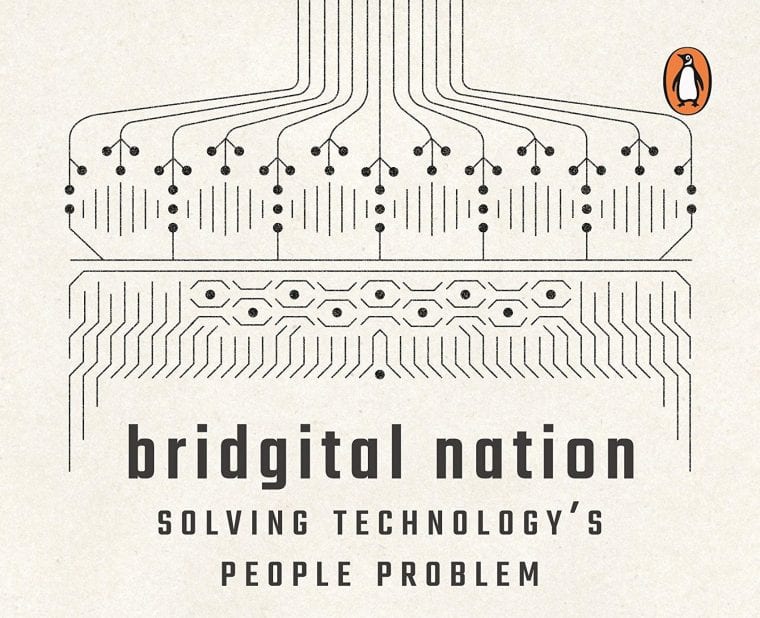 Bridgital Nation book synopsis: "It is 2030. India is among the world's top three economies. All Indians use the cloud, artificial intelligence and automated learning to either do their job or get their job done. All Indians have access to quality jobs, better healthcare and skill-based education. Technology and human beings coexist in a mutually beneficial ecosystem. This reality is possible. It is within reach. With Bridgital. In this groundbreaking book, the chairman of Tata Sons, N. Chandrasekaran presents a powerful vision for the future. To the coming disruption of artificial intelligence, he proposes an ingenious solution, where India is perfectly positioned to pave a unique path from the rest of the world. Instead of accepting AI as an inevitable replacement for human labour, India can use it as an aid; instead of taking them away, AI can generate jobs."
"Through on-ground application of the dynamic technology called 'Bridgital', they show how Indians can be connected across the country, creating a network of services to be delivered where they are most required. This brilliant, cutting-edge solution will address India's biggest challenges by bridging the huge chasm between rural and urban communities, the different levels of education and medical access, and between aspirations and achievement. From healthcare to education to business, the model can be applied in various sectors, and, by a conservative estimate, it can create and impact 30 million jobs by 2025. One of the country's foremost industry leaders and pioneers, N. Chandrasekaran brings his expertise of over thirty years with the Tata Group to offer a blueprint for building a prosperous India, where everyone is included in the growth story."  Penquin Books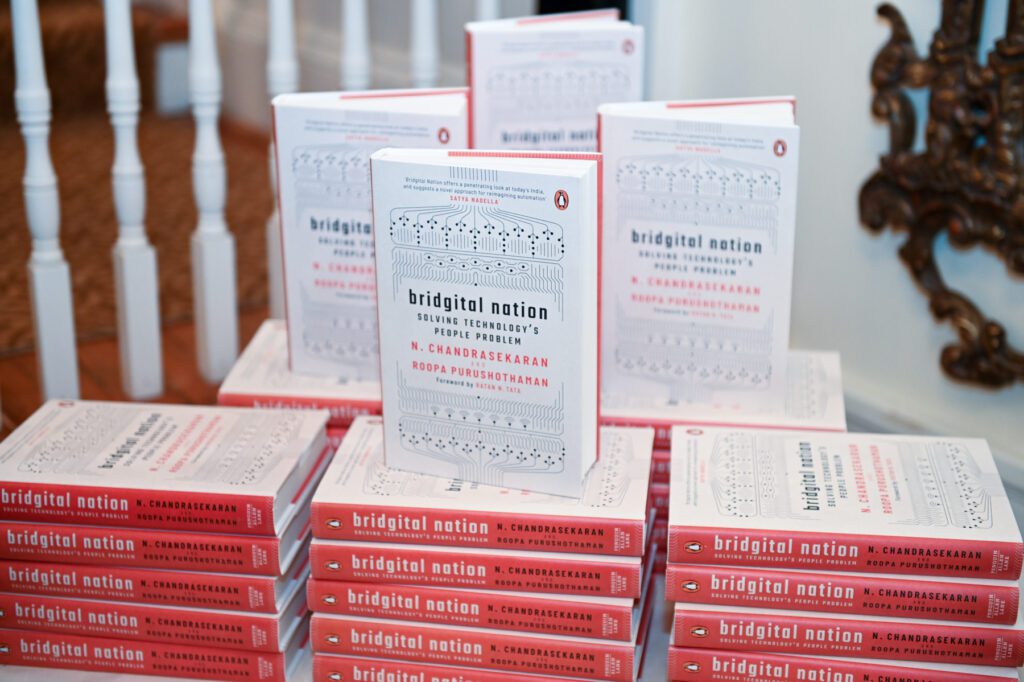 "For the last two years we have worked together and the main thinking behind the book is that we really wanted to challenge this idea that AI is going to take away jobs," said co-author Roopa Purushothaman. "We've done a lot of pilots throughout India where we see the introduction of AI and 4th industrial Revolution technologies solve a lot of issues when it comes to access. But interestingly, at the same time it also leads to more and better jobs. And so we really wanted to highlight how that plays out, especially in developing countries like India."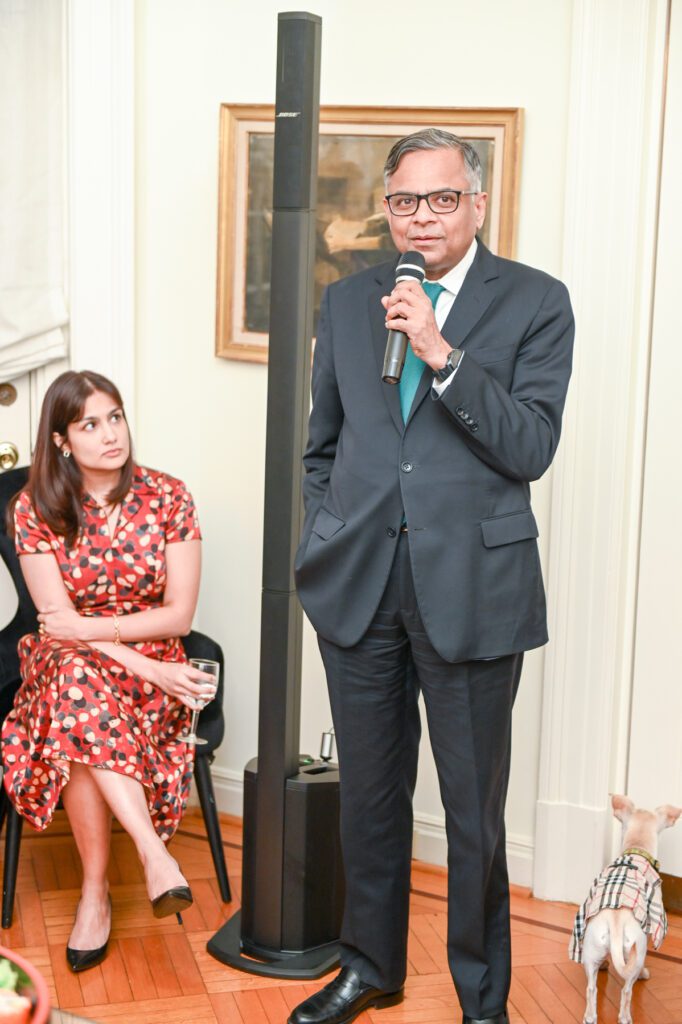 Roopa Purushothaman and Natatajan Chandrasekaran
"I've been thinking about how technology can be broadly applied to solve big scale problems, partly because I grew up in rural India and I've seen how difficult it is for people to get things done. That led me to keep thinking about all the problems that as a country we face. We have a shortage of everything, whether it is the doctor to patient or similarly teachers, hospitals. Because we produce so many good, talented people and we have a billion people coming into the workforce every [month?] we have demand and supply, but somehow we don't seem to figure it out how to match it. So we built a software platform using AI and machine learning. And then we thought what would happen if we make technology? So this current [thought] about AI taking jobs is nonsense. We believe that they will create lots of jobs."  Edited from remarks by Natatajan Chandrasekaran.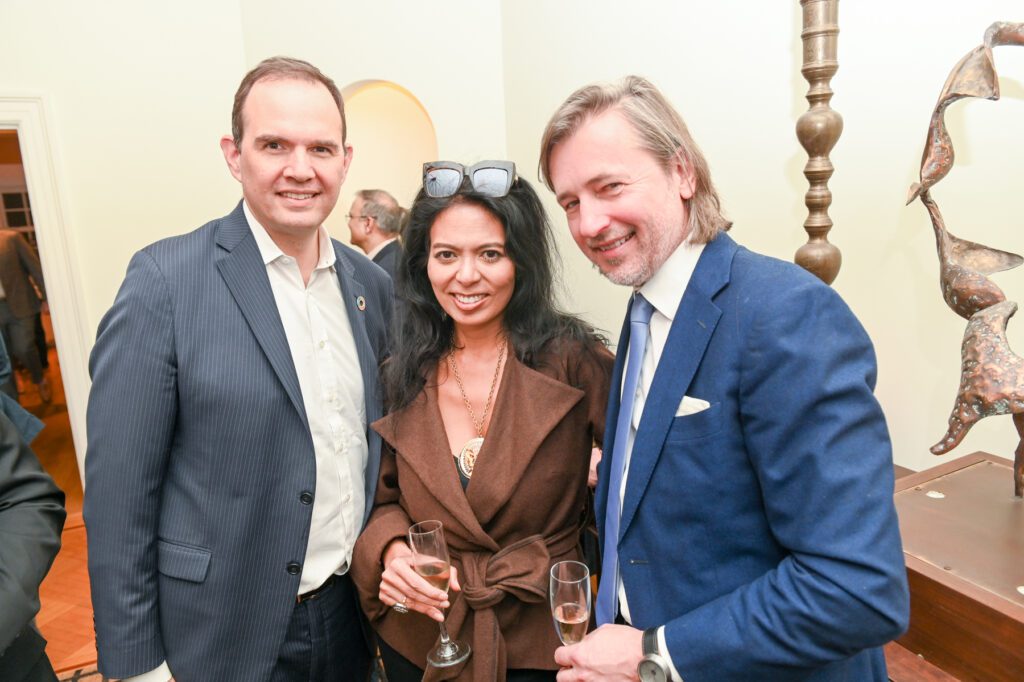 Steve Rochlin, Christina Sevilla, Christopher Reiter
Guests posed interesting questions at the Q and A including those concerning globalization, tariff barriers, immigration, nationalism, enabling potential technologies, digital literacy and technology delivery. "So, I believe that if you don't have those [tech] skills, you can't fix anything else. Skills are the bigger vertebrae," concluded Chandrasekaran.