Napoli Pasta Bar!
by senior contributor Brendan Kownacki
Photos and video by Brendan Kownacki
With political drama weighing on the minds of people across DC and a literal plague keeping people confined to their homes, a trip to Italy would be good for the soul (and the stomach) during these tough times. In the absence of a plane ticket to Naples, the 2nd best option might be right down the street thanks to Napoli Pasta Bar in Columbia Heights. The converted house boasts an eclectic bar and small set of tables downstairs as well as a bright and inviting dining room upstairs, not to mention a spacious patio for when the weather is right and you want a touch of the Sorrento coast tucked into DC's urban neighborhoods.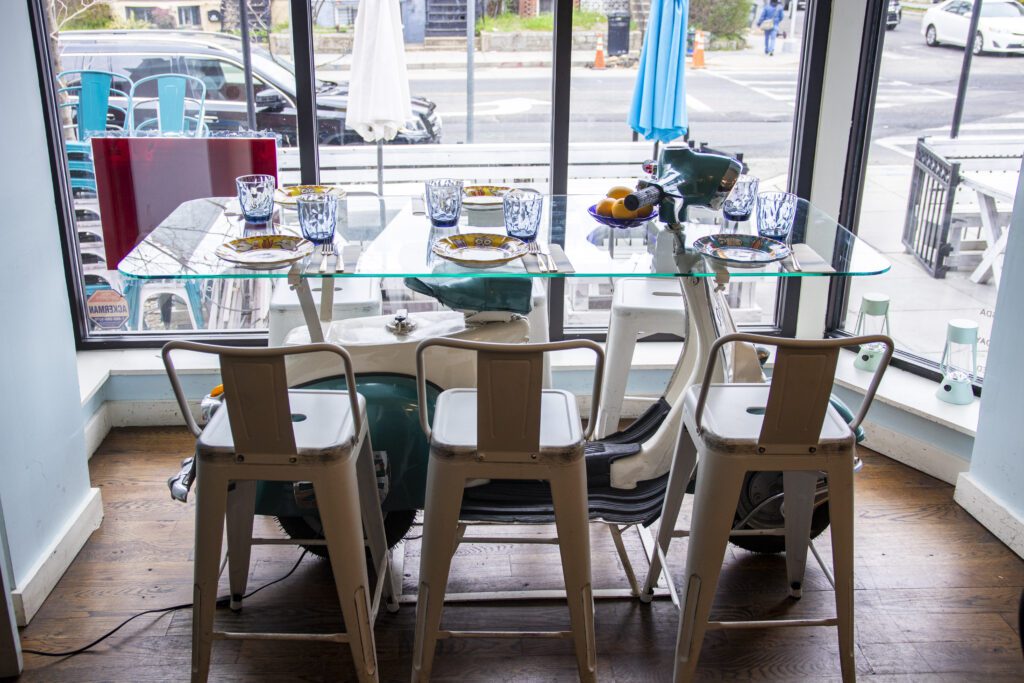 Vespa themed table
Days prior to the initial quarantine in March, Hollywood on the Potomac sat down with Chef Andy Clark who had taken over the kitchen at the rustic Italian eatery with big plans to bring more local and seasonal flavors to the already flourishing location which had earned acclaim such as a spot on the Michelin Bib Gourmand list.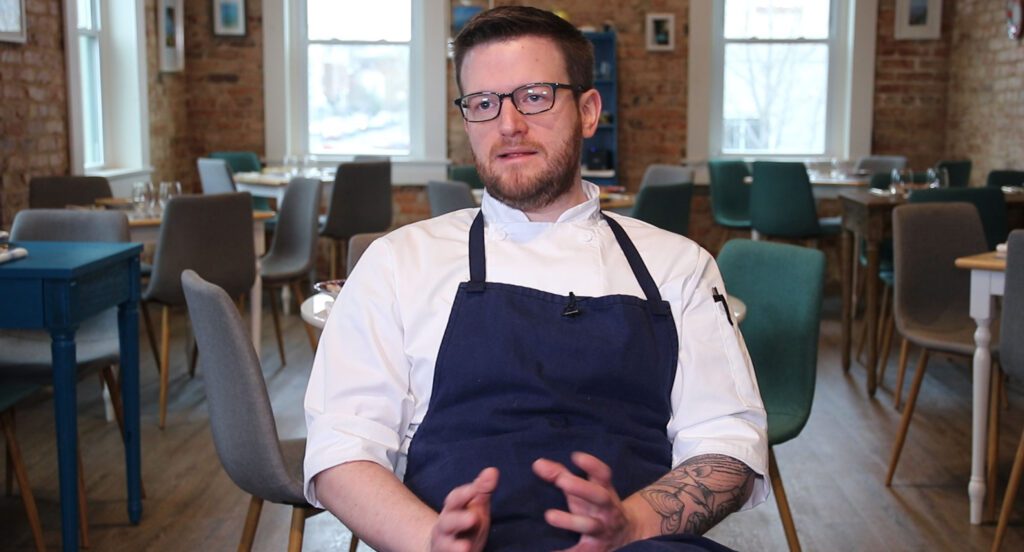 Chef Andy Clark
"I knew that Italian cooking was more than just pasta with red sauce," said Clark who explained how he loves the balance you can get when you combine delicate flavors of local, regional and seasonal vegetables along with the familiar plates of pasta that some people might be craving. Clark cut his teeth in the kitchen working for Éric Ripert and Fabio Trabocchi but as someone who grew up in the area, he also appreciated the sense of community you could create with good food. Taking a farmhouse approach of using what is available, he had high hopes to further boost the reputation of the restaurant as we approached the warm weather months of the year.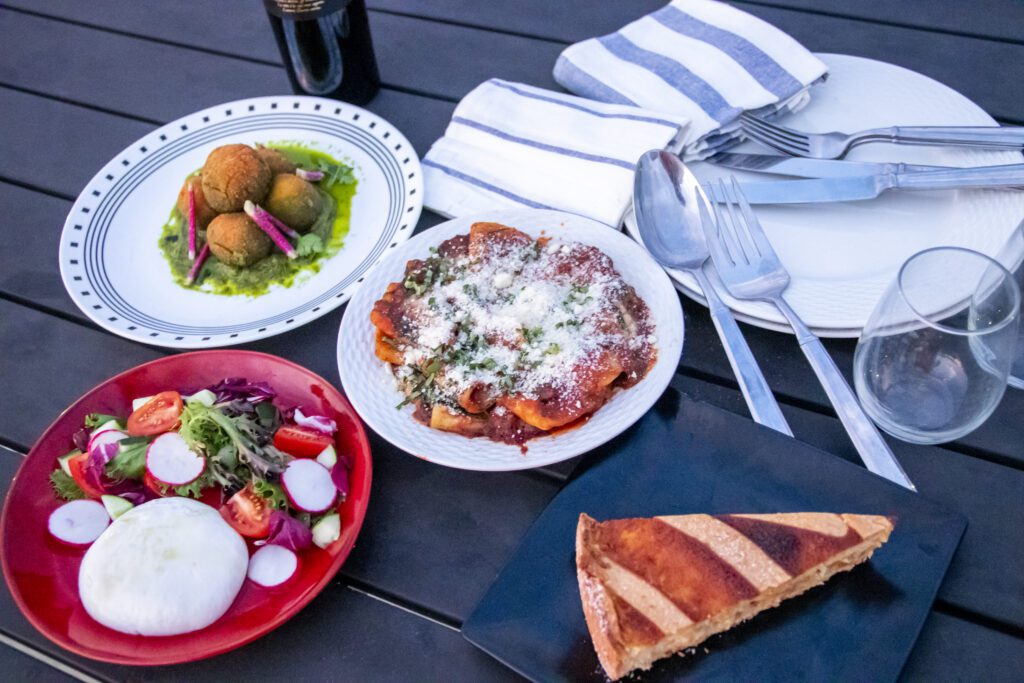 Cue COVID-19.
The forced restaurant closures in March were devastating to the hospitality industry in DC and numerous tenured locations have cooked their last meals, unable to survive the shutdown. The necessary evil of shuttering dining rooms to stop the spread of the pandemic left many restaurants wondering what lay ahead. Behind the scenes though, restaurant workers had to gather their strength to feed the hungry masses now stuck in their homes, and luckily, as the industry began to thaw out, Chef Andy was steady at the stove with some tasty dishes.
"The restaurant industry is hurting. We are going to be hurting without some type of help from the federal government no matter what. I think it has really set us back in terms of what we were doing before. We were a flourishing restaurant city, and since the pandemic, there are restaurants that aren't even open or are taking a month break. Restaurateurs have been changing their entire concepts, and I think that is going to be the trend until unfortunately, we get a vaccine."
Luckily the chef says that Napoli's spacious patio has been a welcome retreat for diners who are looking for good food and trying to enjoy the weather while they still can. He noted that the restaurant is "doing well" and that people are cautiously coming back inside the restaurant as they see safety measures in place and decide what their comfort level is with the dining-out experience.
"The pandemic exposed how volatile this industry is and how small the margins are. People didn't realize that until now. Not having rent relief or government assistance has really hurt us, and I don't know if we will ever fully recover at least in the next 5 years. We have a long road ahead of us."
Gallery photos courtesy of Napoli Pasta Bar

Luckily, Chef Andy is bringing some creativity to that long road as he adapts his menu and his methods to stay afloat. Knowing that take-out orders are another big aspect to feeding people as everyone isn't ready to get back into the restaurant, little changes have helped to develop a menu with more resilience for dishes that might need to survive the trip from Napoli's kitchen to someone's home table.
"We have been surrounded by a neighborhood that wants us to do well. One to-go order a week doesn't seem significant but if 50 people do it a week it's more significant. It's pasta so it travels well. We aren't doing touchy Michelin star food. The pasta is still delicious but there aren't those complex components that are on the plate. Getting down to the basics and keeping it simple and delicious is the best bet with what the restaurant has to do to get through this right now."
Gallery photos courtesy of Napoli Pasta Bar

Hollywood on the Potomac decided to put the Chef to the test and see if we could replicate the bistro experience at home…and boy was he telling the truth. Chef Andy picked out four menu stand-outs for an at-home taste test, and I did my best to try and plate them with a little restaurant elegance.
First up was the baccala frito; Potato and salted cod fritters on a heap of caper and parsley puree. There is no better way to start this meal…combining the hominess of thanksgiving mashed potatoes with a big mouth of ocean water, I'm often used to having baccala at Christmas as part of the feast of the seven fish, but it makes a perfect summer bite. The fritters were crisp outside, tender and mushy inside, a nice balance of fish and potato with the bright and acidic pesto. The addition of capers in the pesto brings acid and helps the fish to sing.
If you're looking for something light yet comforting, the burrata might be your next stop, and it was for me. If you're unfamiliar, you need to run, not walk to try some. Burrata is a combination of mozzarella and cream that can only be described as luscious. The milky cheese sat beside a mix of seasonal accompaniments…lemony frisée, sweet tomatoes, peppery radishes, refreshing cucumbers, and bitter lettuces. The balance of all the taste ranges and textures make this the kind of dish you want to savor and then find yourself eating much too quickly.
When I was filming with Chef Andy in the kitchen at Napoli, he told me that he prefers cooking to baking because you have recipes to guide you, but that taste, smell, texture, feeling and all your senses actually develop a recipe to its perfect stopping point. That day Chef was making a mushroom ragu that enveloped the air around the stove, and so it's no surprise that every sauce he makes is equally tantalizing. For an entrée, Chef sent his acclaimed Paccheri 'o rrau' – a hearty yet still delicate serving of Paccheri pasta, slow cooked meat and San Marzano tomato sauce, parmigiano cheese and basil. The toothy tubular pasta drenched in a rich and earthy gravy of braised meat and tomatoes, I could eat it all summer, all fall, all winter. It's the kind of dish you can picture your grandmother slaving over in the kitchen on a Sunday morning. Whole pieces of meat in the sauce instead of basic ground meat brings a rustic farmhouse texture accentuated by salty cheese and herbaceous basil (I definitely added more parm and do not regret it.) This is the kind of bowl of pasta that Chef was talking about when we spoke, it's more than just red sauce. This is layers of flavor woven together to elevate rustic ideas into the white tablecloth environment.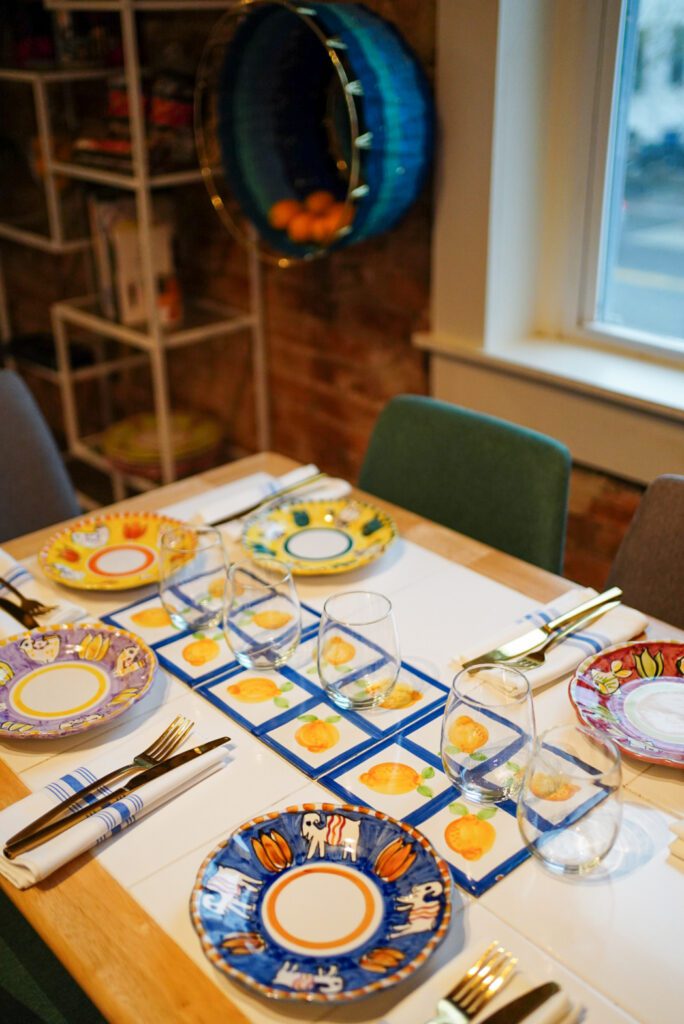 Photo courtesy of Napoli Pasta Bar
Lastly, just as the savory, creamy, salty deliciousness of the whole meal needed one last turn, I was met with the most perfect slice of Pastiera napoletana, a sweet type of Neapolitan tart made with cooked wheat, eggs, ricotta cheese, and flavored with orange flower water. Similar to an Italian cheesecake that I've eaten with my family before, this was buttery and crumbly, bright and floral and sophisticated. This is the kind of dessert that you easily want to pass off as appropriate for breakfast so that you can have another serving sooner.
Chef Andy may say that he's not serving "touchy Michelin star food" as he adapts to the new dining norms (including take out,) but his flavors still shine like they are ready for Michelin judgement. Whether dining in the restaurant, on their patio, or bringing the pasta home…you're in for a treat.
For a look inside the kitchen at Napoli and to hear from Chef Andy Clark in his own words, take a look: