And the Award Goes to…..
with guest contributor Liz Sizer
Photo credit: Craig Emanuel

"Welcome to jazz quarantine, a place we created to keep each one of the musicians safe, but not quiet," said jazz harmonicist Frederic Yonnet who opened the Washington Film Festival on a musical note.
"It is a pleasure to once again be joining you as the master of ceremonies for the March on Washington Film Festival opening night gala," said Washington Post's Jonathan Capehart. "I know you're all looking forward to the educational and entertaining events that are in store for you this week. But tonight, we gathered virtually to celebrate three important voices of the movement, the President and CEO of the Southern Poverty Law Center Margaret Huang;  US Congresswoman representing California's 43rd district Maxine Waters and an American icon the late Congressman John Lewis will also be joined by some talented artists who will share their amazing gifts with us as well as friends and colleagues of our honorees. 2020 has been a year of uncertainty and turmoil with a global pandemic, economic uncertainty and especially the social unrest happening across America. Due to the ongoing state of racism, it is now more apparent than ever how vital and necessary the March on Washington Film Festival is and the importance of the history it recounts and the voices. It highlights with that in mind."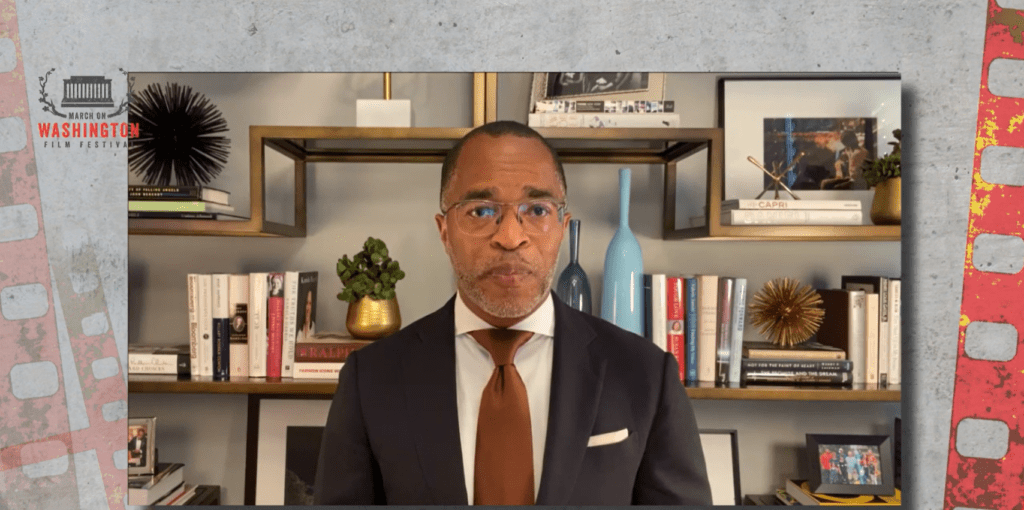 Jonathan Capehart
Now in its eighth year, the March on Washington Film Festival has an all-virtual line-up for the first time ever, highlighting the events and heroes of the Civil Rights Movement. This year's program features a series of film screenings, workshops, panel discussions and live performances centered on the theme "Who Tells The Story?" and highlights thought-leaders and influencers from around the world. To kick-off the Film Festival, the Opening Night Awards Gala on Monday, September 21, included honorees from a select class of visionary leaders and organizations in the fight for civil rights.
Presenters included MSNBC's Joy Reid, RFK Center's Kerry Kennedy, and DC Mayor Muriel Bowser. Musical tributes were performed by country artist Jamey Johnson, blues musician Keb' Mo', jazz harmonicist Frederic Yonnet, guitarist Robert Randolph, and gospel singer Angie Primm. Alvin Ailey's resident choreographer, Jamar Roberts, presented an original work in honor of Mr. Lewis.
"I never imagined it's become one of our nation's most impactful festivals centered around film, but focused on social justice." Festival founder Robert Raben.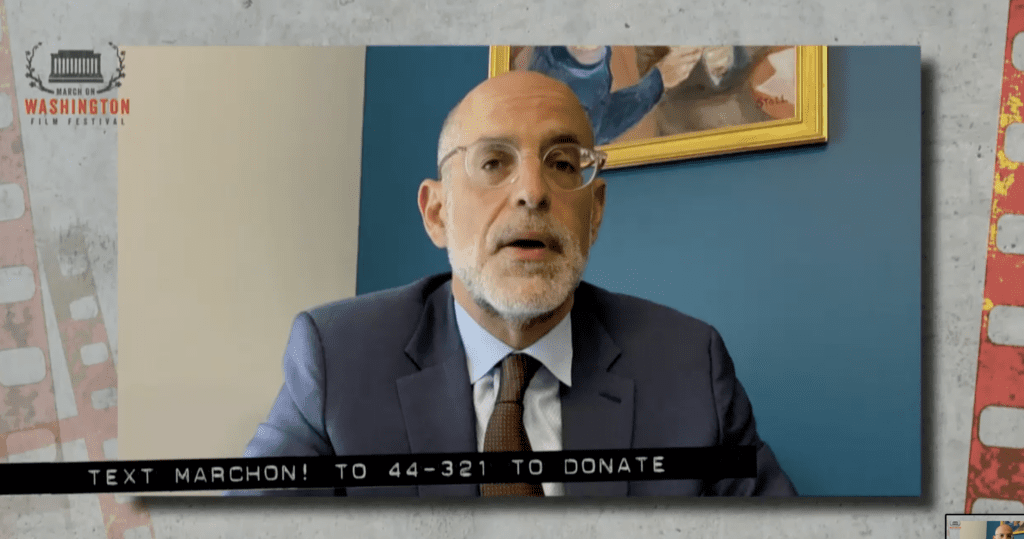 Robert Raben
"We at T-Mobile stand with the movement to end racial injustice and we're committed to building a pathway for success for underrepresented communities. We believe the benefits of next generation wireless technology 5g belong to all of us. We can close the digital divide if we work together, we're committed to do this. And I know you are too." Marie Sylla Dixson, Vice President of Federal Government and External Affairs for T-Mobile, presenting sponsor.
John Lewis inspired a generation. Margaret Huang is a child of that generation like John Lewis and she's devoted her entire life to racial and economic justice.
"I was privileged to work with Margaret at Robert F. Kennedy human rights where she brought cases before the inter American court for human rights. When my father Bobby Kennedy was with John Lewis, he said something that reminds me of what we're going through today. What we need in the United States is not hatred. What we need in the United States is not violence and lawlessness, but is love and wisdom and compassion towards one another and a feeling of justice to those who still suffer within our country. That's what Margaret Huang is all about. Thank you,Margaret for leading us to good trouble." Kerry Kennedy, President of Robert F. Kennedy Human Rights, accomplished lawyer and activist, New York times bestselling author, humanitarian and proud mother as the daughter of Robert and Ethel Kennedy.
"The SPLC has been working to achieve the promise of the civil rights movement together with our communities in the South and beyond. We have sought to stamp out remnants of the Jim Crow laws to expose some of the nation's most violent white supremacist groups and to protect the rights of children, women, the disabled immigrants and migrant workers, the LGBTQ community that was in jails and prisons and all who face discrimination, abuse and exploitation. Our work is far from over – across all parts of our society is systemic racism, it's affecting African Americans, indigenous people and people of color throughout the United States.  It is past time that we reject the structural racism that have denied so many black and Brown people." Margaret Huang.
Margaret Huang
MSNBC's Joy Reid introduced award recipient Congresswoman Maxine Waters:
"Congressman Waters has been serving her community since December of 1976. She has never been afraid to stand up for what is right. I can't think of anyone who is a better recipient of the March on award, because Congresswoman Waters is a civil rights advocate as well as an advocate for our community and for her community. She's been there standing up for the communities of Watts, places that have suffered, and that need somebody to stand up for them."
"It is very important to reflect on the legacy of the civil rights movement. We must as this award demands march on and remember that the struggle for justice continues today. This year, the 2020 election is the most important election of our lifetime. We must all fight back, reclaim our democracy and vote like our lives depend on it. We are the greatest democracy in the world and we will not be taken down by anyone once again." Rep. Maxine Waters.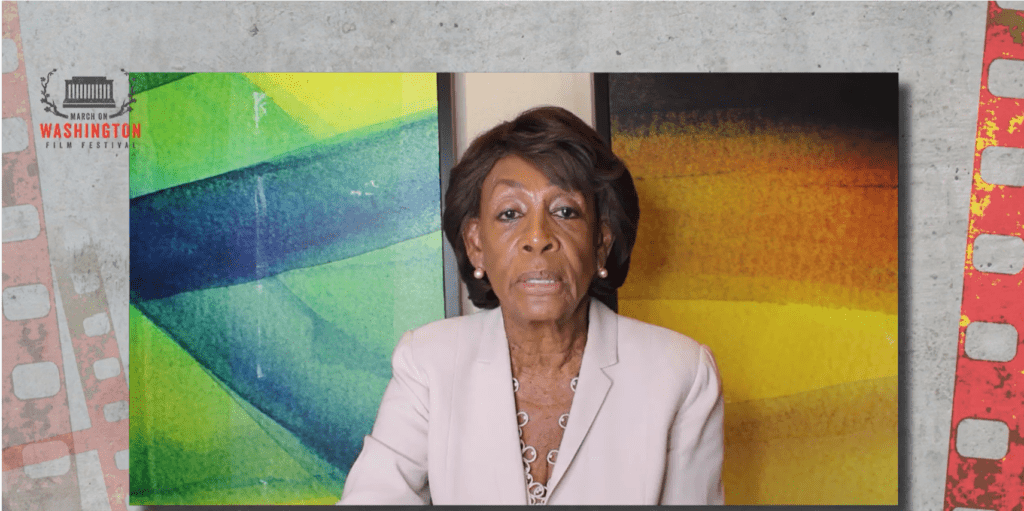 Maxine Waters
"As we all know, we suffered a great loss this summer with the passing of civil rights giant American hero Congressman John Lewis.  I reached out to Jamar Roberts, the resident choreographer, Alvin Ailey, American dance theater. We implored him to create a new piece that would chronicle the life of John Lewis. The film is an abstract narrative shot in black and white to resemble actual footage from the civil rights movement. His work seeks to illustrate a memory in the history of America and in the fight for freedom, justice and equality. But most importantly, it was created to honor the memory of the inspirational figure who spent a lifetime leading us in that fight."  Robert Raben on presenting the film.
"This city has borne witness to many historic moments and I was honored this past June to have been a part of another historic day in DC at the newly named Black Lives Matter Plaza alongside mayor Muriel Bowser and that same young man from Alabama. For me overlooking that freshly painted Plaza, I was witnessing an incredible sweep of history. I've had the honor of marching with Congressman Lewis on the Edmund Pettus bridge where he made history at the beginning of his life to be on the roof of a building. As he surveyed Black Lives Matter possible low at what would be the end of his life was moving beyond words here to present the 2020 March on Washington Film Festival lifetime legacy award is the Mayor of Washington DC. My mayor, Muriel Bowser." Jonathan Capehart
"The March on Washington Film  Festival has established itself as a gathering place for creators who are committed to chronicling the stories of the men, women and children who have helped us build a fairer and more just America. The lifetime legacy award recognizes an individual whose commitment to social justice and civil rights. It's unparalleled. There is no person more emblematic of these ideals than the late John Lewis. From a young age, John Lewis fought for equality getting into good trouble as he would say and necessary trouble. Congressman Lewis carried on the fight for social justice up until his final days. And I was honored to stand next to him on Black Lives Matter Plaza right here in Washington, DC. He was so proud of those who came here to protest a fight for justice. And he had hope because he knew his legacy will live on through the next generation of activists and leaders."  Mayor Muriel Bowser on John Lewis award.
Muriel Bowser
Though Mr. Lewis is no longer with us, his message and his example live on therefore on behalf of our founder, Robert Raven and the board of directors and with mr is courage, persistence and spirit and mind. I proudly announced that the March on Washington film festival lifetime legacy award will be renamed and perpetuity that John Robert Lewis lifetime legacy award, this award will be presented annually to an individual whose life's work has sought to advance the dignity of all humans, no matter their circumstance who sees value and everyone who stands up and lends their voice in the face of injustice with this award, we will honor those who choose to follow in the path that Mr. Lewis has shaped." Samara Foxx, Board Chair
Jamey Johnson closed out the evening with a musical tribute. Johnson is a renowned country, music artists, prolific songwriter, 11 time Grammy award nominee, and a consistent and powerful voice in the fight against pancreatic cancer, the brutal disease that John Lewis so bravely fought. Jamey was joined by acclaimed blues musician Keb' Mo' who has spent the past quarter century cultivating a reputation as a modern master of American roots music. His latest release, Oklahoma won him the 2020 Grammy award for best Americana album and his philanthropic work in the arts and music education has won him the admiration of a new generation of fans. Both of these remarkable artists paid tribute to Mr. Lewis in song.
"After the assassination of Martin Luther King Jr. and Robert Kennedy, I became convinced more than ever before that I had to do something to pick up where they left off. And I again, made a decision that I would give everything. I had everything to do what I could to help make America better and to create a more perfect union." John Lewis

The full event is below in order to enjoy the film clips and musical tributes.  It is heart wrenching knowing this happens right here in the United States of America, supposedly the Land of the Free……….
https://www.facebook.com/MarchOnWashingtonFilmFestival/videos/430173167966480