Rock and Roll President!
Photo credit: Courtesy of CNN
"When Willie Nelson wrote his autobiography, he confessed that he smoked pot in the White House when one night he was spending the night with me. And he says that his companion that shared the pot with him was one of the servants at the White House. That is not exactly true. It actually was one of my sons which he didn't want to, you know, categorize as a pot smoker like him. There were some people who didn't like my being deeply involved with Willie Nelson and Bob Dylan and disreputable rock and rollers, but I didn't care about that because I was doing what I really believed. And the response, I think, from the followers of those musicians was much more influential than a few people who thought that being associated with Rock 'n Roll and radical people was inappropriate for a president."  Former President Jimmy Carter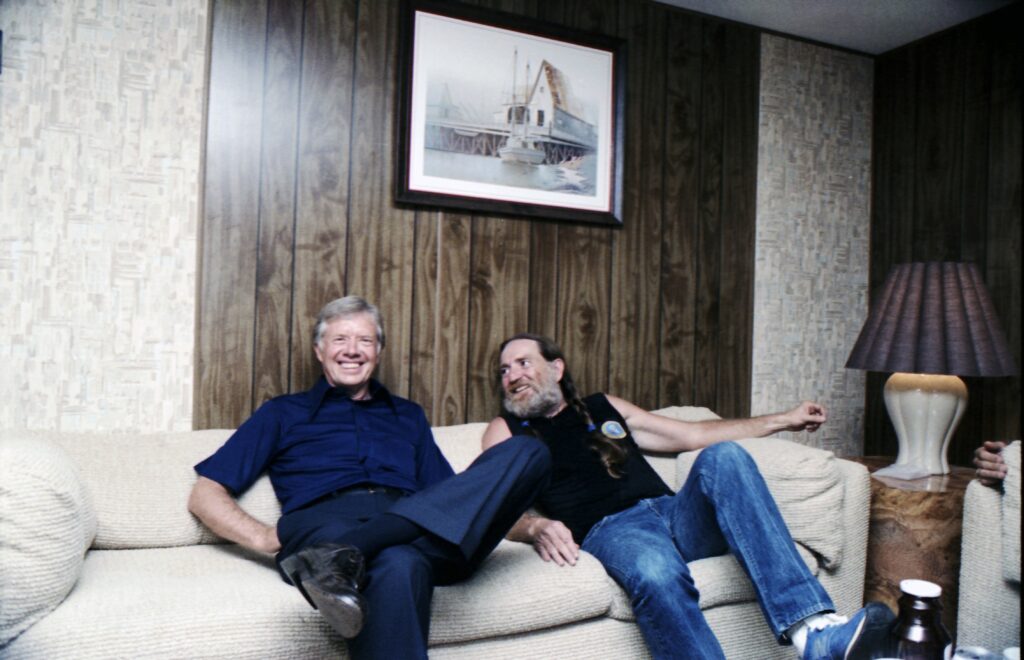 President Carter and Willie Nelson backstage at the Merriweather Post Pavilion, Columbia, MD (1980)
Image courtesy of the Jimmy Carter Presidential Library
"I'm Wolf Blitzer from CNN, or as we like to say and I'll say it a little bit differently right now for all of you, I'm Wolf Blitzer and you're in The Situation ZOOM.  This is a great film celebrating the 39th President of the United States: Jimmy Carter, Rock and Roll President," said Blitzer while introducing the panelists: Chip Carter, the second eldest child of President Carter and Mrs. Rosalynn Carter; Nwaka Onwusa Vice President and Chief Curator at the Rock and Roll Hall of Fame and The Most Reverend Bishop Michael Curry, the presiding Bishop of the Episcopal church.
Chip Carter:
"They're doing exceptionally well. Dad's 96. Now he's a little bit slower than he was from the past, but he's swimming laps three or four times a week. And his mind is still really sharp and he's really a treat to be around.  Mom is doing great. She's goes out, walks every day and she still got paperwork. So they both stay busy and they're living life. I loved [the film]. It brought back a lot of old memories and it was just a lot of fun."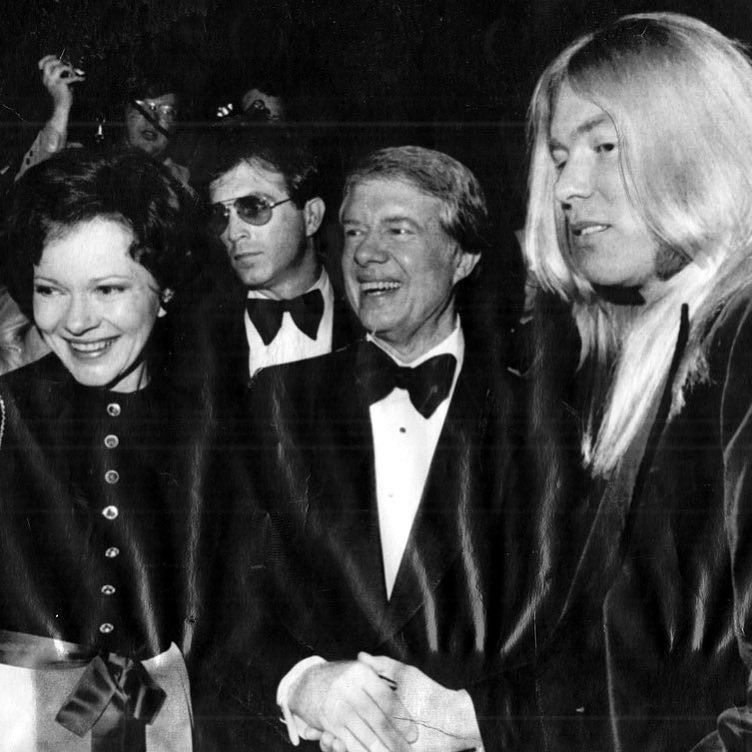 Greg Allman (R)
Nwaka Onwusa:
"I was so moved. I mean, to even just hear the opening line, we have an America busy being born and not dying. That's Bob Dylan right there. That's rock and roll right there. There were so many musical significant moments, you know, every revolution we hear it said has a soundtrack and the fact that rock and roll was a part, a pivotal part of Jimmy Carter's political legacy is just so phenomenal – to feel the power of music from some of the most unlikely suspects: Willie Nelson, the Allman Brothers Band from the jazz musicians that were featured in the film. I was so inspired. I'm an eighties baby, so I didn't grow up you know to experience Jimmy Carter's presidency, but to feel the significance back then during that time to know that a political leader could do what he did and bridge so many gaps through music, I was just floored."
Bishop Curry:
"It was the power of the music that came through the film. When President and Mrs. Carter invited musicians to the White House, music that hadn't been in the White House before, [that music] got in there with them. And that helped open up America to some new ways of being. I have a funny feeling that my grandchildren will love Jimmy Carter for that same reason that that's introduced in grit was a way of saying we are all equal and we are all in this together. Black folk, African-Americans to this day are deeply and profoundly religious folk as are old people, but religion is deep in the soul. And in Jimmy Carter, we saw somebody who smart, who represented the smiling face of God."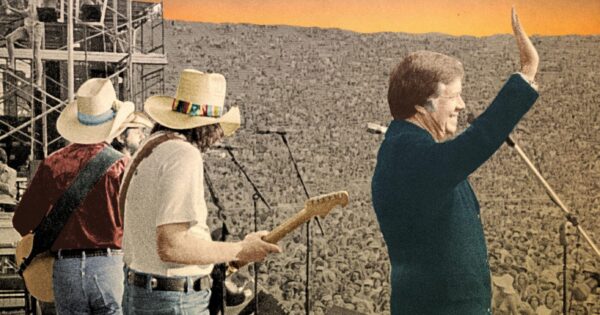 Notable quotes from the film:
"John Wayne was a wonderful America. We disagreed on a lot of politics, but we probably would not have gotten the Panama canal treaty passed if it hadn't been for John Wayne., He was good friends with the President of Panama. And he talked to all the Republicans. He called every Republican Senator several times trying to get them to vote with us on those things. So, so it was a way that the commonality of what you believed in and getting it done was something that was happening back there.: Jimmy Carter
"I had some problems with drugs when I was a kid. My father helped me. He made me his driver during the campaign. I don't think he judges people. I really don't believe that he is a judge of what you do personally,and that he cares. He wants you to be who you are when you were two."  Chip Carter
"President Carter loved jazz. He loved all kinds of music, but he really did love jazz. And I have always thought that music was our best ambassador and especially jazz because it is so identified with America and being very special to America. And music is one of the, I think most vibrant, obviously parts of soft power. " Madeleine Albright
"Human rights, the right to live like a human that's, something that's president Jimmy Carter, um, tried to make real, uh, with his foreign policy and he had difficulty implementing it, uh, around the world. But at least he was trying,"  Bono

"I mean, he sent me to Africa with a note on a torn piece of paper. I want you to ask African leaders what they expect of this administration and how we can help them. That's revolutionary." Andrew Young
"Country music has become a national treasure and indeed a worldwide source of entertainment and enjoyment that transcends language and transcends national borders. It's always good to see something come out of the South, have an unexpected achievement." Jimmy Carter
"I think what they underestimated about President Carter was what a dedicated patriotic, smart political person he was. People did think that he was just this peanut farmer that had come up from Georgia forgetting that he had been a governor and that also he had been had military service. He was somebody who loved history and was somebody that was so proud to be an American.  I was one of the last people in the White House when the administration changed. I had gone out to Andrews Air Force Base with a lot of other people to go and say goodbye to President Carter. And it was at that moment that the hostages were released to President Reagan." Madeleine Albright
 "There were tears in the eyes of Mr. Carter's aides when the presidential jet went out of its way to fly over the White House. Mr. Carter made his first public statement since the freeing of the hostages, just a few moments ago on Air Force One, before we landed.  I had received word officially for the first time that the aircraft carrying the 52 American hostages had cleared Iranian airspace on the first leg of his journey. Every one of the 52 hostages was alive, was well and free. He was praising that day. You know, it was like that's what he wanted. He didn't care about how and when it happened, he just what he wanted to see happen. That's the day that I just fell more in love with him because he is the true definition of love one another. You resolve the crisis in a peaceful way with humility.  It took the little courage to do that." News Flash
Former president Jimmy Carter won the Nobel peace prize.
"I believe the future is going to be very bright for all of us. I'm sure we'll reach for greatness and we'll never disappoint the people who put that trust in us." Jimmy Carter
CNN will premiere JIMMY CARTER, ROCK & ROLL PRESIDENT for television on Sunday, Jan. 3 at 9:00pm Eastern and Pacific. During his political career and following his presidency, the 39th President of the United States formed lifelong bonds with artists Willie Nelson, The Allman Brothers, Rosanne Cash, Bob Dylan, Aretha Franklin, Nile Rodgers, and many, many others.  Director Mary Wharton's engaging film explores how President Carter's deep love of all forms of music has been both a feature and an asset for his storied life and career.