America Abroad Media!
by guest contributor Kiki Burger
Photo credit: Courtesy of AAM

They say that life imitates art, and a prestigious local non-profit is honoring two groups for doing just that, creating entertainment that happened to reflect two of the biggest international stories of 2020.
American Abroad Media honored the 2011 film Contagion, about a worldwide pandemic, and the Middle Eastern television series Um Haroun, that reflected the strengthening of ties between Israel and the Arab world, as seen this year with the historic Abraham Accords.
The virtual awards gala took place on December 10 and featured a panel discussion with the cast and crew of Contagion. Moderated by CBS News' Margaret Brennan, the talk included an array of Contagion talent, including actress Jennifer Ehle, screenwriter Scott Z. Burns and science advisors Larry Brilliant and Ian Lipkin who spoke about how the 2011 film was made eerily current again by the 2020 Coronavirus pandemic.
Margaret Brennan
Lipkin recalled a funny story about when Dr. Anthony Fauci came to the New York City premiere of the film and had one critique, observing at the time that "…the timeframe for the development and deployment of a vaccine was unrealistically fast." And my comment to him at the time was: 'Well it had better become realistic because that's the timeframe we're gonna need.' And you see now we have Operation Warped Speed that has, as you've said, delivered the vaccine in rapid time." 
The award was accepted by David Linde, CEO of Participant, one of the companies behind the film and presented by former Secretary of Health and Human Services Kathleen Sebelius.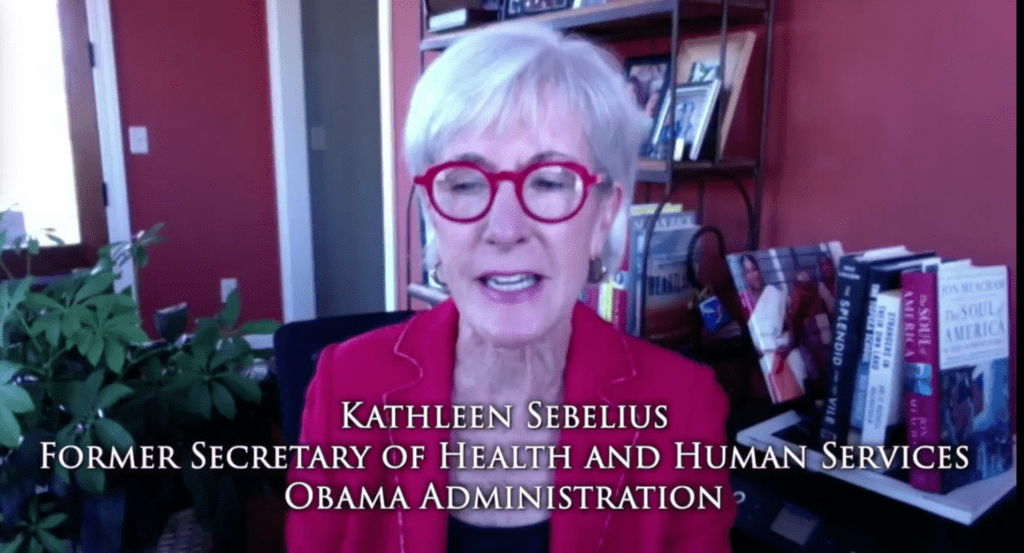 The evening's other award went to the creative team behind the Saudi Arabian series Um Haroun, the groundbreaking series that advanced religious pluralism and focused on the lives of Jewish, Christian and Muslims living together in the Middle East.
Former Trump and George W. Bush White House official Dina Powell McCormick, now of Goldman Sachs, and UAE Ambassador to the United States Yousef Al Otaiba gave a poignant discussion about the importance of arts and culture in the Middle East after the Abraham Accords to make real change and be reflective of what the young population of the country wants to see for their future.