Better than Academy Award.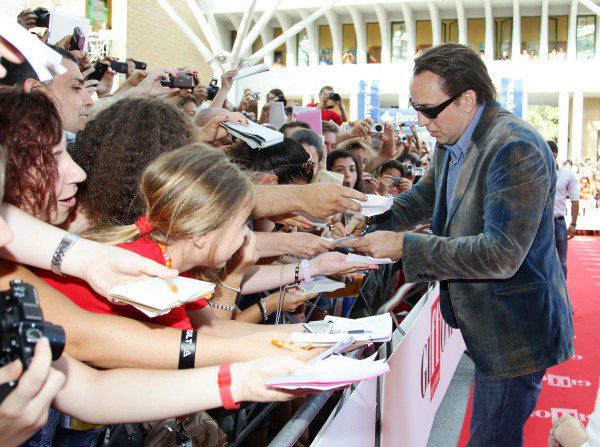 Photo credit:
Vittorio Zunino Celotto/Getty Images
The Giffoni International Film Festival is the largest children's film festival in Europe that takes place in the Italian town of Giffoni Valle Piana in Southern Italy.  Over 2,000 children attend the festival from 39 countries around the world during which the children and teenagers watch films, learn about the filmmaking process and are called to judge them and award the best ones with prizes.
This 39-year old festival has had a great impact in the history of entertainment and culture, not only in Italy and has developed a high reputation internationally by attracting 100,000 guests, directors, producers, and movie stars annually.   Wikepedia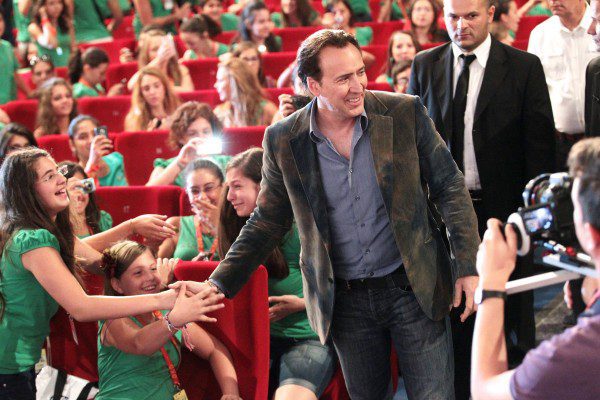 Cage is a legendary talent at the festival and returned this year with is wife and youngest son.
The quirky Academy Award Winner for Best Actor (Leaving Las Vegas) swears that The Giffoni Film Festival is better than the award.  
At a press conference he remarked:  "To be an Oscar winning actor is less important to me than being here in Giffon. And I've never dodged taxes," referring to his on going problems with the money collectors.
"Prizes mean nothing to me. I don't take them too much seriously. I care about other things, such as the Giffoni Film Festival which counts more than a prize. I'm proud of my Italian origins, love Italian food, culture and mythology. But most of all, I've literally fallen in love with the Giffoni Film Festival basic idea, which gives voice to kids and youth from all over the world.
It is the unique philosophy in the world which makes us aware that we are all human and with the same feelings. Young people who participate in Giffoni learn to love each other before adults teach them to hate on the basis of their different cultures."
Weren't there, but we have our own fond memories right here on the Potomac. In 2001, Cage was inducted into the Italian American Hall of Fame by NIAF.  It was the same year that Christopher Reeve & Dana Morosini received the One America Award.
Despite rumors that he can be difficult, he was most gracious.
In the VIP room prior to the main event, guests mingled with Lee Raziwell, sister of the late Jacqueline Kennedy, and then head of the MPAA Jack Valenti where Cage could be seen strolling across the room to light a cigarette (yes you could smoke at parties then) or offer to get someone a drink from the bar.
While he probably won't be on the roster for this year's annual NIAF event, you never want to miss it, this year being held on October 13th.
Past Gala honorees and guests have included Martin Scorsese, Tim McGraw, Robert De Niro, Lee Iacocca, Giorgio Armani, Al Pacino, Andrea Bocelli, Tony Bennett, Alan Alda, Joe Montana, John Travolta, Sophia Loren and Roberto Benigni.