Homage to Michel Richard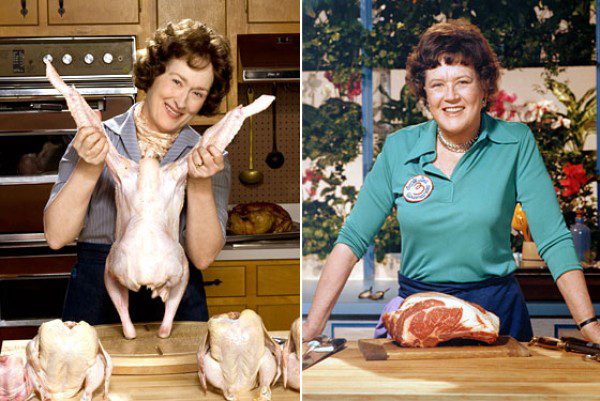 by contributor Donna Shor
*This article was first published on August 6, 2012
What would have been the late Julia Child's 100th birthday is being observed in restaurants across America with special dishes prepared in her honor through August 15. (Meryl Streep playing Julia Child, and Julia Child above. Photo: Courtesy Paramount (left) and Hulton Archive / Getty Images)

Washingtonians are lucky because at his Pennsylania Avenue restaurant, Central Michel Richard, the famed chef has re-created a very special dish he served his friend Julia years ago in Los Angeles. Michel Richard has named it "Chicken Julia," and it is delectable. It's Michel Richard's Homage to Julia.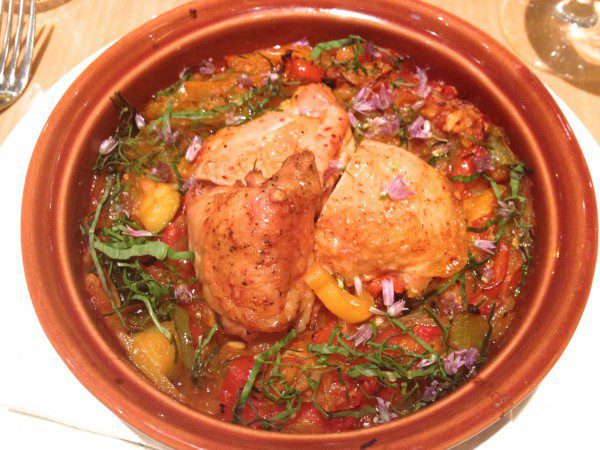 He has set a high standard in creating this tender and flavorsome dish from a fowl that can sometimes be bo-o-o-r-ing.  Instead, Richard has managed to build in so many subtle flavors, it is almost like a new kind of meat. The portions sit in their plate in a silky pool of just enough glazed sauce, ringed about with an excellent ratatouille that puts the usual versions to shame. He included the vegetable dish as a bow to Julia's happy years in Provence, where ratatouille was born.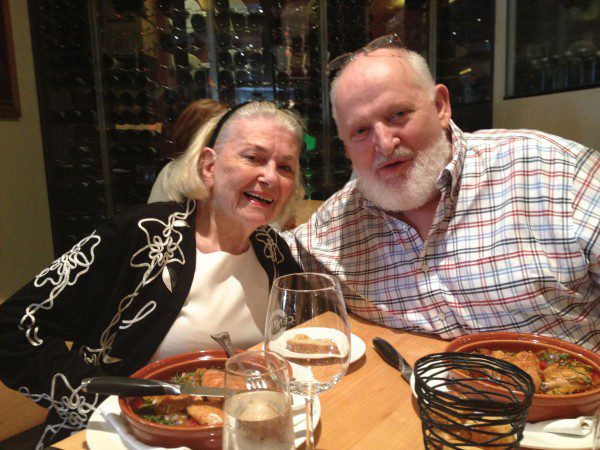 Donna Shor with Michel Richard
This writer, who spent a decade in that same sunny part of France, can testify to the excellence of Michel's take on it. Ratatouille is invariably good, although often the vegetables melt into an indistinguishable—and undistinguished― blend. In Michel's version, each carefully cooked, thinner-than-a-matchstick vegetable maintains its own characteristic flavor so that a wave of tastes hits your palate with each mouthful.

The "birthday" dishes to be served at the 50 participating restaurants in 28 states have been winnowed out by culinary experts from a total of 3,700 overseen by Judith Jones, Julia's long-time, indispensable  editor.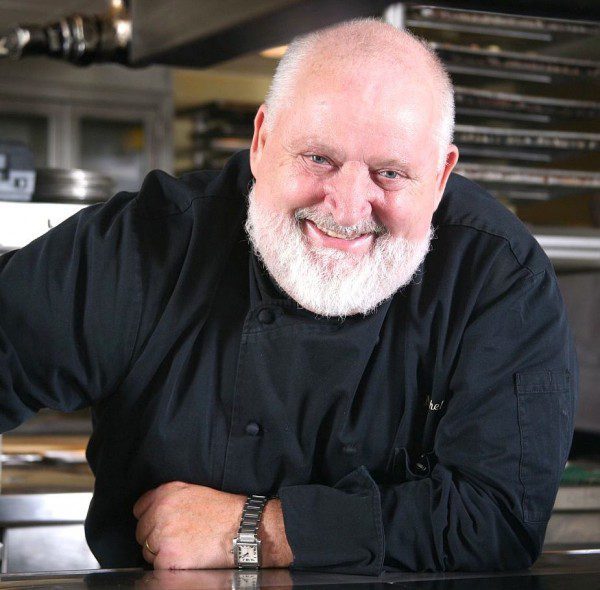 Michel Richard met Julia Child in the 1970's when she and her husband Paul walked into his first pastry shop in Los Angeles. Enamored of all things French, she quickly recognized the authenticity and quality of his baking.  And why not?  He had served his apprenticeship under the classic pastry-maker Gaston LeNôtre.
He decided early that he wanted to be a cook and his family felt he should start out learning to bake. As a beginner he apprenticed first to some indifferent bakers, who used margarine instead of butter, cheap flavoring and other low-cost ingredients. When he discovered a magnificent cake at a friend's birthday party he was stunned by the quality, checked the name on the box, and with more apparent bravery than he felt, presented himself to Le Nôtre.
To everyone's amazement, he was hired. He had learned his first valuable lesson – the importance of quality ingredients – and he never forgot it. He worked at his craft and eventually Le Nôtre sent him to America, to open a New York branch for him.

Today Michel Richard is a major chef and restaurateur. His Citrus restaurant in Los Angeles established his talent, as has his flagship Citronelle in Washington, and now Central Michel Richard here. He won a prestigious James Beard Award for Best New Restaurant for the latter, and another Beard Award for Outstanding Wine Service at Citronelle.
Last year, in a bold move, he became he first James Beard awardee daring enough to open a high-level 24/7/365 restaurant, his 300-seat Central Michel Richard inside Caesar's Place in Las Vegas, (where Chicken Julia will also be featured.) He recently opened the newest Central in Atlantic City's mammoth Revel casino along with two other spots there.
Richard has been the topic of scores of articles, and television appearances, among them, a feature with Julia on her Master Chef show. He has written three impressive cookbooks that other chefs study for his offbeat but sound theories and techniques.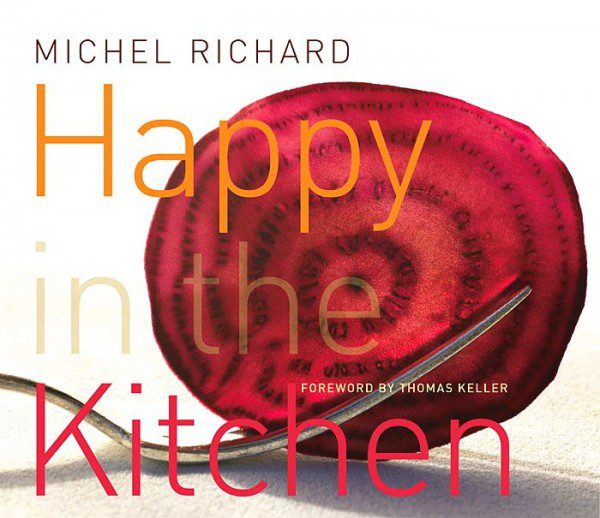 He has unorthodox ways of using the microwave i.e. for Béchamel. He says these methods can save cooking time and reduce cleanup for the housewife.

Michel is a witty man, with a sparkling sense of humor; his cooking reflects this. As serious as he is about serving only quality food, his approach is playful. His menus often include culinary jokes, with dishes occasionally arriving in very different forms than what the diners expected to see, but always delicious.
He plays with the standard concepts. Consider Cuttlefish Schnitzel (made with pureed cuttlefish), or a Carbonara made with onion strands instead of pasta, or risotto conceived with potato, not rice. Dessert may be a "salami" of dense pressed raspberry slices studded with almonds. His punning Faux Gras is made with chicken livers instead of the requisite goose, and though as 'Foie Gras" it may be faux, the excellence is real.
Michel manages a cuisine that is at once elegant and democratic, serving luscious 75-hour braised short ribs in a red Syrah sauce, moist, delicious lobster burgers, a humongous (classic culinary term) Banana Split like no other, or fresh, French-fried doughnut holes for your breakfast, with vanilla, chocolate and raspberry sauces to smother them..
He likes "crunchy," even calls himself Captain Crunch. He'll fry carrots crisp, use French bread crumbs to give his fried chicken a crackling crust.
Richard's Cheese Puffs are the lightest, airiest gougères ever, and his Napoleon is a poem. No tight little compressed bands of sweetness here, the puff paste is sky high, the filling a cream to dream about.
A summation of Richard's powers by Mark Bittman, the author of the encyclopedic "How to Cook Practically Everything," who certainly has some culinary clues: "Michel Richard is a wizard, a man whose food appeals (as much) to his fellow chefs as to his adoring customers,"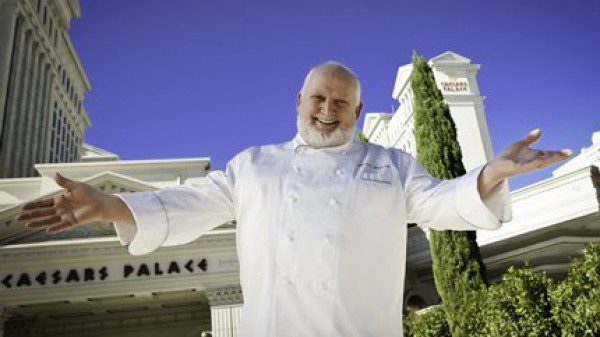 When I asked Michel what was the most important factor in being an excellent chef and an innovative one, I got a very Gallic answer: "Love. I love being a chef, I am so happy that this is what I do. You have to love the food and cook it with love".
**Editor's note: Donna also knew Julia when both lived in Paris, and Julia advertised her cooking school in a weekly paper Donna published there. Side benefit: Julia invited her to "tastings" of new recipes she was trying out.
Then he added, "And of course, just as with love, you have to always try new things, and keep it interesting."
Watch Chocolate with Michel Richard on PBS. See more from Julia Child: Cooking With Master Chefs.
Save
Save
Save