Star turns.
by columnist Donna Shor
Photo credit: Shannon Finney for theatreWashington

The magic of the dramatic arts took center stage when three of its outstanding practitioners were honored at theatreWashington's Star Gala and Benefit Auction at the Four Seasons Hotel.
Helen's Star Awards were given to Bonnie Fogel, the founder and executive director of  Imagination Stage; Carolyn Griffin, the producing artistic director of Metro Stage, and Molly Smith, the artistic director of Arena Stage.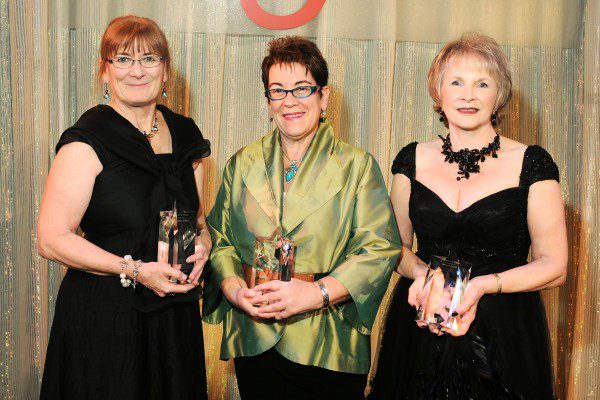 Carolyn Griffin, Molly Smith and Bonnie Fogel
British-born Fogel decided thirty-three years ago that she would create here for American children the same wondrous world of theatre for kids that she had known as a child in England. She has done just that; 100,000 children and their families each year now visit Imagination Stage, the largest theatre and arts center on the east coast.
Carolyn Griffin, the producing artistic director of MetroStage, has been with the group since its founding in1948.  Among her 75 mainstage productions have been pioneering world premieres of three plays and seven musicals. Her background includes two credentials that work well for someone charged with both the emotional and the financial oversight in show business: She holds a degree in psychology from Catholic University and an MBA from Georgetown University's business school.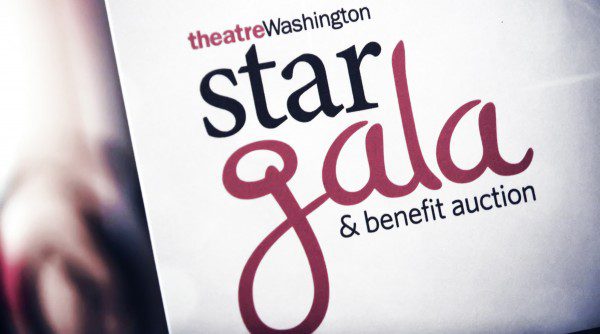 Molly Smith has overseen the metamorphosis of Arena Stage in its new incarnation, thanks to the generosity of the late Gilbert and Jaylee Mead that made it possible. New play development has been Molly Smith's lodestar for over 30 years along with her interest in developing the American theatre. Given her outstanding ability, she can continue pursuing these passions splendidly in the state-of-the-art setting that is now Arena Stage.
The Helen's Star Award is named for the late First Lady of the American theater, Washington-born Helen Hayes. Renamed "theatreWashington" in recognition of its expanded service to all segments of the local theatre scene, the organization encompasses the presentation each spring of the annual "Helen Hayes Awards," which the group has long done under that title. The Helen's Star Award recognizes the same goals of excellence and accomplishment in the theatre as their Helen Hayes Awards.
The audience was welcomed by an ardent theatre figure, the always entertaining Victor Shargai, chairman of theatreWashington's board of directors, who hosted the evening along with vice chair Betsy Karmin and president and CEO Linda Levy Grossman.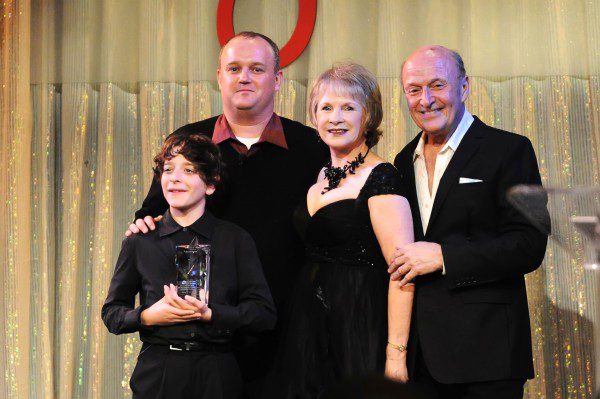 Simon Diesenhaur (L) Victor Shargai (R)
Seen in the crowd: philanthropist and arts advocate Judith Terra, who chairs the DC Arts and Humanities Council; Dorothy McSweeny, the Council's former chair, whose cultural dedication includes serving as trustee of the Kennedy Center, the National Symphony and the Washington Ballet, and Isiah "Ike" Leggett and his wife Catherine. Leggett is not only the first African American to hold the post of  County Executive of Montgomery County but an almost legendary one for his success in encouraging the region's economic well-being in difficult times and overseeing a drop in the crime rate.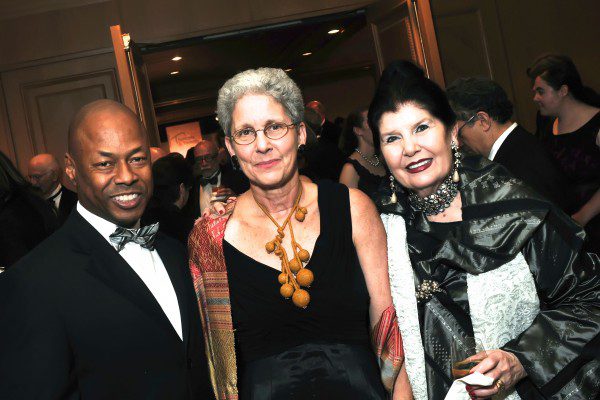 Judith Terra (R)

Also there, best-selling biographer Kitty Kelley, known for being prolific as well as spot-on accurate―only too accurate, for the comfort of some of her subjects. Her latest book, "Capturing Camelot: Stanley Tretick's Iconic Images of the Kennedy's" was part of a silent auction offering. It features intimate photos of the John F. Kennedy's at home, cementing a friendship formed when the late Tretick was covering JFK's candidacy. Kitty is donating royalties from the book to the D.C. Public Library Foundation.
Musical tributes honoring the awardees included songs from each venue's shows. Twelve-year-old Simon Diesenhaur and Matthew A. Anderson opened with the poignant "Alone in the Universe."  It is from the production slated to open November 17 at Imagination Stage, "Seussical" inspired, of course by the famous Dr. Seuss.
Nicolas Rodriguez, sang "On the Street Where You Live" which he will perform in "My Fair Lady" opening November 2 at Arena Stage. Natascia Diaz, a Helen Hayes Award winner, was heartbreaking as she sang "My Childhood" from the MetroStage show that just finished its run, "Jacques Brel is Alive and Well and Living in Paris."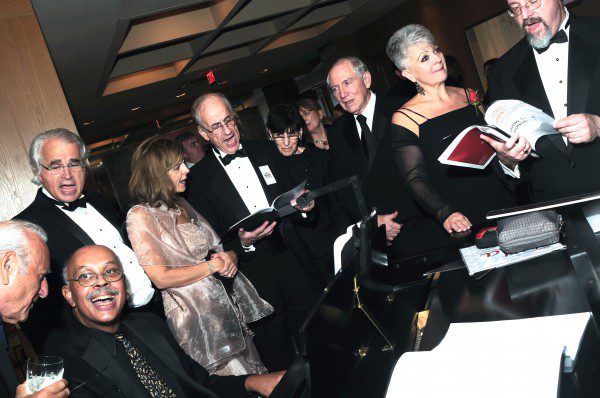 Two Helen Hayes Award nominees and recipients opened and closed the show: Donna Migliaccio and Karlah Hamilton sang "Change" and "Everything's Coming up Roses" respectively.
Star auctioneer Sebastian Clarke of Doyle New York and "Antiques Roadshow" brought fun and liveliness to the auction part of the program. He gaveled down some wonderful trips to London, Buenos Aires and Italy and elsewhere. There were opportunities such as having star Kathleen Turner herself record a personalized telephone greeting in her sultry voice or having playwright Ken Ludwig christen a character in a new play after the winner or the winner's designated soon-to-immortalized choice.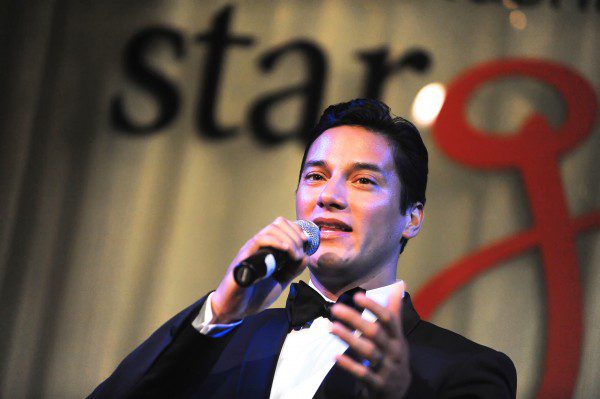 Nicholas Rodriguez
The evening's curtain call featured cocktails around the piano with  pianist extraordinaire, Glenn Pearson, popular at many local events, who learned his skills as undergraduate and graduate at Baltimore's Peabody Conservatory of Music.
     
Sponsors included American Airlines, Bloomberg BNA, Vornado/Clarence Smith and the Four Seasons Hotel.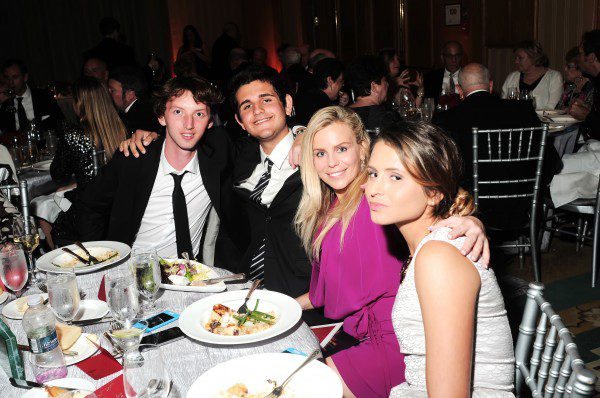 Complementing the outstanding evening, the Four Season's kitchen yielded, as part of the excellent dinner, a delicious Maple-miso Glazed Chilean Sea Bass that was simply a memorable production in itself.
Come play with us.