"I probably struggle to explain this to people, but it was not too dissimilar than anybody else's relationship with their grandfather," said Kweku Mandela in an interview with Hollywood on the Potomac.
"He was extremely loving with all his grandkids – he enjoyed spending time with them, he enjoyed children in general and he's a unique individual. He loved to reflect. That was kind of his daily ritual and so he'd sit in his living room for hour upon hour just thinking about places he'd gone, the people he had met and what that all meant from his life."
"I think it is a unique film and I'm trying to make sure that as many people around the world get to see it," he said. "One, because it's free. Two, because it's an extremely unique film platform to distribute. And three, it's an important story because it shows, ultimately, the testament of the human spirit and how we can not only overcome, but we can learn to forgive and be forgiven.

We took it to Sundance earlier this year and the film has been at the United Nations as well, so we've kind of been doing the circuit. We're doing a variety of different screenings. We're going to be taking it to East Africa, West Africa, and South Africa in July of this year. There will be a few more screenings, I believe, in Canada and the US over the next two months as well.  And definitely would like to show it at USC.  I'm very fond of the institute. I know it has a strong link with my granddad because one of his first speeches was made in the coliseum when he was released from prison."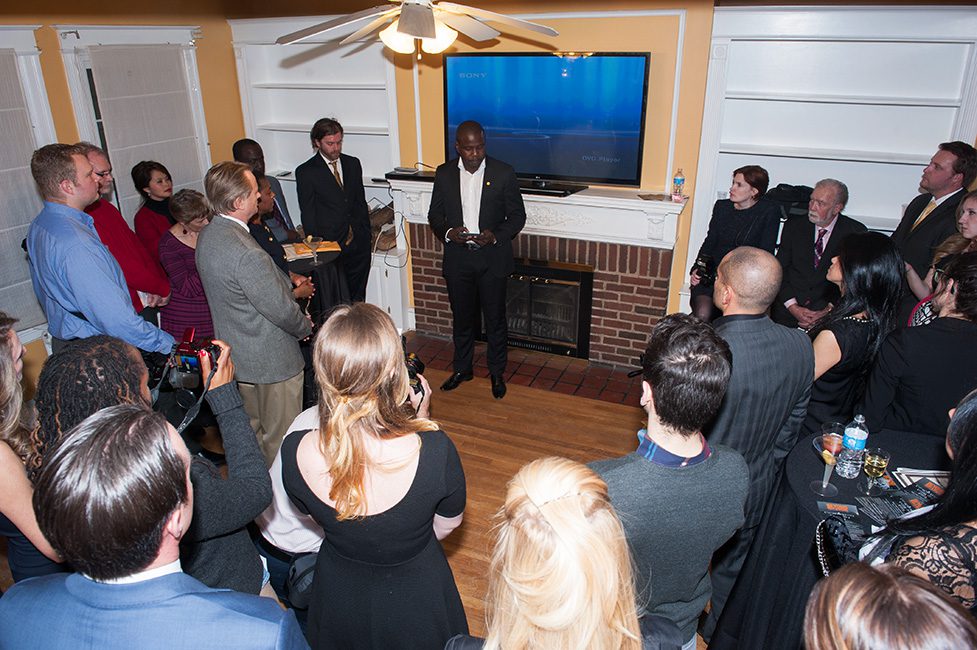 Host Vic Seested explained to us how he came to host a party for Mandela.  "I'm a fourth-generation financial advisor. That's my main day job, but I sit on four different boards of nonprofits. I was doing a lot of hosting and a lot of feeding. I decided to buy a restaurant really as a platform for my philanthropy.
About a year and a half ago a childhood friend of mine where I grew up in Olney, Maryland had told me that he didn't want to be in the restaurant business anymore. He had a place called Taste in Olney, Maryland that was going out of business, so I bought it."  Which is, of course, how the catering for the evening was donated by Taste Gastropub.  Exodo donated Tequila and the event was held at a property belonging to his friends Greg and Cynthia Keats who were kind enough to offer a townhouse that he's working on.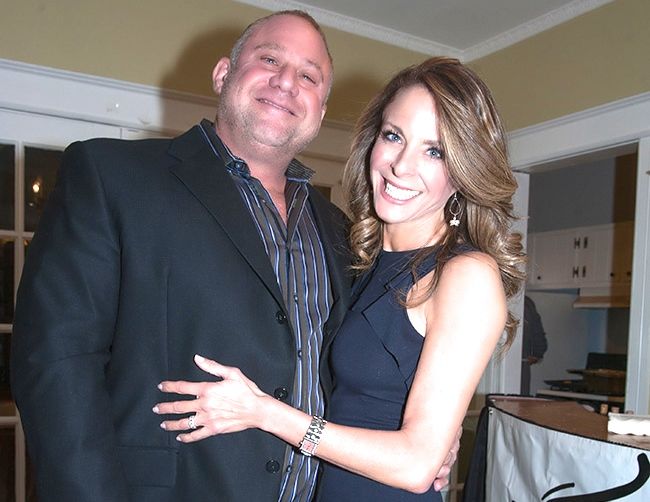 Greg and Cynthia Keats
Mandela spends his time on several organizations that focus on Africa: Africa Rising Foundation and Out of Africa Entertainment.

"Out of Africa is actually a film company which I am partnered in. It's one of the largest film and TV production companies in Africa," he explained.  "Essentially we do about 100 hours of high-end drama for the likes of HBO, BBC, SKY a year and we do feature films that we are extremely passionate about and that we feel tell a unique story, a human nature story.
Africa Rising is a bit different. It's a foundation that was formed out of me and my cousins traveling around the world and meeting various different people from America to Britain to other parts of the world. We were taken aback by the common misconceptions people had around Africa; so we embarked on a kind of a drive to use media ultimately which is such a powerful tool these days, and to change that global perception and to start showcasing a lot of the unique developments that were taking place and shaping the continents future."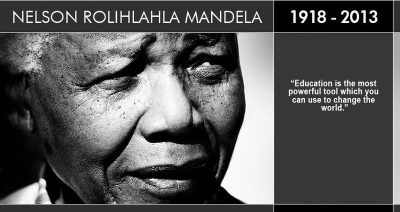 Photo credit: Courtesy of Africa Rising
We asked him what he thought were the misconceptions are and how can they be corrected.
"A lot of them are very basic things," he responded, "and they come from people not being exposed to Africa enough or at least not being exposed to the other side and what they show in the media. The general media stereotype is poverty, is essentially charity, disease, corruption, civil war. That's just one side of the story, those things exist, but there's also the other side to that which is fundamentally a driving population which is hungry for not only education, technology, and basic services that humans want, but is also driving to lead.  I know, in South Africa alone I've seen some of the developments that my friends and people from my community have created, whether that's re-gentrifying the downtown area of Johannesburg or creating arts and cultural festivals.
There's unique spaces around the continent that are taking place now. Up to 20 years ago, black men couldn't participate in golf inside Africa. Ultimately, they couldn't participate in most things in society.  We're seeing that change over the last 20 years and it's important that people recognize that. I think every time I'm able to travel and meet young people around the world, I have a conversation with them and get them to realize that I'm not that different from them, but ultimately, that we have similarities in common. It allows people to engage with the continent in a new way."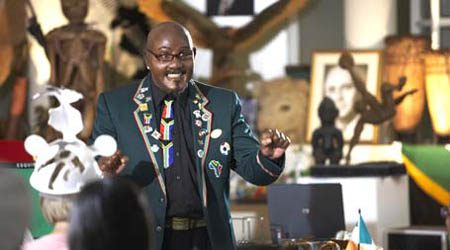 Photo credit: Courtesy of Out of Africa Entertainment
We also asked Kweku to describe the difference between discrimination in South Africa and The United States and elsewhere. 
"Discrimination is, like you said, it's everywhere. I think it comes in different shapes and forms. Whereas in Africa, we've battled racial discrimination for so long, I think people here in the states battle with different types of discrimination. Whether it's discrimination against people that decide they want to marry same sex partners, whether it's discrimination, ultimately, against women.
I was watching a rather fascinating documentary about a group of women who for the last 12 years have been fighting to make sure that their sport ski jumping was aloud to participate in the Winter Olympics. Men were aloud to compete, but for some reason the women were told that their sport was not popular enough, it didn't have a big enough audience, it didn't fit the criteria of the Olympics. Eventually, they won just over a year and half ago and were allowed to participate in Sochi, but if you think in the larger perspective of things that take place in our world, it's a travesty that that happened in the first place.," he responded.
Photo credit: hollywoodreporter.com
Mandela is currently working on a film project with Robert De Niro.  "Robert De Niro has been a close friend of my granddad's and my family for a long time. My granddad was extremely fond of him; I think because like him he had the utmost and continues to have the utmost humility. I've been lucky enough to work with his organization, which I'm very fond of, and I think does great work. 
We are working on a project called the Power of Words which essentially is what we're hoping will be quite a large community grass roots film, campaign, a film project. We're asking five established film directors to partner with five of Tribeca's film fellows – five young, aspiring filmmakers.  They're each going to be given one quote from my granddad and they have to interpret that into a modern day short film based in a modern setting. So, we're hoping that will be something special, we're hoping the stories really affect society in this day and age and communicate, not only my granddad's legacy in this next extreme age generation, but ultimately to get them to think about the importance of the words that have come before us."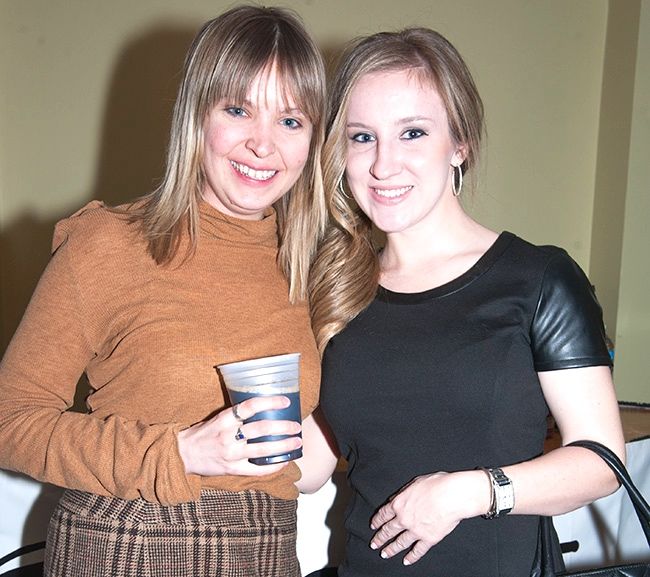 Guests Nikki Schwab and Heather Mahoney
We wondered how he interacted with his extended family.  He corrected us: "In African culture, we don't consider it extended. It's my family, ultimately," he said.  We liked that.  "We all live in South Africa and more or less live in a five mile radius from each other. So, we're all extremely close. We spend a lot of time together. I guess we rely on each other and have become good friends outside of just being blood relatives. Yes, I'd say most of my closest relationships are with my family."
We asked him to describe his personal reaction to the funeral services that were held for his grandfather. "I was there, yes. Again, African culture is quite a unique one. It's definitely a time for mourning, but I think in the case of my granddad and what you saw, not just in South Africa, or Africa, but around the world, was sincere affection for someone that a lot of people genuinely cared about, genuinely loved. So whether it was in the UK or the US where flags were held at half-mass or in South Africa, ultimately what you saw was an outpouring of sincere love and also a celebration of his life from most of the population in that country."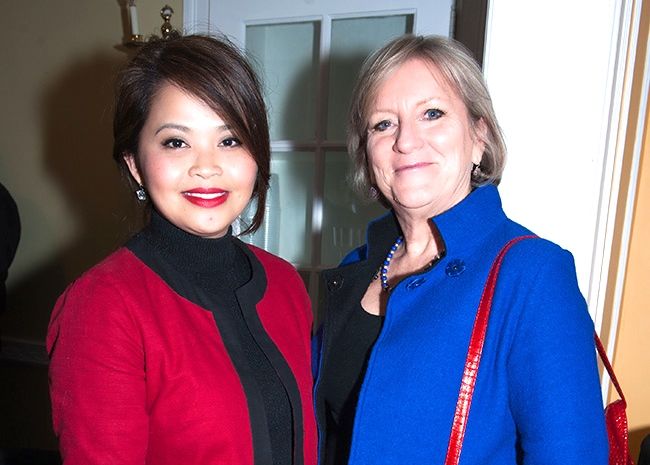 Guests Souny West and Mary Hoskyns
We concluded our interview with the obvious. What do you think will become of the country now?  Will there be any changes? Will there be any unrest or will the country just keep on moving forward?
"I think there will definitely be changes, that is usually the process of any democratic society. But, I feel the foundations are so strong I don't see there being any civil unrest. I think if that was gong to happen it would have happened close to 20 years ago and it didn't. Our country is a unique one because it's still so young, it's essentially in it's young, adult, teen years. It's still figuring out who it is and what it represents and where it's going. I am very positive about the future. There's endless opportunities not only in South Africa, but across the continent and I look forward to participating in those."