Seeing Red!
by contributor Donna Shor
Photo credit: courtesy of Points of Light

Throughout the I.M.Pei designed chancery of The Embassy of the People's Republic of China, red was the commanding color that greeted guests at the Points of Light Tribute Awards Dinner.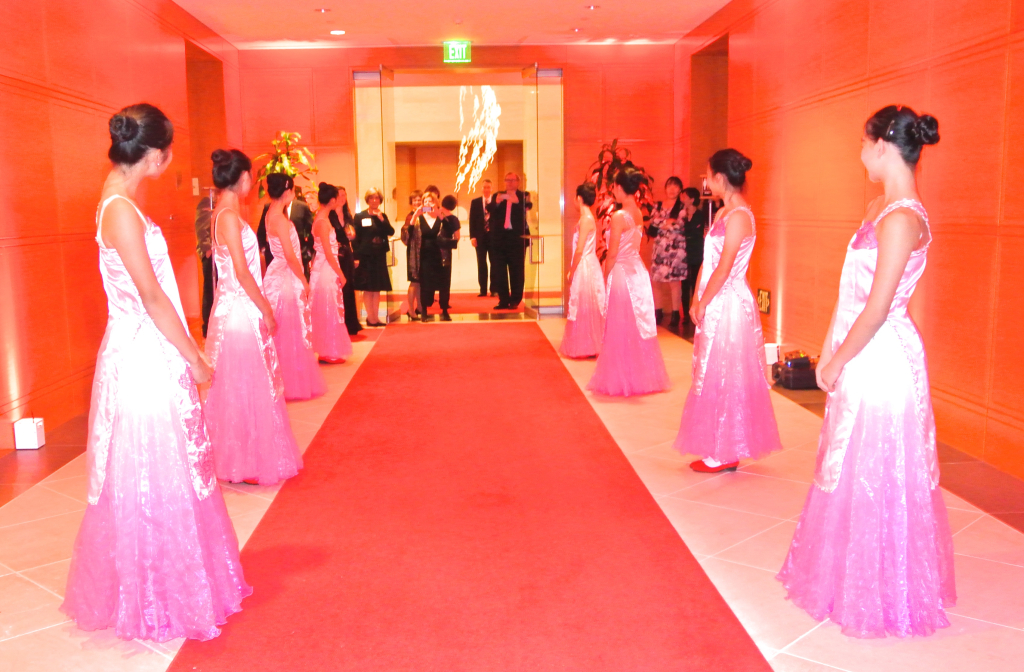 Photo credit: Janet Donovan
First there was the carpet, red (natch); red were the huge stylized globes above us, (no shaggy Chinese restaurant lanterns here); and red was the topknot on the head of the 2-manned, single-costumed "Lion Dancer" who led us into dinner, accompanied by drumbeats and cymbal clashes.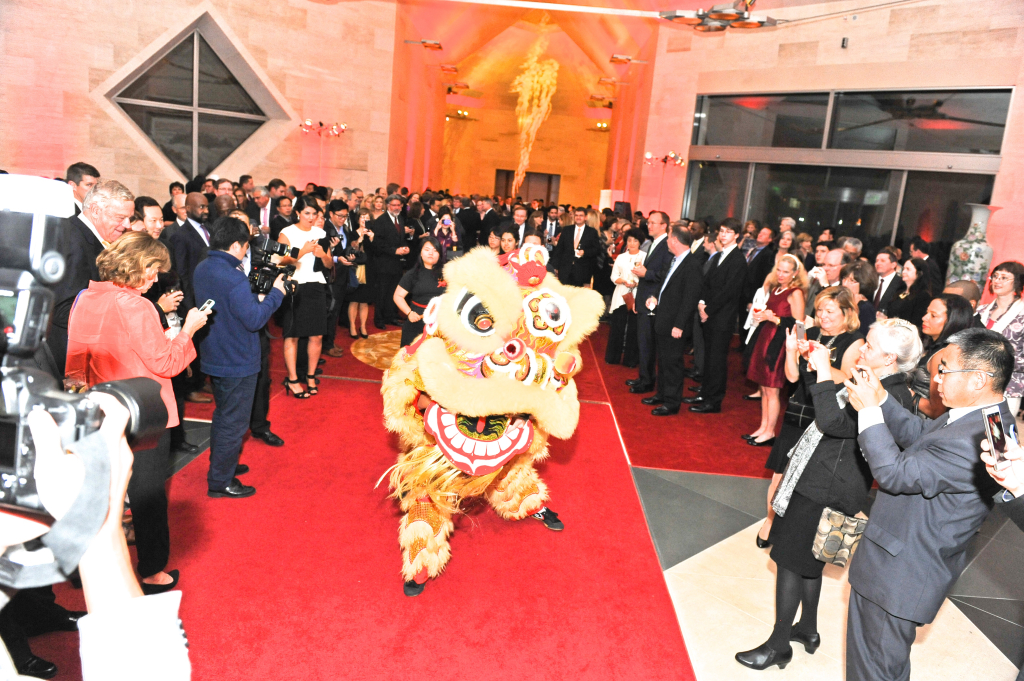 An extremely bright red was the color of the beautifully framed―along with authentication―pair of socks worn by President George Herbert Walker Bush, just as he wore them for his parachute jump on his 90th birthday. Able auctioneer Patrick O'Neill promised that the socks were truly just as he wore them because they were unwashed. The winning $3,000 bid set a new high (perhaps matching the socks by that time) for such an auction category.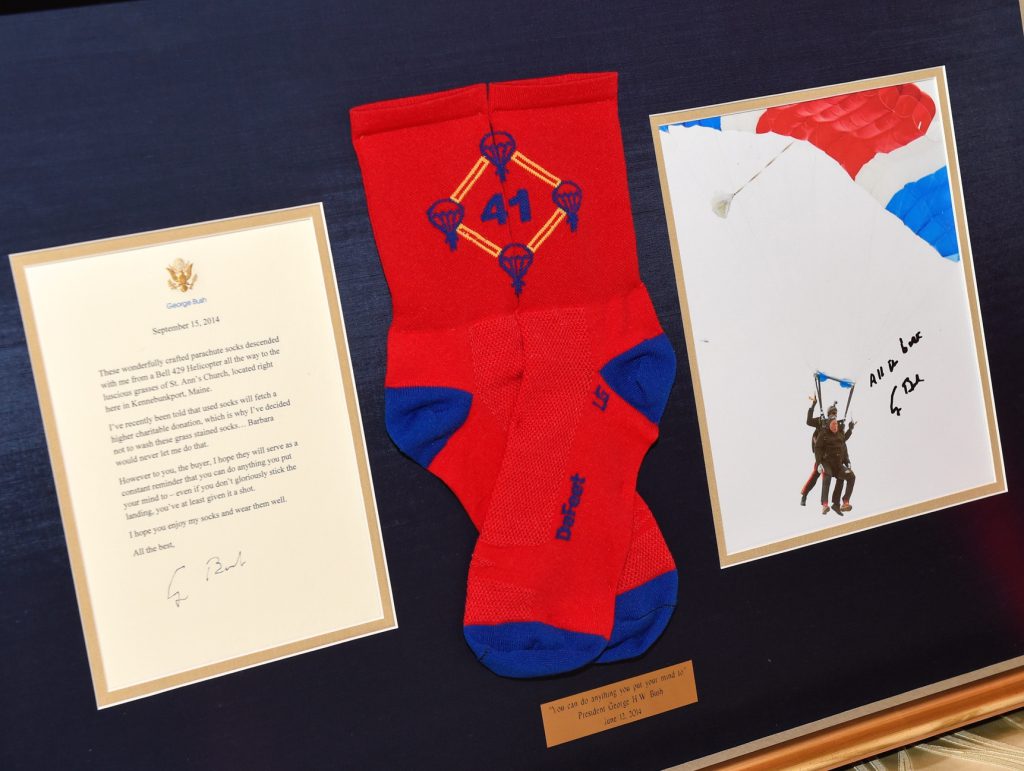 Points of Light always has strong Bush family support; Bush (41) founded it in 1990. That tall, good-natured guy who was loping around inside the entrance, posing with ball-goers when requested, even graciously taking shots of others who asked the favor, not yet realizing they were pressing into service the Points of Life chairman, was 41's son and George W's brother Neil Bush.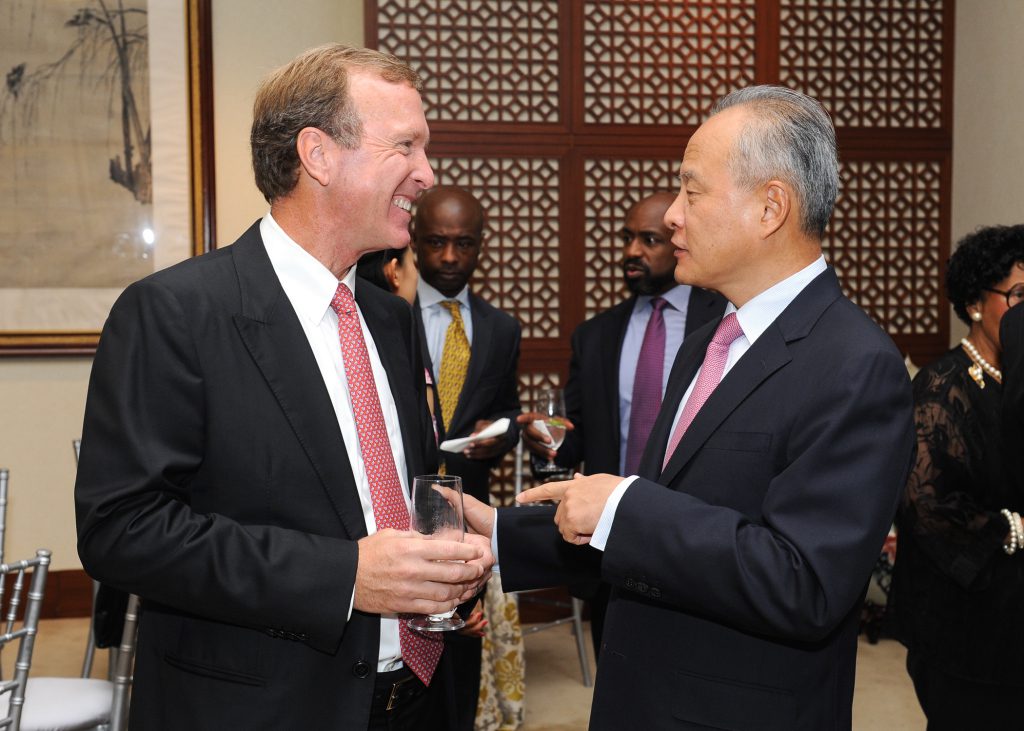 Neil Bush with Ambassador Cui Tiankai
Many prominent Republicans who served in Bush 41 and 43 administrations were present, and there were notable Democratic guests such as "Mack" McLarty who served as Bill Clinton's chief of staff. The evening's honorary co-chair retired General Brent Scowcroft, a Presidential Medal of Honor awardee, was national security advisor to three presidents. White House advisor and former Ambassador to the European Union C. Boyden Gray was also on hand.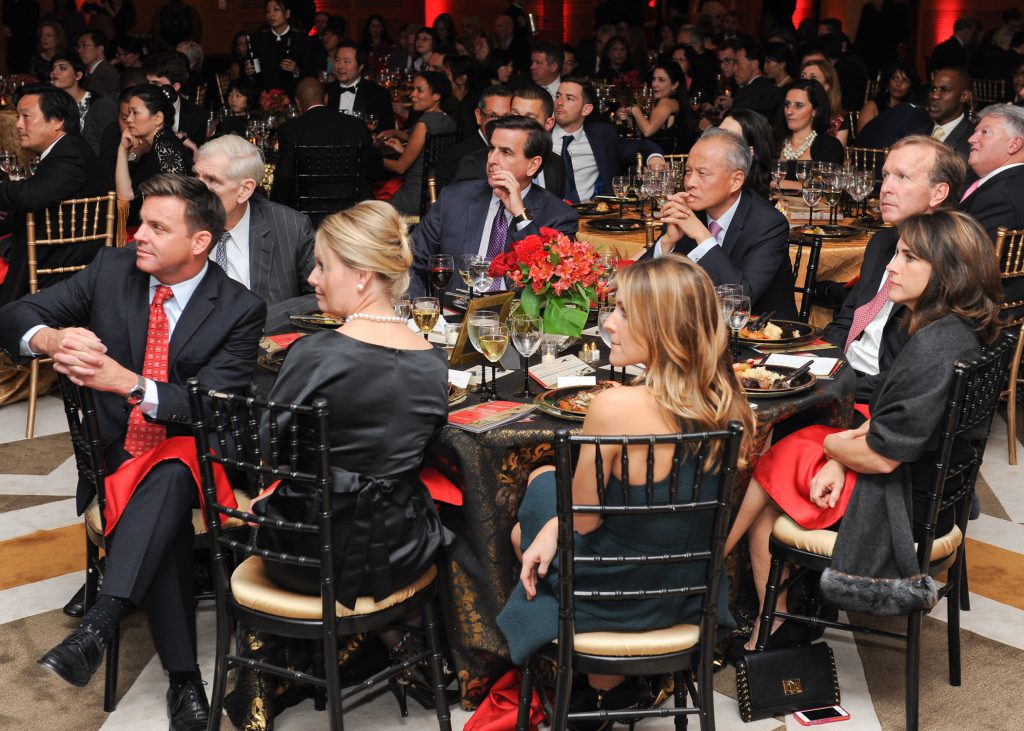 Luminaries included Fred Malek, former president of Marriott Hotels and Northwest Airlines and advisor to every Republican president or presidential nominees for four decades, and his wife Marlene, a tireless leader and founder of several medical organizations. Other distinguished guests included Judge William Webster, who has headed both the FBI and the CIA, and his wife Lynda, the brainy organizer of major events here.
General Brent Scowcroft with Lynda Webster and Neil Bush
Fox News' Greta Van Susteren emceed the evening. General Scowcroft's honorary co-chair was a charming brunette clad in a flame-colored float of chiffon, Yue-Sai Kan, the Emmy-winning television host known as "the Oprah Winfrey of China." As she saw she was far from reaching the shoulder of erstwhile famed NBA basket-baller Dikembe Mutombo, towering at seven feet above her, she commented "Chinese are short people."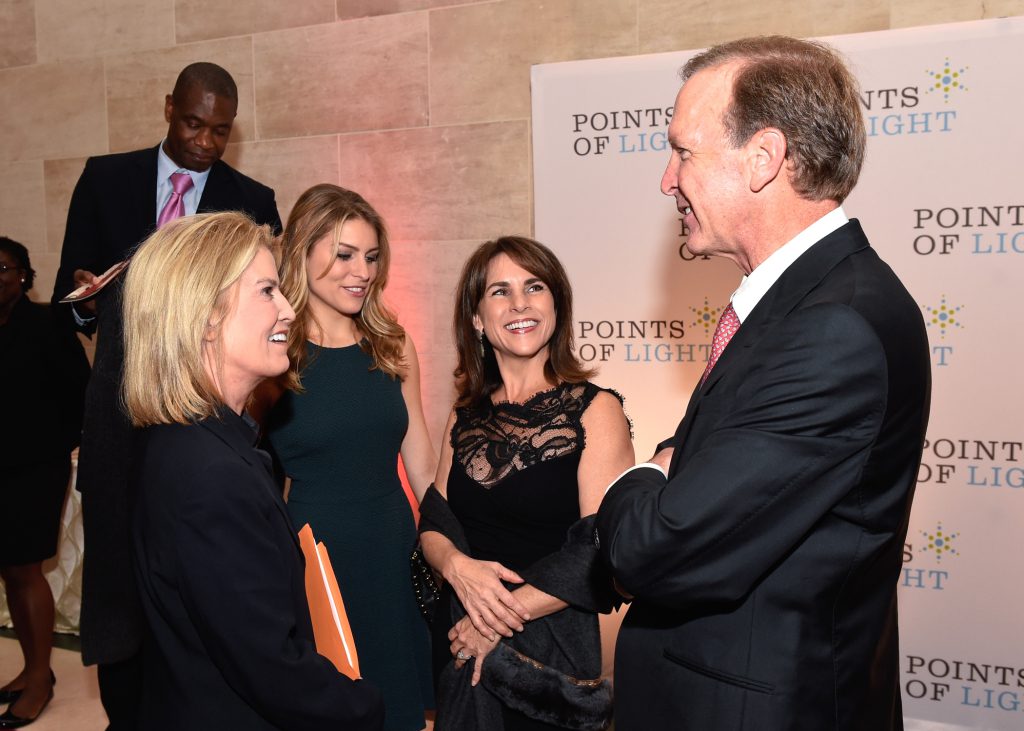 Greta van Susteren with Neil Bush
They got even shorter when 8 year-old Justin Wu, not quite four feet, stood next Dikembe. Justin is the amazing cellist who delighted the crowd as he performed on a cello almost as tall as he is.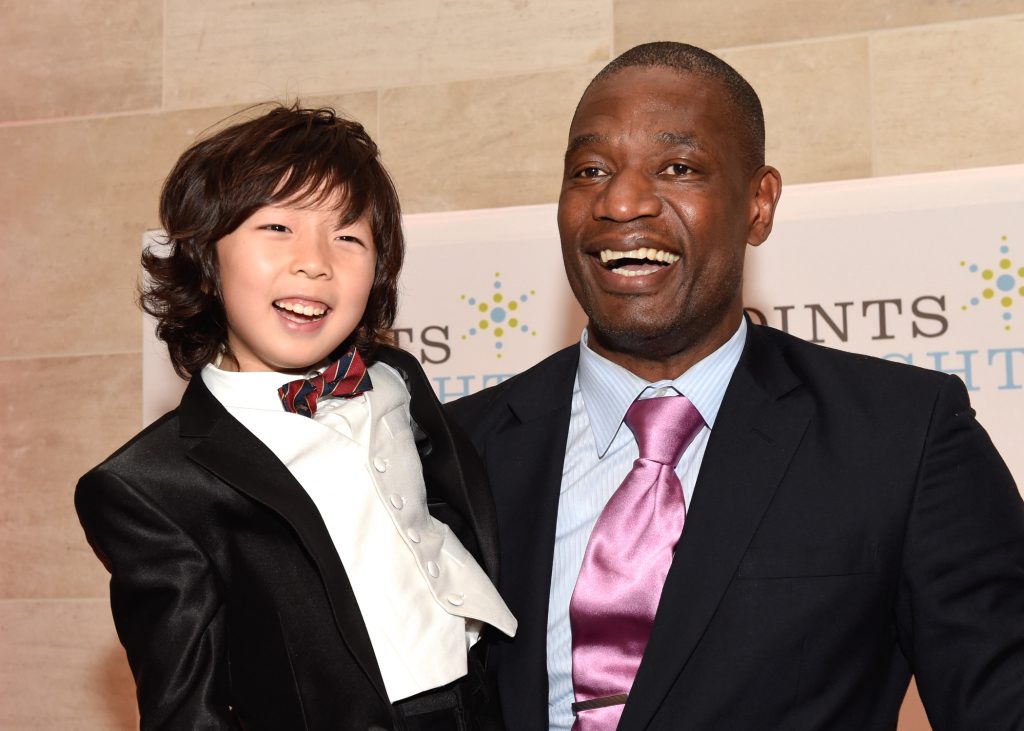 Justin Wu and Dikembe Mutombo
Ambassador Cui-Tiankai, who welcomed guests to the evening, underscored the importance of Points of Light which began with GHW Bush's 1990 inaugural address, calling for volunteers to improve the world around them. He urged them to "Take this country's future into your own hands and become a point of light."
Points of Light is now the largest organization in the world dedicated to volunteer service, mobilizing with partnering organizations and affiliates more than four million people. They provide more than 30 million hours of service annually. Internationally, more than 60 cities in 30 countries take part.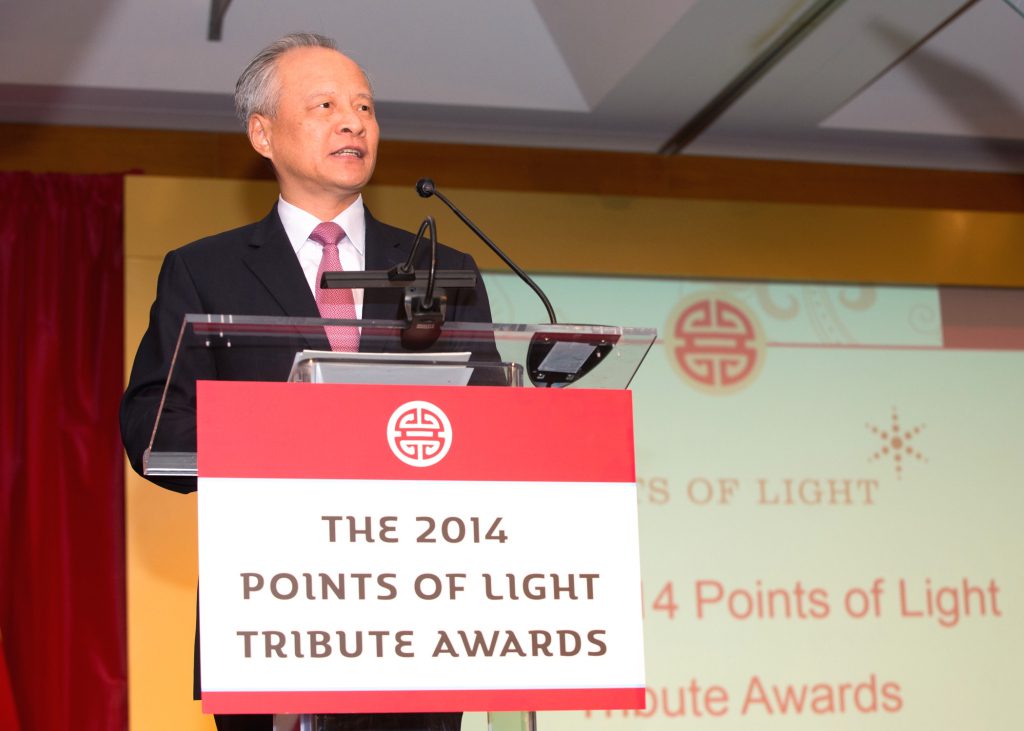 Ambassador Cui-Tiankai
Ambassador Cui said that volunteerism is traditional in China, and that P.O.L's global network has further inspired the people of his country to help others, citing their P.O.L related Hands on China.
The evening's awardees included Hewlett Packard, whose 40,000 employees in 82 countries logged in 1.6 million volunteer hours. The other organizational awardee, World Central Kitchens, addresses problems of providing sustainable food, hunger, health and unemployment and is headed by a remarkable founder José Andres, as great a humanitarian as he is chef and restaurateur.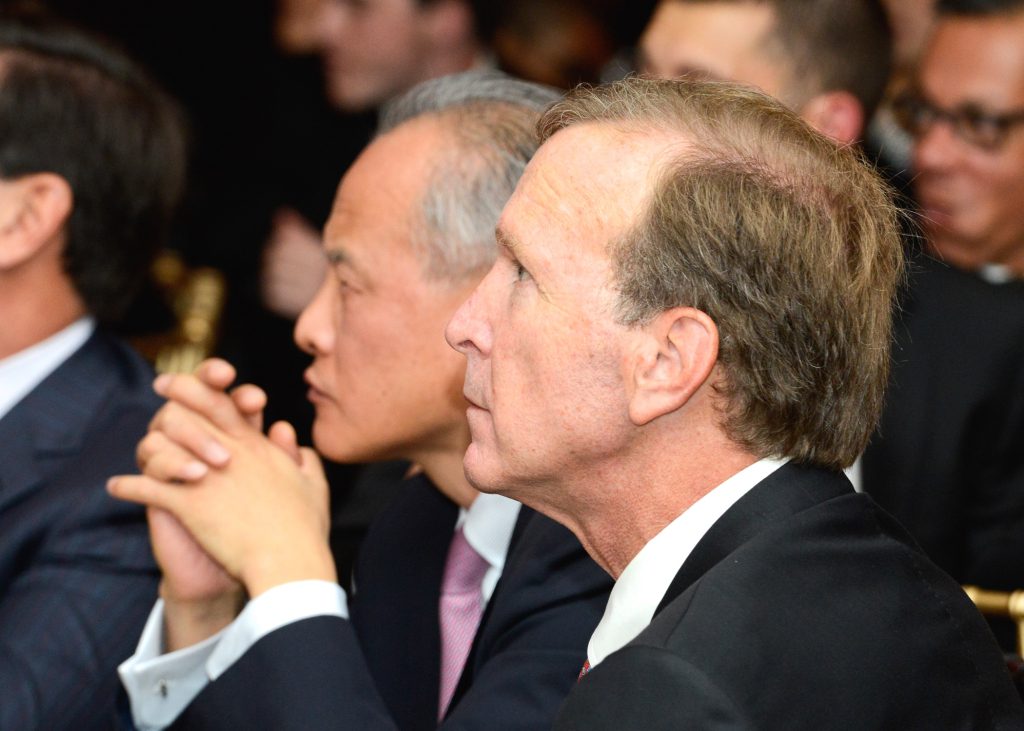 Ambassador Cui Tiankai with Neil Bush

Charles Orgbon, III, was an individual honoree. Now 18, at age 12 he started a club to integrate environmental education in the school curriculum, including recycling and community beautification. He launched Greening Forward, which now involves 2,000 young people and 50 organizations in fifteen cities.
Among guests dining on roasted king salmon, short ribs and tiger prawns were Pam Norley in a scarlet shawl, Jim Longo of The Palm restaurant, and Dr. John Dunford, founder of the wildly popular Capital City Ball, held annually (raising funds to help stamp out human trafficking) on the Saturday before Thanksgiving.