Cap City Ball
by contributor Donna Shor
Photo credit: Neshan H.Naltchayan
What can we tell you about a black-tie marathon night that began at 7pm Saturday and went on until the after-party ended at three a.m Sunday? Lots.
They partied hard and thoroughly at the Capital City Ball at Georgetown's City Tavern Club, where three hundred and fifty party-goers sashayed through four floors of fun on Saturday night. If that weren't enough at one o'clock the hardiest went on to K Street's handsome Malmaison for the after-party.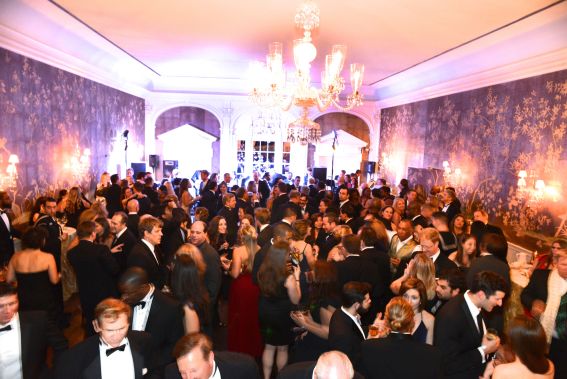 From the top floor Sponsors Lounge to the lower level where winners collected their silent auction trophies, there was a lot happening. The ball always promises "Open bar and heavy hors d'ouevres"—and keeps its word with four bars among three floors, no disappointingly long lines.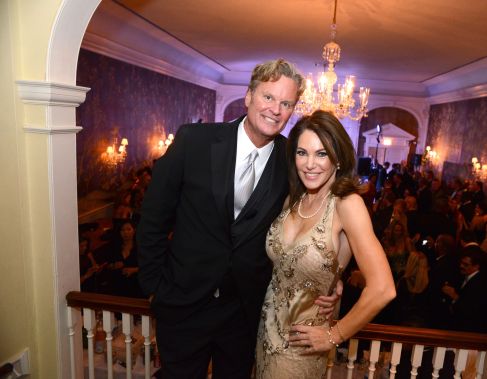 Platters circulated of chicken satay on sticks, tomato bruschetta, tiny savory tarts, deep fried cheese balls, falafel and herbed tzatsiki sauce—culminating in mashed potatoes and boeuf bourguignon at four separate food stations. If hunger pangs seized you unawares, there was fuel at hand to keep you going.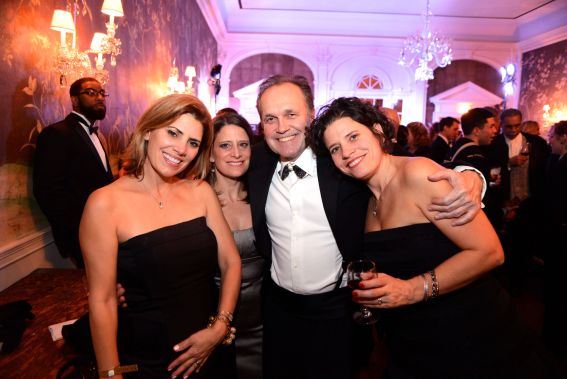 You needed fuel because the Cap City Ball favorite band, hot and versatile Bittersweet, had an enthusiastic crowd clapping, swaying and stomping to their music, burning up the calories.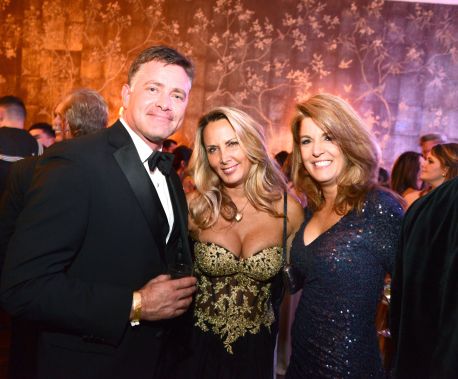 If your makeup was running from the exertion, not to worry –  makeup artist Crustal Bryant of Couture Faces by Crystal was esconced on the third floor, with a high makeup chair and a panoply of cosmetics to do a quick touch-up or a full makeover, compliments of the ball.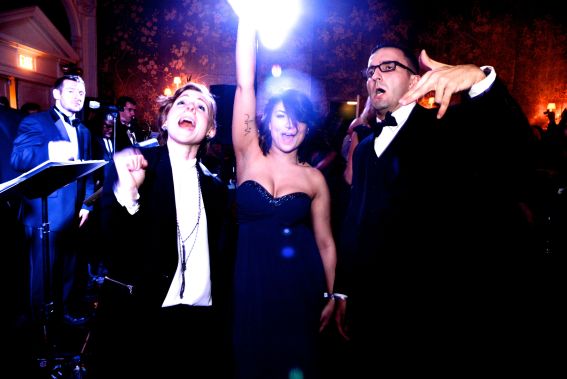 The few speeches were short and sweet. This was the event's eighth year and most of the ball-goers knew the cause they were supporting, the need to stop human trafficking.
John Dunford and Bruce Fries, two bachelor pals around town who like a party, decided to organize a big one for a worthy cause, to battle the commercial exploitation of women and children. No longer a remote overseas scourge, it is now a problem here in own backyard.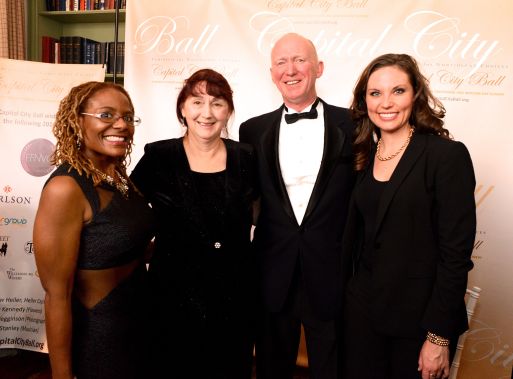 Each year three local charities—which must provide effective hands-on service to victims—are chosen to raise funds through the medium of the ball. This year the three are Courtney's House, Amara Legal Center and Global Centurion. Each year eight smaller events are held that provide fund-raising opportunities and lead up to the ball.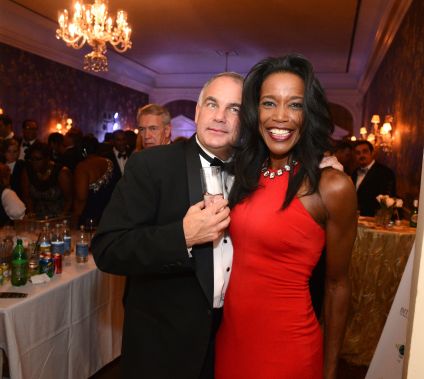 Presenting sponsor for the ball was Feminists for Nonviolent Choices which supported the ball through their generous sponsorship of Global Centurion. FFNVC is a non-religious, non-partisan organization guided by values of justice and non-violence.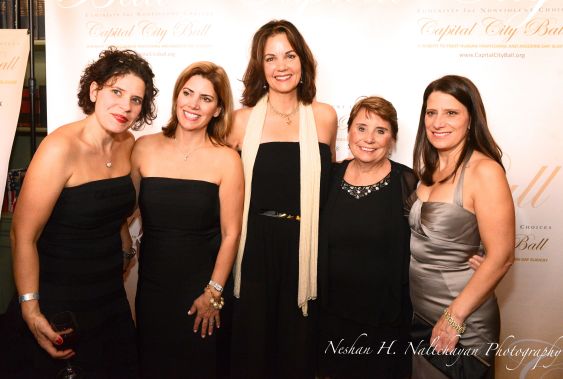 Global Centurion seeks to stop trafficking by going to the source of the demand, the commercial exploiters who profit from it, and their methods, which include forced abortions so the women are available to earn for them. Global Centurion works with legislators, public policy officials, community leaders and survivors to shape new programs through reporting and rescue.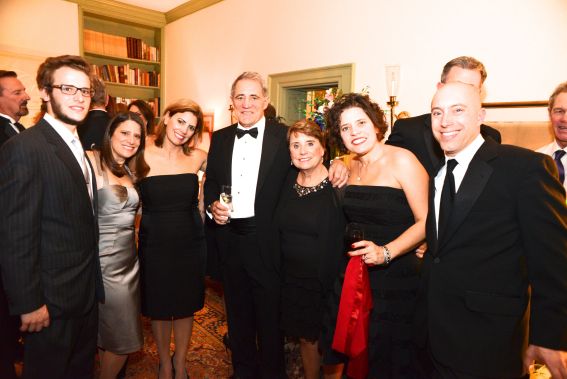 Courtney's House brave founder and director, Tina Frundt, was at the ball. The charity focuses on rescuing children forced into prostitution by searching for victims in the small hours of the night, on the streets, in brothels, strip clubs and hotels.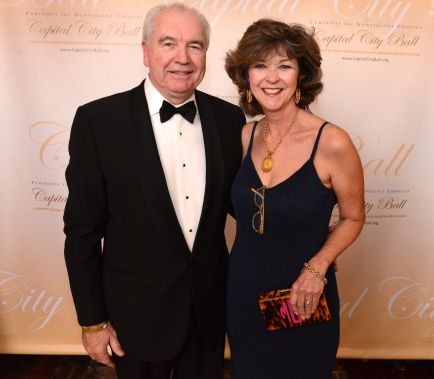 Amara Legal Center's Stacie Reimer attended Saturday. The group provides needed legal services to rescued individuals who have been exploited by the sex trafficking trade. Together the three groups cover practical actions to halt the shameful soul-destroying business.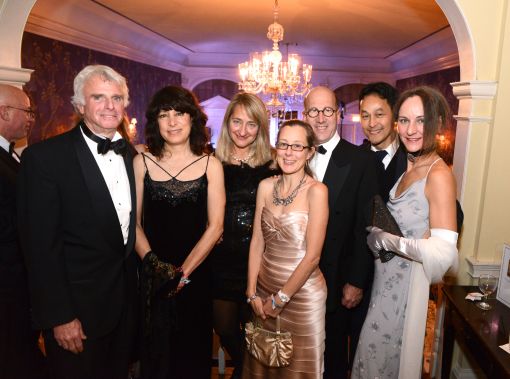 One striking couple stood out in the crowd: beautiful Elizabeth Webster escorted by Vincent de Paul, award-winning film producer and actor (yes, you've seen him in The House of Cards and The Bay among countless other things.) He himself is a walking charity, a working supporter of Pay It Forward and honoree of the Goody Award for his own good works.
Everybody danced. If there had been dogs in the crowd, even they would have moved to the irresistible dance band. Global Centurions earnest worker-for-the-cause Laura Lederer broke out some moves that had others copying her steps.