An Italian Affair…
Photo credit: Courtesy of the Italian Embassy
It's not every day that a pipe organ gets as much attention as the one at Villa Firenze, the residence of Ambassador Claudio Bisogniero and Laura Denise Bisogniero; but such was the case of a rare pipe organ labeled "The AEOLIAN ORGAN No. 1569" which sits in the great Hall and is one of the most important pieces at the Residence. While it has remain idle for many years, it was fully operational in time for a concert by renowned artist Bruce Eldon Neswick.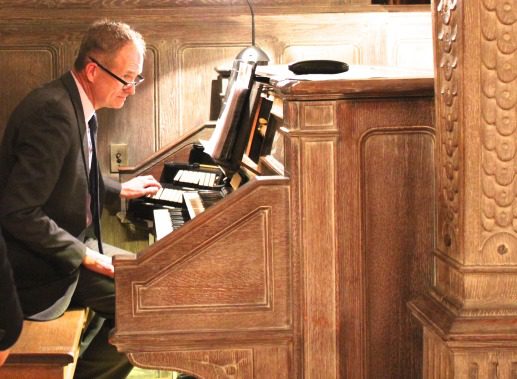 Bruce Eldon Neswick
The history of organ #1569 goes like this: Since the Italian Government purchased Villa Firenze in 1976, the organ has never worked due to a fire in 1940 when the organ was heavily damaged by water and smoke. All rods had fallen, the inner body no longer worked, and many parts were broken. Moreover, successive restorations in the house had interrupted the supply of electricity to the compressor motor and the generator. The organ was then completely out of function.  Miraculously however, all the rods were still present and the console still had the mechanisms of the original playback and other systems in its interior. The approximately 60 years of dust derived from the reconstruction had accumulated inside the chamber organ, leaving it, well, pretty dirty. Part of the restoration consisted of a meticulous cleaning which necessitated the dismantling of the organ to the last screw: each piece of leather, each stretch of wire, each of over 1000 pipes needed cleaning, restoration or replacement.
On the occasion of the one hundred and fiftieth anniversary of the Unification of Italy and of the celebrations organized in the United States, the organ was made operational again, thanks to the invaluable contribution of the Italian company Sisal Spa, and its Chief Executive Officer Emilio Petrone. David M. Storey, the organ builder who led the operations, confessed that the project was in part a work of discovery, as there was no documentation explaining how the organ worked. The restoration project began in July 2011 and was completed in October of 2012.
The rare pipe organ was built by the Aeolian Company in New York in 1925 and is fully automatic.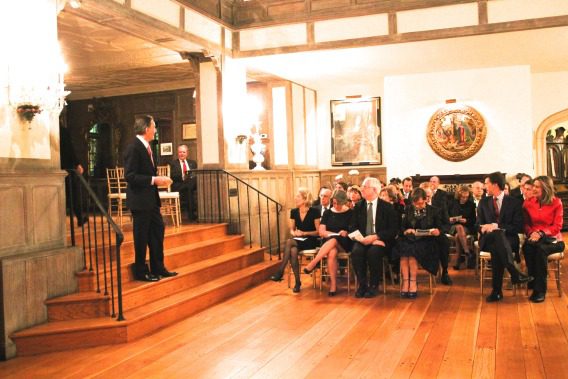 Ambassador Claudio Bisogniero
Concert organist Bruce Neswick is one of America's major talents in the field of organ performance and is especially noted for his superb ability as an improvisateur, a craft which only a few organists in the United States have made their specialty. His playing is widely recognized for its incisiveness, vitality, and expressiveness.  Full bio here.
Guests included long time Opera fans Senator and Mrs. Patrick Leahy.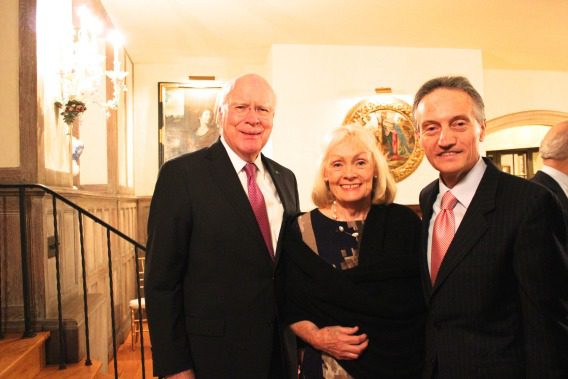 Senator Patrick Leahy, Marcelle Leahy, Amb. Claudio Bisogniero