Breaking Bread…
Photo credit: Janet Donovan
"Theirs is a match made in heaven, I think it's fair to say," said CNN's Jake Tapper when introducing philanthropist Connie Milstein and Father Rick Curry at the dedication of the Dog Tag Bakery in Georgetown. "The fact is that we are standing here on Grace Street, it might be observed – as evidence of their partnership." 
The Bakery was born out of their shared conviction that no veteran with disabilities who wants to work should be unemployed; and thus this unique work study program was created. No one seemed to mind showing up at the early morning curtain call despite the rain.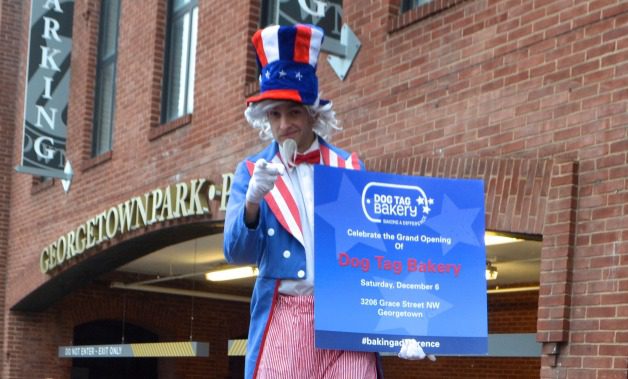 The storefront includes a state of the art bakery and kitchen as well as classroom space and serves breakfast and lunch menus of breads, cookies, pastries and coffee from veteran-owned Compass Coffee. And for one hundred and twenty-five dollars you too can hang from the chandeliers by adding your name to a custom-made dog tag.
The activity driven event included music, photo booths and poster signings while the young ones waited patiently for the formal ceremonies to begin which caused Tapper to anxiously remark that he hoped his own children who were outside were as patient as the ones he saw inside the tent.  Word has it they were.

There were friends to greet and new ones to meet.
"I had a bakery, he had a bakery," said Milstein of Father Curry. "He is the Jesuit Father and I am the Jewish Godmother. Serendipity and many caring friends brought us together."
"As a young teenager I honed my political skills by being excited by John F. Kennedy getting into the White House," responded Curry. "John F. Kennedy ran on a ticket saying that one man could make a difference. Little did I know that when I would grow up, that man would be a woman.  And of course, that's Connie Milstein."  And so, they broke bread.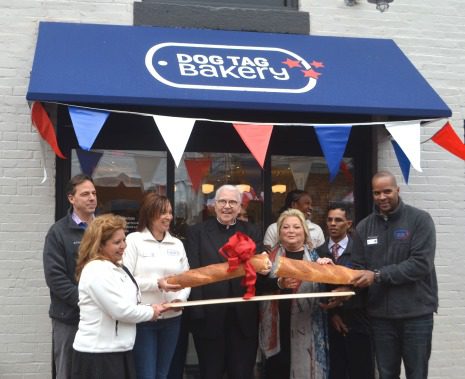 Dog Tag Bakery is located in the heart of Georgetown at 3206 Grace Street, NW.
Welcome to the opening of Dog Tag Bakery: