KenCen Honors – #Winners!
by senior contributor Brendan Kownacki
Photo credit: Brendan Kownacki
A few times a year Hollywood royalty descends on DC and for this year's annual Kennedy Center Honors, the star power was off the charts. The honorees, being feted for their contribution to the arts, included actors Tom Hanks and Lily Tomlin, musician's Al Green and Sting, and ballerina Patricia McBride. All the honorees and their famous friends joined the President and First Lady at the Kennedy Center on Sunday to look back at just what each has created in our collective cultural legacy.
Tom Hanks
Tom Hanks has become a recognized figure in American cinema, both in-front-of and behind the lens. People recall Hanks' acting in Forrest Gump, Apollo 13, Saving Private Ryan and his love of history that drove him to produce the likes of Band of Brothers, From the Earth to the Moon, and The Sixties. When pressed about his favorite project from his long resume, Hanks noted That Thing You Do, "because everyone was in it."  Hanks wrote and directed and starred in the film, which also included cameos from wife Rita Wilson and son Colin. Hanks also noted that his youngest son was born midway through filming.
Trudie Styler and STING
Gordon Sumner, better known to most as Sting, was all smiles as he made his way into The Kennedy Center. People gravitate to his gruff but silky voice and hit songs like "Roxanne" or "Fields of Gold" that have gained him acclaim through the years. Wife Trudie Styler pointed out "this accolade isn't often given to a Brit and it's usually at the zenith of one's career," pointing out he is the 16th such Englishman to receive the honor. "It's a long way from where I come from to where I am right now" crooned the singer looking back on his own career and looking forward as he gets ready to work on his new Broadway show The Last Ship at the Neil Simon Theater in New York.
Lily Tomlin
Comedienne extraordinaire Lily Tomlin couldn't resist making a joke as she looked back. "Of course it will all blow over tonight, but it's part of your history now," she said. Veteran actor Martin Short was on hand to quickly add, "anyone who has done character work has stolen and been inspired by Lily Tomlin." Tomlin said she appreciates the opportunities that exist now for women in comedy that weren't as easy when she started and she cited the formidable duo of Amy Poehler and Tina Fey as bright stars to watch.
Patricia McBride
Patricia McBride is less known for what she said and more for what she does, and her precise movement as a celebrated ballerina who has spent almost 30 years dancing with the New York City Ballet. McBride described the evening at The Kennedy Center as "beyond my wildest dreams" and couldn't help but ponder, "what is a country without its arts? The artists make the world beautiful."
Al Green
Sting wasn't the only velvet voice to be honored this year—soul singer Al Green was also on hand, with many people remembering the romance of his songs like, "I'm Still in Love with You."  Even Green couldn't resist the urge to sing a few bars of his enchanting song as recalled a campaign stop where President Obama sang a bit of the megahit "Let's Stay Together." Naturally a thrill to hear the President sing your song, all he could add was "we tried to get him to do it tonight, but Michelle….he won't do it [again] tonight."
Also on hand to join in the celebration were a host of stars including Lady Gaga, Usher, Steven Spielberg, Bruce Springsteen and more who wouldn't miss the chance to toast these legends for their vision and leadership in the industries that bring joy to so many. Just like McBride put it, "the artists make the world beautiful."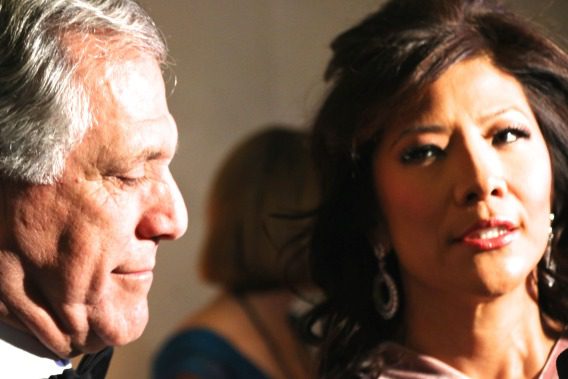 Les Moonves and Julie Chen
The Kennedy Center Honors will air on CBS on December 30th.
Video: Courtesy of the White House