Via Umbria…..
Photo credit: Janet Donovan
We're not sure where the truck is from, but everything else inside Via Umbria on Wisconsin Avenue in Georgetown is exactly that – from Umbria – "the rustic region known as il cuore verde d'Italia, the green heart of Italy," according to owners Suzy and Bill Menard.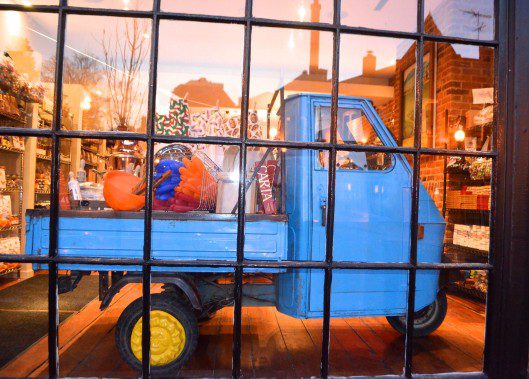 It's an Italian lovers paradise.  Hand-painted ceramics – check!  Exquisite linens – check!  The finest olive oils – check!  Superb wines – check!  Pasta, chocolates, jam, olives, bread – check!

The Menards consider themselves informal ambassadors of Umbria where they also have an idyllic farmhouse……. Villa La Fattoria del Gelso to be exact – a historic stone farmhouse situated on a 40 acre working farm in one of Italy's most fertile regions and also available for rent. More than a dozen years after they turned their passionate love of all things Italian into a business, they still remain connected to the local artisans. They are also no strangers to Georgetown. Bill was a student in the GU Law Center and spent a summer program in Florence and they have lived in Washington for nearly three decades.

For the month of January, the Menards invited Chef Simone Proietti Pesci's to join them in Washington.  Simone's restaurant "is a staple in Bevagna, a tiny gem of a town in Umbria where his impeccable wine bar and daily specials showcase regional specialties and seasonal delicacies." "Every aspect of this exceptional restaurant is a reflection of Simone's personality and passion for food and the pleasures of the table. We have the great fortune of calling Simone our dear friend, and for the month of January he will come to DC for exclusive dinners and cooking classes. Host a dinner where you cook alongside Simone in your home, or let him work magic in your kitchen as you entertain guests," suggested Suzy Menard.  Just email suzy@viaumbria.com y voila…….la dolce vita is yours.
Hollywood on the Potomac did just that……..invite Chef Simone to cook for us.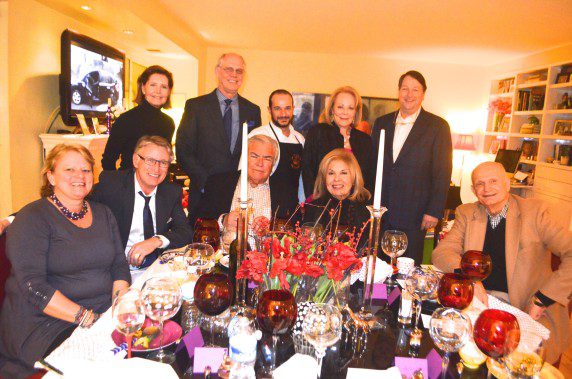 Bottom row: Suzy Menard, Robert Shields, Roland Flamini, Patricia Harrison, Tom Malatesta Top row: Beverly Malatesta, Kevin Chaffee, Chef Simone, Diane Flamini, Bill Menard
 Chef Simone talks about family life, how he became a Chef, his restaurant and his friendship with the Menards: