An Argentine Gala…
by contributor Donna Shor
Photo credit: Shannon Finney

No mask? No beads? No problem. Mardi Gras began at the doorstep of the Organization of American States on Tuesday night where guests were greeted with tables of fancy feathered masks and multicolored beads had they failed to wear such Carnivalesque necessities to The Washington Chorus Argentine Carnaval Gala.  And yes, spelling is correct.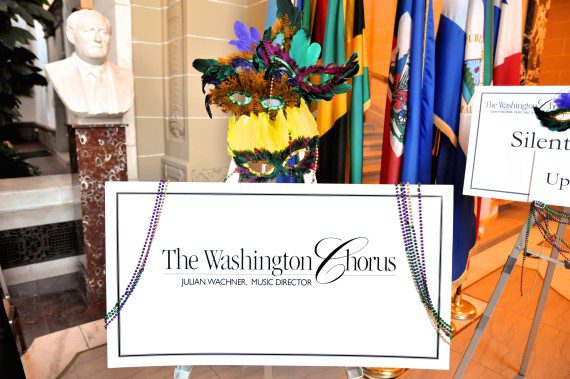 Honorary Patron Cecelia Nahón, The Ambassador of Argentina, along with Washington Chorus stalwarts Pamela and Christopher Denby welcomed guests to an evening featuring the music of renowned artist Alberto Ginastero along with tributes to DC 's Women Innovators in Music and offerings from musical groups.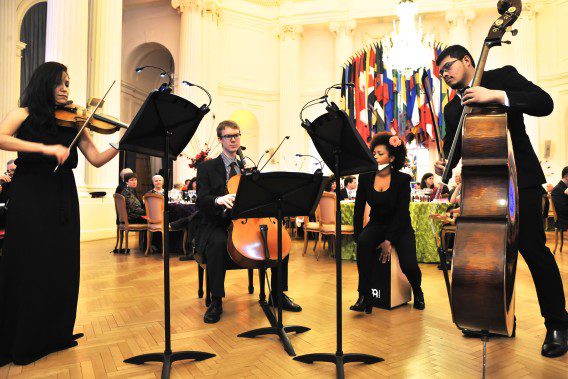 Things got off to a fast start when blood-stirring drumming from gaucho Jorge Pereyra signaled the start of a malambo dance as his feet beat the steps while he whirled the boleadoras above his head. Those were tools of the gauchos, the cowboys of Argentina: Cords with weighted balls that could bring down cattle when tangled around their hooves, or kill a man when they were aimed to knot themselves around his neck. Emmanuel Trifilio was on the bandoneon, the concertina-like instrument popular in folk music and Latin American dance halls, with Ramon Gonzalez on the guitar.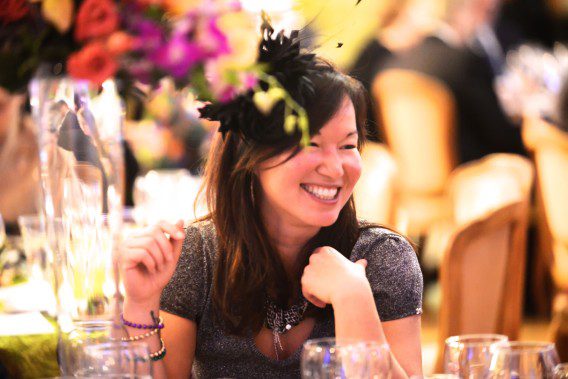 Phillipa Hughes
Warriors Caterers designed the dinner, which began with an especially good salad of tender baby greens and featured a Parrillada Mixta, a plate of mixed, grilled meats that included seared sirloin, Argentine chorizo sausage and grilled chicken accompanied by grilled vegetables and a spiced chimichurri Sauce. Pleasing wines served were Argentinian: Toso Brut Chardonnay (sparkling), 2013 Malbec Punto Final, Renacer and 2014 Torrontes, Phebus.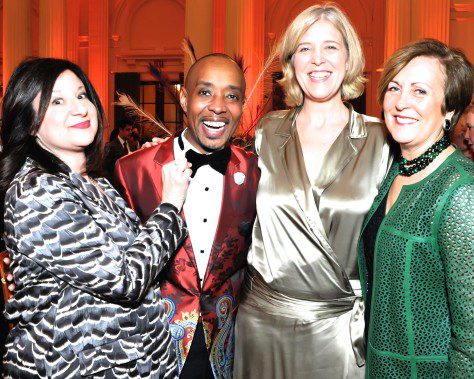 Jenny Bilfield of Washington Performing Arts, Patrick McCoy of Washington Life Magazine, Anne Midgette, Classical music critic for The Washington Post, and Deborah Rutter of The Kennedy Center
Thus fortified, the bead-bedecked and be-feathered guests heard music performed by the Washington Chorus, augmented by former choral members attending the gala, and by members of the Washington National Cathedral Choir of Boys and Girls. Musicians from the Youth Orchestras of the Americas performed as well.  The YOA was established in 2001 by financial whiz Hilda Brillembourg, there with her husband Arturo, and resplendent in a stunning red lace dinner suit. Whose? "Valentino's" answered Hilda, and it looked it.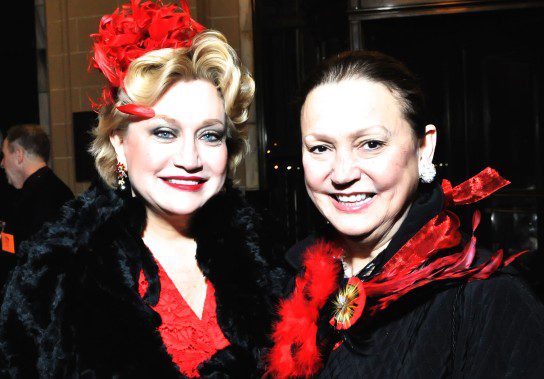 Hilda Ochoa-Brillembourg, Founder of YOA Orchestra of the Americas and Lizette Corro

The YOA— whose members are ages 18-to 30 and hail from 25 Western hemisphere countries― is a world-class symphonic orchestra that has already performed over 350 concerts in more than thirty countries across the Americas, Europe and Asia, with television/radio work, recordings and three films about the YOA to their credit.
The four YOA musicians who performed at the gala were Marlene Mercedes Sanchez, percussion; Sandra Paatricia Morales Corrales, violin; Joel McDonald, cello and Moises Chirinos, double bass.
Washington Chorus, now in its 54th season, is the Kennedy Center-based, 180-voice Grammy-winning choral group that is known for its talented versatility and the breadth of its repertoire and musicianship. It's spectacularly successful tours abroad, often accompanied by its fans, have earned it a global reputation. It is known for its educational programs and outreach as well.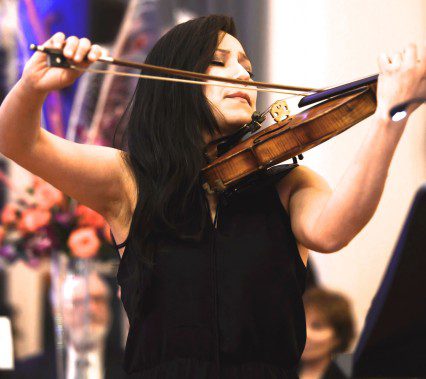 Violinist Sandra Morales

The musical director of the Washington Chorus, conductor-composer Julius Wachner, is known as a versatile and talented musician. He was honored with a 2013 Grammy nomination for Best Choral Performance for his presentation of Handel's Israel in Egypt with the Wall Streeet Trinity Choir and Baroque Orchestra. He is also the director of music and the arts for Trinity and a much sought-after artist..
Longtime Washington Chorus supporters include the Kiplinger family, Washington's famed business publishers. Knight Kiplinger, asked about his father Austin's whereabout said "He's down in Florida soaking up some rays." (good decision,. as the rest of braved sleet and slush here).
Knight not only met his wife Ann through membership in the chorus, but also their daughter Daphne met her husband in exactly the same way. That is chorus loyalty and seems to prove that the way to a man's heart is through his music!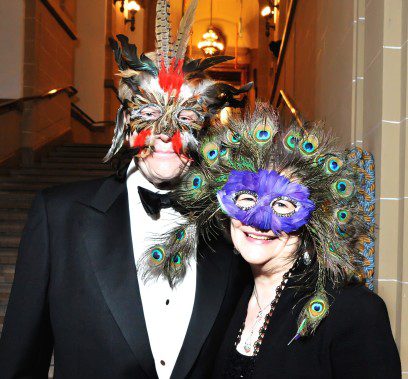 Jan and Elizabeth Lodal
Women Innovators in Music included Jenny Bilfield, the appointed president and CEO of Washington Performing Arts. Through her innovations and blazing leadership track record in the arts, she has been widely recognized. Washingtonian Magazine has named her one of Washington's "117 most powerful women." Her transformation of Stanford University's Lively Arts, enhancing its scope and entire operations, focused national attention on her abilities, and she has served as president of the prestigious music publishers Boosey and Hawkes.
The second honoree was Deborah Rutter, president of the John F. Kennedy Center for the Performing Arts. She is the first woman ever to hold that prestigious position of leadership of the world's busiest performing arts center. She formerly served as the Executive Director of the Chicago Symphony, the Executive Director of the Los Angeles Orchestra and the orchestra manager of the Los Angeles Philharmonic.
Dianne Peterson, Executive Director of the Washington Chorus, was acknowledged for her contributions to the musical group's success. The three outstanding women were introduced by Washington Post's classical music critic and author, Anne Midgett.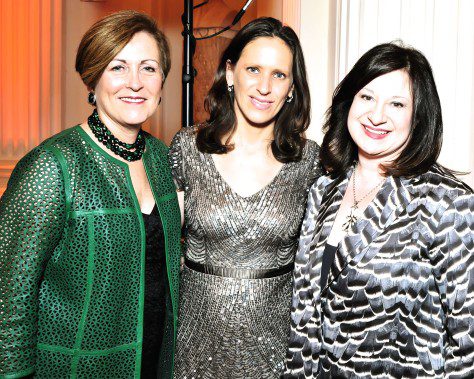 Deborah Rutter of The Kennedy Center, Cecilia Nahon, Ambasador of the Argentine Republic and Jenny Bilfield of Washington Performing Arts
A Silent Auction including trips, sports tickets and fine wines had some interesting offerings. One was a Brazilian Dinner for eight featuring Brazil's traditional dish, the delicious feijoada enhanced by powerful and equally traditional caipirinhas to slake the thirst. Where had host David Klaus learned to cook feijoada? In Brazil, of course. He spent his two years with the Peace Corps well, agreed his red-haired daughter, Charlotte.
Cecilia Nahon, Ambassador of the Argentine Republic, Chris Denby, Board Chairman of The Washington Chorus and Dianne Peterson, Executive Director TWC
Buenos Aires-born Alberto Ginastera, whose music undergirded the evening from the opening malambo dance to the final selection from the four YOA musicians, is considered one of the finest musicians of the twentieth century. An artist of prodigious energy, the legacy of his work ranges from operas, orchestral pieces, ballets, operas, piano and organ pieces, all enhanced by his musical innovations. His music has even been incorporated into progressive rock—and it still works!
He was beloved in his native land, and much of his music is influenced by the gauchos, the landless herdsmen who are a symbol of Argentina.