Second Best Exotic….
Photo credit: Joy Asico
"The film's characters are good examples of just because someone reaches a certain age of retirement it doesn't mean our lives are over at all," said CEO of MPAA Chris Dodd at a private screening of "The Second Best Exotic Marigold Hotel. "In fact, we move on and do some of the most creative work in our retiring years."  Well now, that's a relief!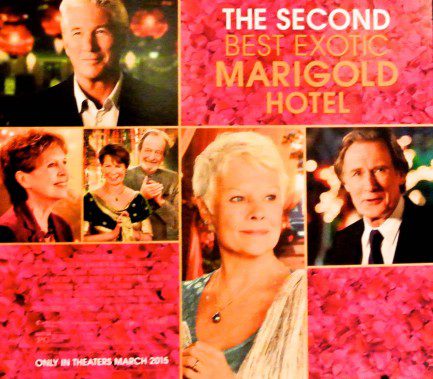 Photo by Janet Donovan
The Second Best Exotic Marigold Hotel is a 2015 British comedy-drama film directed by John Madden and written by Ol Parker. It's the sequel to the 2012 sleeper hit film The Best Exotic Marigold Hotel and features an ensemble cast featuring Judi Dench, Maggie Smith, David Strathairn, Dev Patel and Richard Gere.
Chris Dodd greets Elizabeth Isele
The former Senator from Connecticut, who has morphed into his own new career, went on to thank his sponsors for the evening. "I've always learned, and some of you have heard me say in the past, that when you start mentioning people in the audience, the people you forget never forget so this is a very vicarious policy." On that note he went on to thank EProv Studios, Entrepreneurial Works, Fox Searchlight, 20th Century Fox, and Participant Media as sponsors. 
Good friends included were Sandy and Susan Berger (former National Security Advisor to President Bill Clinton), Byron and Kim Dorgan (former Senator from North Dakota), Mike Regan with 20th Century Fox, Cary Sherman Chairman & CEO Recording Industry Association of America many more from his expansive rolodex.  "Now, for those of you who are important that I missed, thank you for being here. I'm sure I'll hear from you shortly."

Chris Dodd and Elizabeth Isele:
The Trailer: