Tyre on the Potomac….
by guest contributor Joe David
Photo credit: Neshan H. Naltchayan
A Recap of Phoenician History: Washington came alive last week. Dignitaries, scholars, historians, and other prominent world leaders from Europe, Asia and America met in the U.S. Capital with a singular purpose –  to draw attention to Tyre, the UNESCO World Heritage site in Lebanon. The week-long activities began officially with a private reception for over 70 dignitaries, celebrities, socialites, and Friends of Tyre at the elegant Washington residence of The Lebanese Ambassador to the United States, The Honorable Antoine Chedid.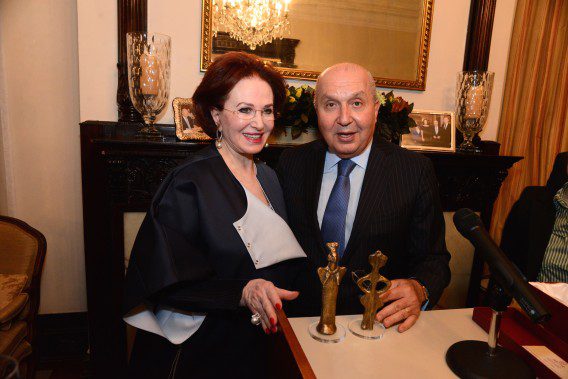 Dr. Maha El-Khalil Chalabi, General Secretary, International Association to Save Tyre presents artifacts from Tyre to H.E. Antoine Chedid, Ambassador of Lebanon
"I am so proud to welcome you to my home," the Ambassador said to Dr.Maha el-Khalil Chalabi, founder of the League of Canaanite, Phoenician and Punic Cities and of the Tyre Foundation. "You have done so much for preserving this important and ancient Phoenician site. Thanks to you and your many friends around the world Tyre has survived the test of time. You, Dr. Chabali, are truly a woman of boundless energy and vision. Welcome to my home!"
In appreciation for his generous hospitality, Dr. Chabali presented him with two magnificent reproductions of ancient artifacts for his private collection. "I would like to present you with a little gift for your gracious support and interest in Tyre," she told the Ambassador. "It is only a small token of appreciation for all you have done for our beloved Lebanon. Thank you for receiving me and all my friends of Tyre."