Speed Dating!
Interview by Janet Donovan
Photo credit: Courtesy of Sangeeth Segaram
Forget The Love Boat, Match.com or ChristianMingle.com: SupercarDating.com wants YOU:  Think jet-set holidays, supercars, track days, Michelin Dining, yachts and high octane experiences to name a few – i.e. a unique dating service that combines millionaire dating with the supercar lifestyle.
Founded by Sangeeth Segaram, a young British entrepreneur, it started out because of his love for Lamborghinis who kept bumping into people with the same taste: "Essentially what happened was, I found that between fifty and sixty percent of supercar owners were very time efficient, but never got around to going out as much as they'd like to, particularly during very busy business times," Segaram told Hollywood on the Potomac. "What they've realized," he added, "is that they've tried many dating sites for millionaires before and found that the people they met had very little in common with them. That's how the idea started. It was about basically dating someone for who they were instead of just how rich they were."  So along came SupercarDating.com. And yes, they're regulated by the Online Dating Association.  And yes, we checked it out so you don't have to.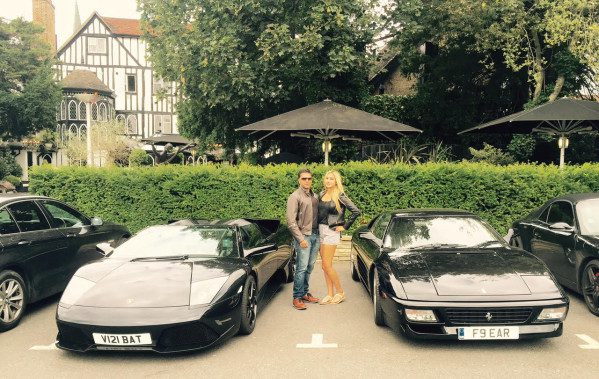 Sangeeth Segaram with his Lamborghini Murcielago lp640 Roadster and Actress Miss Natalie Parry – Face of Miss Motors 2015 
Surely you remember high school when the guy with the car got the girl.  Going back in time, there was 'Fonzie' who pulled up in his hyped up motorcycle to Arnold's Drive In on Happy Days and got the girl.  Sometimes it's just about 'the wheels.'  "So, are people defined by their cars," we asked Segaram.  "Actually, we don't define people by the car," he said. "How the site works is that we introduce people that have supercars to each other, or those that want to date them. Essentially we're saying: Finally you've got a site whereby anyone with a supercar interest can sign up and meet people that also have a supercar interest as well. The common 'supercar' interests are quite a wide canopy or umbrella of interests. The top four tend to be appreciation of fine dining, art, charity and cultural events.  Supercar owners find it quite exciting as well to share other common interests that include go-carting, aeronautical experiences and solo flying."  Do note that the word 'supercar' also refers to a lifestyle, not just cars.

"It sounds like, via your description, it has to be a person that kind of thrives on the edge. Would you say that?"   "I think you're right in a sense. We were in the London Sunday Times just recently and one of our members who was interviewed summarized the concept. Back in the days if you were a high-flying, successful entrepreneur, you have a business card and that would suffice to show what your pedigree was. With supercar dating, the business cards have just gotten bigger. Unlike other millionaire dating sites, the people that sign up to our site are largely younger, driven entrepreneurs, doctors, lawyers, bankers, actors who are at the peak of their career at a very young age who just want an efficient way of dating instead of spending a night out clubbing where you may or may not remember the names of people you've met. With supercar dating, you've got a one-stop, one-shop to meet people who share your interests within a span of a couple of minutes."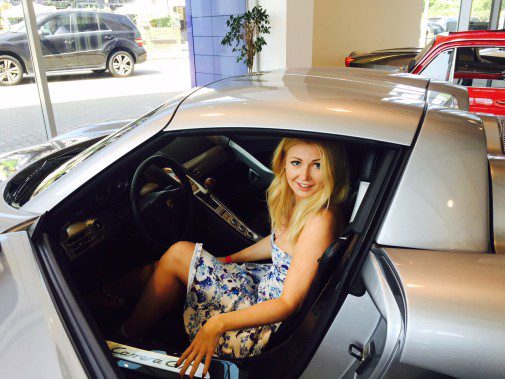 "Okay, so let's take a hypothetical. If someone likes fine dining, likes art, likes traveling and so forth, but prefers a simple SUV or the Fiat 500, how would they get along in your 'supercar' world?"  "They've got other common interests besides the car style. The golden minutes of meeting someone is having something in common. Regardless of whether you own a Rav 4 or a Ferrari, it's the combination of interests that keeps the relationship going, not so much the car ownership or how rich you are.  It's about having that, as you said, pre-common interest to start that flame. Regardless of the horsepower, it's about finding that spark. "  Yes, we pardoned the pun.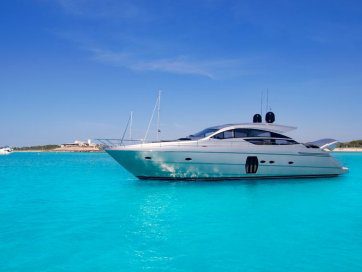 We asked Sangeeth to give us an example of a date that didn't go so well and a date that did.  "Okay, having spoken to our members and staff, the dates that haven't gone well often have been due to ill planned excursions into things like going to the countryside on the first date, whereby women would prefer to meet up for a simple cocktail and get to know the person first before going on a supercar excursion, as it were. I think there is a tendency to say, 'Listen, I've got a supercar, let's go on a date in the car.'  We strongly discourage that. Until you really get to know someone, we strongly discourage going in any high performance car; one is because it's risky and you need full concentration and two it's extremely hard to have a conversation with someone when you're trying to avoid potholes and obey the law. Besides, it is also better to bond with someone in a neutral environment. I think that would be an example of some dates that may have not gone well."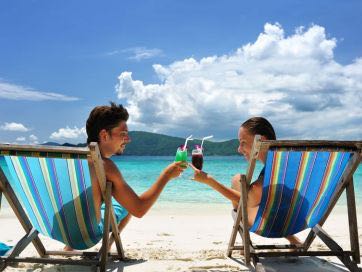 "A good one would be whereby you get on the site and within an hour or so you've used our functions such as Track Date or Rev It. Within a couple of days you meet up for coffee or drinks and somewhere in that stage of a familiar environment you realize quite quickly if you've got that trust and common interest. It things go well, you'll then go for the longer trips in the supercar, or potentially jet-setting across the world."
"What is the end goal? Is it looking for a lifetime partner, marriage, or just fun and excitement?"  "So the end goal is, and it's interesting you mention it, finding people with supercar relationships and forming real bonds. Whether the bond lasts a lifetime, whether it's marriage or engagement, it's about forming real bonds. The way we form real bonds is through common interests and organizing drive and dining events where you can get a couple of 'supercars' and meet up, or perhaps you can go on holidays with other supercar owners."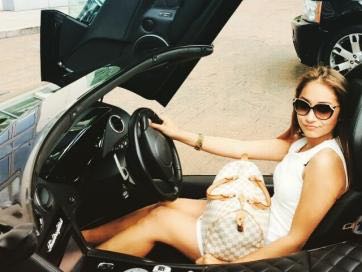 Sangeeth Segaram will be doing the US tour in a few months. For all you dateless Washingtonians, let us know if you're interested and we'll set up an intro or even drop off an invite in our SUV; or if we can find a driver, in a Lamborghini.  We hear he's bringing over a collection of cars, so give us a call if you can walk, talk, chew gum and drive a Lamborghini at the same time.