A Lifestyle Concept!
by guest contributor Sherry Moeller
Photo credit: Garrett Hughes
H.E. Claudio Bisogniero, The Ambassador of Italy, and his wife Laura Denise joined Boffi Showroom Manager Julia Walter, BeB-Maxalto Showroom Manager Brian Fell and Ferrari of Washington's Laetitia Calza to celebrate The Best of Italian Design in Georgetown.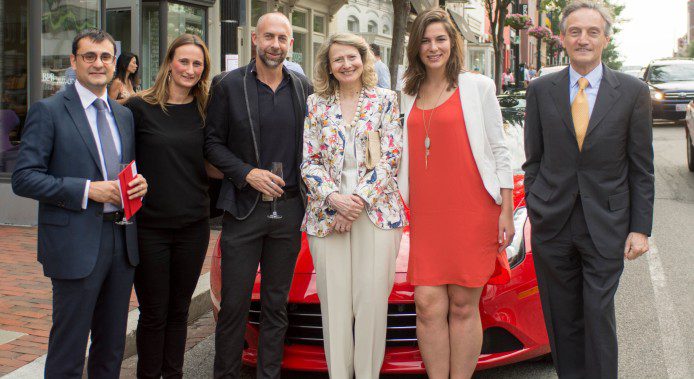 Italian Embassy Counselor Andrea Cascone, Julia Walter, Brian Fell, Laura Denise Bisogniero, Ferrari's Laetitia Calza and Ambassador Claudio Bisogniero
New red and blue California T Ferraris were parked along M Street in front of the Boffi-Maxalto showroom where Boffi showcased its new kitchens and bathrooms and BeB-Maxalto displayed their new furniture designs in the recently remodeled showroom. "The Boffi-Maxalto Showroom provides a collaborative lifestyle concept with the finest Italian kitchens, baths, wardrobe systems and furnishings all in one space," Walter told Hollywood on the Potomac. "We were thrilled to share the latest 'Made in Italy' designs with the Bisognieros."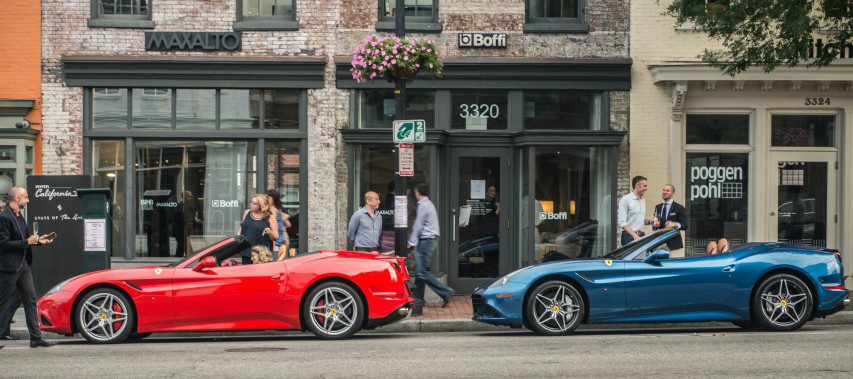 California T Ferraris
Attendees were invited to drive and park their own Ferraris among the new cars, while Cafe Milano served an Italian tasting menu to guests admiring Boffi's new kitchens, baths and wardrobe systems, including the Xila kitchen in 3D wood with black cosmic countertop and domestici "move" accessories and Xila tall units with Lasermat finish. Designed by Luigi Massoni + CRS Boffi, the Xila line is a simplified kitchen in type and modules, is available in different finishes, and instead of handles is fitted with handrail solutions on base cabinets and tall unit doors.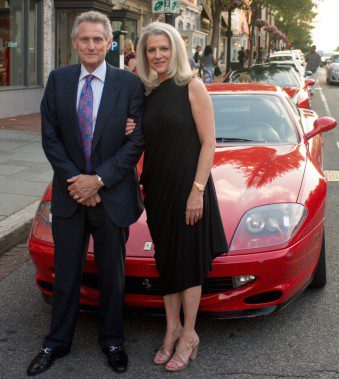 David and Marcia Dullum
Among other new Boffi lines are the A45, which is a 45-degree, angle-shaped molded washbasin designed by Victor Vasilev, and the Antibes wardrobe system, available as a traditional or walk-in wardrobe in a variety of door finishes.
To enhance the Italian lifestyle concept, B&B Italia – the flagship home furniture collection of Maxalto which is already in the showroom – was recently added alongside the high-end Boffi products to provide architects, interior designers and homeowners a one-stop shop for all design/home needs.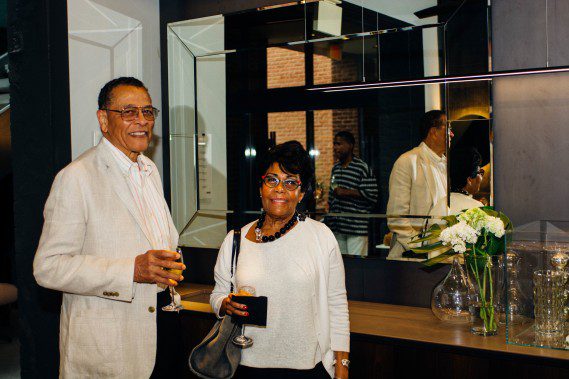 Dr. Stanley and Katherine Boucree
Guests celebrating The Best of Italian Design included Dr. Alex Mesbahi, Mark Bloomfield, Claudine Sorel, Ellen Boss, and Donna Lomangino.