The Power of Film!
Photo credit: Joy Asico
"I'm not an adrenaline junkie," Tony Mendez told Hollywood on the Potomac at the "Power of Film" awards hosted by American Abroad Media.  "When you do this kind of work, you address each issue to the fullest as early as possible.  That way you can make a quality program. Out of that there is less time to think about it. It is what it is." 
Mendez was referring to what most of us would consider a high-wire mission which was depicted in ARGO in which Ben Affleck played Mendez. The Warner Bros. flick was based on true events and chronicles the life or death covert operation to rescue six Americans in Tehran during the US hostage crisis in Iran in 1980 which unfolded behind the scenes. CIA agent Mendez acted under the cover of a Hollywood producer scouting a location for a science fiction film. The movie is based on his book: ARGO: How the CIA and Hollywood Pulled Off the Most Audacious Rescue in History. It won an Oscar for Best Picture.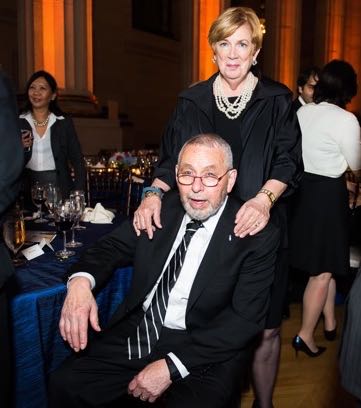 Jonna and Tony Mendez
"What I'm trying to say is that the courage will come once you address all of the issues and if you have a ninety percent belief in your own ability," Mendez added.  "If not, you should examine your gut and let your get tell you whether you're going to do this or not.  If you can get that gut feeling up to ninety percent, you've got it made. My wife was in the CIA for 27 years. Although she wasn't in the movie, she was working on it, so you should talk to her as well," he said of his wife Jonna.  We did.

"For the film, we saw the scripts early on," Jonna explained. "The script writers spent a week with us.  Chris Terrio – he's this little Woody Allen, New York guy, just so quirky, so smart – won an Oscar for his first script.  He really got it. He loves Tony, so I was very much a part of those conversations. We saw his first cut of the script, but didn't like it. His first script had, you know, this thing about the hero has to be flawed and he has to overcome these obstacles. There's a formula. The flaws that they gave him in the first script were egregious. It was a drinking problem, and I think in the first scene he was drunk. I said, really? All our friends will see this movie, and they won't know him.  They left enough of it in the movie that it's still there. If you look at the movie again, Tony has a bottle of alcohol around a lot."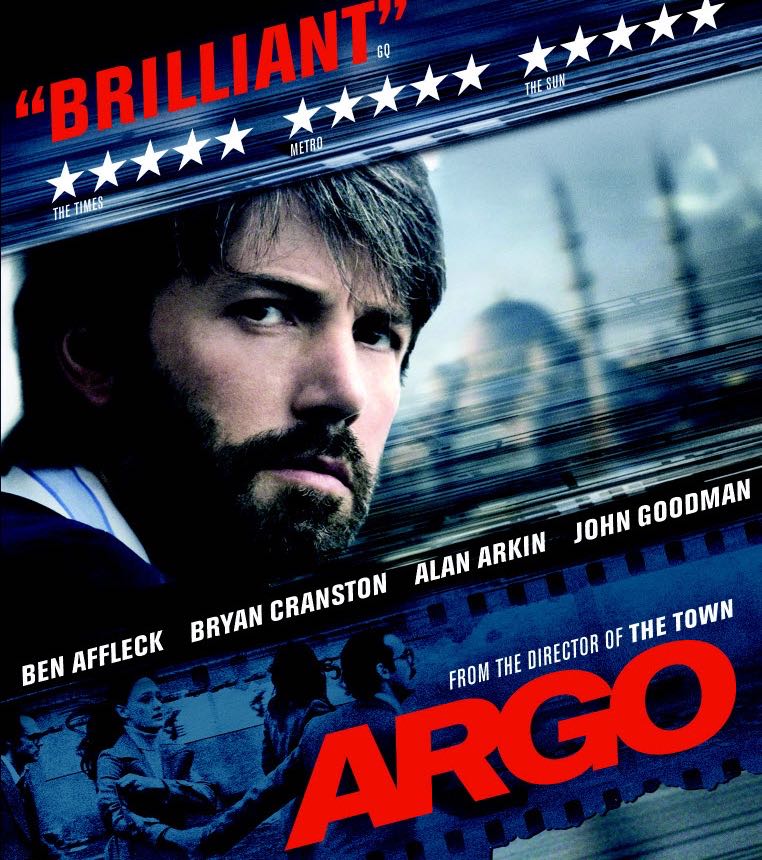 ARGO

"The fact is," Jonna went on to explain,"is that the 'house guests' – the people he rescued – drank themselves silly for the 86 days they were there. When you're in a foreign country where alcohol is forbidden like India was when I lived there, you have these TGIF parties at the various embassies, and it's a big deal. Every Friday, one embassy is in charge of the alcohol for TGIF. It's always the same groups – the Canadians, it's the Brits, it's the New Zealanders, it's the predictable.  Americans are a predictable crowd. In Tehran, right before that revolution that took over our embassy, it was Canada's turn. This truck pulled up at the Canadian ambassador's residence and off-loaded a mountain of alcohol. When these six Americans turned up, they proceeded to drink it. They said that they had a scorched earth policy about the alcohol; they were leaving none for the Iranians. It was a goal. This is a solid, rock solid group of people, but they were in special circumstances. They drank and they played Scrabble. They played so much Scrabble because there was no TV.  When it was all over and done and they were out and they were back at the State Department after they'd been rescued, Hasbro (who makes Scrabble) sent each one of them a personalized Scrabble set with a leather case and initials."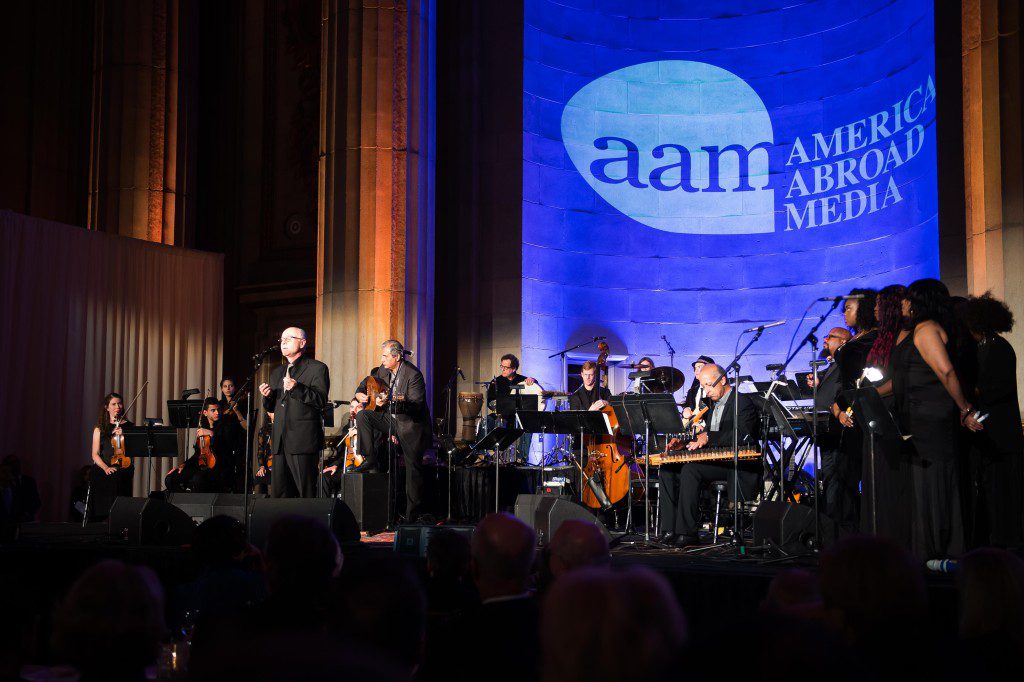 One guest, who we suspect preferred to remain anonymous, relayed how on the only day they went out on their own, they got lost. They had to find their way back without drawing attention to themselves and that freaked them out so much they never went out again.  It was during the first three or four days. "So, we were out in a part of town that no one was familiar with. It was kind of scary and spooky. There was a night watchman in that area whose procedure was to blow a whistle about every twenty minutes while he was walking around at night. It might be right below your bedroom window like at two AM.  Eventually, we ended up with the Canadians and from then on our day to day lives felt more comfortable. We were there for almost four months. We were able to eat and drink, we played games that were fun: Bridge, Monopoly, Scrabble."
"I read twenty-seven books during that time," he added. "My friend Mark, he read over fifty. The thing was, we were still paying attention to what was going on, but time was going by. As I said, we were comfortable, but there's always a thing in the back of your head, 'What could happen? It's coming.' Anyway, we were getting [to the point] that we tried to take things in a light manner, so I said, 'well, we're here and what's going to happen when we get back? What's The State Department going to say?'  Then suddenly Tony and his colleague showed up and explained the agenda.'This is the procedure, we've got this plan, the Canadian Film Company plan,' which was in such great detail. It was so thoughtful. Tony was like,'Do you want to play a role?' I said, 'Yes.'  I actually started to get the feeling that this is kind of fun, really. I thought about that later though when I found out more about what was going on behind the scenes; that it wasn't as much fun as I thought. We're all good friends to this day and we kept in touch over the years."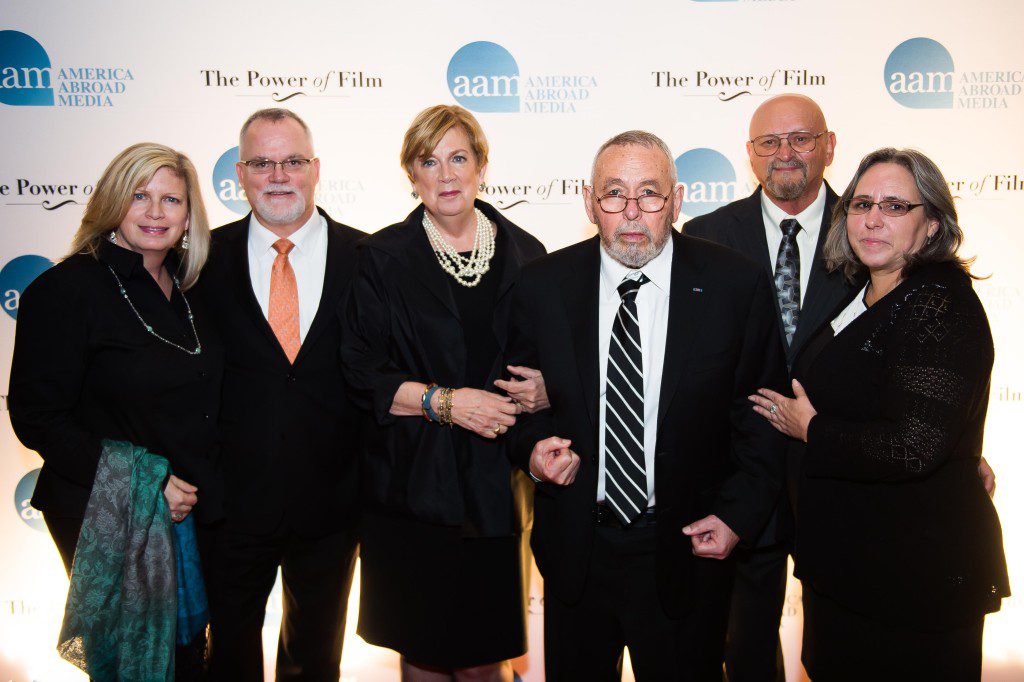 Heidi and Greg Falkenstein – Jonna Mendez – Tony Mendez – Gary and Amanda Castle
America Abroad Media is a registered 501(c)(3) whose mission is to promote the free exchange of ideas and foster critical thinking through the development and dissemination of seminal media programming. The evening honored four outstanding leaders whose work exemplifies the power of media to inform, educate, and empower citizens about the critical social and public policy issues of our time.
This year's honorees included two highly-praised films: Argo, and Difret, the Ethiopian docu-drama and winner of the 2014 World Cinema Dramatic Audience Award at the Sundance Film Festival. Honored ARGO guests included real-life house-guests and key figures depicted in the film, including Pat Taylor (wife of the late Canadian Ambassador Ken Taylor), Mark and Cora Lijek and Bob Anders.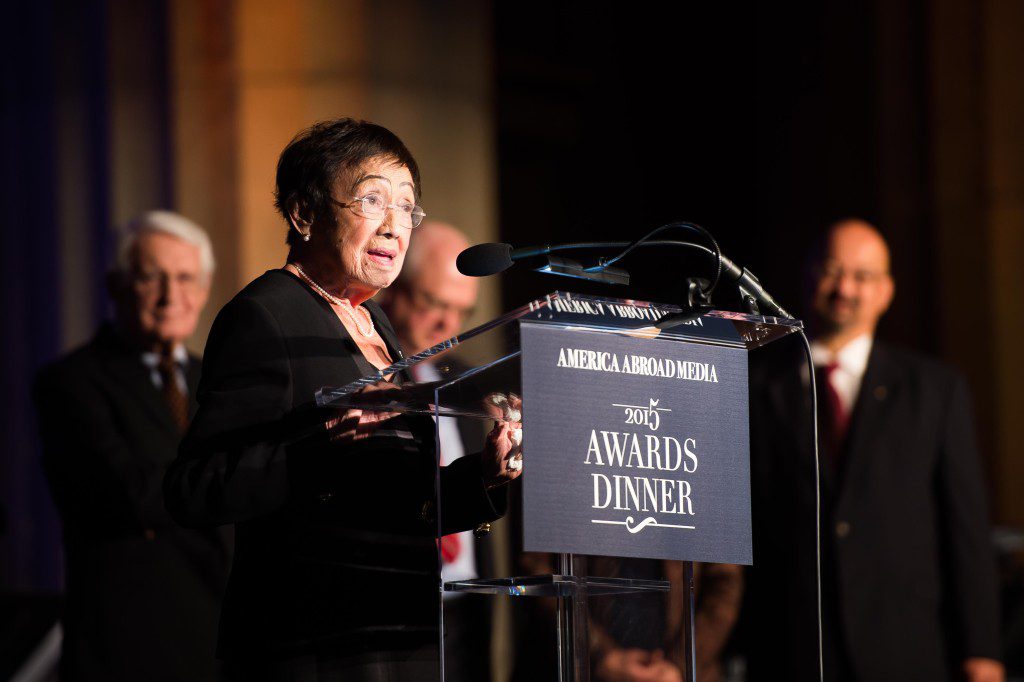 Pat Taylor, widow of the late Canadian Ambassador Ken Taylor
We chatted with the Lijeks. "I worked at the consulate part time," said Cora, "and Mark and I are two of the six Americans who were hidden by the Canadians for three months until we were taken out of the country by the CIA."  Both were played in ARGO.  Clea Duvall played Cora and Christopher Denham played Mark. "Christopher Denham played a lunatic on Shutter Island before he played me," said Mark. "We were young and stupid so probably not as fearful as we should have been and you do stupid things when you're young. Also, you don't have a lot of choice. We were, after three months or whatever it was … 78 days,we were hiding with the Canadians. We just figured we had to go on because staying was not safe either. There was no safe option. The longer we stayed, the more the chance was that something would go wrong and we would be caught, and we would not only be in trouble ourselves, but the Canadians would then be in difficulties because they helped us. There really wasn't any choice except to leave."
"We were part of making the fake movie," Lijeks further explained. "Cora was the writer of the screenplay and I was the transportation coordinators, location scouts. There were supposedly eight of us including Tony Mendez and his CIA associate and then the six of us that were in hiding with the Canadians.  Five of us were State Department, one guy worked for the Department of Agriculture.  We work together. We're assigned to embassies and they are as well. There were CIA people in Tehran, obviously, assigned. In fact, one was supposed to be here tonight but couldn't come because of conflicts. Over the years, if you're in the foreign service you will work with the CIA. It's pretty hard not to. Most people don't have a problem with that and I think we understand they do important work and try to help them do it. For the most part though, what they do is very different from what we do."
"I think the best part of our experience there was the people we met who helped us," Mark told us. "The worst, I guess, was seeing what happened to our friends in the embassy, the hostages, and how poorly they were treated and how long it was before they were released. I mean, that was terrible. That was very difficult for us to watch because we couldn't help them. Nobody could help them." "I have to agree with Mark," said Cora. "The Canadians who helped us were amazing, and not just the Canadians, there were other people who helped us along the way before we got to the Canadians. At the beginning, there was TV coverage of the hostages and it was very sad to see what was happening there. Somehow the TV broke and we kind of wondered if our host broke it for us so we wouldn't be watching that kind of news. They figured it was too difficult."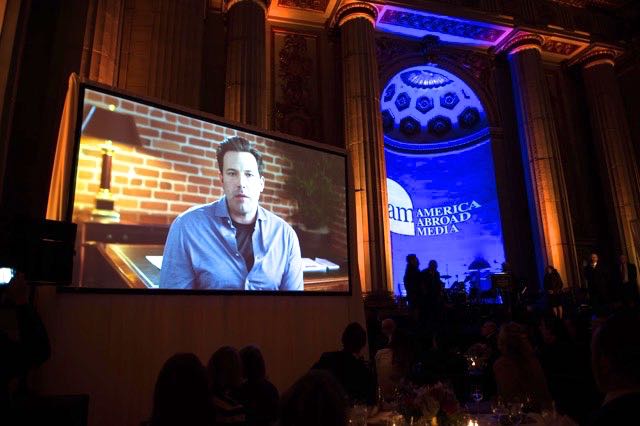 After Pat Taylor received a standing ovation from the crowd to honor her late husband, actor and director Ben Affleck appeared on-screen to thank AAM for the prestigious award. Guests accepting the award for Difret included the film's director Zeresenay Mehari and producer Mehret Mandefro as well as real-life subjects of the film Meaza Ashenafi and Aberash Diriba. Individual honorees in attendance included Turkish journalist and broadcaster Mithat Bereket and Emirati media executive Noura Al Kaabi, CEO of twofour54 Abu Dhabi. Aaron Lobel, founder and president of AAM, said, "We are truly delighted to be honoring Noura Al Kaabi, a dynamic and outstanding leader. Her enormous contribution to the success of the media sector in Abu Dhabi, as well as her personality and leadership style, is an inspiration to women in the UAE and across the Middle East."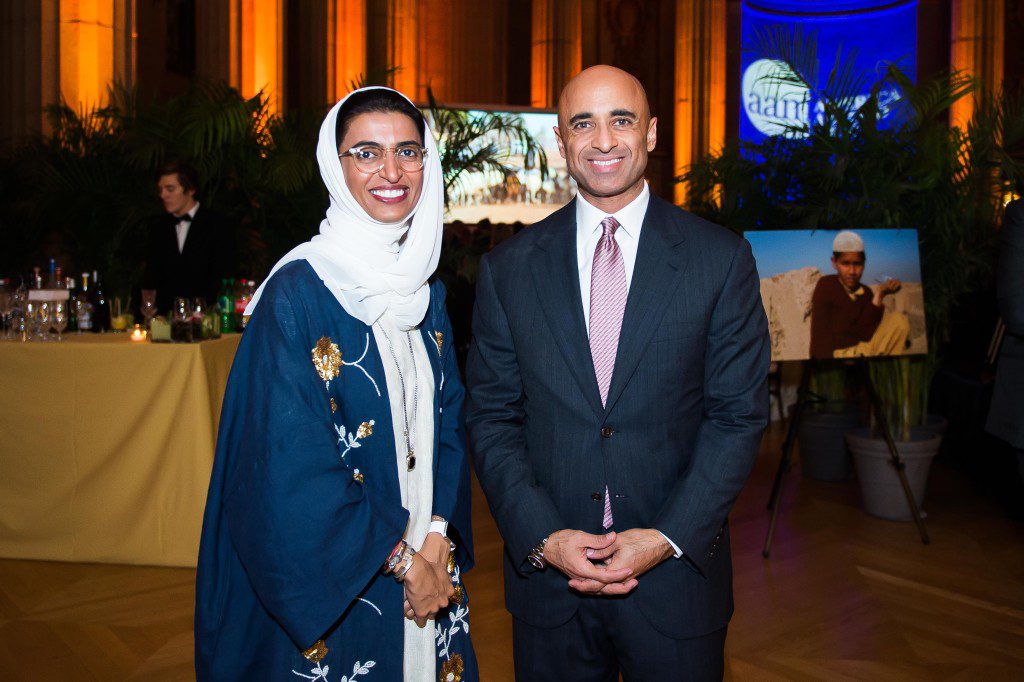 Noura Al Kaabi and UAE Ambassador Yousef Al Otaiba
General Michael Hayden: "I'm really proud to be part of this as co-chair of the dinner. Let me first thank my co-chairs here, Dina Powell, Leigh Hamilton, Lestor Crown. This awards dinner is very timely again this year because we're meeting at a time when the world is facing increased instability and conflict, particularly in the greater Middle East. I believe so strongly in the work that AAM does because the media, in all of its forms, in every country, has so much potential to be a force for good, a force that actually facilitates honest, civil discussion with values of pluralism and critical thinking. That's why it's so important for us to be gathering here tonight to honor folks who make that possible: Filmmakers, journalists and media leaders from around the world. These are people who are making an enormous difference every day and they deserve our recognition, and they deserve to be saluted."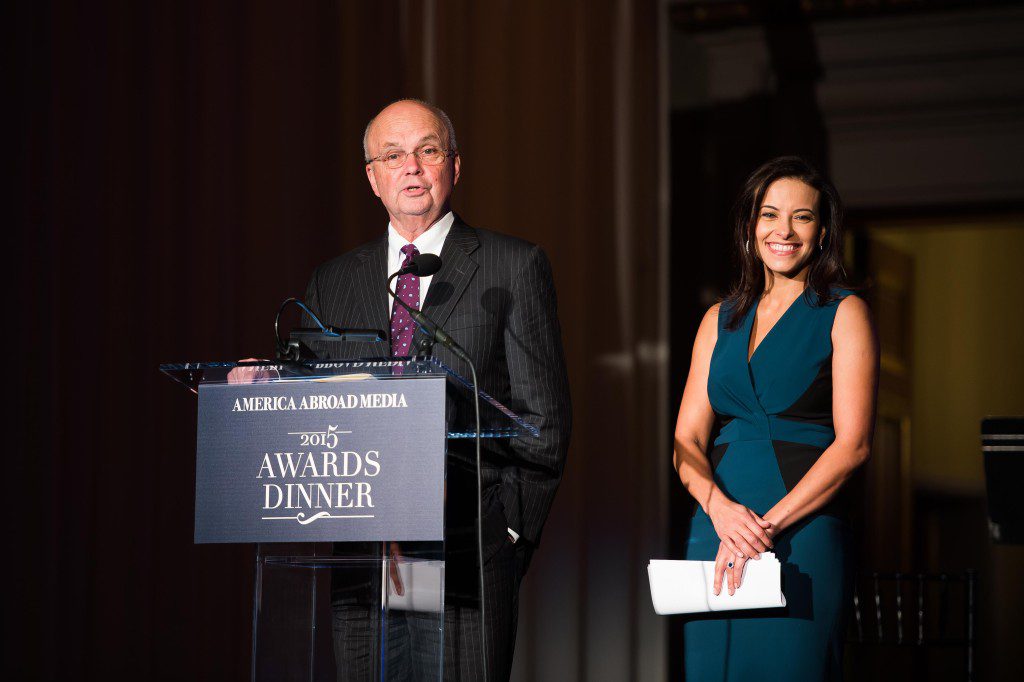 General Mike Hayden and Dina Powell
Dina Powell: "I am so honored to co-host tonight's evening with you. It was a privilege working with General Hayden in government, and I do know that I speak on behalf of everyone in this room when I sincerely thank you for your service to our country. General Hayden put it so well that we gather tonight during a time where in every corner of the world we are witnessing political strife, war and conflict, and one of the greatest humanitarian crises of our time. The work of America Abroad Media could not be more important at this time. We know that the values promoted by these journalists and great media leaders are central to not only these national security priorities of The United States, but those of our allies and they are central to addressing so much of this human suffering."
"Our first honoree Mithat Bereket is the recipient of the AAM partner award. That's because he's been one of AAM's closest partners, and closest friend for more than a decade. Who better to present this award than somebody who works directly with Mithat and who's one of America's most respected journalists and television anchors. I'm delighted to call on Judy Woodruff to present the award."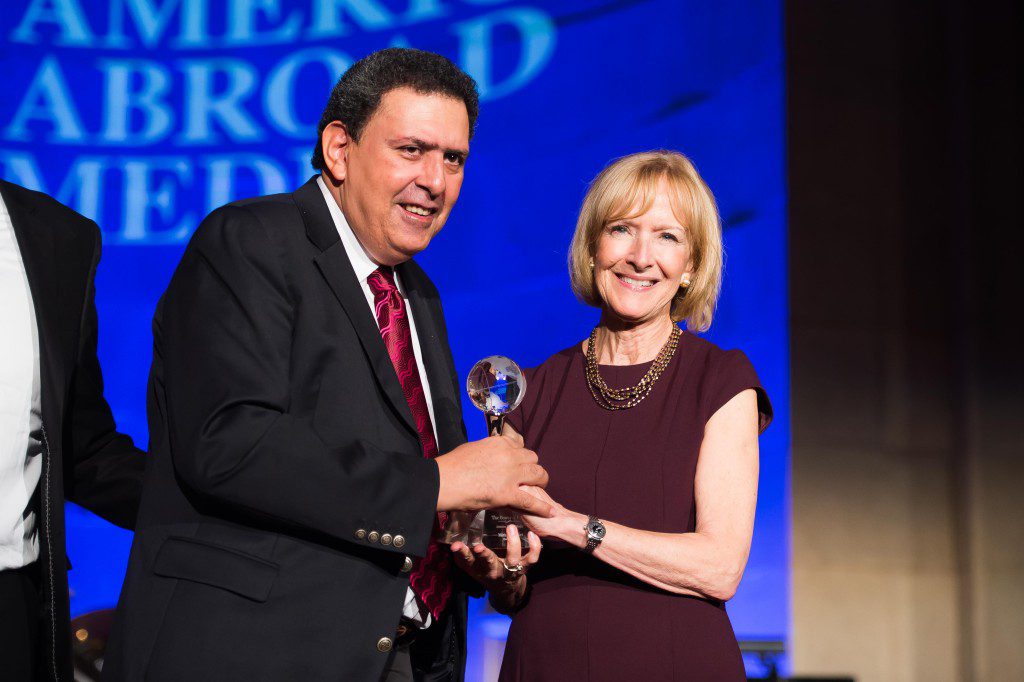 Honoree Mithat Bereket and Judy Woodruff
Judy Woodruff.:  "You have been a great partner to America Abroad Media and somebody I've had the pleasure of working with. Mithat has had, as you will see, an esteemed career in Turkish television.  I just want to say we are especially honored to have Mithat here tonight because the last few years he has been battling a form of Parkinson's disease, but he was able to make this trip to Washington with his brother Ozer Bereket and we are so delighted that they came to accept this award in person."
Ozer Bereket: "I am the younger brother of Mithat. I take this opportunity to convey his feelings nowadays. It is really important for him and he has been going on and on about how proud he is feeling lately for receiving this prize.  He always tells me that your real successes in this life are not the ups and downs in your career, it is your collection of people that makes a difference at the end of the day. Mithat says he considers himself a lucky person because he collected all these people in his lifetime. He is thankful for the huge family."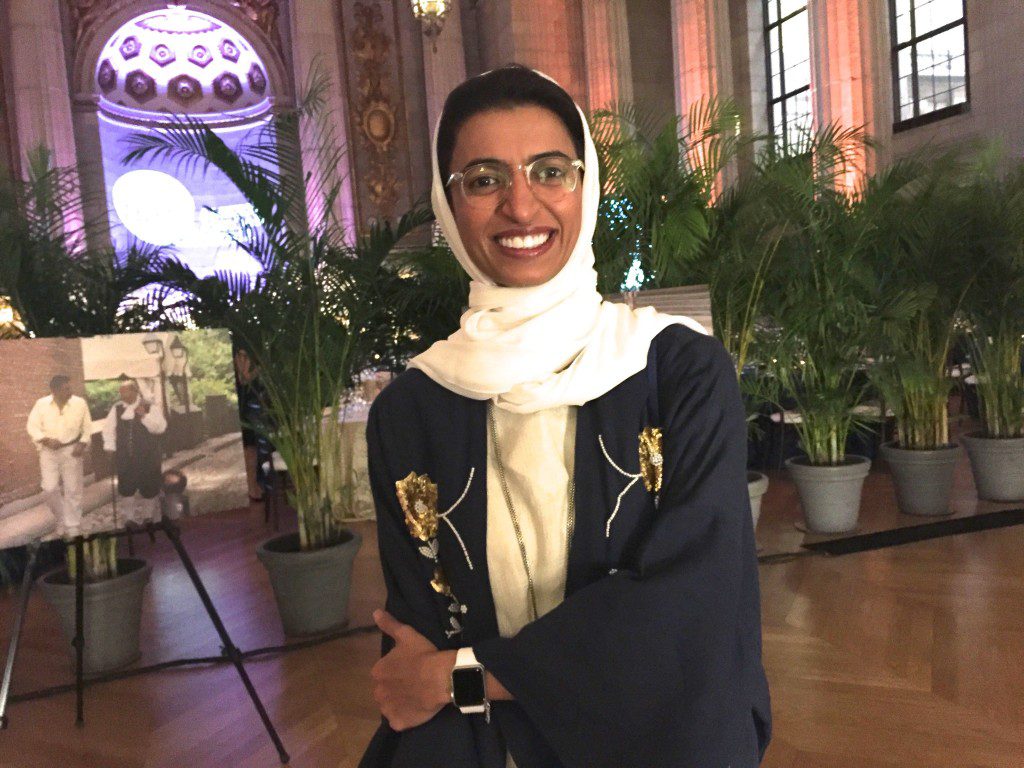 Noura Al Kaabi    Photo credit: Janet Donovan
"I'm honored today to be chosen to be one of the honorees," Noura Al Kaabi told Hollywood on the Potomac prior to receiving her award. Noura is an Emirati who holds positions in business and public life. She is a member of the Federal National Council of the United Arab Emirates and CEO of twofour54 and of the Media Zone Authority Abu Dhabi.  "They looked into certain profiles," she said of being chosen for an award,  "and maybe they saw what we'd been doing. We have our great stories and we have our issues. I think the media world is doing their job and enlightening. I work in Abu Dhabi in the media sector. I am a government servant, yet we work with more than 400 private companies. Fortunately we have a society and we have a government and a leadership that they believe in the world of women. They believe in the role of education and building human capital. The women graduates are surprisingly high. Even in the workforce, more than 60% of government entities are women. In the beginning you see more women in the education sector. Then it moves to the manufacture sector and technology and air force and so on. There are more positive stories. They can reach across the workforce."

Ms. Al Kaabi was introduced as a strong woman women with a remarkable spirit, strength and poise and a role model for so many women, not just in the Middle East.  Her name Nora means light in Arabic. "The power of media is very vital, especially from where I come from. I come from a place of tolerance and having more than 200 nationalities among us. It is so important in the media to inform, to educate, and also to empower. I thank everyone who is working on portraying an objective, or an accurate image of the Arab world. I hope that we will all work together on that one goal."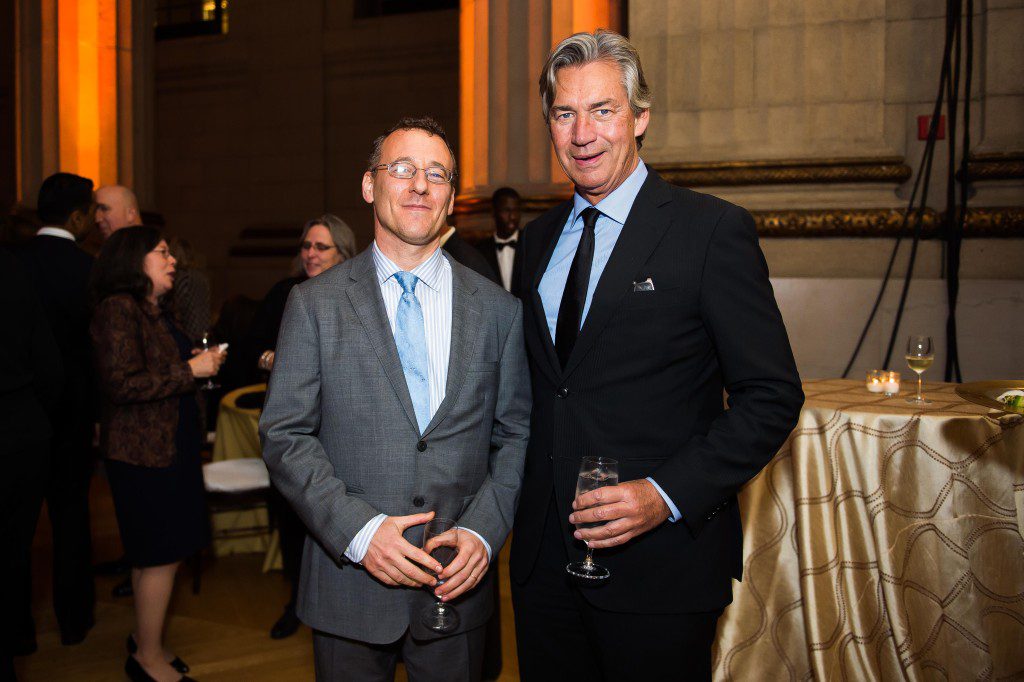 AAM Founder and President Aaron Lobel and Canadian Ambassador to the US Gary Doer
Congresswoman Betty McCollum passed legislation in 2013 mandating that child marriage be a priority for US foreign policy and foreign assistance programs around the world. "We know child marriage is a violation of a girls' most basic human rights. Unfortunately, UNICEF estimates there's 250,000,000 women around the world who are married before they turn 15. Today, I've met 2 of them in my office.  For many adolescent girls forced into marriage, the future is bleak. They lose their chance to attend school. Any opportunity to work outside the home is severely limited. They have serious health risks that threaten their young lives including the risk of contracting HIV and dying in child birth. It is not a future any of us would want for ourselves, for our children, for our granddaughters."
"This powerful film Difret tells a story of a 14 year old girl who refused to accept her fate as a child bride," McCollum continued. "One film reviewer wrote, 'in this case, 1 girl, 1 life, 1 lawyer' against individuals who would crush that girl with the weight of generations of tradition. We're here to honor the film's producer Mehret. We are especially honored also to have the 2 women whose story the film tells so movingly; Meaza Ashenafi, human rights attorney and Founder of the Ethiopian Women Lawyers Association, and an activist for women and girls for working to establish their own nonprofit, to raise awareness about child marriage and violence against women. Their names are names to be cherished and honored for bringing the story forward."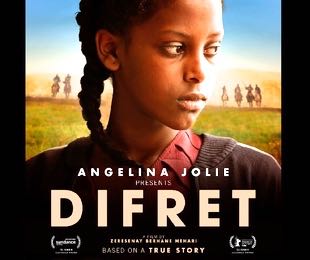 Zeresenay:  "My name is Zeresenay Berhane Mehari. I'm the writer, director of the film Difret. Angelina would have loved to be here, but she is in Cambodia right now working on her next film. She did send me a message to read to you guys.  It goes, 'Good evening everyone. I am sorry I cannot be with you tonight. I was drawn to Difret by the power of its message, and by the beauty of the film making and performances. It is an important and inspiring film. It reminds us that countless girls around the world continue to be subjected to forced marriage and sexual violence. It shows that laws and harmful traditions can be changed so that societies improve for the better. I pay tribute to Aberash Bekele and Meaza Ashenafi – the 2 remarkable women at the heart of the story whom I admire deeply. You remind us that courageous individuals really can make a difference. I congratulate all the actors, particularly Meron, and Tizita with the first time actors in the film on their moving performances; and I thank Zeresenay and Mehret and the entire different team for their vision. I hope you will all continue to make films that share untold stories about Ethiopia and that address vital social issues and advanced the art of film making." Angelina Jolie Pitt.
Aberash: "It is an honor to accept this award for myself and for the film. Meaza plays a big role in my life. Meaza first learned about my abduction through a radio. That's how she found me, and that's how the case started. Media had a big role in the case. It was the first time that a court case was broadcast live from the court room. It helped mobilize the people. It helped mobilize the society to talk about this horrible tradition. I'm one of the lucky ones. There are millions of girls who this happened to, but could not find voices, and their voices are not heard. Media is so important and we have a lot of work to do."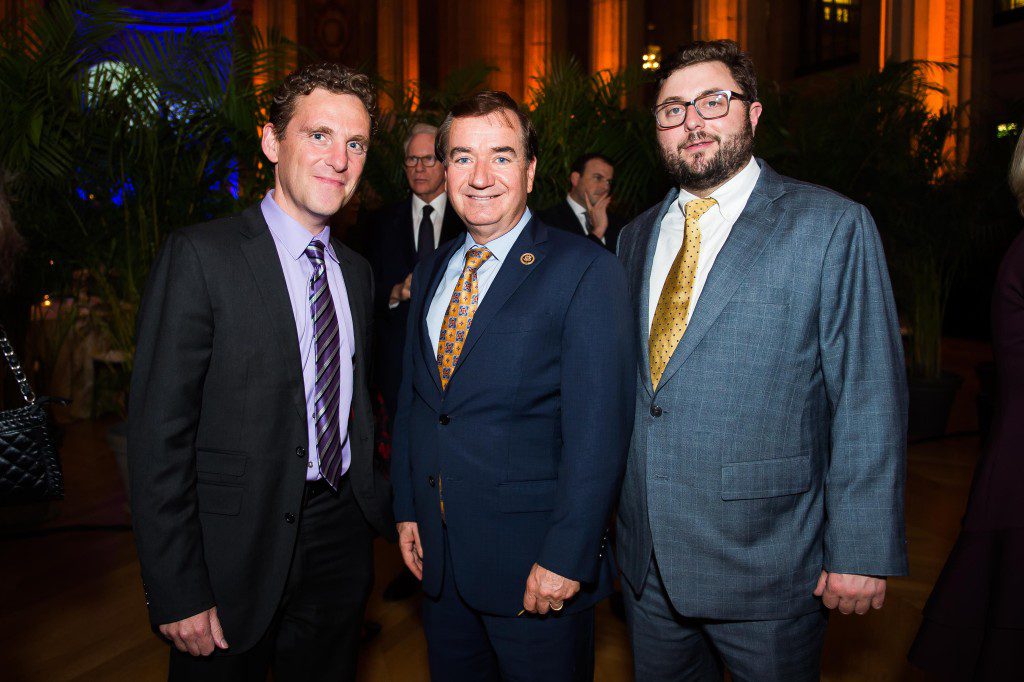 Mark Dubowitz – Congressman Edward Royce – Peter Freeman
Hollywood on the Potomac had a chance to talk with Cong. Ed Royce to discuss Tehran and ARGO: "I think one of the most important things we could do is to broadcast into Iran messages of political pluralism and tolerance and the truth about what is going on in Iran today. This year 2,000 political prisoners lost their lives in Iran, but without the United States playing the pivotal role that they played with radio liberty in the 1980s in the former Soviet Union and in the Eastern Bloc, Iranians are not going to have access to information that might tip the scales. At this point 2/3 of the people in Iran are opposed to a theocracy and want a western style democracy, just as we saw in Eastern Germany. The Gallup Polling around the world is done in each country. Those numbers are very reminiscent of the numbers in East Germany when I was on an exchange program years ago. But what happened with our programming in East Germany is we made it available for young East German emigres who had the pulse of the country and began those lesson plans on teaching political pluralism and tolerance and an evolution of the system there from the totalitarian system to one that would be welcoming of a democratic system, and the 2/3 opposition soon became 85% opposition. And at that point it was enough to change … to bring the pressure, to change the situation. Not only in East Germany, obviously, but also in Poland and the Czechoslovakia. This is the dynamic that we should deploy. So far we have not been successful, but we have strong bi-partisan support in congress."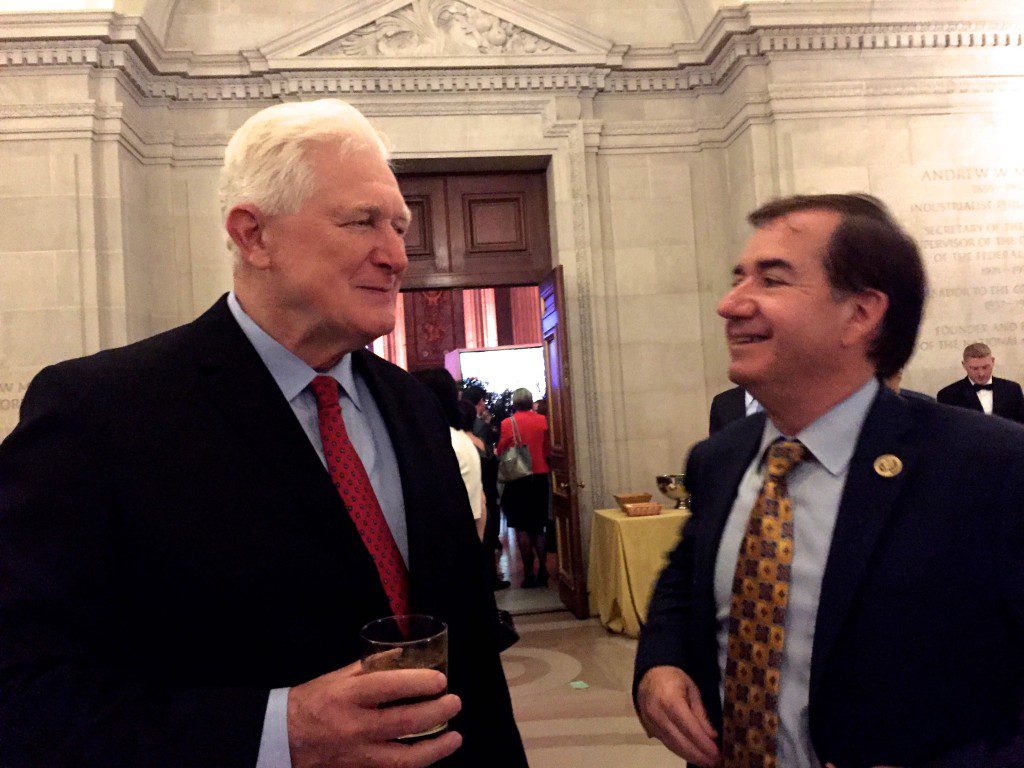 former Rep. Jim Moran (D-VA) and Rep. Ed Royce (R-CA)    Photo credit: Janet Donovan

On his background, Royce explained that he got his start when he was in college. "I became active in the Reagan youth organization; but what I was interested in at the time was the economy as an alternative to the soviet experiment and pushing of those principles and trying to introduce those ideas to eastern countries – those ideals to eastern Europe as part of the solution to the centrally planned and more totalitarian system that existed there. I've always had an interest in that and I believe where it's been tried it has worked very effectively in the past. I've sponsored legislation to expand radio through Asia to fund broadcasting towers and transmitters and to open up societies that don't have access."
Additional attendees included Ambassador Jim Jefferies, Ambassador Shaikh Abdullah bin Mohammed bin Rashid Al Khalifa of Bahrain, Ambassador Elin Suleymanov of Azerbaijani, Senator Mark Kirk, Congresswoman Shelia Lee Jackson, Lollywood actress Reema Khan, Quilliam Founding Chairman Maajid Nawaz,  former President of Bolivia Gonzalo Sánchez de Lozada, Assistant Secretary of State for Education and Cultural Affairs Evan Ryan, founders of Abu Dhabi Music and Arts Festival Mohamed and Hoda Kanoo, former Israeli Ambassador Martin Indyk and former Afghan Ambassador Said Jawad, among others.
The night ended with musical performances from Bassam Saba, one of the nation's leading figures of Arabic music.
Difret Trailer:
ARGO Trailer: