Sins of the Father…..
Photo credit: Creative Commons

"Segregation now, segregation tomorrow, and segregation forever." Those were the words delivered by then newly elected Alabama Governor George Corley Wallace, Jr. at his inaugural speech in 1963 and will always be remembered as one of the most powerful speeches against racial equality in American history.
His daughter Peggy Wallace was 12 at the time."I had a pretty normal childhood growing up, then in '63 in his inaugural address he said the words "segregation now, segregation tomorrow, and segregation forever," she told Hollywood on the Potomac. "I didn't really realize the full meaning of what that meant until he stood in the schoolhouse door at the University of Alabama. I was 13. I didn't understand the ramifications of that and what that meant for our family and what that was going to mean for me; and that it was going to be my legacy."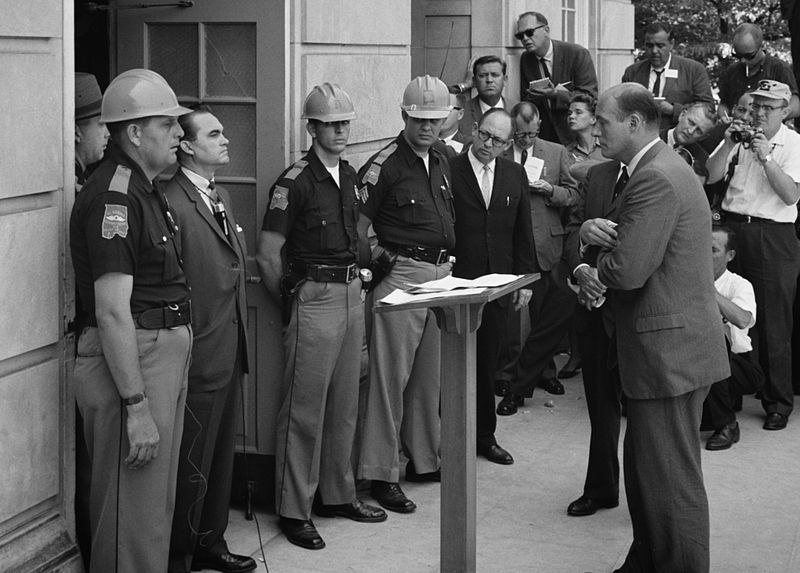 Governor Wallace at University of Alabama
The Stand in the Schoolhouse Door took place at Foster Auditorium at the University of Alabama in a symbolic attempt to keep his inaugural promise of "segregation now, segregation tomorrow, segregation forever" and stop the desegregation of schools by standing at the door of the auditorium in an attempt to block the entry of two black students, Vivian Malone and James Hood. "A few months later after that," Wallace Kennedy remembered, "4 little girls were killed in Birmingham and then when I was 15 years old is when the violence on the Edmund Pettus bridge happened with the beating of John Lewis and many many more by the Alabama State Troopers."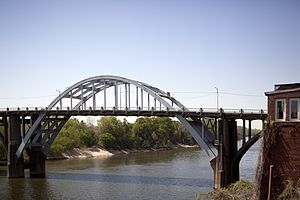 The Edmund Pettus bridge became a symbol of changes taking place in Alabama and the South. It was there that voting rights marchers were violently confronted by law enforcement personnel on March 7, 1965. The day became known as Bloody Sunday.  Some five months later, President Lyndon Johnson signed the Voting Rights Act of 1965.

Wallace Kennedy was in Washington for Black History Month at the McLean Community Center where she met up with an unlikely ally –  Lynda Bird Johnson Robb – to recount having to live with the legacy of her father's harmful rhetoric against Martin Luther King, Jr. and how she seeks reconciliation in her remarks, "A Walk to Redemption."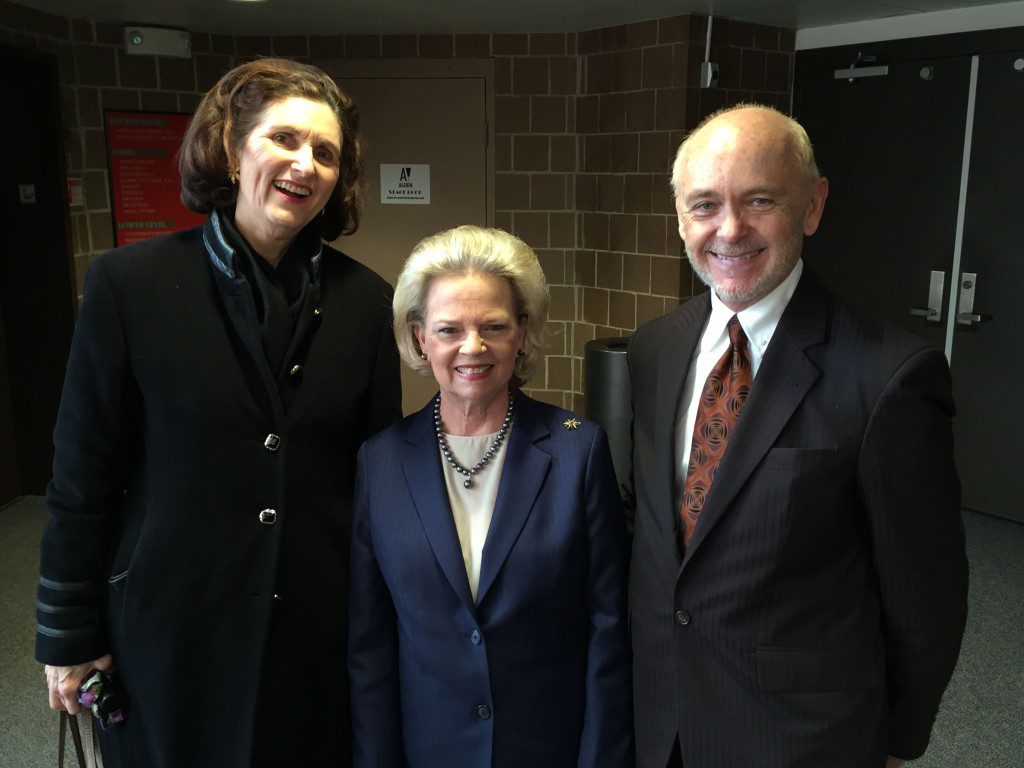 Peggy Wallace Kennedy and her husband, former Alabama Supreme Court Justice Mark Kennedy, with Lynda Bird Johnson Robb – Photo credit: Courtesy of Peggy Wallace Kennedy

"I really lived a life of quiet indifference and shut myself up behind the Alabama Governor's mansion gate. I never really expressed an opinion of any kind about my father's politics. I felt like I really shouldn't say anything even though my politics did not agree with his politics. I never really said anything. As I grew older, I married and had children and my legacy was living under the shadow of the school house door. I realized later, as my children were growing up, I did not want to have that legacy for them. I wanted to build a legacy of my own that I could leave for them. That's when in 2009, I walked across the Edmund Pettus bridge with (now Rep.D-GA) John Lewis and realized that love and reconciliation can heal the human heart. That's what I wanted to build my legacy on for my children to know that their mother had found her own voice and that she was building a legacy for them to be proud of; that I was going to speak up and speak out on racial harmony and racial equality and that we can all find our voice and believe in ourselves and love ourselves. We need to, because all of our lives count for something and we should always respect each other for each other's humanity. That's the legacy that I wanted to leave for my sons."
We probed into her family environment a little more to see what it was like growing up Wallace. "Let me ask you about your mother. Did she have any opposite views about the way he conducted himself or was she with the program, so to speak?"  "She really just was very quiet and stayed in the background," she recalled.  "She did I guess, agree with his policies. I never really heard her disagree. She was very quiet about it. She never was really outspoken about it at all. I never heard them speak about it or talk about it together. We never really talked about it in our family since politics was the family business. We just all just sort of kept our opinions to ourselves if we had one. I certainly did have one. I really am glad now that I've been able to express my opinions all these years later and let people know that I was against segregation and when my school, my high school, was integrated in 1967 pursuant to a court order, I so did want to go up to one of the African American students and welcome them. I could not because I was surrounded by guards. It was an opportunity lost for me to do that."
The fact that she kept her family name and is known as Peggy Wallace Kennedy did not go unnoticed.  So we asked her: "Why did you keep the family name if you were trying to back away from the political implications?"  "I kept the name because I want people to know who I am and that way they can identify me with my father and then that way, they can know that I am speaking up and speaking out and trying to leave a legacy for my sons that is different from the legacy that my father left for me."
We also wanted to know how the assassination attempt of 1972 affect him.  "I think that was the real main thing that changed his heart. I think he had a chance to reflect on the politics of his past. I believe that he suffered a lot of physical pain along with a lot of emotional pain," Wallace Kennedy remarked.  "I think that he saw how he had made others suffer, especially the African American community. I think it really softened his heart and I think it mended it heart. I think he did ask for forgiveness from the African American community and he asked the community to forgive him for his past deeds."
She also recalled that Shirley Chisholm (the first African American woman elected to the United States Congress – D. NY) and Ethel Kennedy went to visit him in the hospital. "I was there when they came to visit. It was an amazing moment when Shirley Chisholm came into that room and prayed with him. I believe my father's heart began to mend right then. You could see it. I saw it. It was just one of those things, you had to be there. I think that her influence of going there and seeing my father, visiting with him and praying with him, started to help mend his heart and helped him to realize that he needed to change."
"I hope to inspire people. I hope that other people will be inspired by what I have to say because all of our lives count for something. We can live a life of purpose. We can reach out and feel others and touch other people's lives. If I can find my voice, other people can find their voice. Everybody's voice counts for something. Like I said," she concluded, "we should respect others for their humanity. I just hope that I will help to bring racial healing and racial harmony and that's what I go around speaking about."