The Rhinestone Cowboy..
Photo credit: Creative Commons
July 11, 2012 for Washington Life Magazine
Grammy-winning musician and Alzheimer's champion Glen Campbell inspired everyone with his  Goodbye Tour.  Glen Campbell died today at 81.

Below is a feature I did for Washington Life Magazine in 2012:
Country music legend Glen Campbell still has it. Calling for action to end the epidemic of Alzheimer's disease, the musical star and his family are giving fans a run of free performances across the nation this summer. "It is wonderful having my kids join me on stage. I love it," says Campbell. "Ashley is on keyboards, Shannon plays guitar and Cal is on drums." They jammed and crooned on Capitol Hill for more than 60 members of Congress and supporters of the Alzheimer's Association, with Massachusetts Rep. Ed Markey, co-chairman of the bipartisan Congressional Task Force on Alzheimer's Disease, saying that "the fight against Alzheimer's has needed a Rhinestone Cowboy for a long time and now Glen Campbell is shining his spotlight on this epidemic, raising the awareness that is needed to ensure we meet the bold goal of curing the disease by 2025."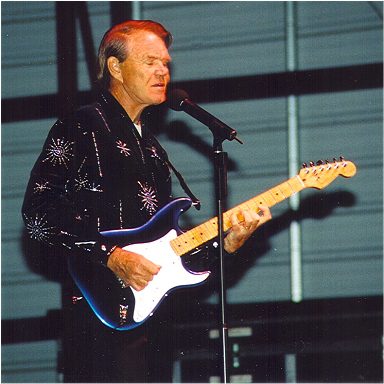 Glen Campbell
Campbell was 4 years old when he started to play on a ten-dollar guitar from Sears, a gift from his dad. "I had been walking only a couple of years when I began to try to strum one of our family's mandolins," he recalls. "My fingers wouldn't reach the chords, so dad sent away to Sears Roebuck for a three-quarter-size guitar. Our mailbox was at the Billstown Crossroads, two miles from our house, and I walked up there every day at the age of 4 to see if the guitar had arrived. When it finally did, you couldn't get it out of my hands."
His fingers reach the chords now, but a greater challenge awaits. Last June, Campbell announced that he had been diagnosed with Alzheimer's disease. "My record company suggested that I tell people I have Alzheimer's," Campbell says. "I talked it over with my family, manager and the other people involved in my business. We decided it was the right thing to do." Thus the "Goodbye Tour" and the feature documentary currently in production by filmmakers James Keach and Trevor Albert of PCH Films in Los Angeles.
By most anyone's standards, Glen Campbell has led a successful and rather tumultuous life. He's made the transition to a better life with the help of his wife Kim. "The Bible says that when you find a good woman, you find a good thing. Kim Campbell's my good thing. She's wonderful."
Reminiscing on his earliest days, the first music Campbell remembers was in the Church of Christ where they didn't allow musical instruments. "The congregation sang alone. My dad and mom took all of us to church and we sat together in one row. I first learned to sing harmony inside that country sanctuary." But he also heard about an African-American church a few miles away in which the members sang fast music with heavy rhythms. He would hike over there, stand outside the window, rise on his bare tiptoes and peek inside at the congregants rolling on the floor and running in the aisles.
"They were thoroughly caught up in the spirit and the music. It was my first experience of seeing how moving music could be to people. I had never seen so much unleashed passion, and hungered to be around the rhythm and music that I felt as much as heard coming from that impoverished clapboard church.
"'Rhinestone Cowboy' is a great song with a lot of truth," Campbell continues."I never get tired of singing it."
And to this very day, we never tire of hearing it.
Save