The Oscars: Hackshaw Ridge
Photo credit: Brendan Kownacki

Mel Gibson's Hacksaw Ridge has been nominated for Best Picture and Gibson as Best Director for an Oscar.  What are the chances of either winning?  Unfortunately, because of Gibson's personal problems, probably none; but I'm going for it (need to see two more nominated films first).  So far, in contrast to the other films seen, it's a standout.  Look for final predictions by the 26th of February.
This article posted on October 30th:
One of the greatest heroes in American History never fired a bullet!  That hero was WWII American Army Medic Desmond T. Doss who served during the Battle of Okinawa. He refused to bear arms and kill people over his religious upholding of the Sixth Commandment, "Thou shalt not kill."  He became the first Conscientious Objector in American history to be awarded the Medal of Honor for highhandedly rescuing roughly 75 of his wounded comrades while under heavy mortar and gunfire. 
President Truman awarded Doss the Medal of Honor on October 12, 1945. "When my time came, I went up," said Doss of the ceremony. "President Truman, he came out and he stepped over the line, he caught me by my hands, shook my hand like I was an old-time friend, somebody he had known all his life. He didn't even give me a chance to get nervous." exerpt from Medal of Honor: Oral Histories. Doss died on March 23, 2006.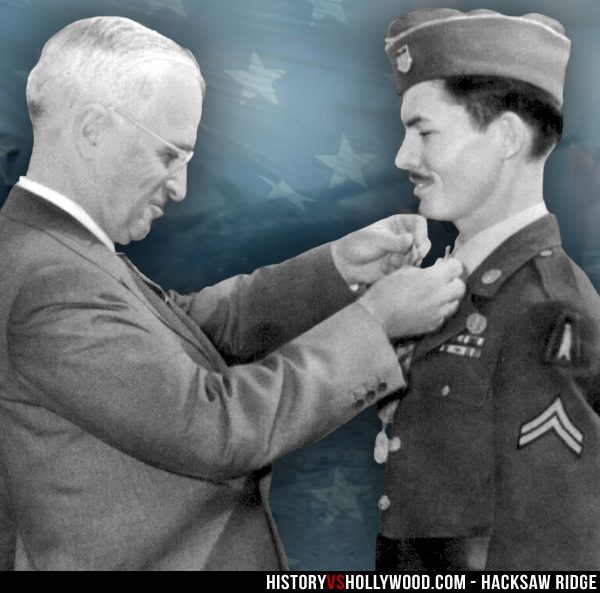 President Truman and Desmond Doss    Photo credit: Creative Commons
Hacksaw Ridge is a 2016 Australian-American World War II biographical film directed by Mel Gibson and written by Andrew Knight and Robert Schenkkan, based on the book by Booton Herndon. The film stars Andrew Garfield as Doss, Vince Vaughn, Sam Worthington, Luke Bracey, Hugo Weaving, Ryan Corr, Teresa Palmer, and Richard Pyros.  It had its world premiere on September 4th at the Venice Film Festival, where it received a 10-minute standing ovation. The film is scheduled to be released nationwide on November 4th.
A private screening for Hacksaw Ridge was held in Washington, DC at the US Navy Memorial Auditorium with Director Mel Gibson, Medal of Honor recipient Jack Jacobs,  actors Vince Vaughn & Luke Bracey in attendance.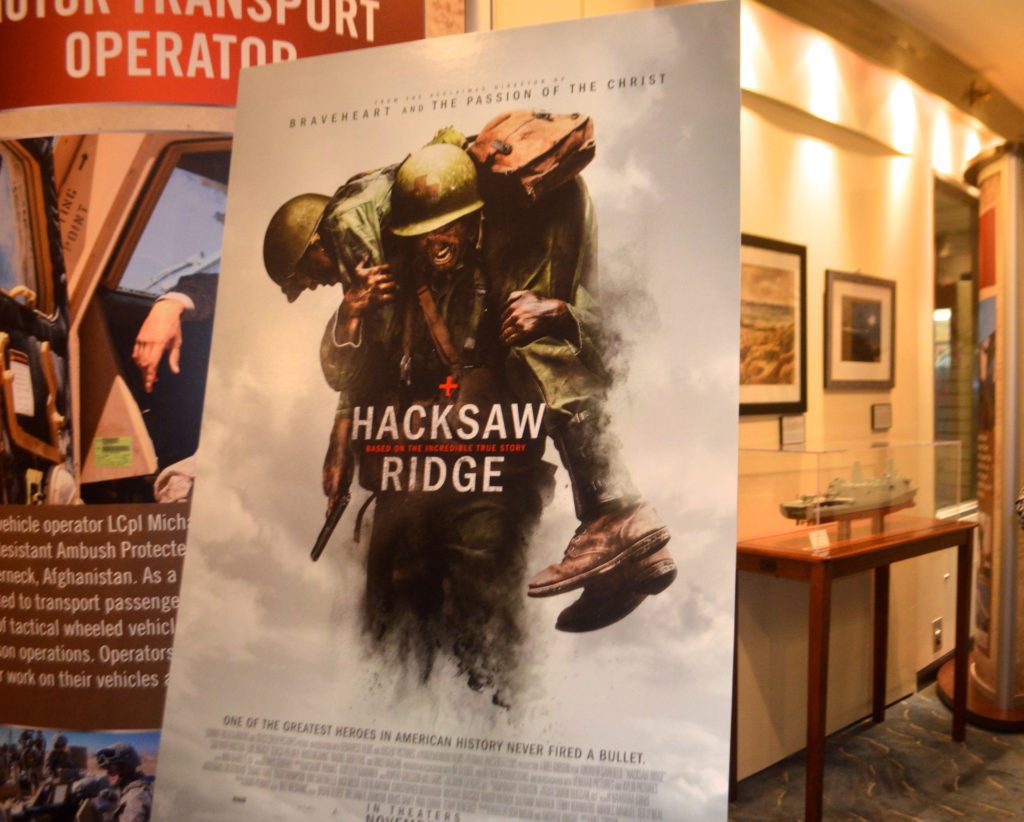 Photo credit: Janet Donovan

The Medal of Honor is the United States of America's highest military honor, awarded for personal acts of valor above and beyond the call of duty. The medal is awarded by the President of the United States in the name of the US Congress to US military personnel only.  Several years ago Hollywood on the Potomac attended the National Medal of Honor Day, an occasion that brought filmmaker Ed Hopper to DC where his film "Medal of Honor:A History" was shown at The Supreme Court.  It turns out that Hooper knew Col. Desmond Doss and gave us his take on knowing Doss personally.

"Desmond was old school like you would expect a World War II veteran to be," Hooper told us. "Whenever I had set up an educational program on The Medal of Honor for schools or events, he was always willing to come and speak to the children about his experiences. He was devoutly religious, as many recipients are, very soft-spoken with a good sense of humor. I'd tease him sometimes asking if I was going to have to fight the Seventh Day Adventists for his time because members would often "borrow" him to do double duty speaking at the local church."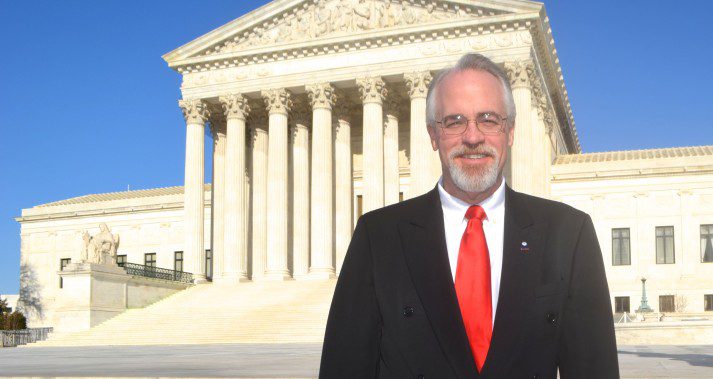 Ed Hooper Photo credit: Janet Donovan
'I wasn't a conscientious objector; I was an objector with a conscience,' he would tell the children. "Then he would clarify it to say he objected to war on religious grounds, but his conscience wouldn't let him shirk his duty to his nation or the countrymen who fought in his stead. He brought an interesting dynamic to the educational programs onstage and off. Desmond wouldn't be the only MOH recipients I'd have at the events and, while they all admired and respected each other, he was often a lamb in a den of lions. At the podium speaking, a conscientious objector who was also a patriot was something very few people had seen first-hand. Many times the audience sat in rapt silence listening and sometimes there were no questions from them."
Desmond Doss, Ed Hooper,  Col. Roger Donlon, MOH Vietnam and Rudi Hernandez, MOH Korea circa 2000 in Pigeon Forge. Photo credit: Courtesy of Ed Hooper
"One of the last educational programs we did was a Veterans Day program in Pigeon Forge, TN in 2000," Ed recalled.  'I'd got a copy of the 1959 episode of This is Your Life and we sat and watched it together. Like most recipients, he never saw himself as a hero. He was proud of the men he served with and doing his duty as a soldier. If you needed convincing as to why World War II veterans were called the United States' greatest generation, you had to meet Desmond Doss."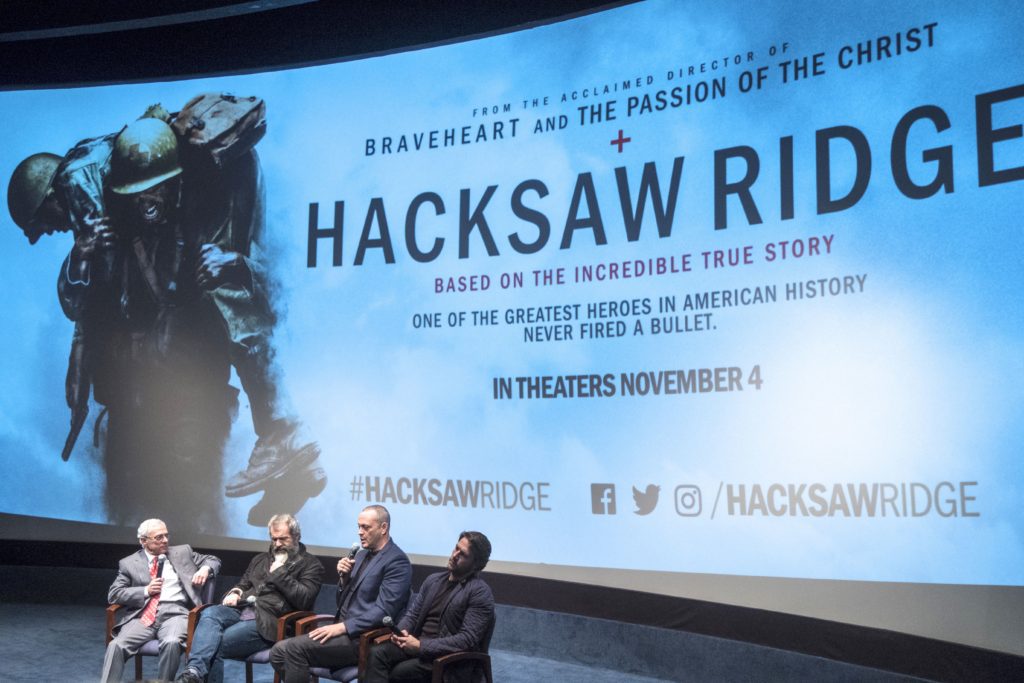 Guests included FOX NEWS correspondent Griff Jenkins and former deputy-director of the National Security Council Col. Oliver North who were glued in conversation most likely because Jenkins was the producer of North's radio show. North, who hosts War Stories on FOX figured it had to be a good movie since Gibson was the director.The Department of Defense had a strong showing. Former Senator Rick Santorum, who's a great fan of the movie, was there as well as Medal of Honor recipient Jack Jacobs who knew Desmond Doss personally for 30 years. Jacobs is currently a military analyst for NBC and MSNBC.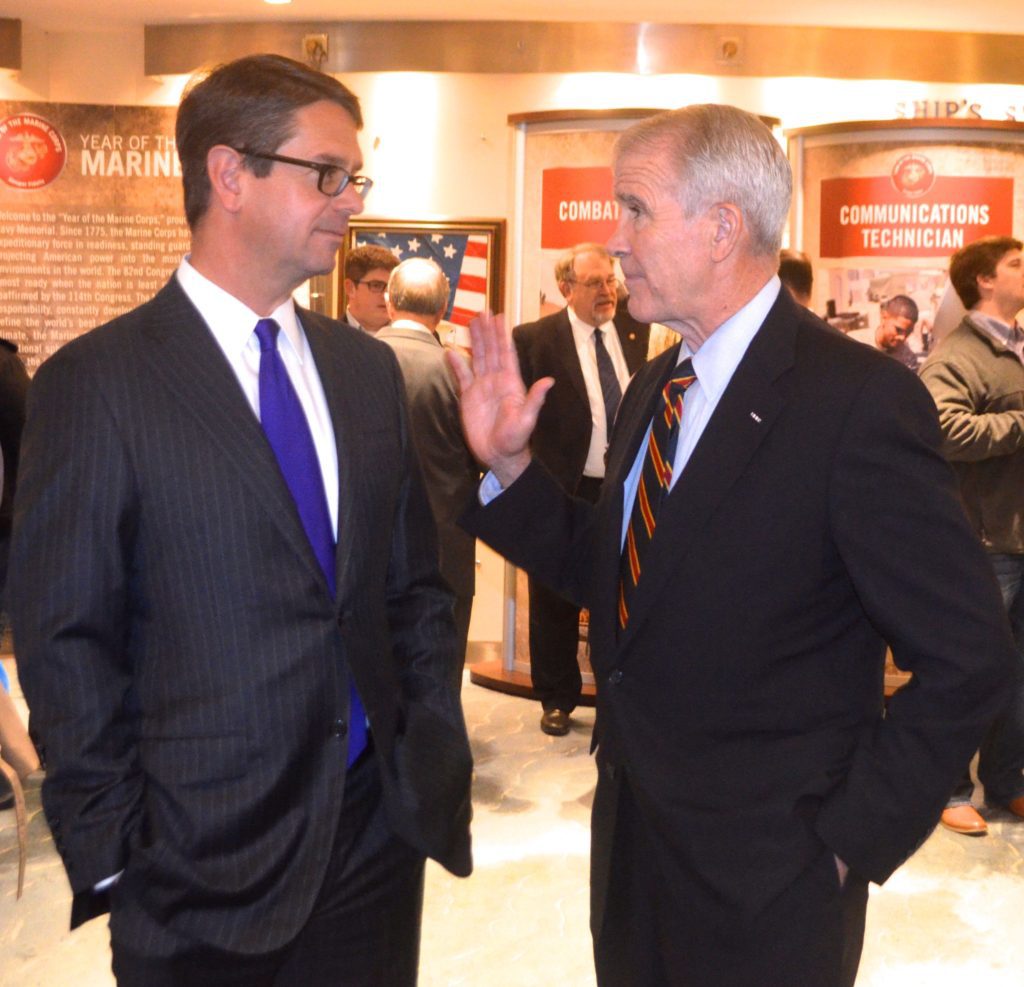 Griff Jenkins with Oliver North   Photo credit: Janet Donovan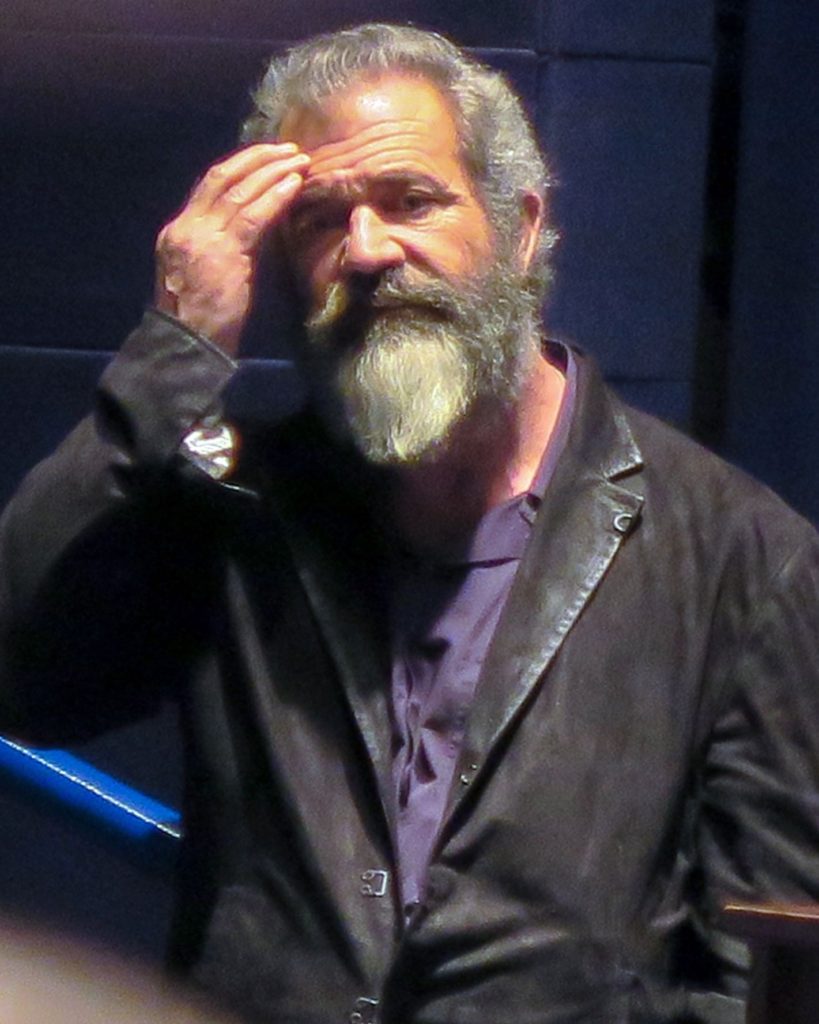 Mel Gibson
Gibson thanked the actors prior to the screening and the Australian "bloke" had a few words. "It's a really humbling experience learning about Desmond and being a part of this film," said Luke Bracey.  "The past couple of weeks I've had the honor of meeting a number of people who have served; not only Metal of Honor recipients, but all the people that I've met that have been part of the services. It's truly humbling as a bloke who pretends to be a hero, to meet actual ones and to hear their stories. I'm very thankful and really just proud to be a part of this story."
"You may have noticed he's Australian, we need a translator here," joked Gibson about Bracey. "The other very fine actor here is Vince Vaughn. This is not Wedding Crashers Vince Vaughn, this is Vince Vaughn in a great role. As a Drill Sergeant, he avoids all the cliches and walks in the minefield of places that have been pitched and finds his own voice."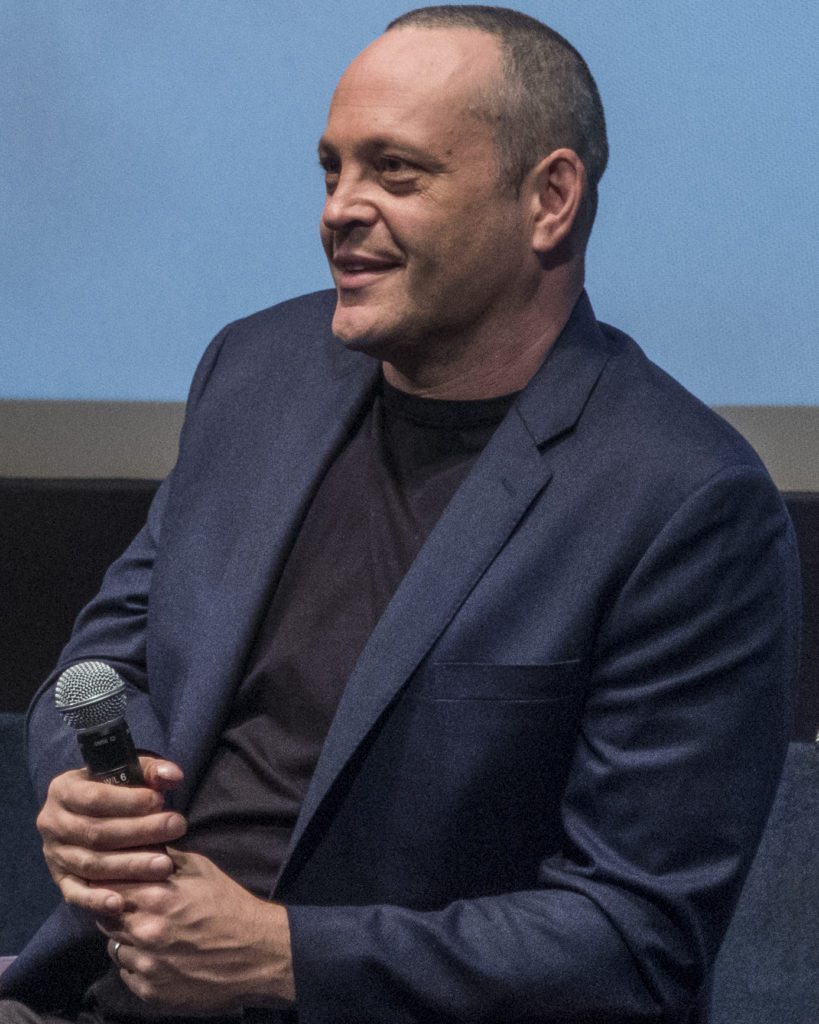 Vince Vaughn
"This was an important movie for me to make and to be a part of," responded Vaughn. "I have a lot of military in my family. Most of you know the Cubs are playing tonight in the World Series, so that I could make it to the movie tonight is actually beyond words. I want to thank all of you for your service and it's been a great privilege to be a part of this story of Desmond Doss and help bring it to light."
Lots of military guests were there including folks like George Madison from Arlington, Virginia.  "I'm a minister," he told us.  "A couple of points of interest, historically – my father was a war hero in the South Pacific, during World War II. He was a 1939 graduate of the United States Naval Academy and submarine school. He was a commander of a submarine in that particular part of the war, fighting the Japanese. He was a legitimate hero. If you fast forward a bunch of years ago, I moved to Washington and met Ollie. He, of course, has a distinguished military career but he and I met on a different basis. We had been meeting in a small group together, just men, four or five men, every Tuesday morning for thirty years. We share our issues. We talk about our lives. We read the Bible. We say prayers and it gives us strength to live. Those are two little power points. We are real friends and a lot of the issues in the world are caused by people not coming together in agreement. If you just did something simple like meet together and really talk honestly about life, you'd get a long way down the road. Those are just two points of interest for what it's worth."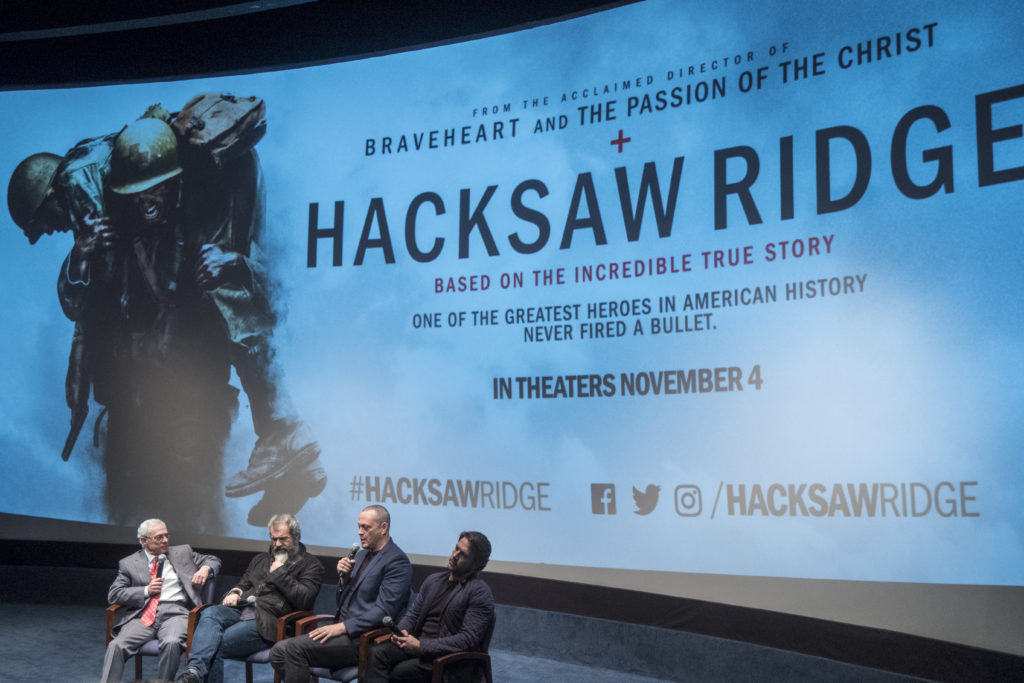 His wife Carol had her own story. "My relationship is through my father, Gareth Tanner. He was a waist gunner on B-17s and he flew 35 missions. He was based in Bassingbourn, England, part of the 91st, the 8th Air Force and the 91st Bomb Group, well-known, the same group as the Memphis Belle.  Well, he kept a log for each mission, just a small  one. He'd write maybe five or six sentences a day, essentially. He would just say where they flew, over what their target was. It would usually be factories and train stations in Germany. Then he would express a little bit of his personal emotions, not a lot, but a little. Enough to say like, 'The flack was really bad today. I'm glad we made it home.' That kind of thing. He did this for all 35 missions and then he came home and he gave a copy to his three daughters. They have this close to their hearts. I think we will give his original, full journals, either to the [Smithsonian] or actually to The Tower. The Tower in England is a museum." This was the gist of the night……………..everyone happy to be there and proud to tell their own family war stories.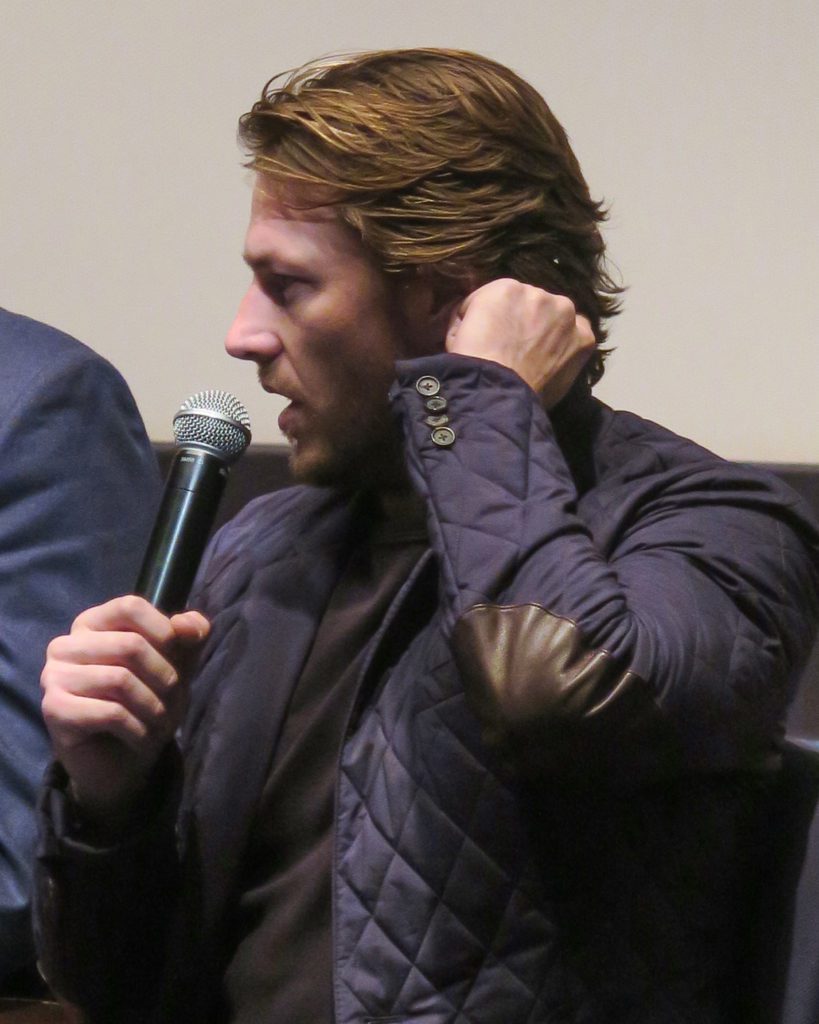 Director Mel Gibson introduces "Hacksaw Ridge"
The panel discussion:
Save
Save
Save
Save
Save
Save
Save
Save
Save
Save
Save
Save
Save
Save
Save
Save
Save
Save
Save
Save
Save
Save
Save
Save
Save
Save
Save
Save
Save
Save
Save
Save
Save
Save
Save
Save
Save
Save
Save
Save
Save
Save
Save
Save