We are still one….
by guest contributor Joe David
Photo credit: Patricia McDougall
"Although we are all different, we are still one!"
The ballroom at the National Press Club was packed to the brim for the Sustained Dialogue Institute's (SDI) annual awards dinner, which this year honored U.S. Supreme Court Associate Justice Ruth Bader Ginsburg for her lifetime dedication to the highest ideals of cautious change and thoughtful jurisprudence. Nearly 400 diplomats, socialites, and dignitaries, representing Washington's elite, came expectantly to mingle and meet one person.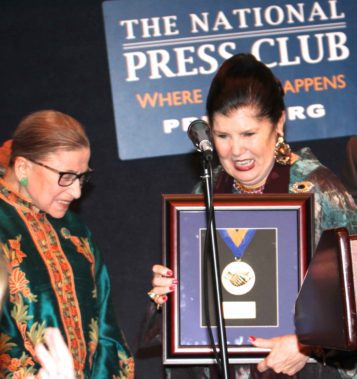 US Supreme Court Associate Justice Ruth Bader Ginsburg accepts National Dialogue Award from Judith Terra, Gala Chair
The gala dinner began with a silent tribute to SDI's founder, Dr. Harold "Hal" Saunders, who developed a model for sustained dialogue for resolving the conflicts dividing people. Beginning in the 1970s, he became a key participant in many peace processes. Two noteworthy achievements included bringing about the Camp David Accords between Israel-Egypt in 1978, and negotiating the Iran Hostage Crisis in 1981. For nearly 35 years, he developed and practiced a five-stage peace process for resolving conflict. In 1999, he founded the Sustained Dialogue Institute whose mission has been to develop leaders able to transform differences into positive relationships to end the divide between individuals and countries.
Rev Mark Farr, SDI, Susan E. Carmel Lehrman, recipient of the first Global Peacemaker Award, James Billington, Librarian of Congress Emeritus, presenter & Thomas Noll, author/children's books and Gala Host committee
"Too many people have lost their capacity or their will to listen thoughtfully, to talk respectfully, and to relate constructively," Reverend Mark Farr, President of SDI, said in reviewing Saunders contributions. "This, I believe, has damaged our civic life, our personal interactions, and our learning processes. If we are to achieve a healthy future, we must reverse this growing trend dividing us and give special attention to the plan for unity that Hal put into place a few years ago."
Each year someone is selected for SDI's most prestigious award. This year Ms. Ginsburg was chosen because of her lifetime dedication to cautious change and thoughtful jurisprudence. "Ms. Ginsburg has shown a strong adherence to the values which we at SDI strongly support," The Reverend Farr said. "It is an award that is reserved for leading Americans like her who seek to heal our nation, transcend its current divisions, and bring about equality and justice for all."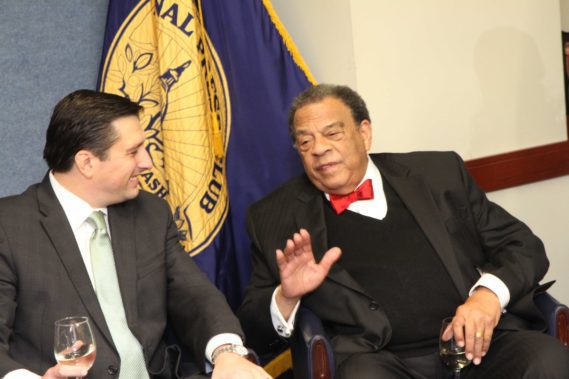 Andrew Gelfuso, VP, Ronald Reagan Building & International Trade Center and Ambassador Andrew Young, Honorary Gala Chair and author of new book on Atlanta
Ambassador Andrew Young identified the goals of SDI even more precisely, and said "there's no time more urgent than now for dialogue. Oftentimes in anger and frustration, we don't listen to what is said. This must change, and we must listen with our hearts and find the common good, which we all have, and share it in a dialogue of respect."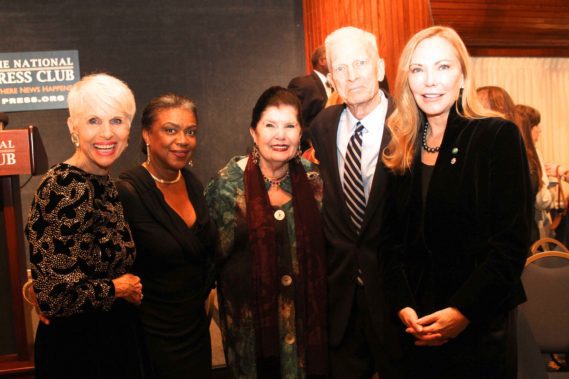 Jan Du Plain, SDI gala coordinator, Dame Pamela Gordon Banks, former chair DC Commission on Arts & Humanities, James Billington, Librarian of Congress Emeritus, and Susan E. Carmel Lehrman, honoree and founder Carmel Institute at American University
Susan E. Carmel Lehrman who received The First Global Peacemaker Award for her long-time commitment to building friendships between Russia and the United States emphasized the need to seek lasting connections. "Real change must come from the heart and can best be achieved by showing respect for other cultures. It is only then that we will be able to appreciate what Fyodor Dostoyevsky once said, 'Beauty will save the world'."
The award was presented to her by Dr. James H. Billington, The Librarian of Congress Emeritus, for her work with building cultural relations around the world, and especially with Russia.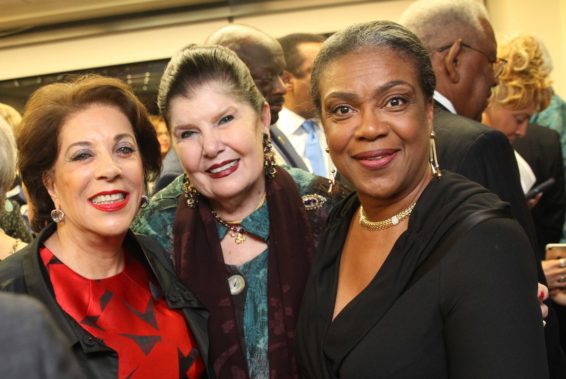 Shahin Mafi, Founder/Trustee, Azar Foundation for Children Around the Globe, Judith Terra, Dame Pamela Gordon Banks, former Premier of Bermuda

Judith F Terra, Gala Chair, Host Committee, introduced Justice Ginsburg, and awarded to her the Lifetime Achievement Award.  "Justice Ginsburg has used her special talent during her lifetime to the best of her ability and in the process, she has made things a little better for all of us by helping us repair the tears in society."
After graciously accepting the award, Justice Ginsburg summed up the entire purpose of the evening. "Through true dialogue and respect for peace, we will be able to change the world. Although we are all different, we are still one."
The 2016 Campus Awards were presented by Carolyn Magill to Bre Swims, Alumna of The University of Alabama, and Don J. Williams, of Saint Olaf college.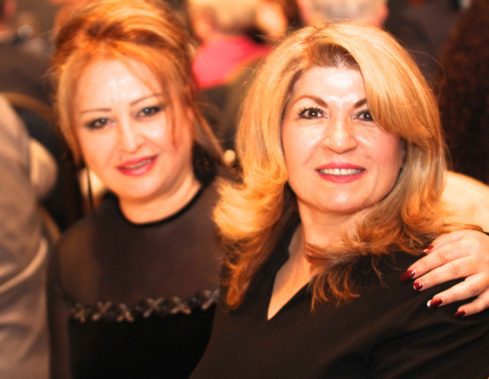 Lubana Al Quntar, opera singer from Syria and Salwa Al Dakheel, Founder, Free Syria Foundation
European trained, international-renowned opera singer, Damascus-born Lubana Al Quntar who has been uniting the world through song entertained the guests with her dramatic coloratura voice. Violinist and Founder/Artistic Director of the Ethno Musical Orchestra, Rafael Javadov, trained at the Tchaikovsky Music School in Russia, provided the music for the evening.
Andrew Gelfuso, VP (RRB/ITC), Jan Du Plain, Embassy Liaison, RRB/ITC , Dr.Gerard J. Janco, President, The Eurasia Center and Mrs. Janko
Among the many guest's present were HE. Ambassador & Mrs. John David Newman, (Botswana); HE Ambassador & Mrs. Roman Macaya Hayes, (Costa Rica); The Honorable Carol Schwartz; Tim Cox, Chair, Cultural Tourism DC; Barbara Hawthorne, Hawthorne Interior Designs; Dr. Gloria Herndon, President, GB Group Global; Aviva Kempner, award-winning documentary filmmaker; Roberta J. Cordano, Gallaudet College President; Ronald Mason President, UDC; Vincent Orange, President,  DC Chamber of Commerce; Rafit and Shaista Mahmood of Pakistan; Sheila Switzer and Dr. Joanna Athanasopoulos Owen of AAFSW; Doug Wheeler, former president of WPAS; Kevin Judd, President of the National Bar Association; Dr. Denise Mitchem of Atlanta;  Dr. Barbara Williams-Skinner, President, Skinner Leadership Institute ;  Dr. Anton Fedyashin, Director, Carmel Institute of Russian Culture and History, American University; Ambassador John O'Keefe, Alexander Potemkin, Constance Whitehead of the European Union delegation; Deborah Harrington, President/CEO, Energy Audits and Green Solutions, LLC; Jerome Ringo, CEO, Zoetic Global; to name a few. Master of Ceremonies Attorney Willie Gary of Florida and John Haynes III, Founder, Regeneration Leadership.
.
Save
Save
Save
Save
Save
Save
Save
Save
Save
Save