The Croissant Crowd!
Photo credit: Janet Donovan
It was a twofer celebration for Kellyanne Conway who was the guest of honor at The Four Seasons celebrating Women Leaders the day before the Inauguration hosted by the leaders of RightNow. Considered a valuable asset in moving Donald J. Trump past the goal post to win the election, she is now settled in at the White House as Counselor to the President. Not only was she celebrating her boss's win, but also her 50th birthday – her revelation, not ours.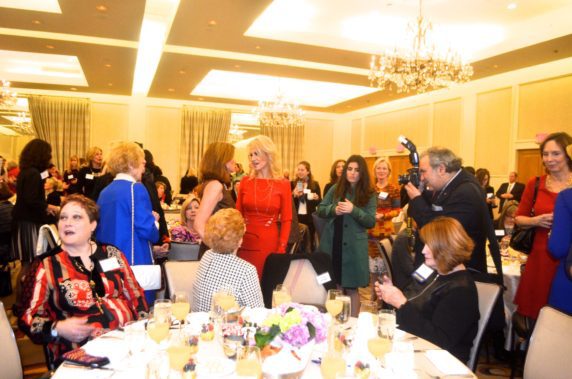 The program was introduced by Marlene Colucci-Renna while guests carb-stuffed on croissants. "I want to thank you all for celebrating our Democracy and the peaceful transition of the government from one President to the next."  Long time Conway friend Shelley Hymes introduced Kellyanne and Harris Faulkner, Fox News Host. "She has the ability to stay calm and not get rattled or angry and always keeps the show together.  She is an incredible referee," said Hymes when introducing Harris.  "You probably know her best as the first woman to successfully manage a presidential campaign," she said of Kellyanne. "I know her as an incredible business woman and friend."

The Faulkner-Conway Q and A:
Save
Save
Save
Save
Save
Save
Save
Save
Save
Save
Save
Save