Clean up!
Photo credit: Courtesy of Cleanly
"We sincerely apologize to "Moonlight," "La La Land," Warren Beatty, Faye Dunaway, and Oscar viewers for the error that was made during the award announcement for Best Picture. The presenters had mistakenly been given the wrong category envelope and when discovered, was immediately corrected. We are currently investigating how this could have happened, and deeply regret that this occurred. We appreciate the grace with which the nominees, the Academy, ABC, and Jimmy Kimmel handled the situation.—PwC"
Sometimes things get messy in life and need to be cleaned up.  Now that the party's over and you've walked your own Red Carpet, you've partied way too much and stayed way too late, you've spilled a drink or two on your best dress, a clumsy guest spilled catsup on you – so now what do you do?  If you live in Georgetown in Washington, DC we have the answer: Call Cleanly.  It's a lot easier than cleaning up the Oscars.  Just go to cleanly.com and download the app.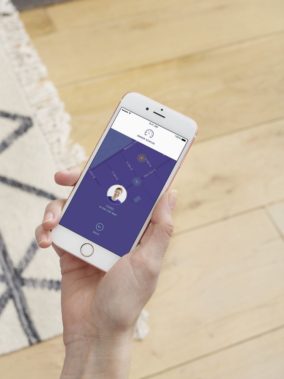 Cleanly Founder and CEO Tom Harari wasn't always cleaning up messes.  His background is in SEO, digital marketing which is why he moved to New York six years ago to take a position with Omnicom Media Group, the large global ad agency. "That was kind of the beginning genesis of how Cleanly came to be because," Harriri told Hollywood on the Potomac, "I moved to a really funky brown stone apartment in Brooklyn that had a garden in the back – it was really nice, really cool. The only thing it lacked was a washer and dryer, and that was kind of the birth of Cleanly.  After we saw success in New York in both Manhattan and Brooklyn, the next question became: 'Which city do we go to next?' We felt like Washington DC was really attractive for us for several reasons. Washington DC, as you know, is very much a suit and tie town. Most of the orders that come in are dry cleaning and laundered shirts whereas in New York 85% of apartments here do not have a washer and dryer, so most of our orders are going to be wash and fold laundry. Just from that dynamic, it was real interesting and something that we wanted to prove in the business model."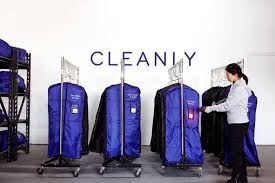 "We are a start up," he added. "We went through Y Combinator which is a prestigious start up accelerator out of Silicon Valley. We really approached this entire business as a hypothesis almost as a chemist if you will. The hypothesis was something is broken with the mom and pop laundromat. There's all these types of mom and pop laundromats, but they're being squeezed from neighborhoods due to environmental regulations around dry clean machines. Price per square foot is getting prohibitively expensive, and people are demanding things delivered to their doorstep which turns out is not necessarily what mom and pop laundromats and cleaners are good at. Some of them offer pick-up and delivery, but it's not their main source of their business. Our hypothesis was: 'Could we offer a pick-up and delivery service with very aggressive one hour windows for the busy person, early morning and late at night when people are actually home and could we do this at scale and be in multiple markets so the experience feels exactly the same regardless if you live in Soho, or you live in Georgetown, or you live in Beverly Hills.' It should feel exactly the same."
Q:  Can this work?  A: "One, it's pretty close, it's only three hours driving, so operationally it would be easy for our small team to get over there and get it up and running. Two, and maybe even more importantly, we felt like it was going to be completely different in terms of the order makeup and the demographics that we were seeing in New York and a lot of the feedback that we got from investors initially was: 'Is this really just a New York type business? Can this really work anywhere else?' So we wanted to go somewhere that was completely different from New York City and to show that the business model can work, and we were right. We take a very deliberate and measured approach to growth, so we don't just come and say, 'Okay we're going to serve Washington D.C. and the entire metropolitan area on day one.' We really kind of like to build up density in the delivery zones that we're operating in so that we're not needlessly burning resources. Georgetown was kind of the third part of the roll out. We started in the NoMa area, and then we got to Georgetown. The next stage for us is to head over into Virginia, kind of like Arlington around the Pentagon campus, and maybe even down to Alexandria.We now have 15 full time staff, close to about 50 part timers in all the warehouses. We have three warehouses, one in D.C. and two in New York, and close to 200 drivers that are on the road doing deliveries. We've been public since January of 2015, a little bit over two years now."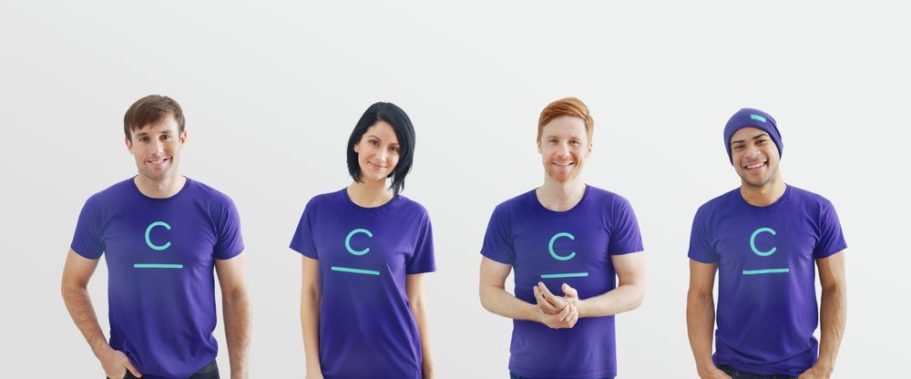 "Everything is proprietary, everything is in house. The only thing we don't do is the cleaning itself. We partner with large wholesale cleaners that oftentimes…… you probably don't know this …… oftentimes mom and pop cleaners that are down the block from you, they're no longer even doing the cleaning for all of the reasons that I mentioned earlier. They're just farming the work out to these large wholesale cleaners that pick it up from them. So they really provide no value. They're just a storefront middle man that has a nice spinning rack behind the counter. We try to introduce as much technology as possible. All of our developers built large scale logistics and supply chain technology systems for these. Our whole developments staff is based in Israel in an office in Tel Aviv. We really come at this from a technology perspective of like, 'How can we scale a really old antiquated business using tech?'  All of our engineers, all of our software engineers worked together when they did their compulsory military service, and then they followed each other to their different private sector jobs. They're just a unit that loves working together, and they've built these kind of supply chain systems before for large scale logistics. They built all of the software. That's everything from the consumer application that you would download on the app store to the application that the drivers are using out on the road, to all of the routing technology that we've built, all of the warehouse systems that we've built, the technology that we've built for the vendors that we partner with so they can understand – when you give us instructions you want those instructions to get all the way to the cleaner that's doing the actual cleaning. We think about how does that information flow through the entire supply chain."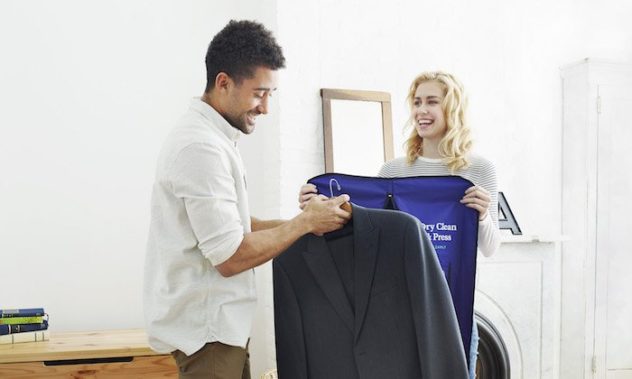 Q:  How do you compare to your competitors in pricing?  A:" We're the only ones that offer a membership subscription package, sort of like Amazon Prime, but for laundry and dry cleaning. It's the first of its kind. That's called Cleanly Reserve. We're the only ones that I think now that offer same day and overnight delivery. So you give it to us in the morning, you get it back at night. Or you give it to us at night, go to sleep, and then your clothes are folded and ready at your door in the morning at your in the morning when you wake up. We're doing lots of fun and exciting stuff. We wanted to think through how can we get people to come back …… to use us over and over again without being tempted by either competition, or just your local mom and pop cleaner down the street. We wanted it to really become a habit. We looked at the case of Amazon Prime, which I've been paying for for years, and when Jet.com opened up and they made this big push in New York, the whole attraction was that they were going to be cheaper on a per unit for whatever you wanted to buy, it was going to be cheaper on Jet.com. I was never tempted at all to go to Jet.com because I'd already paid for Amazon Prime for the year. That was kind of the genesis for this and we said, 'Could we do something similar in Cleanly where it just doesn't make sense for you to leave Cleanly anymore?'"
"In exchange for some sort of membership fee," Harari explained, "we give you a whole ton of goods and perks and discounts. We put it together in roughly three weeks after doing a bunch of user surveys and talking to customers. Cleanly Reserved is essentially you give Cleanly $89.99 for the year for the annual membership, or 15 bucks a month if you don't want to be locked into an annual membership and you get a seven percent discount on every order;  you never have to pay for hang dry which is usually a service charge, you get free delivery regardless of how big or small your order is, there's no order minimums, you get Cleanly Rush … that's same day and overnight service for free. Usually that's $5 extra, and a whole bunch of other perks and goodies, and you end up saving something close to $500 for the year using Cleanly if you're a Reserve Member. If you're already using us for laundry and dry cleaning, it makes so much more sense to become a Cleanly Reserve Member. The thought process is we'll attract you with  advertisement, you'll try the service once or twice and at that point you've kind of realized the value of how much time you're saving and all the benefits of Cleanly. It doesn't make sense to not become a Cleanly Reserve Member."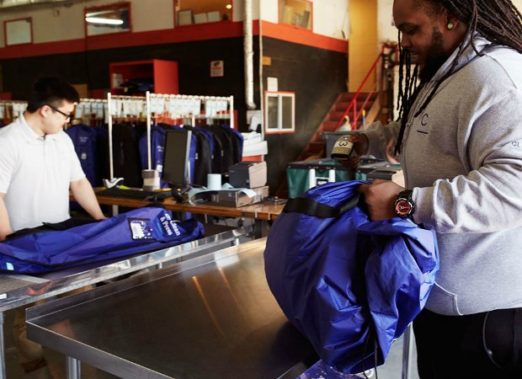 "It's definitely been a lot more female users than we initially thought. We're probably about 60/40 skewed towards female. One of the more interesting things that we've noticed is we have young professional moms. So moms that may have a toddler at home, maybe one or two kids at home, they spend the most, they use us the most frequently, and it makes sense because you know the laundry just never ends, especially when they're really young. So if you're a working professional mom, any time savings you can get through the week, is massively beneficial. I would do these user surveys with them, and they would say, 'Before Cleanly, I would use the laundry room in the basement of the building of the apartment that I live in and there's only four machines but we're 80 tenants in the building and they only have four machines down there. I would spend every Friday evening and Saturday morning just doing laundry for the family. Now I just press a button, a really friendly Cleanly valet shows up at my door, and that's it, and I have all this extra time to now spend with my family.'"
So what does that have to do with the Oscars?  Nothing really, just reminded us we needed to clean up our own mess.

Save
Save
Save
Save
Save
Save
Save
Save
Save
Save
Save
Save
Save
Save
Save
Save
Save