Happy BDay!
Photo credit: Misc.
Culinary wizard and whimsical raconteur Michel Richard, a longtime fixture on the DC culinary scene who died last year, was celebrated on the occasion of his birthday at his downtown French-American bistro Central Michel Richard.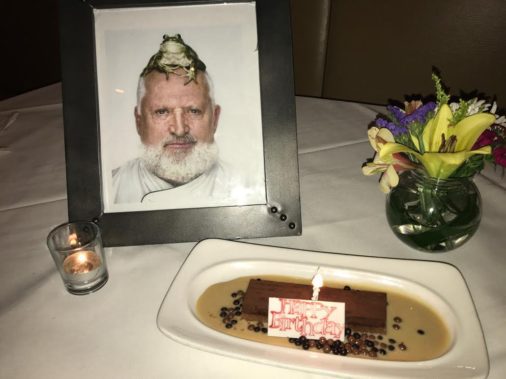 Michel Richard
In honor of the legendary namesake, the four-course prix-fixe tribute dinner was inspired by the signature dishes Richard passed down to Executive Chef David Deshaies over 16 years of mentorship.  The event featured a combination of Michel's favorites (classic fried chicken nuggets and mushroom grilled cheese sandwich) mixed with new Central dishes (beets & goat cheese tulipes and scallop pizza with mango chutney). VIPS included Laurence Richard (Michel's wife), Francois Dionot (owner of L'academie de Cuisine), Annie Boutin-King and Gladys Abi-Najm (Lebanese Taverna).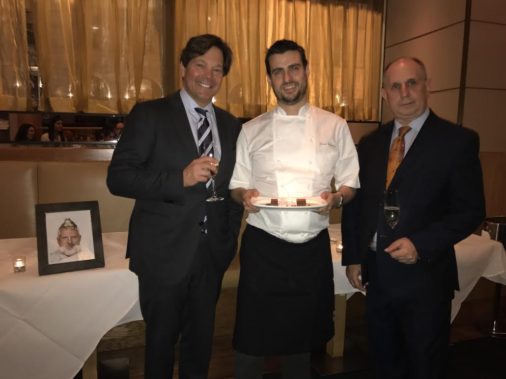 Central co-owner Chipp Sandground, Executive Chef David Deshaies and Sommelier/Bar Director Brian Zipin
Chipp Sandground, central co-owner: "We miss Michel everyday, and especially today on his birthday, but we're very grateful that he has a restaurant that bears his name—we'll continue to operate it in his tradition. He will never be forgotten."  David Deshaies, executive chef: "Michel was not only my mentor but a dear friend. I miss him every day but I am honored to continue his legacy at Central. He taught me most of what I know today, and I will continue to make him proud."
Guests can enjoy the special birthday dinner, which will be offered through Saturday, March 11 for $80 per person (with an optional additional $45 wine pairing) during dinner service only.
First course: Smoked Salmon Terrine, Leeks Tartare, Brioche
Wine pairing: Cava, Gramona, Gran Reserva, Brut, La Cuvee, Spain, 2012
Second course: Lobster Ravioli, Citronelle Emulsion
Wine pairing: Chenin Blanic, Domaine Des Baumard Savennieres, France 2014
Third course: 72-hour Braised Short Ribs, Mushroom-syrah Reduction
Wine pairing: Grenache-Syrah, Châteur Simian, Le Traversier, Châteaunuef de Pape, 2012
Fourth course: Michel's Profiteroles
Wine pairing: Late Harvest Syrah, Lauterbach Cellars, Sonoma, California, 2011
The Bradley House
Michel Richard sat down with Hollywood on the Potomac at the home of David Bradley for the WHCA Weekend – A look back:
Save
Save
Save