"42"
Photo credit: Kevin Allen

On this day in history – April 15th, 1947 – Jackie Robinson became the first African-American player in Major League Baseball breaking the color barrier. Exactly 50 years later – April 15, 1997 – Robinson's groundbreaking career was honored and his uniform number "42" was retired from Major League Baseball by Commissioner Bud Selig in a ceremony attended by over 50,000 fans at New York City's Shea Stadium. Robinson's was the first-ever number retired by all teams in the league.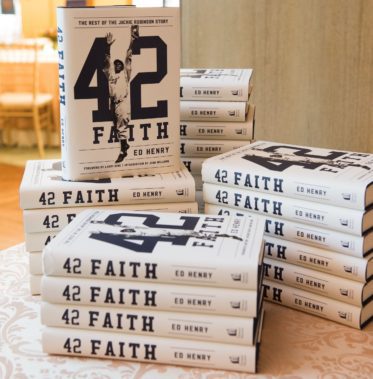 "I swear this book is about Jack Robinson and the Brooklyn Dodgers," said author Ed Henry, "but it's also something deeper. It stirs a passion in people who love the Brooklyn Dodgers for example. I got a letter a couple of days ago from someone who said he remembered me in an Ebbets Field quote, 'My dad treated me to my first to vanilla ice cream and orange sherbet in a wax paper cup with a wooden spoon. My life changed that day.' I wanted to share something deeper with this book, something about faith and how I believe it was nothing short of divine intervention when Branch Rickey, the general manager of the Dodgers, decided to sign Jackie Robinson for his first contract and it broke the color barrier and opened all kinds of things in America."
"I told President Obama, when he was still in office, I was working on the book and I was about to go interview Rachel Robinson, who's still alive, Jackie's widow. And he said 'I want you to tell her something for me.' And I was surprised because Presidents don't usually send messages through other people. He says, 'I want you to tell her that I believe that there is a straight line from what Jackie did in 1947 to me being here in the White House.' And that really was very profound to me," Henry added.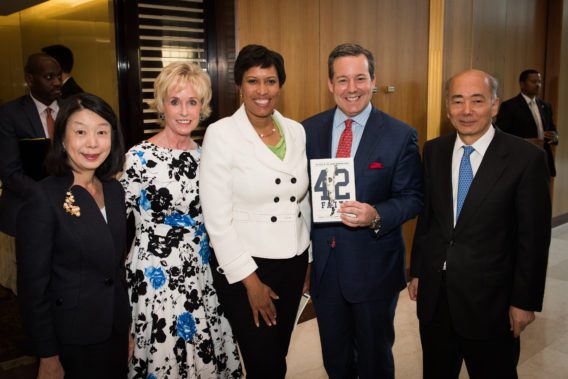 Nobuko Sasae, Kathy Kemper, Mayor Muriel Bowser, Ed Henry, Amb. Kenichiro Sasae
Ed Henry was the guest of honor along with Mayor of  DC Muriel Bowser at the residence of The Ambassador of Japan and Mrs. Sasae.  The event was created by Kathy Kemper, founder of The Institute for Education that convenes diplomats, political, business, media, academic, and community leaders at the highest levels to encourage collaboration in establishing common ground and for leaders to share knowledge and explore innovative solutions to the most critical challenges of our time. Ambassador Sasae welcomed a full house and acknowledged all of the Ambassadors in the room – step and repeat – graciously announced the ones he forgot.

Prior to running off to do a segment on FOX, Henry explained how he came to be inspired to write this book.  He met veteran journalist Donna Shor at a diplomatic dinner party, Her father was a minister in Brooklyn. In 1945 a man knocked on the door and said he had a problem and needed to talk to the minister right away. It turned out to be Branch Rickey, general manager of the Dodgers, who was about to sign Jackie Robinson and having second thoughts about it because he didn't know how the rest of the country would react to the first black player. Rickey said to the minster, "I needed to be in God's presence to know if this was the right thing to do." So this led Henry on the quest to figure out and track down his journal.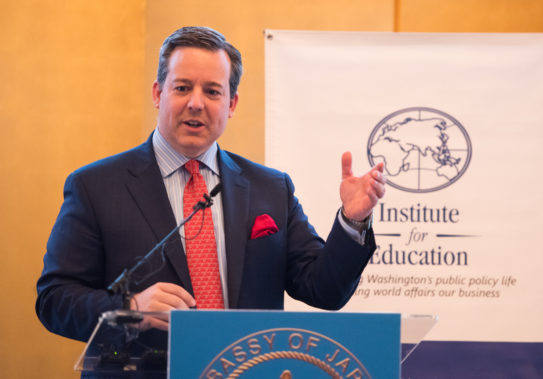 Ed Henry
Kathy introduced Beverly Perry as the Valerie Jarrett, the Ivanka Trump, the Jared Kushner to our mayor. Beverly introduced Mayor Bowser: "It gives me the great pleasure to introduce Mayor Muriel Bowser. She serves as the seventh elected mayor of Washington, D.C. She accepted the oath of office on January 2, 2015. She pledged to bring a fresh start to the city. She pledged to create pathways to the middle class and to foster a culture of inclusion and transparency. She's honoring those pledges."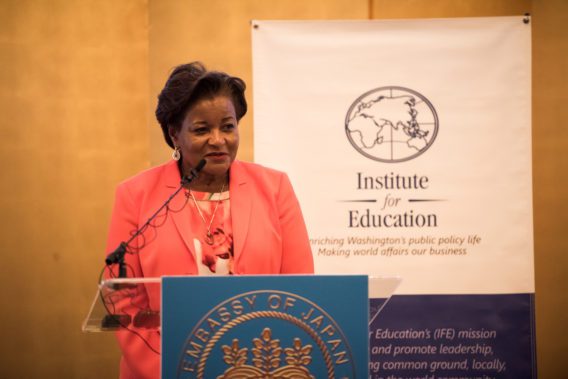 Beverly Perry
"When I became mayor," said Muriel Bowser,  "I created a new office in Washington, D.C. It was my experience in having been born and raised here, and serving in elective office for almost eight years, that we had become very isolated as a city. Here we are the Capital city of the United States and the Mayor of Washington became only concerned with our local affairs. And I pledged to the residents of the District of Columbia then, that I would amplify our presence in the region, and our nation, and around the world. And we've done exactly that. I created the office that Beverly heads so that she might focus on our global relationships, our national relationships, regional relationships, and of course with the Congress of the White House. It has been our experience in Washington that we host the new President, and we host the new Congress people, no matter who they are. Our job as the nation's capital is the same. My job as the chief executive for a city of 680,000 people and $13 billion is to work with administration officials and Congresspeople on the issues that are important to Washingtonians."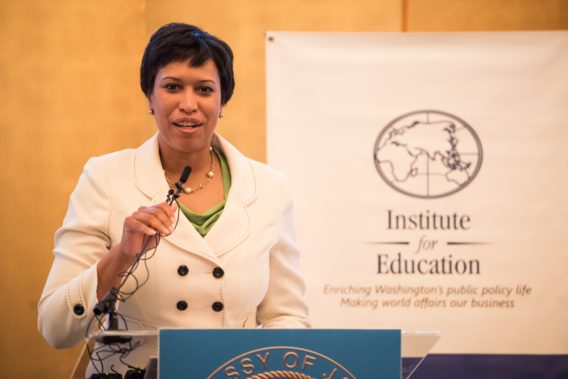 Mayor Muriel Bowser
"It has been, I would say, a particular leadership lesson to focus on the values that are important to Washingtonians and to make sure that we are strong in stating what they are, and equally strong in planning to protect them if they go under attack. That is what our position has been throughout these last several months of transition, and we continue to work cooperatively on common ground wherever we find it, and really try to make sure that we identify it and achieve it wherever possible. In our city, we're proud of the renaissance that we're experiencing in Washington, and we know, because of fantastic leadership over the last 15 years, that we've been fiscally disciplined, we've made the types of investment in our city that will allow us to continue to grow. I tell people frequently that our dogged determination in two areas really exemplifies why we've been successful over the last 15 years or so."
The Q and A produced some very practical solutions to a major problem: The metro.  "We're in the middle of a rebuilding period for the Washington Metro system that serves DC, Maryland and Virginia. That has been a particular political challenge for all of us, because we operate on the interstate compact that is also 40 years old and that compact did not include a dedicated funding source to take care of the Metro. So each year, each jurisdiction is piecing together the capital." After Mayor Bowser addressed the issue, the Ambassador of Thailand suggested that since we have like 160 Embassies here, that each country should adopt and pay for a station since funding doesn't match the problems.  We're in!
Save
Save
Save
Save
Save
Save
Save
Save
Save
Save
Save
Save
Save
Save
Save
Save