Les Poupées!
Photo credit: Janet Donovan
It's not every day that you go to a party and find a bunch of dolls passed out on the lawn along side of empty bottles of  Champagne; but such was the case at the residence of The Ambassador of France Gérard Araud who hosted a brilliant evening in honor of Montreal based Coton Mouton. There were installations everywhere from the pool to the terrace to the garden and most importantly the staircase which is becoming a Washington landmark.  In December, artist-photographer Pascal Blondeau lined it with Penguins to tell a story about climate change and the Polar Vortex. "The first victims of our beautiful planet are Bears & Penguins," he told us at the time. This week it was lined with poupées, as they say in French.  The Coton Mouton movement is sweeping the doll industry, generated by the enthusiasm of owner and founder Aude Le Dubé.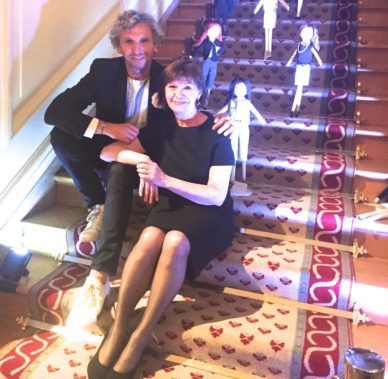 Pascal Blondeau and Aude Le Dubé
Guests weren't reticent about getting selfies on the staircase or removing the stanchions to get a joint photo, including former Lt. Governor of Maryland Kathleen Kennedy Townsend and Ambassador of Ireland Anne Anderson as well as former DC council member at large Carol Schwartz, Izette Folger and Susan Toffler.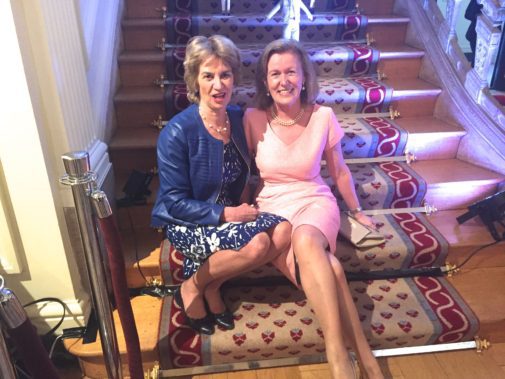 Kathleen Kennedy Townsend with Anne Anderson
"They are actually dolls that are made for children," Aude Le Dubé told Hollywood on the Potomac, "but dressed up in designer outfits because I love fashion and I love dolls so I combine both. They are made by hand. They're made ethically. We use very skilled seamstresses and tailors. Some of them actually … some of the clothes we have …..were worn by Sophie Grégoire Trudeau for some occasions. This is like a little showcase of Montreal fashion that's very alive. The rest are the usual culprits: Chanel and Dior, Valentino and Vivienne Westwood. Personally, I like Japanese designers a lot. We're a very small company. We have a studio and I basically work with four, five designers, seamstresses and tailors." The poupées were strewn about the residential landscape in various installations designed by Pascal.

Aude's career started when her niece, whom she had never met, turned two years old.  She didn't know how to sew, but wanted to give her a rag doll.  After looking all over Montreal without finding any, she thought about ordering online but instead bought a sewing machine and went on Google and YouTube and taught herself how to sew."People say that they have very long legs, and I say, 'Yeah, because I used to adore Pippi Longstocking.' It was actually a series of children's books.  It was a story of a little girl in Sweden, and she had very long legs, so it's inspired by Pippi Longstocking, and so I did them that way and they're more graceful. They look like little dancers.  I also found out also that by the time a little girl starts to get interested in those dolls, they are not trying to nurture them. They're not trying to imitate their mother, and carrying a baby. They're actually dragging them around. Like a friend, the long dolls allow them to be actually walking alongside, like a child."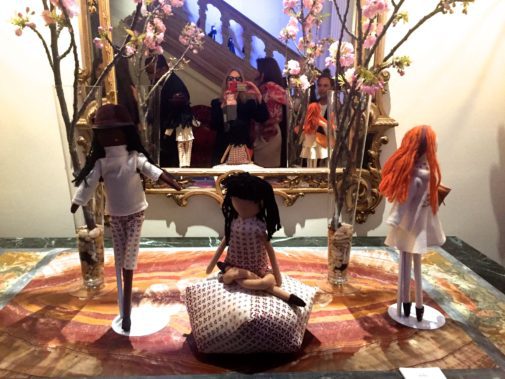 Aude went on to explain that children begin to relate to the dolls at age four.  She also finds it interesting that the blonde child is going to want a black doll and the little black girl will want a blonde or a redhead. "It's really interesting because they want someone different. They want a friend. It turned out that diversity is a big, big thing now for us."
Guests enjoyed pate and caviar while amused by the installations that Pascal and Aude created.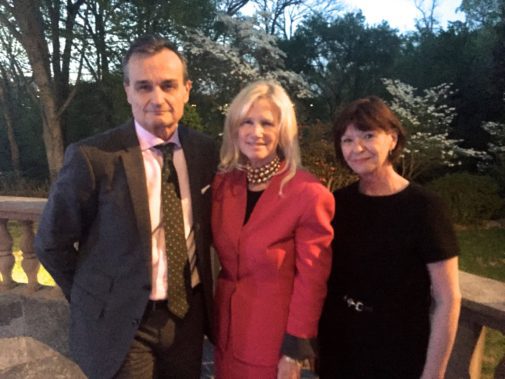 Ambassador Araud, Dr. Susan Blumenthal, Aude Le Dubé
We don't know what happened to the poupées passed out on the lawn.
WSave
Save
Save
Save
Save
Save
Save
Save
Save
Save
Save
Save
Save
Save
Save
Save