Outstanding Women!
Photo credit: Evy Mages, Washingtonian

"I thought I would just recognize my fellow honorees for a moment," said NPR's Mary Louise Kelly who was recognized for excellence in Journalism at the 4th Annual Washington Women in Journalism Awards reception as a kick-off to the White House Correspondents' Dinner weekend festivities hosted by Washingtonian president and CEO Cathy Merrill Williams and Gloria Dittus (Story Partners) at Gloria's home in Kalorama, Washington, DC.  "Mary Katharine (Ham), who I have not had the pleasure of knowing before tonight, works in TV so I was prepared to hate her because I knew her hair and make-up would look better than mine, and then she gets up here and she has better shoes than the rest of us, so how can you compete?" Mary Louise Kelly launched the intelligence beat for National Public Radio in 2004 and she has been going where most women and men fear to tread ever since. Her reporting has taken her to the Khyber Pass, the mosques of Hamburg, grimy bars in Belfast and Baghdad at the height of the brutality. Kelly was among two other journalists to receive an award along with the Lifetime Achievement award presented to multi-talented Cokie Roberts.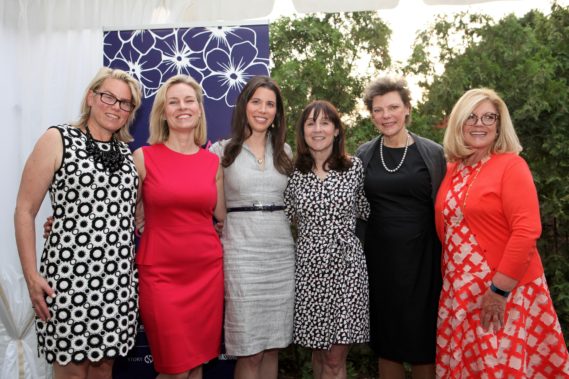 Cathy Merrill Williams, Mary Louise Kelly, Mary Katherine Ham, Jane Mayer, Cokie Roberts, Gloria Dittus
When commentator Mary Katharine Ham moved recently from Fox News to CNN, she became a conservative where conservatives weren't cool. But Ham is always up for a challenge. She is a senior writer for The Federalist and co-author of End of Discussion: How the Left's Outrage Industry Shuts Down Debate, Manipulates Voters, and Makes America Less Free (and Fun). For raising the heat in the level of political debate, Mary Katharine Ham is a 2017 rising star woman in journalism.
"It's been an 18 months of upheaval and joy and excitement and two brand new jobs and one brand new child. The other child has a brand new attitude. So it's gratifying to be recognized for career achievements while all of that is happening. I thank you all for your support; it's great to be here, especially on a night where we were able to honor the late great Kate O'Beirne, who I hope is having a sip of something with us right now."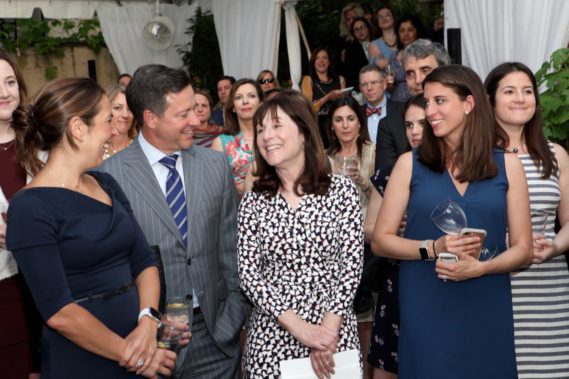 Jane Mayer
"We are very grateful that no-one would accuse Jane of being a women of few words. As a staff writer for The New Yorker since 1995, she has written in-depth stories about the War on Terror, the electoral process, and the increasing power of special interest groups on our national politics," said Cathy Williams. "A 2010 New Yorker story led to her 2016 best-seller, Dark Money, about the Koch brothers' deep influence on conservative politics. For following the money – and the story – Jane Mayer is a 2017 Outstanding Washington Women in print journalism."
"I thought I should give out a little bit of a shout out to the some of the women who got me here," replied Mayer. "I got my first job at Time Magazine because of Bonnie Angelo, who was in the Time Washington bureau. Then I went to the Washington Star where Barbara Cochran was the Metro editor and gave me a chance. I then was hired at the Wall Street Journal because Al Hunt thought there should be a woman covering the White House. So he was a man who was an honorary member of the Traveling Pantsuit Club. When I covered Reagan, I used to sit between Andrea Mitchell and Lesley Stahl, who were just killer inspirations as reporters. I took leave to write a book with Jill Abramson, one of my best friends from high school, who became the Editor of The New York Times, and then I got hired at the New Yorker by Tina Brown. So I owe all these women a huge thanks, and I guess I would like to say to anyone who thinks that we are the enemy of the American people, that we are actually the eyes, the ears, sometimes the conscience, and the pocketbook and the stiletto heels of the American people."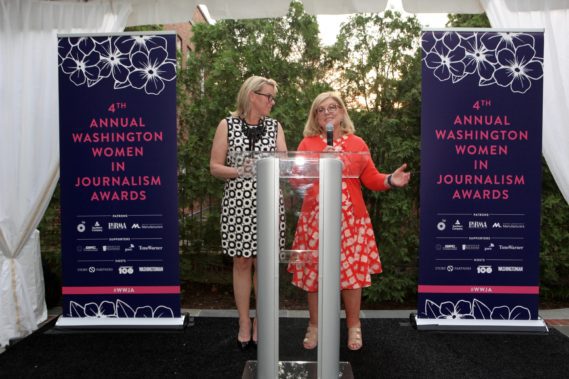 "Gloria and I have both been so inspired by Cokie that we got into a bit of tousle over who would present the award," said Cathy Merrill, "and wouldn't you know it, Gloria won." "It's really a pleasure for me to present the Washington Distinguished Female Journalist of the Year award to Cokie Roberts," said Gloria.  "I got to know Cokie first through her mother, the formidable Lindy Boggs who is the epitome of a steel magnolia and very inspiring to meet personally. So as I watched Cokie's career over the years, it was no surprise that she was a pioneer for women in the broadcasting industry. Her work at NPR was one of the first glass ceilings that she shattered at a time when most broadcast networks thought that women's voices lacked authority. In her more than 40 years on air and in print, Cokie Roberts has outlasted the network naysayers and done so much more. From 1996 to 2002, she co-anchored and interviewed the ABC weekly interview program This Week. She writes a syndicated news column. She's become a best-selling author, focusing on the role of women in our nation's history. Her most recent book Capital Dames: Civil War and Women in Washington, was published in 2015. She's been inducted to the Broadcast and Cable Hall of Fame. American Women in Radio and Television named her one of the 50 greatest women in the history of broadcasting, and the Library of Congress named her as a living legend; one of the few Americans so honored to receive that award. So Cokie, from inspiring all of us and giving women a voice in Washington, we honor you as the distinguished female journalist of the year."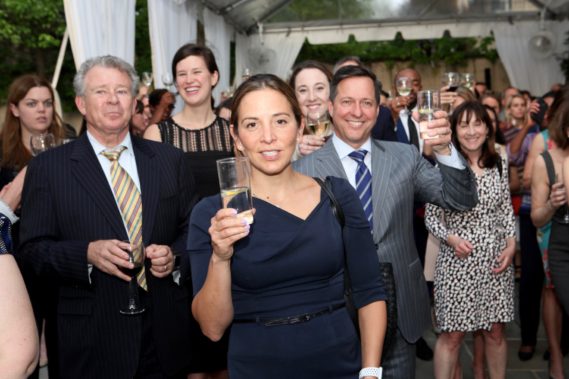 "Being distinguished just means old," replied Cokie. "But the nice thing about being old is that I'm seeing these glorious women coming after me. Happily I have been able to help some of them. All through my career that's been something that's very important to me. There was a time when, and it's not that long ago, when if you tried to get together women journalists in Washington it would be a very small number. And the people who really blazed the path for me were incredibly brave, because they were one by one by one. May Robertson, a wonderful New York Times correspondent wrote a book about it, The Girls in the Balcony, at a time when the press would not let women in, and in order to cover people who were coming and making important speeches, they were allowed to sit in the balcony where there was no air conditioning and not eat the lunch, while the men below were eating the nice lunch, sitting in the air conditioning and covering the event. So, it's changed, thank God, and it's changed mainly because a lot of us have made it change. But what now is the case is that we really do have these fabulous women who are here tonight and their sisters, who not only do just incredibly strong and important journalism, but also write books and raise families and do everything else. It's hard work. It's exciting work. But it is very important work, and I do think we bring a different voice to it. It's a voice that I'm very very happy that now enough women bring, so we can be a force. So thank you very much for this recognition, I appreciate it."
Save
Save
Save
Save
Save
Save
Save
Save
Save
Save
Save
Save
Save
Save
Save
Save
Save
Save
Save
Save