Raising the Roof!
by guest contributor Jessica Scott
Photo credit: Rich Kessler
Room to Rebloom is a nonprofit that supports survivors of domestic violence. With the perfect blend of spectacular views, weather, food and guests on the rooftop of The Hepburn – Grand Apartment Residences in Washington, DC – Room to Rebloom held its Third Annual Rebloom on the Roof on May 3, 2017.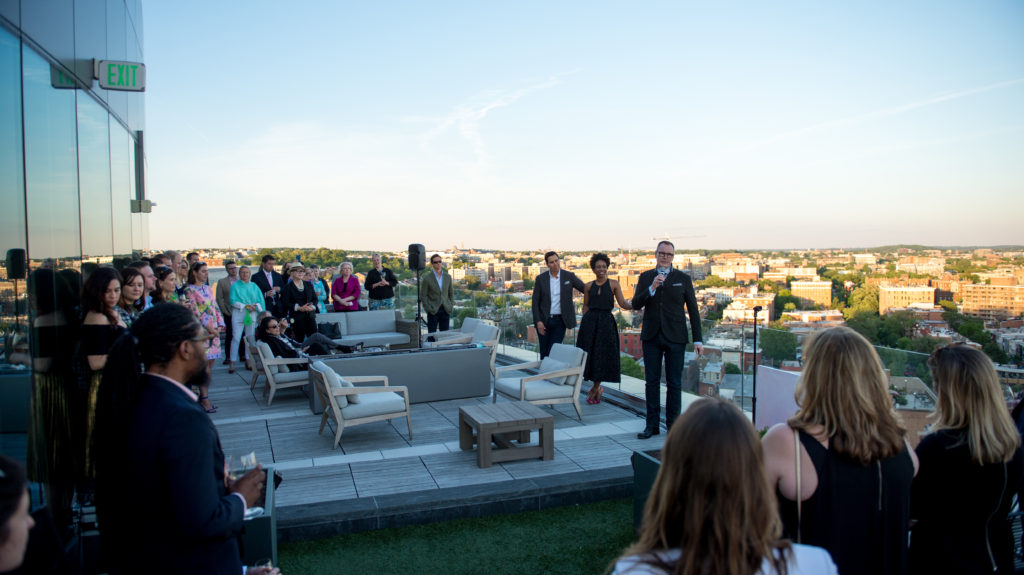 Rebloom on the Roof at The Hepburn
Designer Barry Dixon and Veteran News Anchor Will Thomas co-hosted the cocktail fundraiser that celebrates the power of design to change lives for survivors of domestic violence. Thomas, who has won multiple Emmys, stays active in the community, lending his time and talents to charitable organizations such as Room to Rebloom.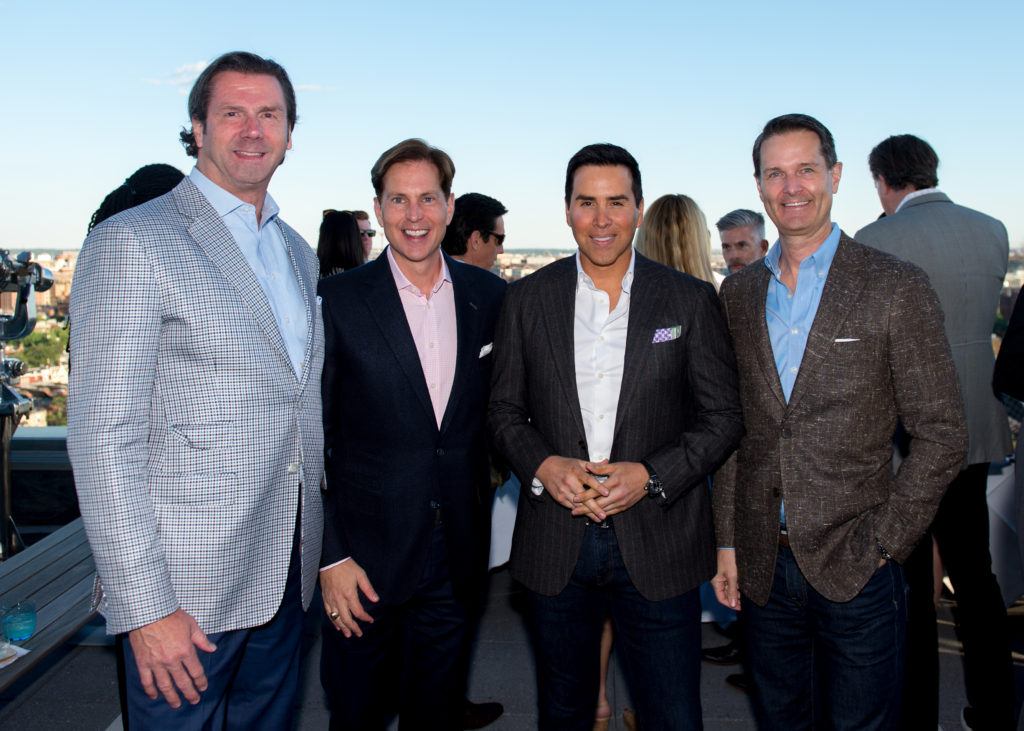 . Timothy Watkins, Todd Gambill, Will Thomas, Chad Hoeft
The nonprofit's board of directors Kia Weatherspoon, Liz Levin, Enid McKitrick, Lyn McGann, Christie Stute, Sherry Moeller and Victoria Sanchez work with area organizations to identify women and children in need of a home refresh and then team with design professionals in the community to help with the redesign.
Marika Meyer of Marika Meyer Interiors is among the designers who have supported the cause in the past via a room redesign and who also donated to this year's raffle. "Working with Room to Rebloom was an incredible opportunity," says Meyer. "Seeing the power of design and the ability to brighten people's lives through their home environment was an incredibly moving experience."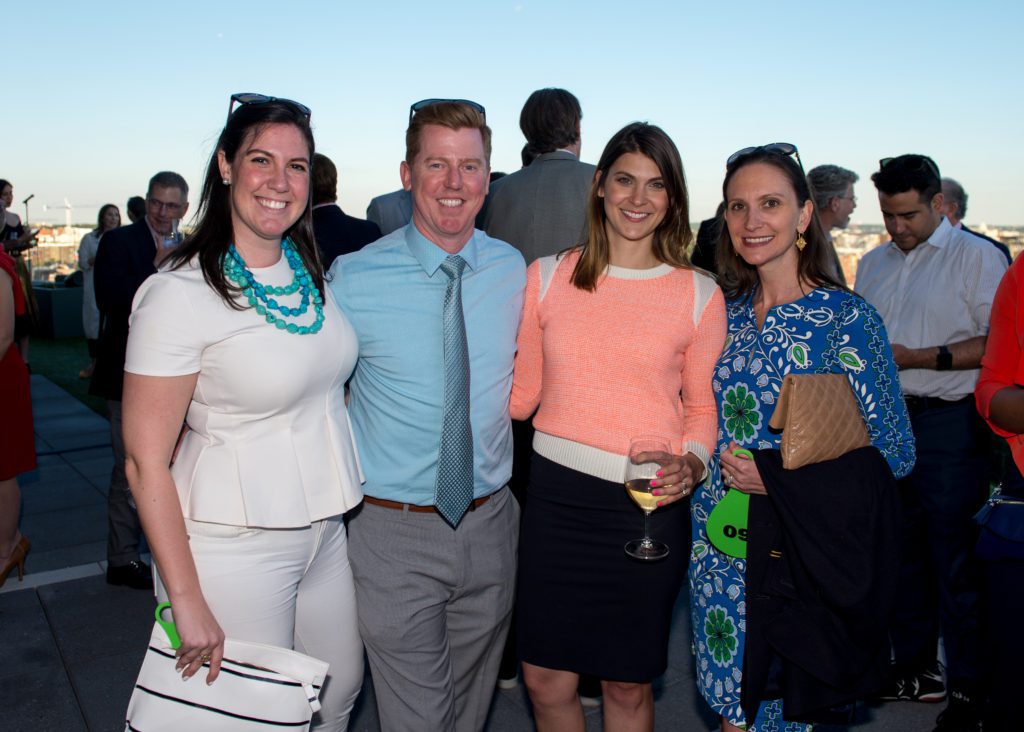 Dana Schwartz, Sean C. Mullin, Keira St. Claire-Bowery, Marika Meyer
During the event, Dixon, Thomas and Weatherspoon orchestrated a live auction, which included designer pillows from Marika Meyer Textiles and Taylor Wells, a ginger jar from Victoria at Home, a tote with goodies from Gretchen Everett, and a themed gift basket. Dixon selected a painting from Capital Artist Collective to auction off, while additional paintings were on display and for purchase. Thomas also led a paddle call during the event, which in addition to ticket sales, raised money for the cause.
"Confidence and hope are crucial to women who are starting over, and a home that promotes healing and growth should be available to everyone," says McKitrick, who founded the nonprofit.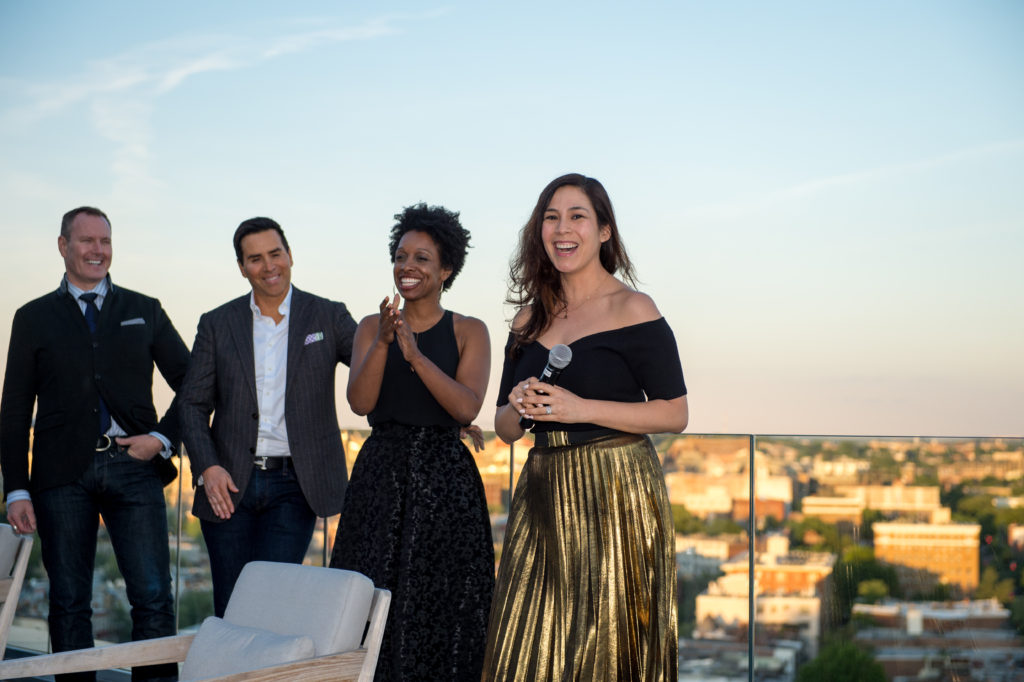 Barry Dixon, Will Thomas, Kia Weatherspoon, Mariella Cruzado
Mariella Cruzado of Splendor Styling gave a moving speech about the woman and son who were benefactors of the recent project she worked on for Room to Rebloom. "The joy on their faces when they saw the finished spaces was priceless," Cruzado says.
During the rooftop event, guests enjoyed lite fare from Casa Luca by renowned DC Chef Fabio Trabocchi, including smoked salmon with roe, roasted beef garnished with summer peas and fresh flowers, cheese popovers, charcuterie and a variety of desserts. DC magazine provided the cocktails.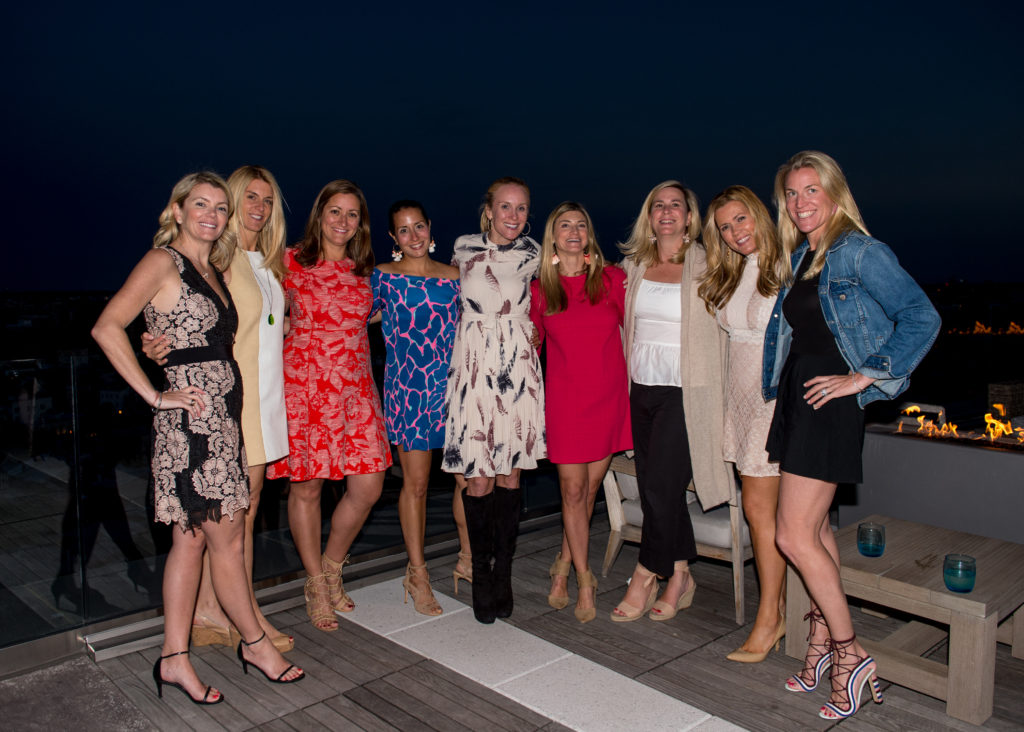 Christie Stute, Amanda Marshall, Jamie Hoffman, Renee Redpath, Sherri Gromball, Lanie Mann, Amy Gresinger, Liz Levin, Kim Hayman
Among the event and project sponsors were Stark, Georgetown Cupcake, Urban Petals, Daniel Brewer and Shari Gronvall of Compass, Splendor Styling, Sherwin Williams, M&M Paint and TV Installations, and MoKi Media.
"Room to Rebloom is the only organization in the region whose mission is to serve domestic violence survivors in independent housing," adds Levin. For more information, go to www.roomtorebloom.org.
Save
Save
Save