JFK Centennial!
by guest contributor Kandie Stroud
Photo credit: Creative Commons

MSNBC's Chris Matthews joined Former MD Lieutenant Governor Kathleen Kennedy Townsend and other family members in honoring President John Kennedy at the Woman's National Democratic Club May 8th. The evening, which marked the slain president's 100th birthday and focused on his jocular relationship with the press, opened with a grainy yet humorous video collection of clips from Kennedy press conferences which was underscored by amusing stories related by former staffers, political colleagues and even White House correspondents who covered him.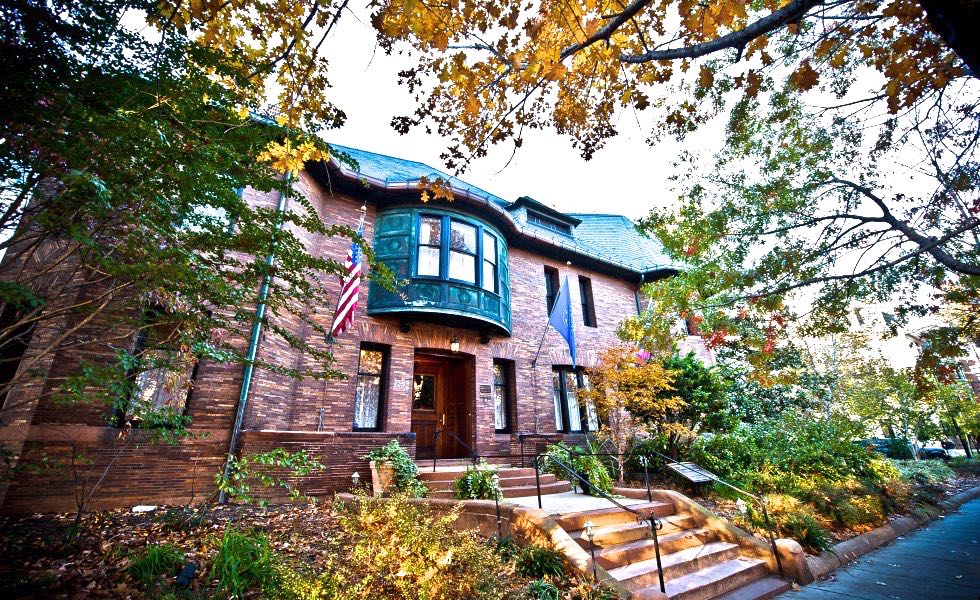 WNDC
Kathleen Kennedy Townsend spoke of how her uncle, the President, liked to hang out with the Washington Post's Ben Bradlee and his wife Tony, Columnist Joe Alsop and his wife Susan Mary and Pulitzer Prize winner journalist Charlie Bartlett and his wife Martha.  JFK and Jackie would regularly dine with their reporter friends. Townsend pointed out that JFK had once been a journalist before he ran for the House of Representatives and that Jackie had been a photo journalist for the Washington Times-Herald. Added Matthews: "He had the gift of a journalist which is love of gossip, love of news. He loved getting everything first. And that is the great appetite of a journalist—'I want the story first– I want to know what everybody is up to… totally. I love knowing what's going on.' Tim Russert had that too—the ability to just eat up the news and to be first with it. And I think Kennedy had that."

Kennedy Townsend pointed out that JFK also "touched something deep in all of us that we could do better…we could do tough things…go to the moon. We could do music. We could dance. He spoke beautifully. He broke through barriers. He had grace under pressure."
Lenore Donnelly, who had assisted in planning the 1962 presidential race with Kennedy brother-in-law Steve Smith and subsequently worked in the White House, recalled with amusement how a magician once sent the Kennedy children a rabbit. When the gift box was opened, said rabbit immediately hopped out, eluding all attempts to seize it, causing instant panic and an all-hands-on-deck White House hare hunt. The animal was eventually caught; however, several rugs had to be sent out for cleaning. Donnelly also shared a charming observation of the president and three year old John-John walking hand in hand towards the Oval Office early one morning–a daily ritual. John-John, still in his little bathrobe, one leg of his pajamas rolled up, spotted one of his favorite things in a closet that had been left ajar along the corridor–the sleigh that his pony Macaroni pulled him in around the White House grounds when it snowed. The fact there was no snow on the ground did not deter him. John-John clung tenaciously to the sled pleading for a ride. JFK gently extricated the child, continuing their stroll. "Daddy has to go to work now," said JFK.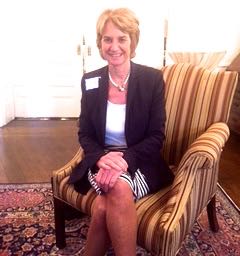 Kathleen Kennedy Townsend
Melody Miller, who spent a 40 year career in the employ of the Kennedys and retired as Senior Aide to Senator Edward Kennedy and spokesperson for the Kennedy family, recalled how it all began. As a high school senior at Yorktown High in Arlington, VA, she had been volunteering for Congressman Joseph Montoya (D-NM) on Capitol Hill. The congressman's staff wrote a letter to Evelyn Lincoln, the president's secretary, on Melody's behalf, asking for an autographed picture of JFK. Instead, Melody was amazed to receive a call inviting her to meet the president at the White House. (Decades later when she retired, she was presented with that letter. Across the top of it, in Kennedy's own hand, were the words, "Have her come to the White House." Miller said what impressed her was the fact that the decision was JFK's own. She recalled that when the president walked into the Roosevelt room for the meeting what struck her was that he was "incandescent… He glowed." She had brought along a bust she had sculpted of JFK (which exploded in the kiln but she nonetheless glued it back together). Kennedy patted the head and declared it, "very fine." The president spoke with her about her interest in politics and signed her copy of Profiles in Courage. He then stepped outside the Roosevelt Room and returned with a PT-109 bracelet as a memento–a gift she cherished for life. "Although I had wanted to be a teacher, he inspired me to a life of public service."
Melody Miller (R)
Lester Hyman, Kennedy's former Massachusetts Democratic Party Chairman, recalls young Senator Jack Kennedy who mentored him in politics, teasing him unmercifully as president for working in a few losing political campaigns. "Get out of here Lester. You're the kiss of death. You worked for Eddie McLaughlin for Congress. He lost. You worked for Johnnie Powers for mayor….he lost. You worked for Jack Saltonstall for Congress. He lost. I'm up for reelection next year. You're the kiss of death. Now get out of here. " Lester headed for the door, but Kennedy said, "Come back. Come back. I was only kidding." Lester spent the rest of his life in politics and law.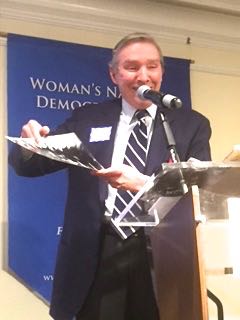 John Cochran
John Cochran, former NBC foreign correspondent and ABC White House correspondent worked as an army communications officer for Pierre Salinger in the Kennedy White House. "I was like a fly on the wall." On one occasion, as he was setting up a private recording the president was doing for a Democratic fundraiser, Cochran recalls Kenny O'Donnell entering the Oval office exclaiming, "We have another Lyndon problem." LBJ was apparently frustrated that he didn't have enough to keep him busy. "Give him something else to do," recommended JFK. LBJ was promptly appointed head of the National Space Council. "During the first meeting in the Cabinet room Kennedy welcomed members of the Space Council, commended LBJ on the fine job he was doing leading it and left the room." Cochran, who had recorded the president's remarks left with the president, taking his recording equipment. Suddenly an LBJ aide, following in hot pursuit insisted the Veep would not start without a microphone to record him as well. Cochran went back and set up the mic but with a wink from Kennedy never turned it on. On another occasion JFK Press secretary Pierre Salinger called Cochran to the Oval office to record remarks JFK wanted to send to the French TV prior to his trip to Paris to meet DeGaulle. The president attempted to record his remarks in French but abandoned the effort saying his French was just not up to the task, so "he recorded it in English. He had Jackie do it in French."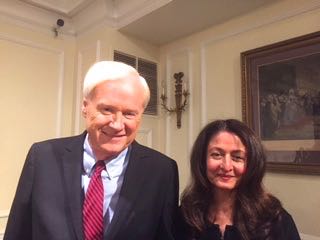 Chris Matthews with WNDC President Nuchhi Currier
Sid Davis, former NBC Washington Bureau Chief, had been a Westinghouse Broadcasting correspondent and covered the JFK presidential campaign and White House. Davis related how at first, only a small gaggle of White House correspondents were invited to the president's press conferences which were held at the White House. Once the press conferences were televised live and opened to a wider world of reporters, everyone wanted to cover them. The crowds became so large the press conferences had to be moved to the State Department auditorium which seated 800.
Save
Save
Save
Save
Save
Save
Save
Save
Save
Save
Save
Save
Save
Save