Cultural Perfection!
by guest contributor Joe David
Photos: Jane Pennewell & Patricia McDougall
The Ronald Reagan Building & International Trade Center was rocking last week when over one thousand guests gathered in the atrium for the popular ninth-annual 2017 Events DC Embassy Chef Challenge (ECC), sponsored by TCMA (a Drew Company).
Among the guests gathering in the atrium and overflowing into adjoining rooms to sample the generous servings of food and drink were some of Washington's most prominent diplomats, socialites and VIPS. Singers, dancers, and bands distracted the partygoers by filling the rooms with the exotic sounds and rhythms from around the world. As enjoyable as the music was, as professional as the entertainers were, the focus of the evening was still the food, which was prepared with authentic skill by embassy chefs trained to magically transform the familiar (chicken, fish, lamb and beef) into something unique and delicious with their gilded fingers. Many of the guests showed their appreciation for all the chefs hard work by lining up eagerly for a taste, some even for seconds of their favorite dish.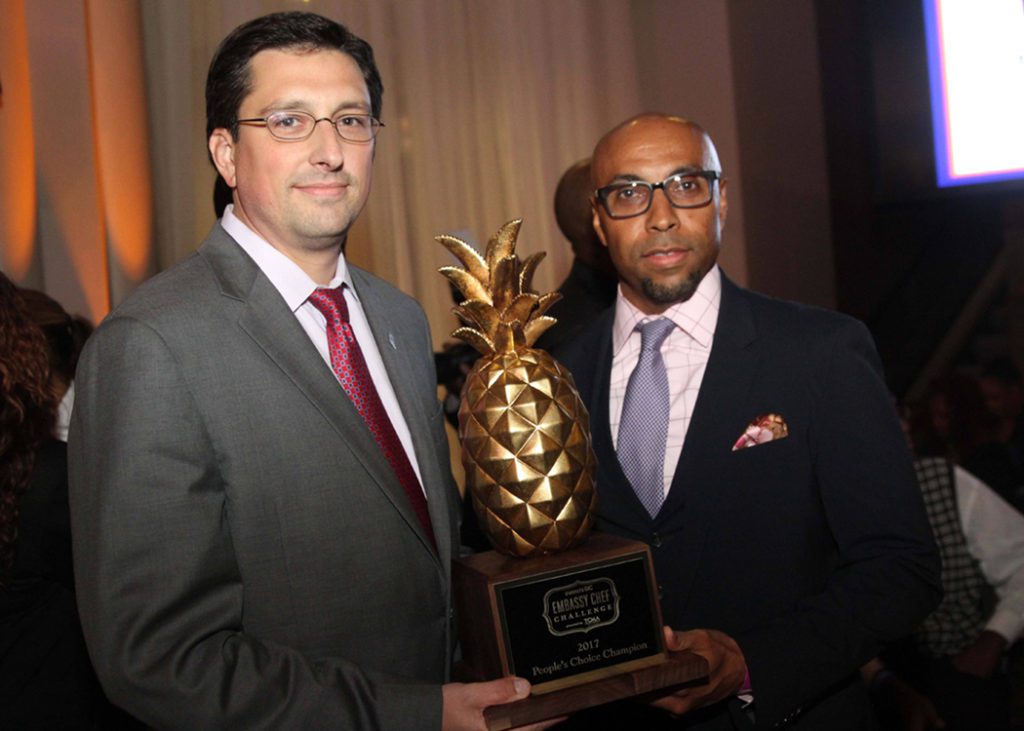 Andrew Gelfuso,VP TCMA, RRBITC and Erik Moses, Sr VP, Events DC
Thirty-five embassies with different cooking styles and social and political views joined together for the high-energy evening of entertainment and exotic food in tribute to the culinary diversity of the world. "This was our largest event of the year, and it gave us an opportunity to showcase the culinary traditions of the participating embassies," Andrew Gelfuso, Vice President, TCMA, Ronald Reagan Building & International Trade Company, said. "We congratulate our partners at Events DC and the talented chefs in the diplomatic community for helping us make this possible!"
Two food awards were presented to two lucky chefs. The competition for these two awards was fierce. Countries like Belgium with its North Sea Cod sous vide in a mussel velouté; Ecuador with its choice of world-class chocolate; Cyprus with its exquisitely tasty vegetarian dolma; Chile with its salmon and mussel; and Qatar with its chicken majboos and rice together lifted the standards for the evening to Olympian heights.
Selecting the two winners was a difficult task for the public and the eight judges, because each of the 35 countries represented attempted to outdo its competition with its artistically designed presentation and its uniquely tasteful food.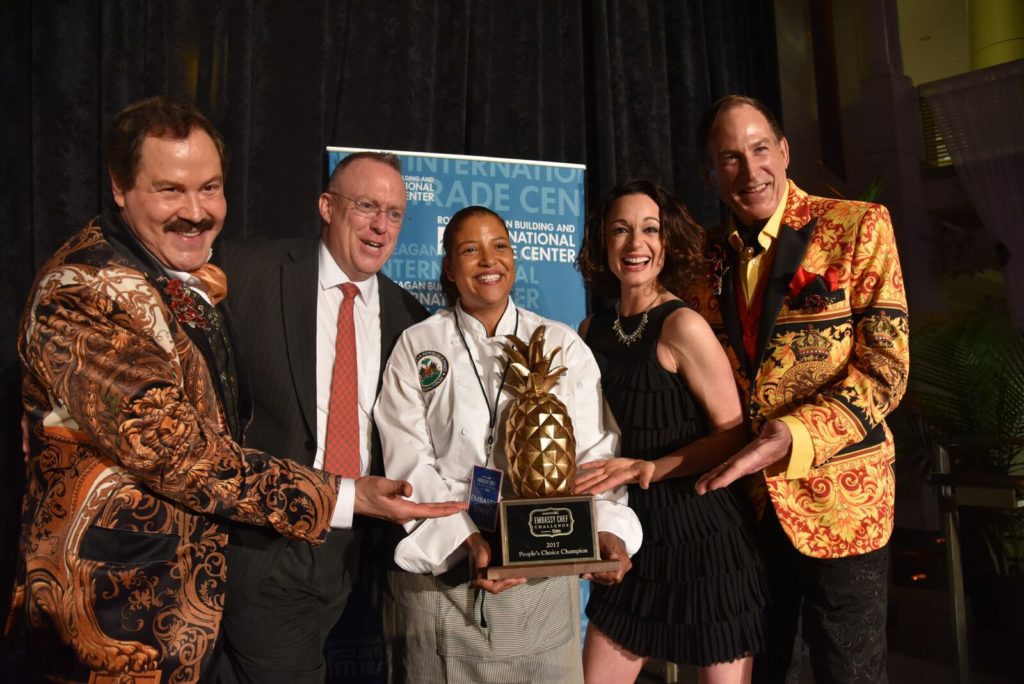 Jose Alberto Ucles, Commission, DC Arts & Humanities; Jon Scaman of Atlanta; Chef Cynthia Verna of Haiti; Martha Krabill, Sergeant First Class, US Army and Thomas Augustus Noll, author
Despite the challenge, the winner for the People's Choice Award went to Cynthia Verna, embassy chef of the Republic of Haiti (for her plate of shrimp, plantain chips and fine herbs aioli). The voting for this award was cast on social media and paper ballots. Humbled by the results, Chef Cynthia said simply, when she learned she had won, "This was my first try at the competition, and I succeeded at winning. I feel truly honored."
The highly coveted Judges' Choice Award was given to Chef Moha Fedal of the Royal Kingdom of Morocco (for his Marrakech Tangia made with lamb shoulder sealed in a terra-cotta cooking vessel). Eight judges participated in selecting him. When Chef Moha heard the news of his winning, he danced about joyfully, shouting, "I'm happy! Happy! What a wonderful moment this is for me and my country."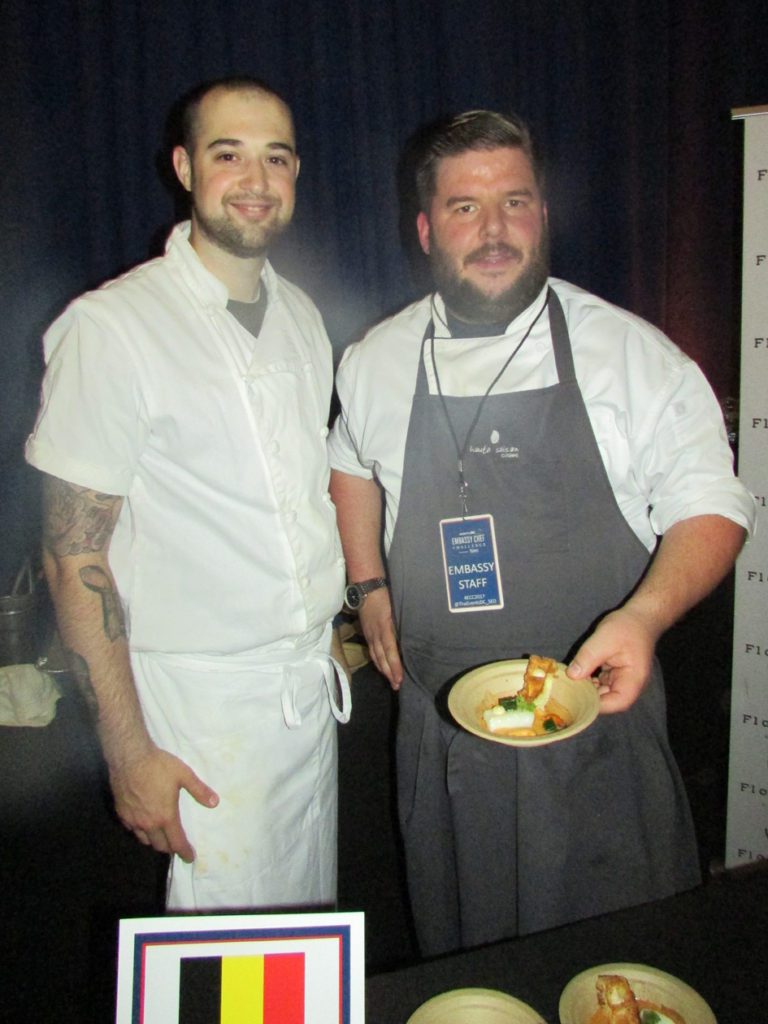 Paul Tecchio, Chef de Cuisine and Executive Chef Jan Van Haute of Belgium
To elevate the spirit of the evening, Moldova, Azerbaijan, and some of the other countries provided the wines, champagne, and beers; Singapore highlighted the evening of drink with its Singapore Sling, made world-famous by the Raffles Hotel.
"This was the largest and the most diverse festivity ever represented by us," Erik Moses, Senior Vice President, Events DC, said. "Some of the finest foods in the world were prepared and offered for sampling. Once again it proved to be a fun-filled event which we will always want to support in the years to come."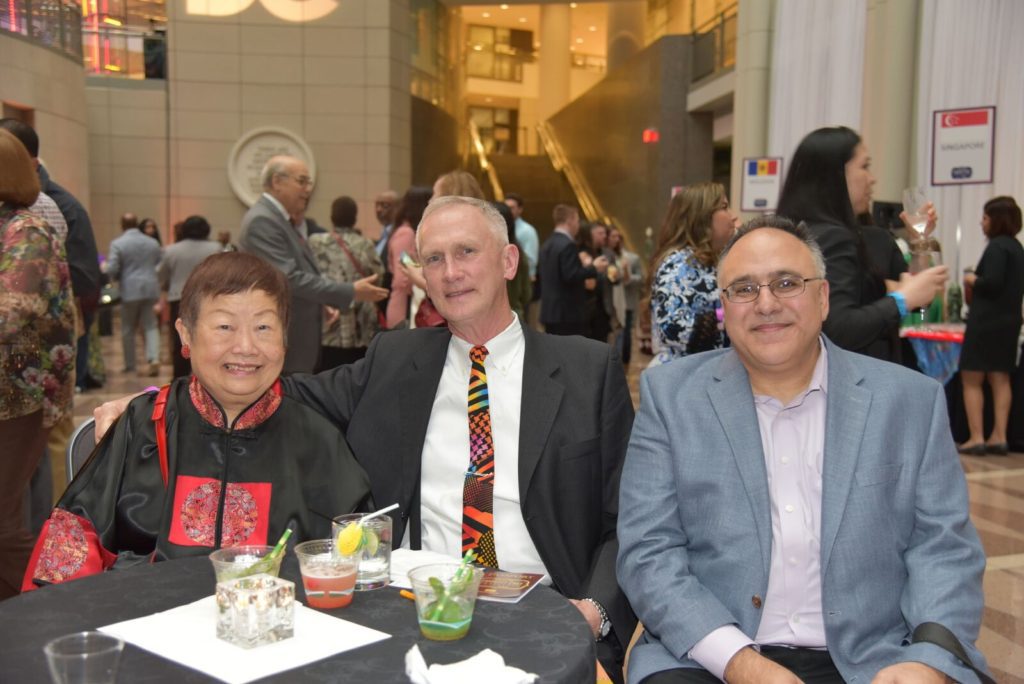 Sandy Taylor, W2W; Pat Taylor and Victor Shiblie, Publisher, Washington Diplomat
Among the embassy chefs represented were: Afghanistan (Samad Noori), Barbados (Damian Leach), Belgium (Jan van Haute), Chile (Guillermo Muňoz), Cyprus (Konstantinos Pitsillides), Ecuador (Victor Pucha), El Salvador (Ismar Reyer-Cruz), Ghana (Francis K.A. Otoo), Greece (Eugenia Hobson), Guatemala (José Monterrosa), Haiti (Cynthia Verna), Honduras (Yovanna Reiser), Indonesia (Galih Kuntobaskoro), Iraq (Djamel Amroune), Jamaica (Sherene James), Kenya (Linda Stewart), Mauritius (Geovanni Merle), Morocco (Moha Fedal), Nepal (Lok Tiwari), Pakistan (Mohammad Siraj), Paraguay (Andrea Bauza), Peru (Elmer Gutierrez), Philippines (Red Garcia), Qatar (Hanna Berdkan), Rwanda (Samuel Bayingana), Saudi Arabia (Yasser Al Zannan), Sri Lanka (Anuradha Wijesinghe), and Uzbekistan (Khamidulla Shamsutdinov). The seven countries that provided "Sips and Sweets" were: Azerbaijan, Bolivia, Dominican Republic, Ecuador, Kyrgyzstan, Moldova, and Singapore.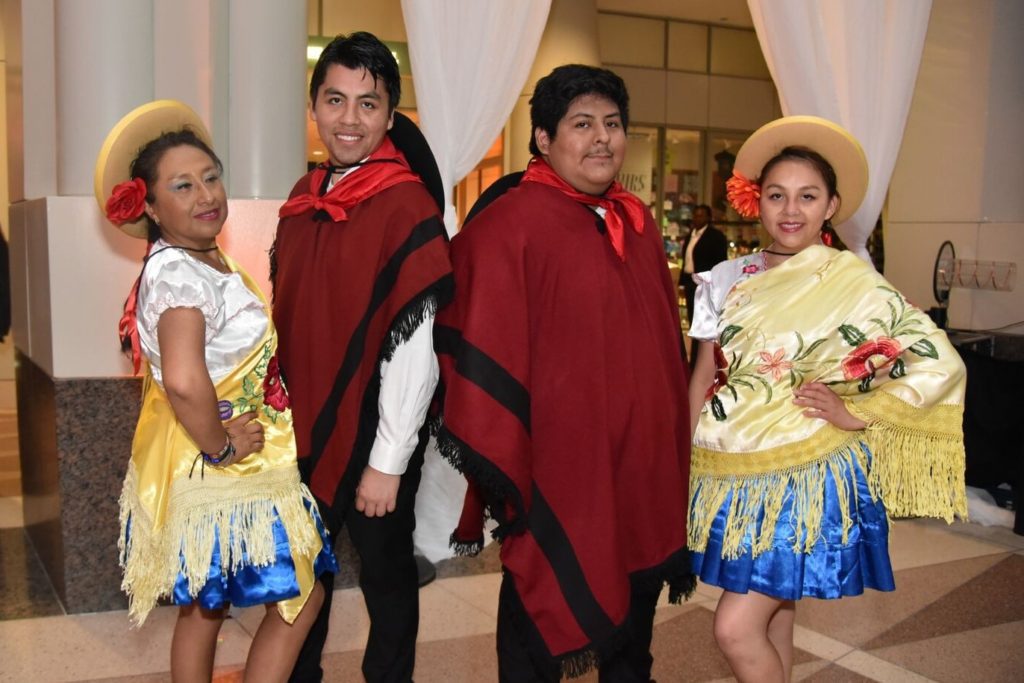 Bolivian dancers
Some of the diplomatic guests included: The Ambassador of the Republic of Nicaragua; The Ambassador of the Republic of Iraq; Charge d/Affairs, the Embassy of Bolivia; Ambassador of the Republic of Mauritius; the newly arrived Ambassador of the Royal Kingdom of Morocco; and The Ambassador of Republic of Indonesia who launched this year's festivities at a private dinner at his residence.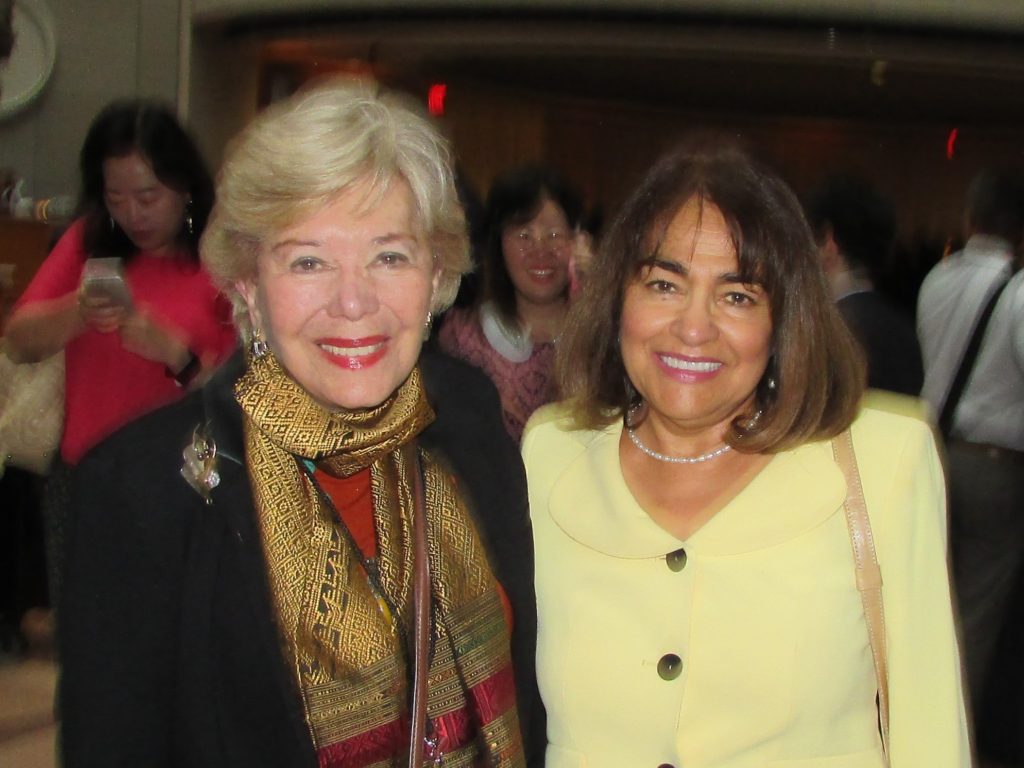 Nicole D'Amecourt, WIPAC and Sheila Switzer, AAFSW
Some of the socialites and VIPs included: Sheila Switzer, Program Chair, Associates of the American Foreign Service World Wide; Shahin Mafi, Founder/Trustee, Azar Foundation for Children Around the World; Fifi O'Conner, President, Muslim Women's Association; Jose Alberto Ucles, Commissioner, DC Commission on Arts & Humanities; Christine Warnke, Hogan, Lovell Law Firm; Nicole D'Amecourt, Board member, Washington International Piano Arts Council; and Sandy Taylor, Diplomatic Liaison, Welcome to Washington, International Clubs, Inc.
Events DC is the official convention and sports authority for the District of Columbia delivering premier event services and flexible venues across the nation's capital.  Events DC was formerly recognized as The Washington Convention and Sports Authority, which managed and attracted conventions and sporting events across the District. Today it promotes an extensive variety of events, resulting in amazing experiences for residents and visitors alike, and generating economic and community benefits for the city.  For more information, visit www.eventsdc.com.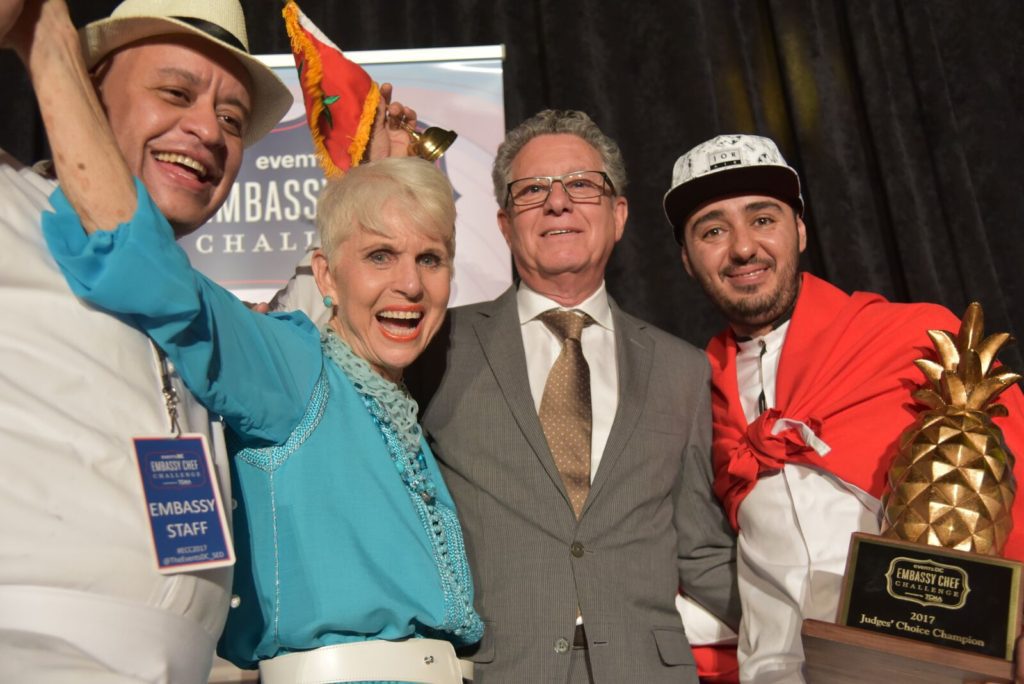 Chef Moha Fedal of Morocco; Jan Du Plain, Embassy Liaison; Mr. Larbi R'Miki, Head of Diplomacy Cultural Counselor at the Embassy of Morocco and the assistant chef
Ronald Reagan Building and International Trade Center is the first and only federal building dedicated to both government and private use, mandated by Congress. It unites the country's best public and private resources to create a national forum for the advancement of trade. Owned by the U.S. General Services Administration and exclusively managed by TCMA (A Drew Company), the Reagan Building is the official World Trade Center Washington, DC, and a premier conference and event venue with executive office space, attractions, dining, retail, parking, and community activities. For more information, visit www.itcdc.com.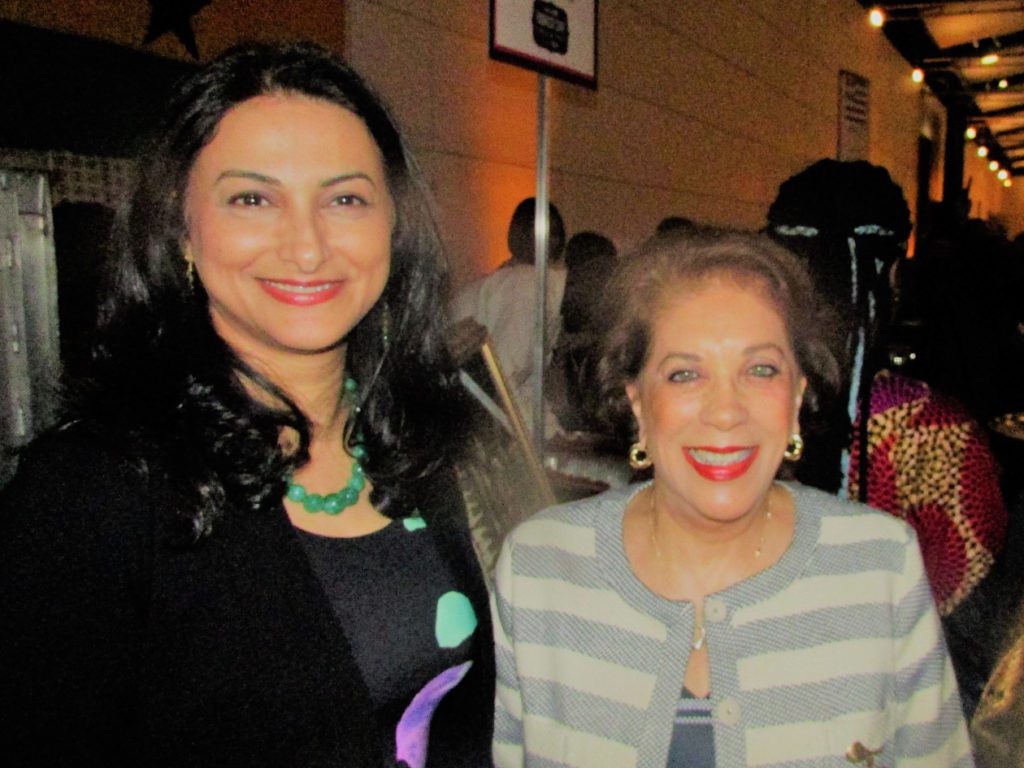 Mandana Amarlouei and Shahin Mafi, Azar Foundation For Children Around the World
TCMA is the exclusive manager of the Ronald Reagan Building and International Trade Center (RRB/ITC). TCMA's team excels in delivering unparalleled service and expertise in Real-Estate Development, Leasing, Building Operations, Hospitality Services, and International Trade Promotion. For more information, visit www.drewcompany.com.
Save
Save
Save
Save
Save
Save
Save
Save
Save
Save
Save
Save
Save