Clubbers and Trend-setters!
by guest contributor Dimitrios Machairidis
Photo credit: Rabih Geha
"I love Beirut. I am attached to this city. I grew up here. I experienced its days of glory, but also its war wounds and post war times. Although Beirut is considered an unstable city, the truth is that it disposes dynamism, creativity and opportunities that inspire me. The city has been through many cultural mixes and influences throughout the centuries from Europe and the surrounding Middle East that have boosted the creativity of the Lebanese design," says Rabih Geha, the famous Lebanese-Croatian architect.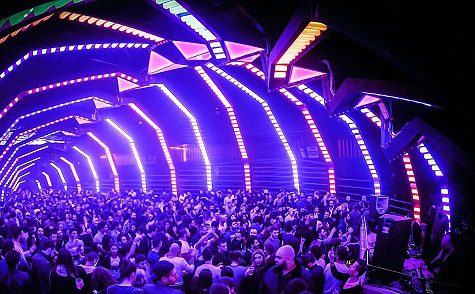 Club Uberhaus
After a long, disastrous civil war, Beirut – the capital of Lebanon – bounced back as the vibrant city it was in the '60s and emerged as a designing hub in the Mediterranean and the Middle East. Convinced about the dynamism of Lebanon, Rabih Geha with a group of prominent architects founded his studio RG/Architects in Beirut in 2006. Rabih Geha's team designed high-end clubs like the "Off & On Barber Shop" and the "Uberhaus," restaurants like the "Villa Badaro," fine boutiques like the jewelry one by the name of "Mukhi Sisters" and rooftop lounge bars like the one in the Four Seasons Hotel, all of which transformed Beirut into a new destination for clubbers and trend-setters. For the designing of the Uberhaus club, Rabih Geha compiled containers, 15 steel ribs and 1100 RGB LED lights. "It is stacked like lego and invites you on a sensory journey inside the belly of a whale," explains Rabih Geha. Villa Badaro ,that Rabih Geha transformed to a stunning restaurant, is one of the few remaining early twentieth century buildings to survive the pre-war years.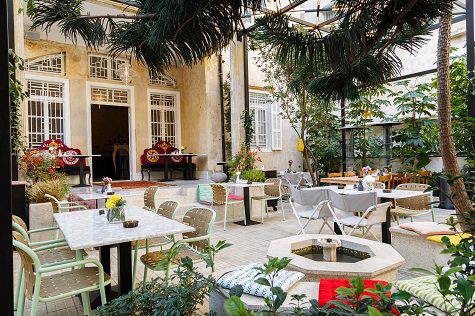 Villa Badaro
"As a child I dreamt of discovering a secret door to a parallel universe, a world of fantasies where anything would be possible. Growing up, I realized that I live in Lebanon, a country in constant unrest and I learnt how to find my own stability in Beirut, a city of insecurity. This insecurity gives me the power to overcome any difficulty, to surpass myself, to work hard and to create. There isn't one thing I could single out in Beirut as a source of inspiration. I get inspired by daily life, I imbibe everything I see and try to amalgamate it into my work. Beirut is always inside me, as well as travels, knowledge acquired by reading, personal taste, design aesthetics and vision. All of them are major sources of enthusiasm that help bring my projects to life," explains Rabih Geha.
Rabih Geha
Rabih Geha knows how to grasp the essence of everything he deals with, without destroying its balance. "Authenticity is always the key element in my work. Rather than the colors, I am mostly concerned with the originality of the raw materials that I choose for my projects. This is why most of the time I spend on a project, deals with the elements and the structure of the specific raw material I work with."
POP-UP LOUNGE BAR
"My projects are about telling stories. Each one has its own unique story to tell. Constantly, I look for the harmony between the history of a space and its future. It helps me to enhance its magic coming from the past. In every project the geographical, historical and also the socio-economic details, form a compelling visual collage, which I transform into a sensorial experience. I have immensely enjoyed designing exciting stories and look forward to designing many more," concluded Rabih Geha on an optimistic note.
Save
Save
Save
Save
Save
Save
Save
Save
Save
Save
Save
Save
Save