The Final Round!
by guest contributor Joe David
Photo credit: Joe David & Claudette Brown

The ornate, French-style grand ballroom of the Cosmos Club came alive with music last Sunday; it was the piano music of some of the world's greatest masters – Beethoven, Chopin, Liszt, Mozart, and more. For over three hours, the ballroom filled with beautiful sonatas, nocturnes, rhapsodies, interpreted by six talented, amateur pianists. Each of these finalists performed their music with peak skill in hopes of winning one of the three top prizes provided by Washington International Piano Arts Council (WIPAC). For three days, leading up to the Sunday events, 23 talented aspiring winners from around the world competed for the grand prize. Of the 23, only six were selected for the final round on Sunday at the Cosmos Club.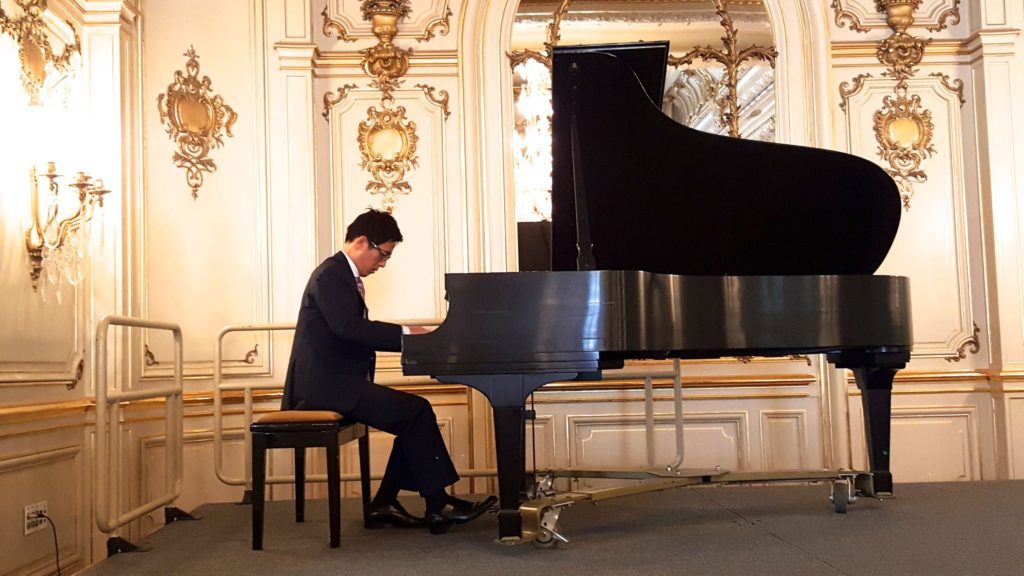 Hiroaki Taniguchi, WIPAC Grand Prize Winner
The Festival of Music 2017, which has become an annual WIPAC event in Washington for the past fifteen years, has been providing new opportunity for talented pianists from around the world with dreams of bringing their music to the American stage. "Considerable time has been dedicated to preparing for each festival, but the results have always been well worth it," Clayton Eisinger, WIPAC president, said. "Thanks to the hard work of Chateau and John Gardecki, the annual festival has been enhancing the lives of our community since inception by bringing joy to its participants and its many attendees."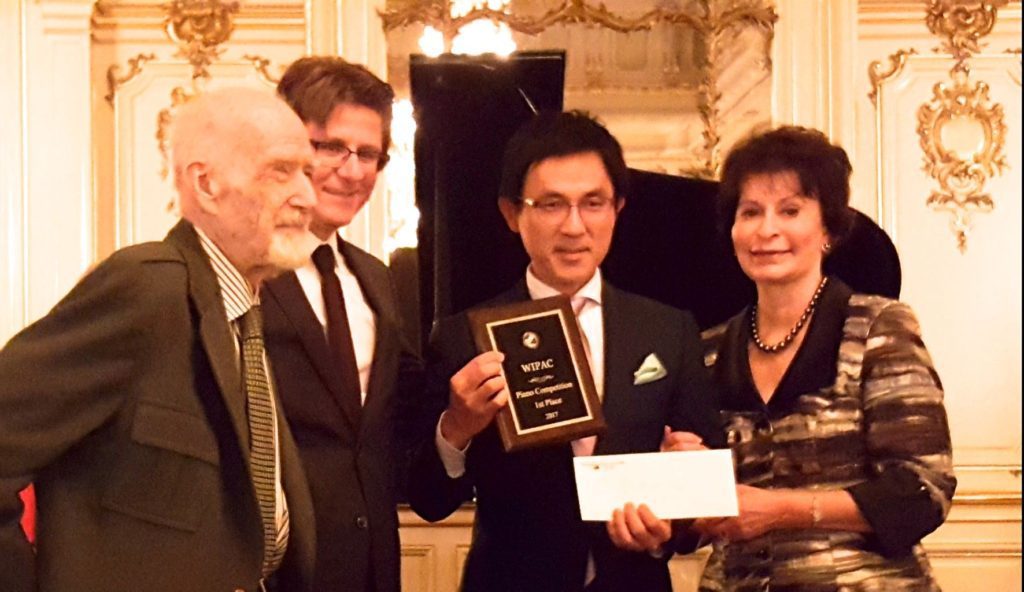 Austin Hay, Ambassador Pierre Clive Agius, First-Prize Winner Hiroaki Taniguchi and Dr. Wanda Trefil
Honorary Chair, HE Pierre Clive Agius, Ambassador of Malta paid special tribute to the Gardecki's for their extraordinary work at celebrating music in the nation's capital. "It is the source of life that brings people together by touching their soul." To quote Friedrich Nietzsche, "Without music, life would be a mistake."  
During the evening dinner-awards celebration, the top three winners – whom the judges evaluated for their musical accuracy, rhythmic clarity, style awareness and more – received cash prizes totaling $7,000. Of the three, Hiroaki Taniguchi walked away with the most awards, including first prize, for the structural clarity and precise phrasing of three piano pieces – by Olivier Messiaen ("Ils de Feux"), Franz Liszt ("Valee d'Obermann"), and Alberto Ginastera ("Danzas Argentina," Op. 2). For Hiroaki, who began studying music at 5, winning hasn't been new. The attorney-trained, part-time pianist has won coveted amateur awards for his playing in both Paris and Tokyo since 1999, and he has performed with the Tsuyama Symphony Orchestra and with the orchestra of Japan's famous TV Program Concert without Title.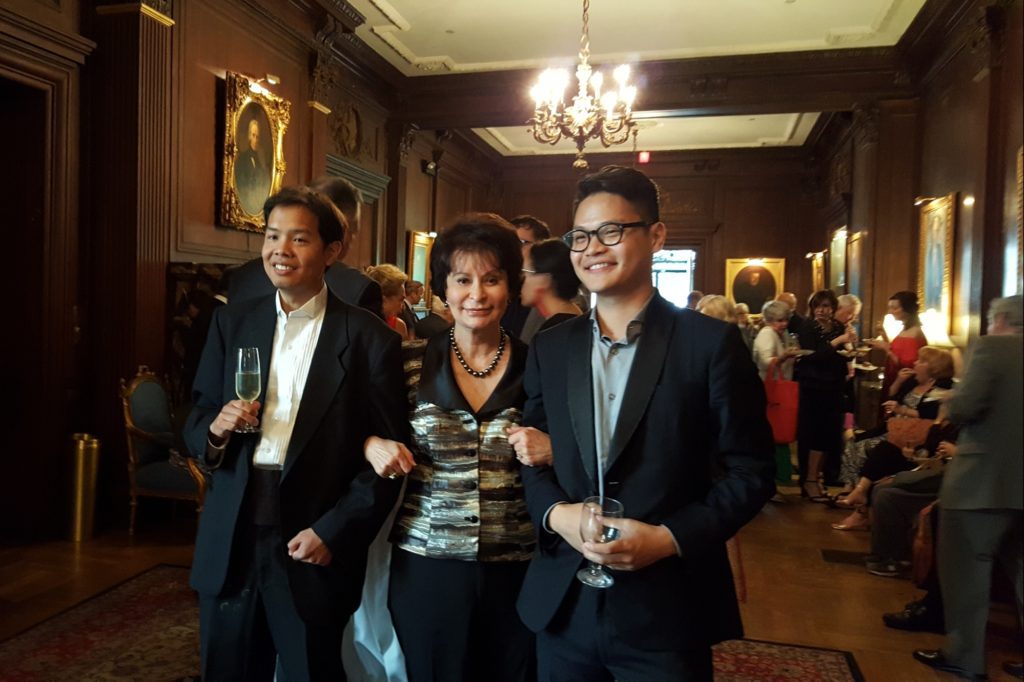 Andy Liao (third prize winner), Dr. Wanda Trefil, (competition chair) and Ferdy Talan (second prize winner)
Indonesian-born Ferdy Talan, whose music reflected the rich mix of his ancestral traditions, and American-born Andy Liao, who recently distinguished himself with his performance of romantic era works in the 2017 Boston International Piano Competition, were the second and third prize winners, respectively. Of the six who performed to the over 100 guests, the three remaining finalists, I-Wen Tseng, Joseph Lipare and Simon Finlow received certificates of accomplishment and a $250 cash award.
"Because of the significant talent many of these performers bring to the festival, it is always a difficult task to select a winner," Michael Davidson, Chairman of the Jury, said. "Fortunately, we had high-caliber judges who made it possible to simplify the task for us and evaluate the musical skills of each performer with expertise. For them, and all of the others at WIPAC, we are forever grateful." Among the jurists were Professor Frank Colon, Dr. Raymond Jackson, Laurence Berman, Haskell Small, Janice Weber, and Thomas Pandolfi.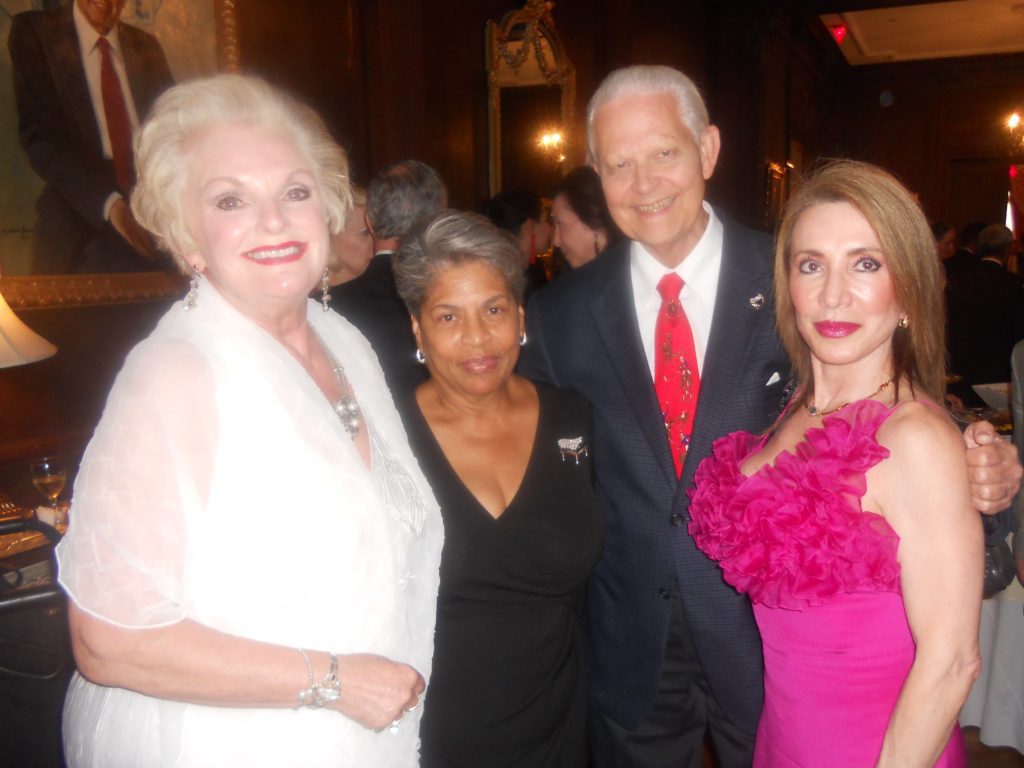 Portia Davidson, Inez Jackson, John Gardecki, and Leila Mol
WIPAC has been successful all these years at bringing new talent to Washington, because of the cooperation of universities, orchestras, museums and embassies throughout the Washington, DC, area, including those in Maryland, Pennsylvania (Cheyney University), Azerbaijan, Japan, and Poland. An especially memorable moment for WIPAC occurred in 2015, when it was invited to present the First Festival of Piano Music in Yokohama, Kanagawa Prefecture, Japan, in partnership with Maryland State Sisterhood Program under the auspices of the Office of the Secretary of State and The Kanagawa Prefecture Government.
"These great musical moments for us and the performers couldn't have been made possible without WIPAC's many supporters. From the bottom of our heart, my husband, John, and I are humbled by all their hard work and donations that make this competition happen," Chateau Gardecki, WIPAC founder, said. "I would like to give special thanks to the Festival of Music 2017 Competition Committee, its Chairs, Drs. James and Wanda Trefil, Ambassador Pierre Clive Agius, and the distinguished judges, headed by Mike Davidson, for the success of today's gala event."
Jan Du Plain, Monique Mally and Joan Polk
Among those present were: Board Members Jeanne Blackwell and Rhoda Septilici; Executive Board Members Portia Davidson, secretary, Jean Wigham, treasurer, Diane Merriam, vice president, and John Gardecki, CFO. Others present included Suzanne Finney, who is responsible for the competition program, Jan Du Plain, and Henri (and his wife Lisa) Polgar, Press Jurists; HE Tihomir Stoytchev, the Ambassador of Bulgaria, and his wife Dr. Lubka Stoytchev; and Special Honorary Chair HE Pierre Clive Agius, Ambassador of Malta, and Austin Hay, a 102 years old retired movie actor and government worker; both men were given special honor for their contributions.
Washington International Piano Arts Council (WIPAC): Money raised during the annual gala supports WIPAC's international piano competition events and other piano concerts throughout the year. These competitions and concerts feature professional and non-professional piano artists from all walks of life and from many countries. Established in 2001, WIPAC has been using music to promote international friendships and mutual understanding among nations, to provide an educational forum for all levels of professional and non-professional pianists, and to help generate a renaissance of interest in great piano artistry worldwide. Its primary goal has always been to help classical music flourish. WIPAC is the only competition of its kind that has been presented consecutively year after year in the U.S.A. for the past 16 years. Its sister competition in Paris Le Concours des Grands Amateurs de Piano celebrated its 28th year in 2017.
Save
Save
Save
Save
Save
Save
Save
Save