Legions of Brothers…
Photo credit: Janet Donovan
"Several reporting trips to Afghanistan over the years have left me with so many memories of the sacrifices of the troops I met along the way and the warmth and hospitality of the Afghan people living in the most difficult circumstances," said Barbara Starr, CNN's Pentagon correspondent, at a private screening of Legions of Brothers at The US Navy Memorial in Washington, DC hosted by CNN Films/New America.  Starr moderated the Q and A with the producers, director and principals. 
Synopsis: "Legion of Brothers" tells the stories of the handful of US Special Forces soldiers who, shortly after the 9/11 attacks, went into Taliban-controlled Afghanistan and within a matter of weeks overthrew the Taliban regime. In the public's mind, Special Forces are often confused with the "door kickers" of Special Operations Forces — such as SEAL Team 6 and Delta Force — who are the United States' elite counter-terrorism operators. In fact, the primary mission of Special Forces, in particular the Army's Green Berets who are profiled in the film, is to work "by, with and through" local forces on the ground to act as force multipliers. That means that Special Forces embed with local forces and work with them to achieve their common goals.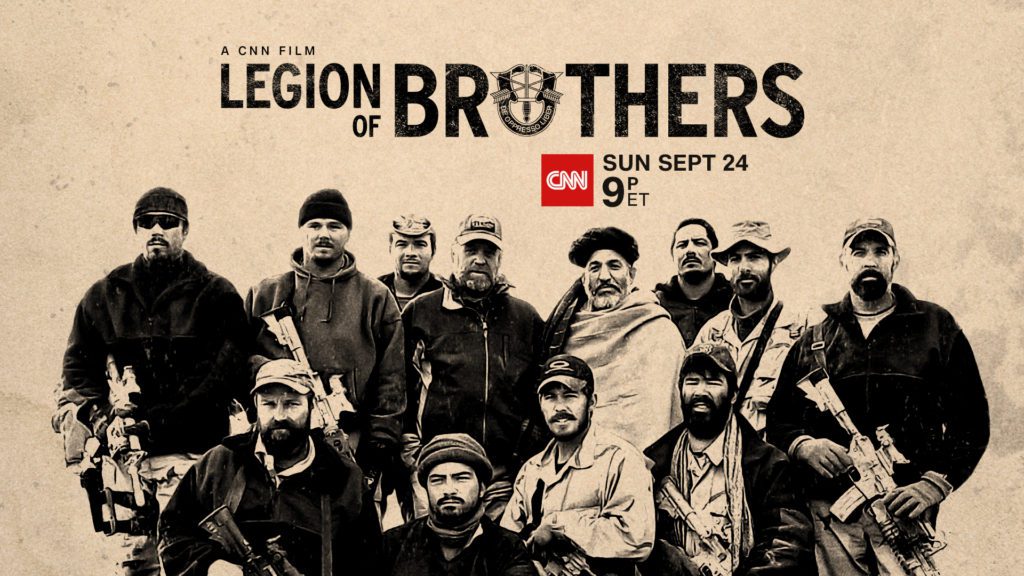 "Every film has its own journey. For this one it began in 2002 when I first met Jason and Mark and many of the other guys in the film. I hadn't met the families yet, but I think even then it struck me as a kind of incredibly dramatic, almost iconic story about the nature of war. We talked for five hours at Fort Campbell. And I, as time went [by], kept thinking about it. Almost 15 years after the war I kind of was talking to Peter and Tresha about ideas and I thought of this one. We are in this long war, why not go back to the origin – the original first foot soldiers of the war on terror – and tell that story?  I think they were ready at this point in their careers to actually be open about it and tell their story. I couldn't get it out of my head." Greg Barker, Director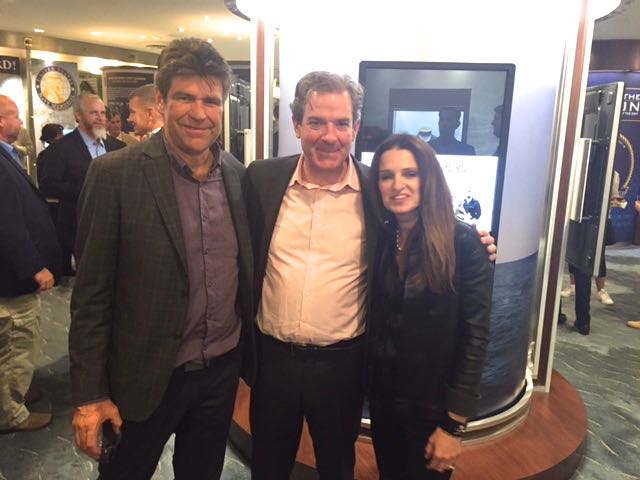 Greg Barker, Peter Bergen, Tresha Mabile
"For me personally, yes I've been able to speak about it. Our team along with a number of other teams from that period all were doing interviews with Greg back in 2002.  And since then a number of these teams including myself have been asked to speak on behalf of the command about our experience. There's a lot of the history …….  each one of these teams and the stories, the experiences that they went through. I think even within special forces we lost some of our own history. It wasn't until years later as you sat down and met with some of these guys that you learned, 'oh that was team that did this or that.' Or 'that was these other guys that were involved.' And then also to remember the Afghans that we worked with, that we grew close to and have been able to connect and maintain communication with over the years and see periodically." Mark Nutsch, Former Army Special Forces Officer and the former commander of the ODA known as the Horse Soldiers.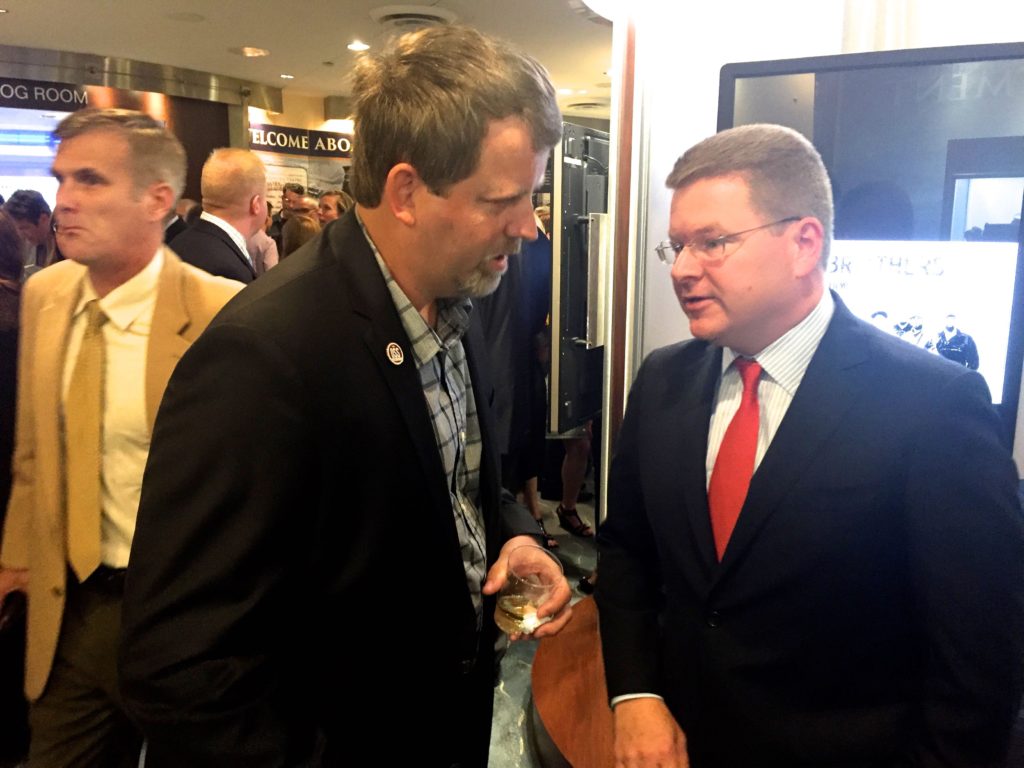 Mark Nutsch with CNN Bureau Chief Sam Feist
Captain Mark Nutsch's Team 595 arrived first in October 2001 and partnered with the anti-Taliban military to capture cities in the North — something they did primarily on horseback. We chatted with Mark about the horseback scenario at a reception prior to the screening.  "On 9/11, I was the team commander for a special forces team designated 595 and we're one of the first teams that went into Northern Afghanistan and worked with various North Alliance Afghan militia forces that were resisting the Taliban and Al Qaeda. We had done some abbreviated planning, but not entirely," he told Hollywood on the Potomac. "They inserted us by helicopter at night and we linked up with our Afghan counterparts and we were riding horses the very first day. There was definitely some fear, but that was our job. The special forces selects different people for their skills and commitment for their missions."  Fortunately, Nutsch actually grew up on a cattle ranch and rodeo-ed in college. We asked him what his best skill was. "My best skill? I don't know. I don't have any best skills," he responded after some hesitation. We suggested staying alive. "That's right….staying alive….definitely." 
Lieutenant Colonel Jason Amerine served in the Invasion of Afghanistan in 2001 in which he aided tribal leader Hamid Karzai in fighting a guerrilla war against the Taliban. And he too sampled the horse brigade.  Fortunately, he grew up showing horses from a young age, ranching and participated in high school. "That was one aspect of our mobility and I joked that we were going to be on horseback at some point. – didn't realize it was going to be the first morning in Afghanistan."  And of course these horses didn't know English commands! Translation: Out of control.
Sam Feist, Mark Nutsch, Amy Nutsch, Shaista and Ray Mahmood
"I think you need to be especially independent," Mark's wife Amy said. "You want to take care of things yourself, but you also have to allow others to help you. I was very stubborn in the beginning and said I could do it all, but the ones that I was with  –  we have our own sisterhood.  We keep in touch with each other on Facebook. We rarely see each other all the time cause we're all over the place. It's hard, but he's out there doing a hard job and my responsibility is to keep the home alive …. the homes still in tack. The bills are paid, kids are well fed. They're going to school. They're doing what they're supposed to do in school. And then I started working too, so it was kinda crazy. But I know there a lot of wives out here who did the same thing, so I appreciate you."
Mark, Tresha and Peter have worked together before, so there wasn't much conflict in the development process. "The idea that we're living among these real American heroes and so many people have forgotten the story so we wanted to go back and we spent a lot of time with them and met them," said Tresha.  "And as we started talking to people about this story, we were amazed even some of our closest friends, people who followed news very closely had forgotten about these stories."  "Well, I made a documentary that was based on, well two, of Peter's books," said Mark, "one  called Manhunt: Hunt for Bin Laden and another one about his book on American Jihadis. So, we've known each other for a long time and just decided to collaborate on more projects." No one got in each others way. "It's really the story of the first foot soldiers of the whole war on terror. A small group of guys who went into Afghanistan right after 9/11. So, I find that if you look at how things began, it's often very instructive to, you know, reflect on that and informs where we are now and how things might continue. We're not trying, well at least I'm not, to kind of offer solutions to Afghanistan, just to say this is how it began. It looked very different then, in terms of military profile, than it does right now," Mark added.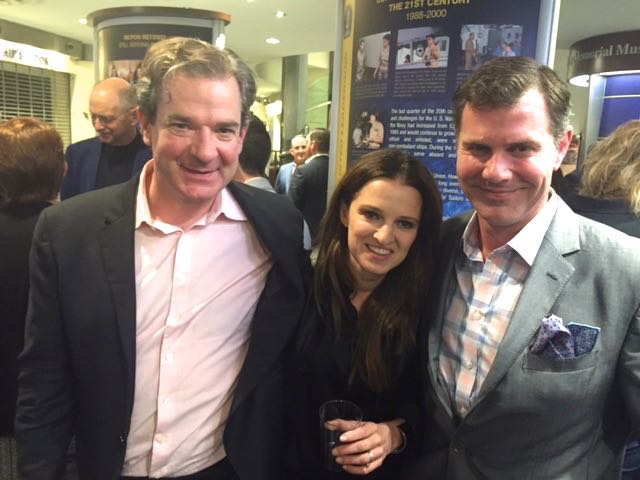 Peter Bergen, Tresha Mabile and Sam Dealy
Hollywood on the Potomac also spent some one on one time with Peter Bergen prior to the reception where he mingled with both friends and admirers. He explained the Afghanistan involvement this way: "We're in Afghanistan because we were attacked from there on 9/11 and the main interest is to not allow Afghanistan to be an aircraft carrier for every Jihadi group in the world, which if the Taliban continued their resurgence, they would invite Al Qaeda back … I mean Al Qaeda has a presence there, Isis has a presence there and right now, I think this is the worst it's been since 9/11 in terms of the security situation.  To President Trump's credit, it's very counterproductive to say we're going to be here for a year. It's much better to say we have a commitment until the Afghan army can maintain itself without outside help. We've got a lot of things wrong in Afghanistan. Hopefully we've learned from some of our mistakes, but actually I think the Trump administration is doing the right thing, which is, it's not a huge conventional force that we're putting there, it's mostly an advise and assist."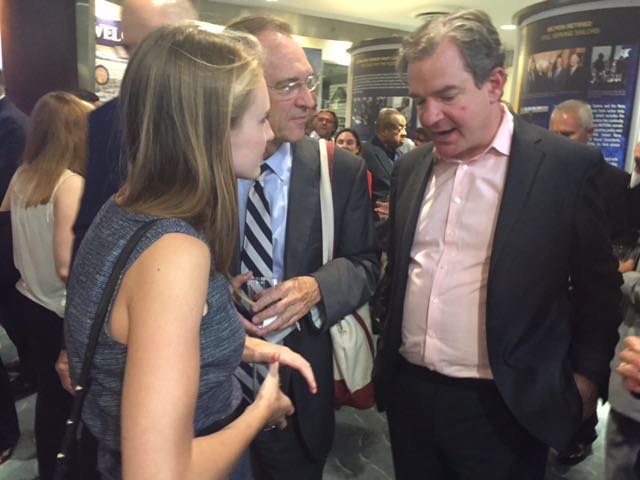 "Special forces guys are going to train the Afghan army," added Bergen, "and I think if Hillary Clinton had been President, she would have done something not dissimilar.  Obama did two things: He surged and sent tens of thousands of troops in, but the same day that he announced the surge, he also announced the withdrawal date, so the story became the withdrawal date, not the surge and so that affects the Pakistani's calculation, that affects the Taliban's calculation, that affects Afghan confidence and right now, this kind of security situation is not good. Now that we've indicated we're going to be there for a while, I think you'll see the security situation improving, hopefully maybe even more investment, because there's no investment if the security situation is as bad as it is right now. If we look at polling data in Afghanistan, most Afghan's – and we've had big polling by the Asia Foundation every year – most Afghan's say, 'yeah, we understand our army and police need international help.' They don't want a huge ground force, but right now the situation is such that they are looking for help, and we were invited in by the Afghan government, which is a semi-legitimate government in the sense that it's been elected. It's more that semi-legitimate, there was an election process and the National Unity Government want us to be there … we've been invited in and the Afghan people generally speaking want support and help."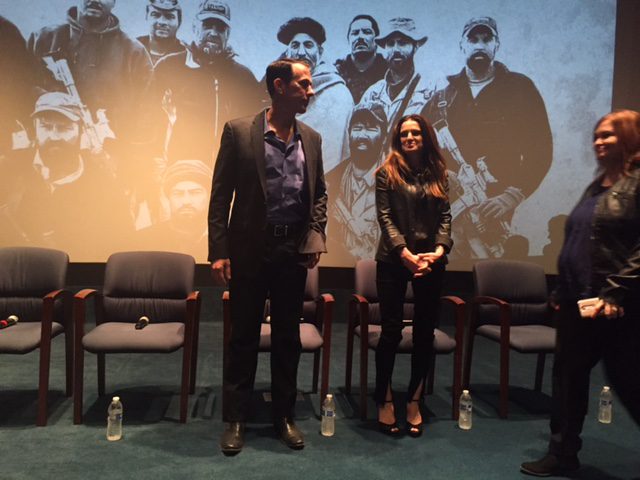 Peter also talked to us about the band of brothers: "These special forces groups form 12 man teams and they spend a lot of their career with the same people; so it's different from the conventional army where there are much larger units and people don't stay together. It's obviously hard to get into the special forces .. it's an elite group. One of the people in the film says 'I'm closer to these guys than I am to my own family.' And obviously you're in a war, which kind of tends to bring people together.  If they get ordered, they follow orders."

En fin:  "The situation in Afghanistan is worst today than its been since 9/11 in terms of the Taliban presence and it is in our interest to remain. We don't want Afghanistan to be an aircraft carrier for every jihadist group in the world. It's in the Afghan interest also."

Legions of Brothers airs Sunday night at 9 PM on CNN ET.
Save
Save
Save
Save
Save
Save
Save
Save
Save
Save
Save
Save
Save
Save
Save
Save
Save
Save
Save
Save
Save
Save
Save
Save
Save
Save
Save
Save
Save
Save
Save
Save
Save