The Swamp People!
Photo credit: Janet Donovan
"I have something to say about politics, since we're here. It is a serious matter –  that I can tell you – that I raised three lovely sons in the swamp. They all loved the swamp," birthday boy Tommy Quinn joked at his 80th. "It's a great place to raise children and I recognize that they may not have turned out perfectly, but they did okay, considering that. No matter what anyone says, even the fella who has the hotel over there that we're looking at, the swamp is a great place to raise little ones. I wish you all well as we go to the bar."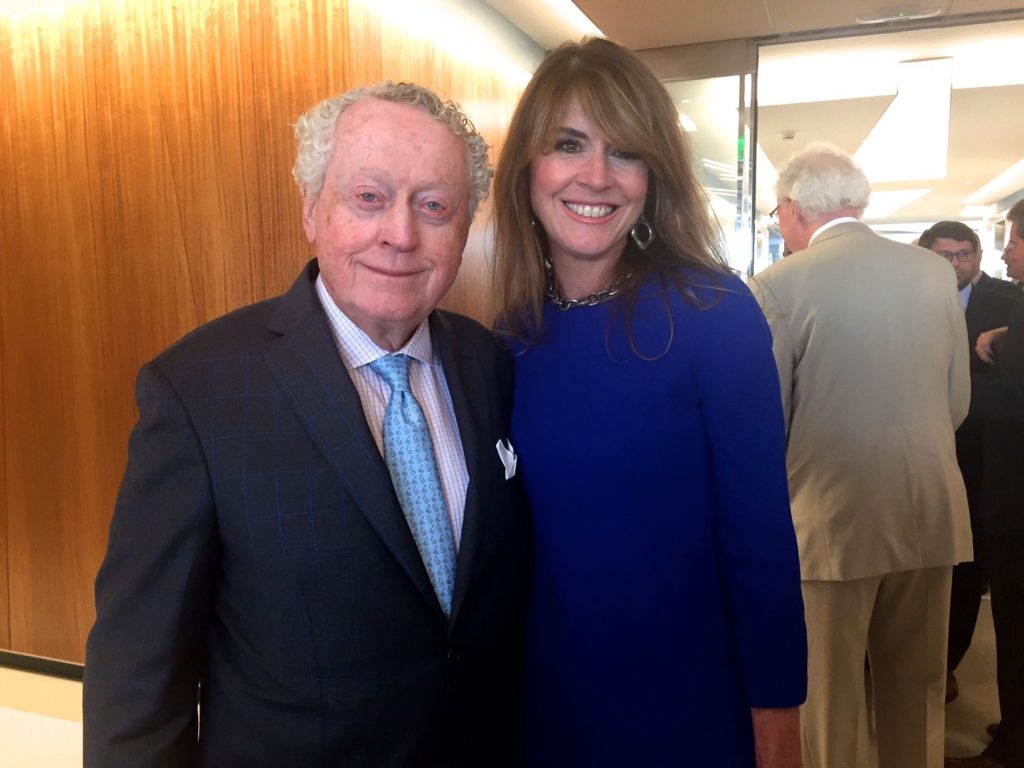 Tommy Quinn and Lynly Boor
That was actually at the end of the love fest so we'll backup now: "I refer to him as monsignor, although he seldom hears my confessions.  Tommy is for many of us the best friend a person could every have, because as Emerson once said, 'To have a friend, it's first to be a friend.' And for all of us, no matter where we first met Tom Quinn, we have benefited from a long-lasting relationship and he always has never forgotten those of us who were part of this incredible group that are celebrating his 40th anniversary of his fourth decade: Sounds better that way. But, some of you know this, actually Tom and I go back to 1992, my days in the state legislature. I came to this town and someone said, 'You know Costa, if you're going to be in Washington very long, you need an attorney.' So Tom Quinn's my attorney. I pay him."  Rep. Jim Costa (D-CA)
Team Quinn    Photo courtesy of Holidae Hayes
"I appreciate all of you coming. A lot of great clients, longtime clients are here. The man's here, the grandson. We've got a couple of people that wanted to make some brief remarks about Tom.
I'm just really here to welcome all of you, although I must say, walking through here, more than one person said to me, 'What is it with Hugh Hefner passing away and Tom having this party the same night?'  Where are the jokes in here? The only joke I really tell about Tom is when I see him, he's always walking to work here every day.  He's always here relatively early and works a full day at 80 years old, as all of the clients can attest to, but I always tell Tom he reminds me of one of my favorite lines, 'If you're going to get old, get as old as you can get.' Tom is ageless in doing that, and if you reach 80 at Venable while still working, you get a hat."  Stuart P. Ingis – Chairman, Venable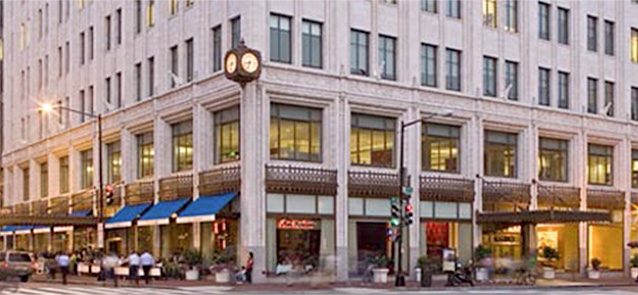 "To be clear,  when Tommy does that walk in the morning, he stops at the bar, so I was given strict instructions: The bar is open during these remarks, so do not be shy. Excuse yourself all you guys that are all stuck on this side of the bar. Please, walk in front of the microphone. We all know why we're here. It's because Tommy hasn't made enough money in his career to retire. So, he's still working. In fact, if I make it to 80, I don't want my party at my office. I don't want to have an office anymore.  As you mentioned, grandson's here. Tommy's sons are here. And you may not know, his grandson is embarking on a career as a lobbyist, because the lobbyist honoring his grandfather tonight is also escorting him to the Bruno Mars concert tomorrow night, in a luxury suite with a certain Senator. So, the kid is learning at a young age. But just three, four quick rules that I've learned over the years from Tom.:No drinking before 6. I always assumed that meant PM at the time; you'll never see him sitting down at a bar. You ever notice that? You ever seen the man sit at a bar stool, or sit out at a bar? No. On his feet, working it all the time. Doesn't want to look like the old guy at the bar. When you fly, you wear a jacket and tie so that people think you're working.  Plus he was billing the time. Someone was paying for that. I guarantee it. But, you know, he's busy, because in addition to being a very prominent person in this beautiful new office that our firm has, he single-handedly runs the Palm Beach office in the winter, and the Newport office. Single-handedly owns, operates, and does all the work at the Newport office in the summer, and Palm Beach office in the winter.And the last rule that he gave me some good wisdom is, 'Marriage is for life, but it's not for lunch.' Whatever that means." Rob Smith, Venable Partner
T.H. Tom McMillen and  Ms. Paterson
"It was a classmate that told me this joke. There was a bar down at the end of the street from Georgetown Law School. It was called Tommy's Bar and Grill. It's not called the Capital Grill, trust me, it wasn't that fancy when it was there. Steve's Bar, that was it. Honestly, I like Tommy's, but it was Steve's Bar, you're right. So, I was looking for a big side of beef. They shave off during exams and they'd say, 'Give those boys an extra shaving on the house, because they need it.' The usual people would go there. Tommy, Tommy's boss, John Dean. We were all classmates. Unfortunately, we knew we'd have to wait, of course, because Tommy would usually be at mass (laughs), or confession (laughs). In fact, he took so long I think he was at confession after which  he would come down and join us. We would study together. We would joke together. We would know when to take things seriously, which was rare, and when not to take things seriously, which was most of the time. Tommy's remained a friend for all that time." Conversation among Tom's classmates.
 
Senator Sheldon Whitehouse with Francesca Craig
"I'm Sheldon Whitehouse, I'm the junior senator from Rhode Island. I have known Tom since before he opened the Newport all night office when it was just the Newport all night operation of Tom Quinn.  So the Senate has really turned up in solemn majesty assembled for Tom. We've known Tom a long time and no sentimental occasion, like an 80th birthday, should go without mentioning that he was one of four brothers growing up. Gene is not with us. Frank and Paul are with us, but they grew up as a real foursome. I think it's important to remember them all here tonight. They would be the first to agree that Tom was the most fun. Around Tom the girls are prettier, literally, the jokes are funnier, the nights longer and the drinks are more relentless. And many of us, I think, have endured some of that punishment and I don't know how it is that Tom just gets right up and goes. It's really something else. He has me by 20 years, nearly, and I've been put to bed by him while he kept going. So this is a pretty special occasion, but actually not all that special, because Tom is not having one 80th birthday party, he is having five 80th birthday parties. So you are only here for one fifth of the festivities. There has been Newport, there is Ireland coming, there's Palm Beach … What am I missing? Georgetown. But you know the math kind of works on that, because if you take 80 years old, and you divide it by five birthday parties, you get to 16, which is about what he really still is. So, it's with great affection that I bring the greetings of the Rhode Island Senate delegation and I wish you all a wonderful rest of the evening." Senator Sheldon Whitehouse (D-RI)
"I love picking on Tommy. We have a mutual friend in Ireland who turned about 85 recently and I called him and I said, 'It's hell to get old.' He said, 'Oh, no Pat. You have to understand. We have an expression here in Ireland and I got it from Tommy Quinn. It goes like this: Never complain about getting older. Even those who never had the opportunity didn't.'"  Senator Patrick Leahy (D-VT)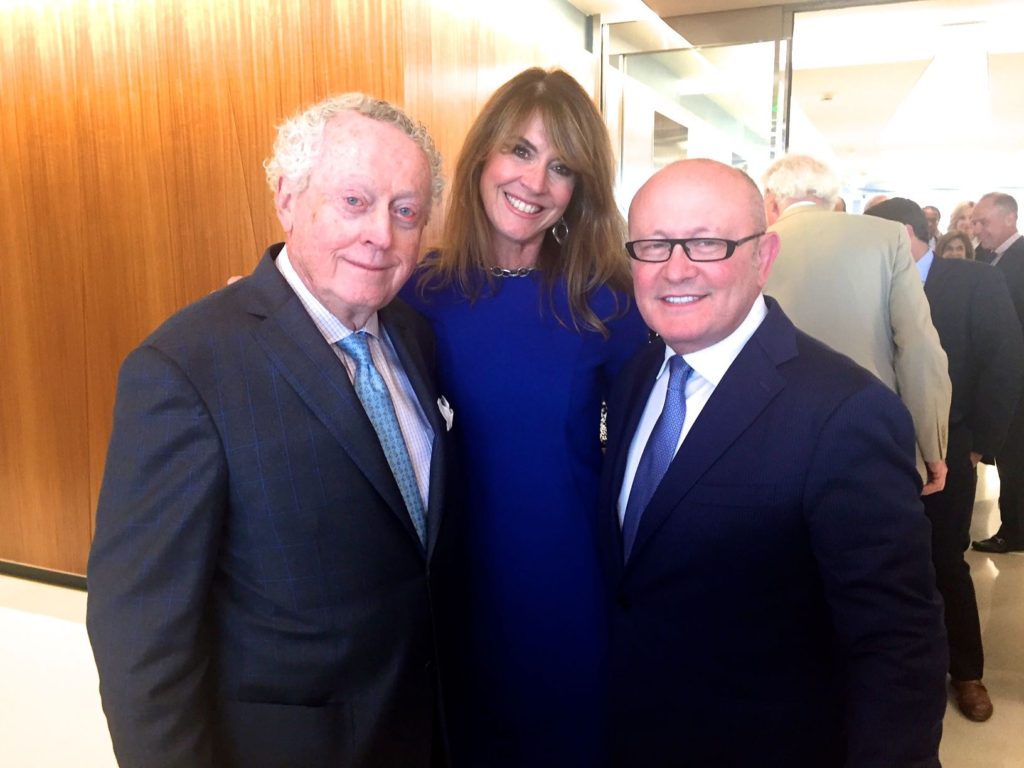 Tommy Quinn, Lynly Boor, Franco Nuschese
And now the Proclamation from Council-Member Jack Evans: "We're thrilled to be here in this beautiful building, and you know why I'm so happy? Because this beautiful building pays a lot of property taxes! Thank you! The whole area, the city is booming because of it. So Tom, we're here to honor you. And I have with me a proclamation passed, a resolution passed unanimously by the Council of the District of Columbia, and if you've ever seen the Council at work, that's not easy.  But we managed to get it passed and I'm going to read some of the whereas' here. I won't read them all, because you've had quite a distinguished career, and that would go on and on. But I just want to read a couple of them for you."
The resolution begins as follows: The Council of the District of Columbia is proud to recognize and honor and congratulate Thomas "Tom" H. Quinn on the occasion of his 80th birthday. Whereas Tom Quinn has been a resident of Georgetown for over 50 years, and walks to work every day – isn't that amazing? So congratulations on that. Whereas Tom Quinn is always included in and near the top of all lists naming Washington's most effective and powerful and eligible individuals. Says right at the top. Whereas Tom Quinn is a distinguished graduate of Georgetown Law School and a member and attends many bars. Whereas … it doesn't really say that. Whereas Tom Quinn has been a recipient of four presidential appointments. That right? Four appointments? And has participated in 15 presidential elections, none of whom won the election. Participated in a lot, but every time he backed somebody, they lose. No, that's all right.Whereas Tom Quinn always looks for the entertainment value in politics and particularly in politicians. Very true. And finally, the most important. Tom Quinn can always get a table at Café Milano. Says it right here.  And whereas Tom will celebrate his 80th birthday not today, but on December 17, 2017. However, this resolution concludes as follows: Resolved by the Council of the District of Columbia, that I, Jack Evans, by the power invested in me, do hereby declare today, September 28, as Tom Quinn Day in the District of Columbia."
Save
Save
Save
Save
Save
Save
Save
Save
Save
Save
Save
Save
Save
Save
Save