The Hex!
Photo credit: Janet Donovan

If you're thinking of ticking off Sally Quinn, don't!  It may seem like a stern warning, but the author of Finding Magic: A Spiritual Memoir has been successful at placing hexes on people that have treated her unfairly and they didn't end up in a good place – they're dead actually.  While she prefers not to focus too much on this aspect of her book, which was celebrated at the residence of The Ambassador of Germany Peter and  Mrs. Huberta von Voss-Wittig at their Berliner Salon, you can't help but go there – it's fascinating. Think Midnight in the Garden of Good and Evil.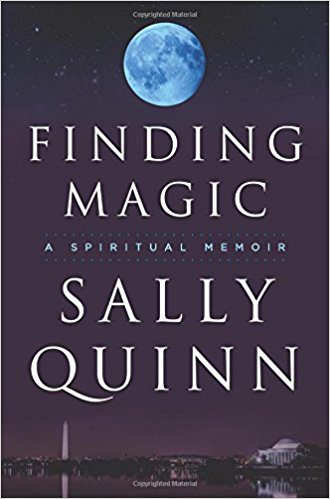 In order to understand her 'hexes' you first need to meet Aunt Ruth.  Quinn, who has lived in Georgetown since 1982, grew up in the deep South of Savannah Georgia and summers in a small town called Statesboro. While the area is known for it's beautiful parks, horse-drawn carriages, antebellum architecture, there's also Bonaventure Cemetery that became famous when it was featured in the novel Midnight in the Garden of Good and Evil – which is where Aunt Ruth comes in!  Her family were Scottish Presbyterians and Aunt Ruth played the organ in the church.  "She also had this whole other side to her," Quinn told Hollywood on the Potomac.  "They believed in the Scottish Stones and time travel and psychic phenomenon and ghosts and Ouija boards and tarot cards and astrology and all that and voodoo. And so I was brought up with that as my sort of alternate religion. I call it my embedded religion, because it was something I believed in.  And then I watched people put hexes on other people; I mean that was part of the routine. When you go to Savannah or Louisiana, New Orleans, every other store has a voodoo doll or something like that. And so when I got older, I used to tease my friends all of the time about putting hexes on people."  In her book she references it this way: "I began to see the power of the mystical, the mysterious, and the magical. I had a glimpse of the spiritual as a possible substitute for religion – unorthodox as what I was seeing and feeling may have been."  She also described to us her lifelong belief in the occult and worries that hexes she once put on three people may have worked,  but hopes that wasn't the reason for their demise.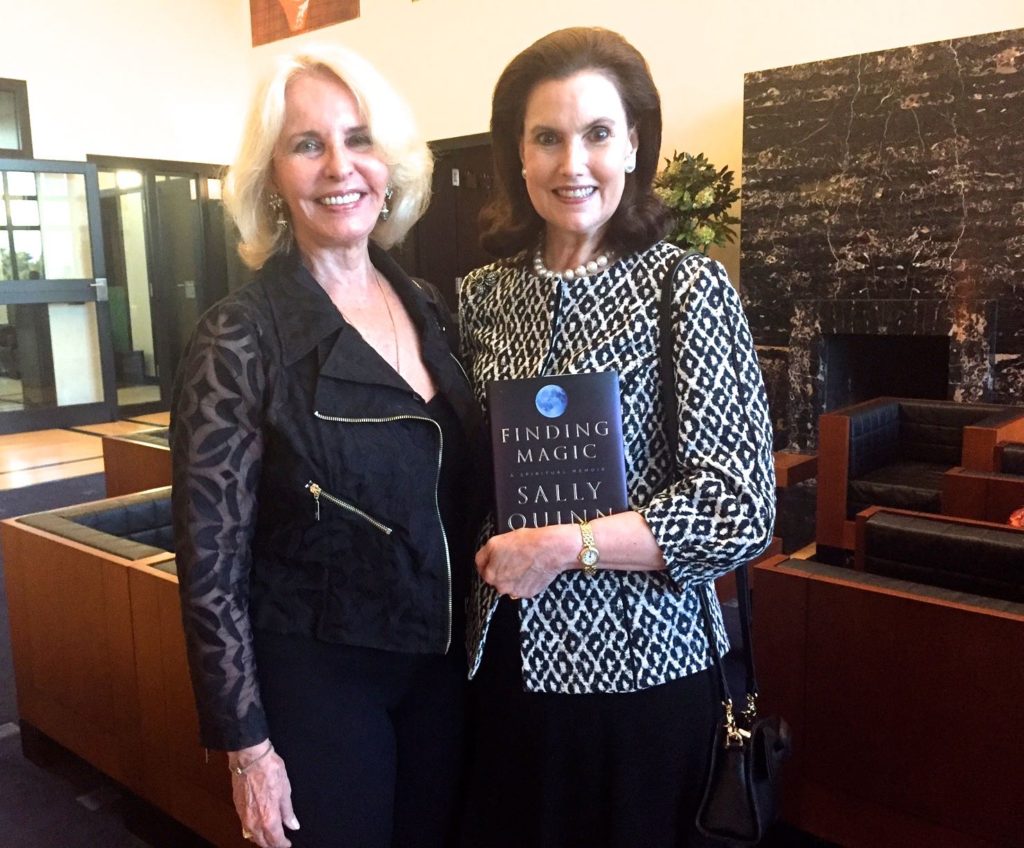 Sally Quinn and Alexandra de Borchgrave
"I did hexes three times," she confesses, "and I write about this in the book. Hex is another word for a spell or it can be a wish or a prayer. There were three people who hurt me or hurt somebody I loved and so I wished them the same kind of pain that they had caused me. And after I did it three times, my brother just said, 'You've got to stop doing this.' He has a PhD in religion and studied mystery and cults as well at the University of Chicago. And so I stopped. That was 35 years ago. I don't believe in it intellectually and it didn't make me feel good. What made me feel good was putting out positive energy instead of negative energy. There are a lot of people around this globe as far Africa and South America and Asia and who believe in this sort of thing and practice it. But, whether it's real or not, I don't know.  But it's no different from any other religion. It's just not called a religion, I mean people think it's sort of a cult as something apart from other religions when in fact it's exactly the same. I mean, my book is called Finding Magic. It's all magic, all religion is magic."
She also believes in astrology: "Astrology has always helped me in dealing with family, friends, bosses, and coworkers, but never has it been as useful as when I am interviewing people, particular doing profiles."  She writes that she always looks up a person's sign before seeing them, and it 'generally gives a huge advantage.'  "I'm a great follower of astrology. It's more like a map of your life than it is a sort of prognosticating. It's not, you know, oh you're gonna take a long trip and make a lot of money. I think often a lot of people say they don't believe in that but believe that the moon affects the tides or affects the human body during the time of full moon. I remember one nurse said to me in the hospital it's gonna be really crazy every full moon because they had all of these babies. More babies are born during a full moon. Well, you can't discount that."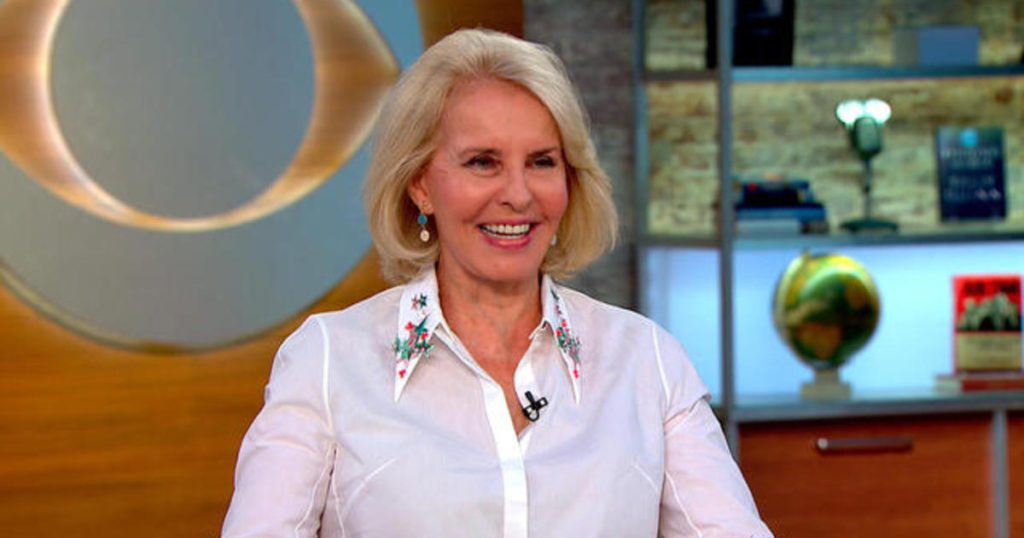 Sally Quinn   Photo credit courtesy of CBS News
Book synopsis: The author, journalist, television commentator, and longtime Washington insider reflects on the spiritual quest that has brought deeper meaning to her life—and kept her grounded within the high-powered political world of Washington, D.C.'s elite—her renowned writing career, her celebrity marriage, and her legendary role as doyenne of the capital's social scene. In this emotionally involving, illuminating memoir, the legendary Washington Post journalist, and author talks candidly about her life at the white-hot center of power and the surprising spiritual quest that has driven her for more than half a century. While working as a reporter, caring for a learning-disabled son with her husband, longtime Washington Post executive editor Benjamin Bradlee, reigning over the capital's social scene, and remaining intimately connected with national politics, Sally Quinn yearned to understand what truly made the world—and her life—tick. After years of searching, most of which occurring in the secular capital of the world, she came to realize that the time she spent with friends and family—the evenings of shared hospitality and intimate fellowship—provided spiritual nourishment and that this theme has been woven into all the most important moments of her life.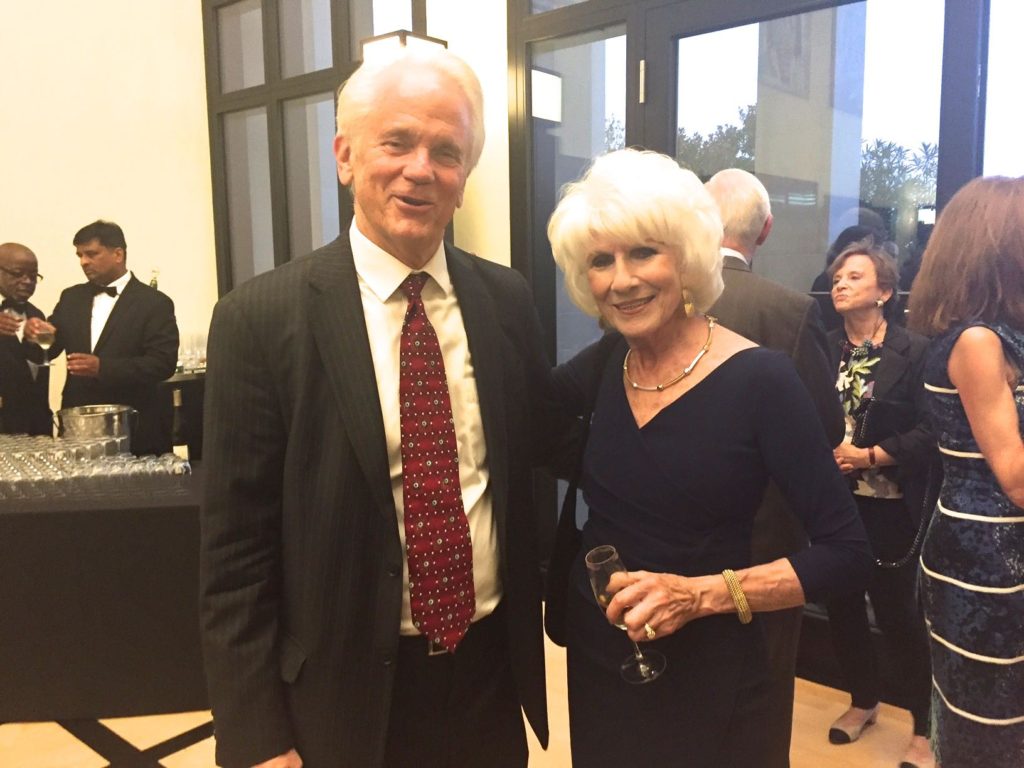 Shelby Coffey and Diane Rehm
"But Finding Magic," she reiterated,"is really about finding spirituality."  Sally was an Atheist from the time she was very young and started a religion website with the Washington Post as an Atheist. It was only after studying religion, taking a trip around the world to study, and being with her son Quinn who was born with a hole in his heart and nearly died that religion became more important.  "Quinn had open heart surgery and then my Mother had a stroke and she was partially paralyzed and had cognitive issues. For about 12 years I took care of her. My Father was very sick. They both died in my arms and my husband, Ben had Dementia for 8 years and the last 2 years I spent taking care of  him and he died in my arms. And so all of this had a huge effect on me, certainly from the birth of Quinn all through Ben's death. And I began to see that there were certain things that were not necessarily religious but spiritual and that certainly the last 2 years of Ben's life was the most spiritual time of my life. And so what I really want people to understand is that I was looking for meaning and I think everyone Is looking for meaning in their lives. And, I found what gave my life meaning was taking care of people I love and being with people I love, and that's magic. And that's what the book is about and I think I found magic."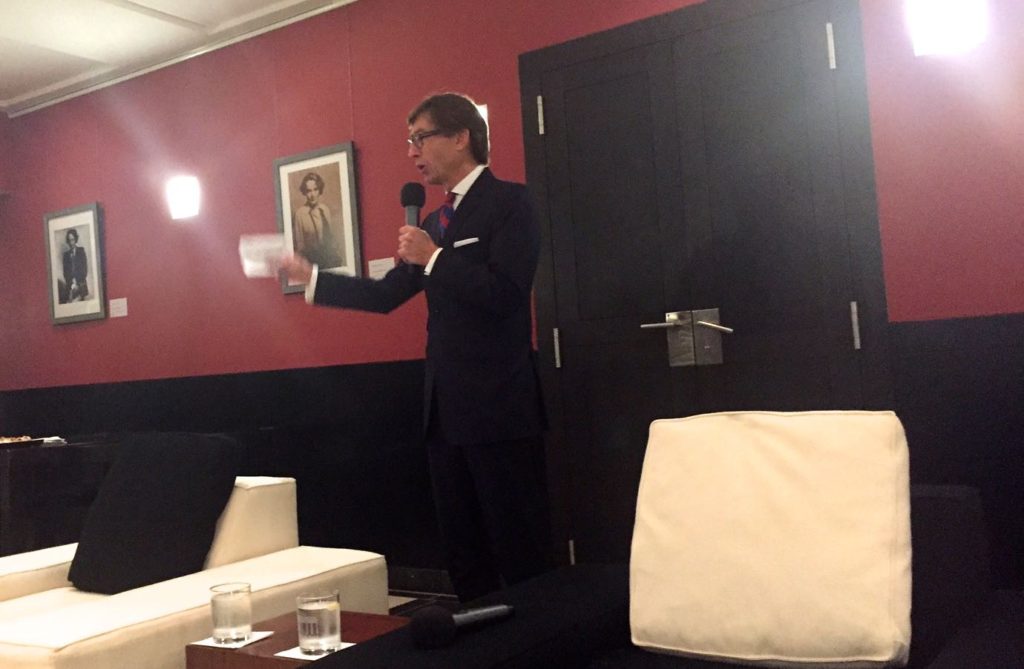 Ambassador Peter Wittig
The discussion and the Q and A have been deeply edited for brevity purposes. Ambassador Wittig opened the panel discussion this way: "Sally's passion, dedication and strength led her seemingly to everywhere she wanted to go. It made her into one of the most prominent, brilliant journalists in town. She was married to a legend and has this wonderful family. These virtues made her write a very courageous book where she reveals her innermost thoughts, her feelings and her beliefs to her readers. And so it makes for really captivating reading, not only because of the details of politics and journalistic arts, but also because of the personal honesty and openness."  The discussion was moderated by David Ignatius who was a colleague at the Washington Post and Quinn's Godfather who went right to the edge about Donald Trump and whether she would invite him to one of her famous dinner parties.  The answer was yes, of course, because Sally likes a good party, but is not taken with him in a female/male kid of way. "I don't find him terribly masculine, I mean I find that the way he puts people down and the way he talks about people and to people this is sort of petty. Real guys aren't petty. And I always find Ben was the most masculine man I've ever met in my life except for David of course. And Ben was so magnanimous with everybody, he was so generous and so open and so decent to people. And I always thought that that was the thing about him that made him clank when he walked – is that he was such a decent guy, and I find that Trump doesn't … he backs down when he's cornered or he changes his mind or he doesn't have convictions and that isn't appealing to me. And when I met him there was sort of a lot of bravado, my stepson worked for him for seven years, Ben's son, and so we saw him in New York several, a number of times but I just thought that there was a lot of bluster. And the same thing that a lot of people have said during the campaign. It just seemed to me that somebody who acts that way doesn't have a lot of confidence. I guess that's the word I'm looking for. I don't think he has any confidence. And that's not sexy or attractive or appealing to me."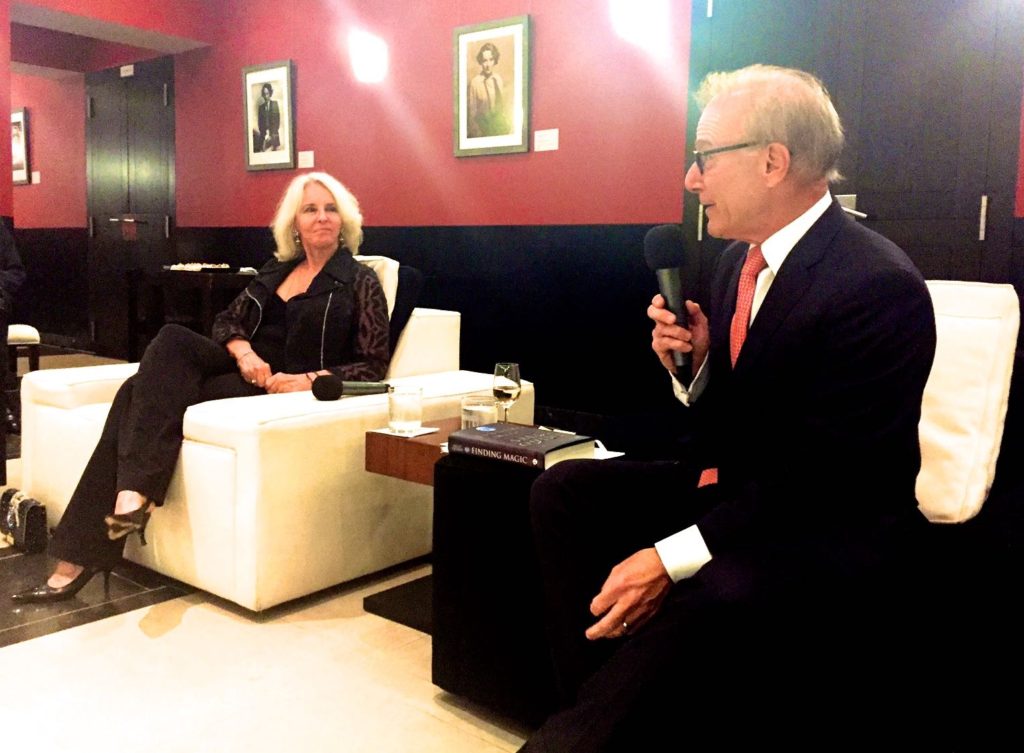 Sally Quinn and David Ignatius
"Just let me say before we get started that there's a lot in my book that's really over the top, and Ben loved this about me, I mean that's why he hired me in the first place and if I did something outrageous in the paper and people started canceling their subscriptions nothing made Ben happier than that. Sometimes I would say things that were outrageous or over the top at dinner parties, then Ben would say; "Jesus Sally!" And I really miss that, having that kind of curb in my enthusiasm. But David has filled the void."
Back to the hexes. "I think everyone in the world has some psychic ability, I think some people are just more attune to it than others, I mean I have known people who were real psychics who were just extraordinary, their antennas were just higher than everybody else's. I do have these premonitions and that sort of thing. There can be a good hex or a bad hex. Or a good spell or a bad spell, or wish or prayer. So I often would put good spells on people and just wishing them well, putting out good energy. As for the bad hexes, lot of people would call it revenge or vengeance or just wishing somebody ill.  It was sort of a lark for me and it was kind of a joke among my friends and Ben thought it was hilarious. Ben just thought it was screamingly funny, because of course he didn't believe any of it. And Barry Goldwater,who was living with my parents at the time, when Ben and I would go over and have dinner with mother and daddy, Barry and daddy would say 'Ben, you don't want to cross these Quinn girls, you know?'"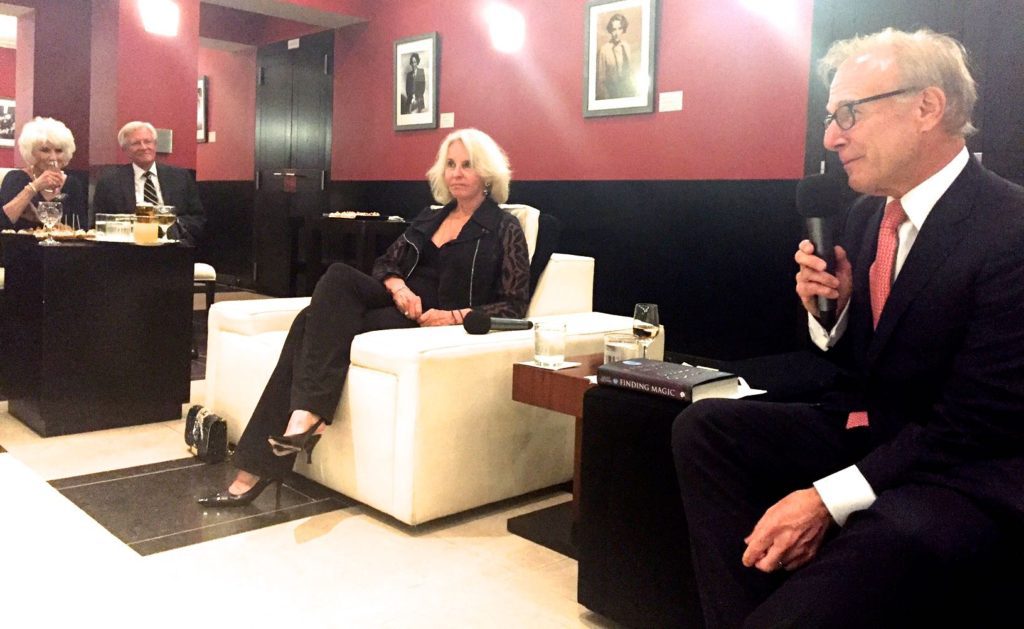 The conversation turned to a lighter subject: Ben.  "I never met anybody quite like him," said Ignatius. "He was just somebody who held up the sky. But I've thought about Ben and wondered, what was it that made him such a magical person? What was the thing that made him somebody that we would just follow anywhere? There are officers in a war who people run over the top of the trench into machine gun fire because they love that person as their leader, Ben had that quality. But you knew him better than anybody and so I want ask you to talk a little bit about what made him so unusual? What was that thing that makes me say, I've never met anybody quite like him?"
"Well, he was incredibly charismatic and he was dazzling.  He had a great sense of humor, he was very magnetic, he just drew people to him, like he had some magnet inside his body, that when people were around him, they just sort of came at him," Quinn responded. "People wanted to touch him, like everybody wanted a piece of him. He had enormous integrity, he was incredibly decent. He was magnanimous, he really liked people, he looked for the good in people. He had so much confidence, he was really confident about everything, and he would make a decision, and that was it. It usually was the right decision, but if it was the wrong decision, he would say,'I'm not going to look back, I'm just going to go on, push on ahead.'  And he just had enormous courage, nothing ever made him afraid, I think the only time that he was ever afraid, was when Quinn was born with a hole in his heart and had heart surgery, when we didn't think Quinn was going to make it, and that was the only time that I have ever seen Ben fearful. And even then he was trying to make me feel better, so he was just a pillar in strengths for me.  But the other thing that was the most amazing thing about Ben was that I never, in the 43 years we were together, saw him depressed. Ever, ever, ever. You know, certain things he would be not happy about, if something didn't go right, or this or that, and I think he was pissed off sometimes, but he was never depressed. He was an incredible optimist and he was always in a good mood, always. And I've never seen anything like that before."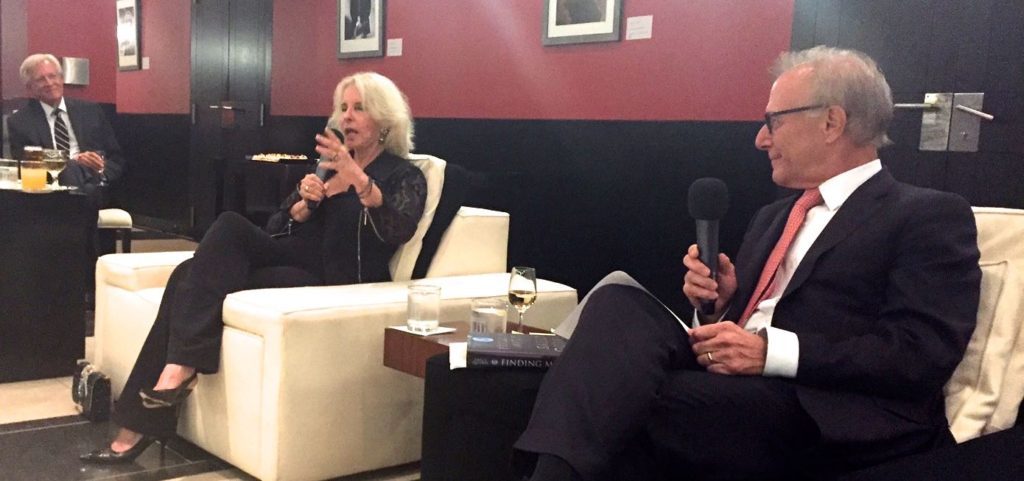 "You know, that was just his nature," Sally added. "He had a brother and a sister. Noth of them were alcoholics and both of them were depressed a lot. His parents were wonderful, I mean his father was wonderful, and he and Ben had a very close relationship. His mother was a pretty cold Boston matron. I was always stunned when Ben told me that she didn't cry when he went off to the Pacific in World War Two. She kind of went over and kissed him on the cheek and said goodbye darling instead of throwing her arms around him and weeping and sobbing, which is what I would have done. She was just very cool. He was raised by nannies so he didn't have that mother. And I was always asking questions about his mother, because I wanted to know how did he get this way? What was it that he did? Because I wanted to give Quinn the same thing and Quinn actually is a lot like Ben and Quinn doesn't get depressed and he's a very optimistic person and a really decent person, he's got a lot of his fathers qualities I have to say. Ben never cried at real things, no, he would cry at commercials. But he was very stoic about real life events. And Ben cried at all movies."
The end: "He just decided he wanted to go. He said this is no way to live and he was right, for him. He didn't like being dependent on me. During that time it's odd, because it was so terrible and painful and yet, it was the most spiritual thing that I had ever done in my life. Ben and I were probably happier together in the last two years than we'd ever been in our whole marriage. I was very lucky because he never didn't know who I was, he always knew who I was and Quinn was and the people close to him. And he didn't lose his Ben-nes. About a week before he died, I said something, I tried to do something he didn't want to do and he gave me the finger. It was just total Ben."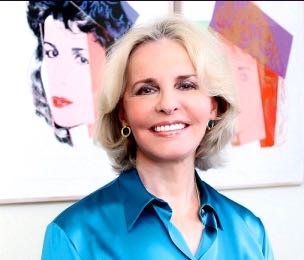 Photo courtesy of Harper Collins
"There was a certain spirituality that came over me that I had never felt before my religious experience, how I got from there to here. What I was beginning to realize was that taking care of Ben during that whole time, I was becoming a spiritual person," Quinn concluded, " and that I was becoming a person of faith. I was looking for a transcendence and I found that while I was taking care of him. When I decided to write the book and I did the part about Ben's death, I went back and started searching through my childhood starting with my father and the Nazis and then through my occult period in the south; writing stories that took me through like breadcrumbs: Each story had some meaning to me, and either there was a moment of transcendence or some moment of spirituality or something that had some residence, that meant something to me. It led me to the spirituality that I finally ended up with. I was looking for meaning in my life and I found that. I began to see what gave my life meaning, which is what I was looking for; which is what I think we are all looking for. For me, it was taking care of the people I loved. It was a huge eye opener to me. And I also realized during that period that of all the religions I studied, that all religion was magic. It was all magic with every religion whether you believe that Jesus walked on water, or you believe that Jesus rose from the dead, or that Mohamed took down dictation from God to write the Quran or the Hindus have many gods, or Buddha. If you believe any of that, it's all magic, because it's based on faith, it's not based on knowledge."
Save
Save
Save
Save
Save
Save
Save
Save
Save
Save
Save
Save
Save
Save
Save
Save
Save
Save
Save
Save
Save
Save
Save
Save
Save
Save
Save
Save
Save
Save
Save
Save
Save
Save
Save
Save
Save
Save
Save
Save
Save
Save
Save
Save
Save
Save
Save