1000 Points of Light!
HollywoodOn Productions: Janet Donovan & Brendan Kownacki
Photo credit: Brendan Kownacki
President George Herbert Walker Bush: June 12, 1924 – Nov. 30th, 2018.  A Thousand Points of Light.

The below article was first published on October 23rd, 2017
Who knew that former First Lady Barbara Bush was a techie? In describing how his parents are doing – who are 92 and 93 years old respectively – Neil Bush, who was in Washington, DC for the annual "Points of Light" gala at The Embassy of France, says she is sharp as a tack. "Mom is the sharpest, funniest person. She's got an amazing mind. She's incredibly retentive and aware and curious. She knows how to use all the apps on iPhones and iPads. She does digital photography and sends photos out to friends and stuff like that, but she's not a Twitter or a Facebook person.  My dad still has this amazing spirit of love and kindness towards one and all. He never wants to be a burden to anyone. He's disabled so he'll never be the same active George Bush that we've known for all of our lives, but they're doing great!"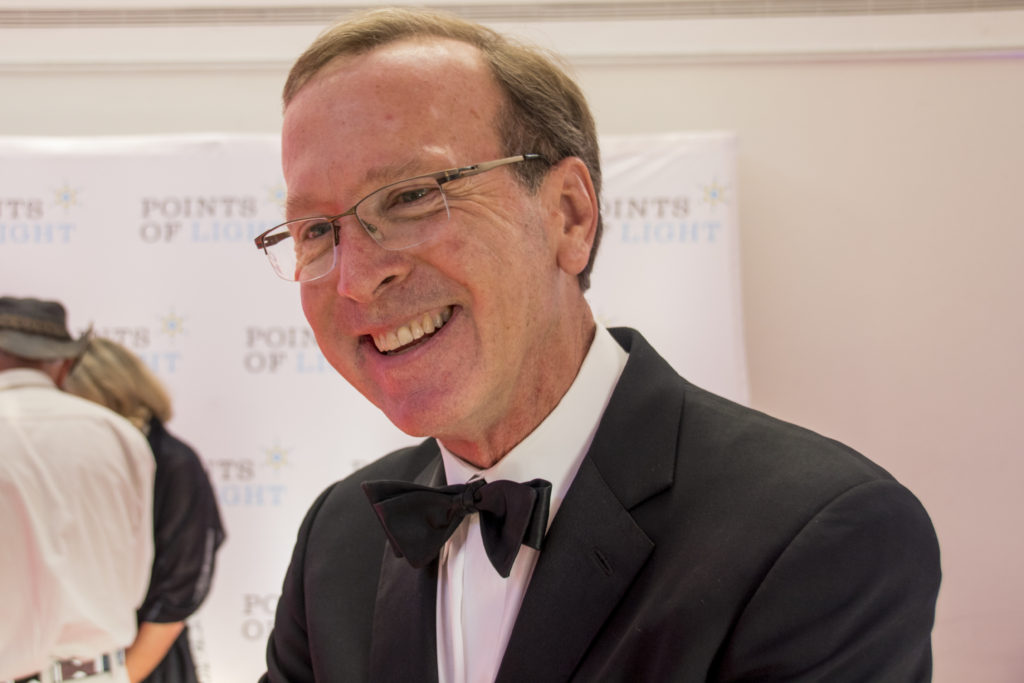 Neil Bush
Former California Governor Arnold Schwarzenegger, NFL player Coty Sensabaugh and his wife Dominique, and wildlife advocates Jack and Suzi Hanna, were honored for their service to others. Points of Light, a global nonprofit inspired by former President George H.W. Bush, is the world's leading volunteer service organization. The Tribute Awards, titled "Changing Lives Through Service," annually honors individuals who embody the vision of "a thousand points of light" that President Bush first invoked during his acceptance speech at the 1988 Republican National Convention. CNN anchor Wolf Blitzer emceed the event that gathered some 300 corporate, nonprofit and community leaders to honor individuals and organizations whose extraordinary contributions to volunteering and service have made their communities and the world better.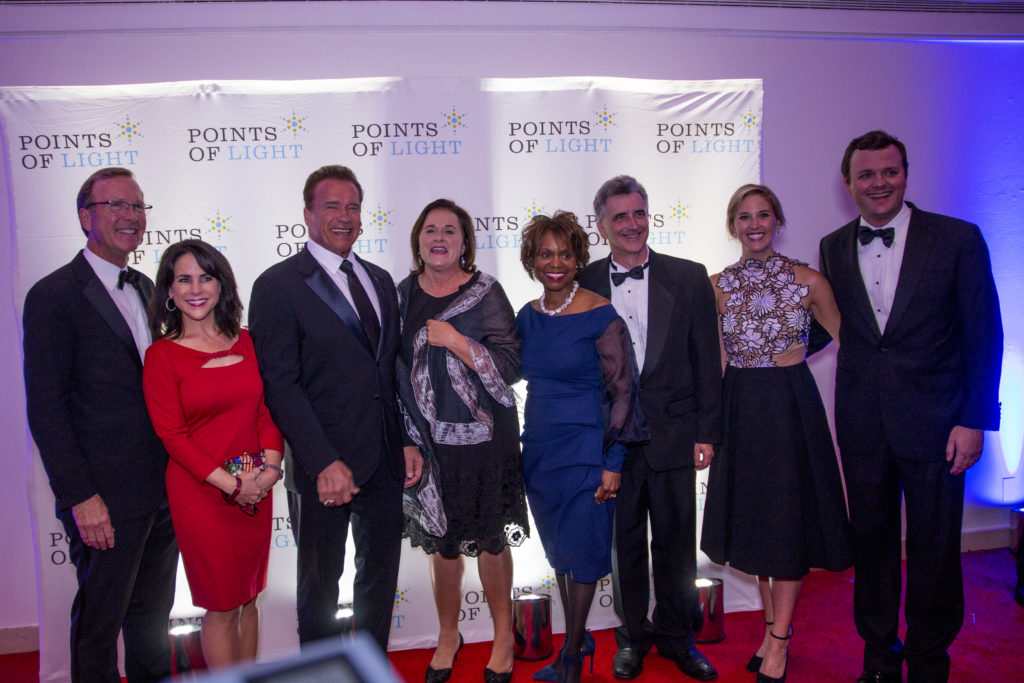 Neil and Maria Bush with His Excellency Gérard Araud, The Ambassador of France to the United States, hosted the event along with the event Honorary Chairman Ambassador C. Boyden Gray, dinner co-chairs Wally and Sandy Ganzi and Larry Bathgate and Michelle Bengué. "Points of Light continues to lift up one of the legacies that is most important to my dad, and one that continues to have enormous ripples and impact in communities around the world," said Neil, chairman of Points of Light's board of directors. "These extraordinary individuals bring leadership, innovation, and energy to bear on some of the toughest challenges we face as a nation. It is our privilege to recognize them."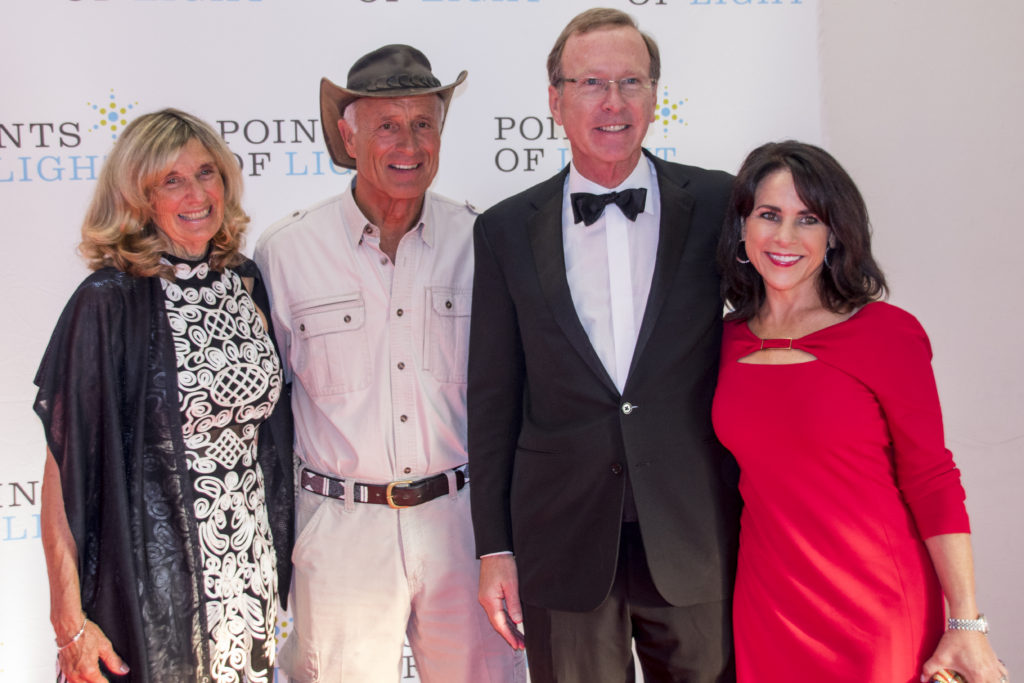 Jack and Suzi Hanna, Neil and Maria Bush

The 2017 Tribute Award honorees are Arnold Schwarzenegger, former California Governor, founding chair of R20: Regions of Climate Action, and founder of the USC Schwarzenegger Institute for State and Global Policy; Pittsburgh Steelers cornerback Coty Sensabaugh and his wife Dominique, founders of the Sensabaugh Mission Moon, a nonprofit enterprise committed to fighting global poverty; and Jack and Suzi Hanna, co-hosts of the Emmy-award winning TV series "Jack Hanna's Into the Wild," and ambassador for the Columbus Zoo and The Wilds. A special Points of Light Lifetime Service Award will be presented to Ambassador C. Boyden Gray for his public service, volunteer leadership on the boards of numerous charitable, educational, and professional organizations, and his longtime support of the Points of Light vision and mission as established by President Bush. The honorees are representative of the more than 62 million Americans who volunteer their time, talent and resources every year in service to others.The value and impact of volunteering is particularly relevant on the heels of numerous natural disasters, including three major hurricanes and an earthquake. The Points of Light disaster services team supports first responder organizations, like FEMA and the American Red Cross, connects with Voluntary Organizations Active in Disaster chapters across the United States to assess the situation, and coordinates with our affiliates and partner organizations in the affected areas to support long-term volunteer engagement in recovery efforts.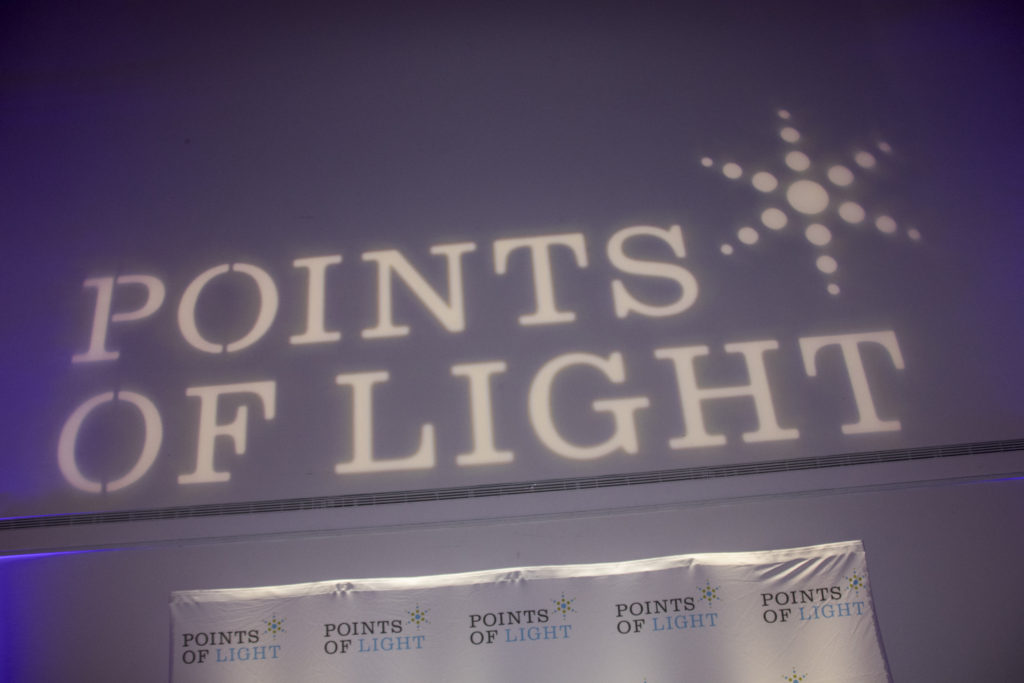 At his inauguration in 1989, President Bush spoke of  "all the individuals and community organizations spread like stars through the nation, doing good." During his presidency, he laid the groundwork for a volunteer movement that has been built upon by every succeeding president. In the first year of his presidency, President Bush founded the Points of Light Foundation (now known as Points of Light) to promote the spirit of volunteerism. He launched the modern volunteer service movement by signing the National and Community Service Act of 1990, the first piece of federal service legislation in almost 20 years. "We can find meaning and reward by serving some higher purpose than ourselves, a shining purpose, the illumination of a Thousand Points of Light…We all have something to give." President George H. W. Bush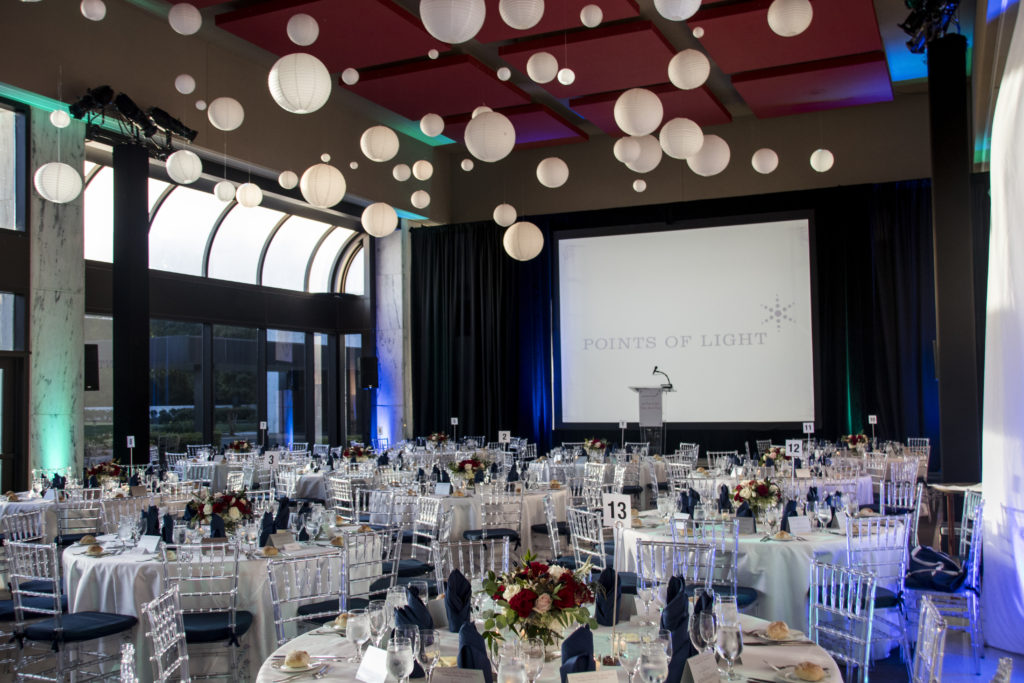 In their own words:
Save
Save
Save
Save
Save
Save
Save
Save
Save
Save
Save
Save
Save
Save
Save
Save
Save
Save